Welcome to the 526th Metamorphosis Monday!
When it comes to makeup, I've always just gone with just a few basics for daily wear. It's not that I don't love how a full face of makeup looks on others, because I really do. It's just that I don't have the patience to spend more than about 3 minutes on makeup each day. Also, as I've gotten older, I find that less is definitely better.
For this week's Met Monday, I'm sharing what I use each day, especially a couple of recent finds that I'm super excited about. I don't experiment around very much because: 1. I've done that in the past and was often disappointed and 2. Makeup can be expensive and I don't like spending $$$ on a product only to find it doesn't do what I had hoped. I've bet you've had similar experiences over the years and it often leads to a drawer full of never-used products.
I'm sure a lot of the products I'm sharing today you will be familiar with since they've been around for ages, but a few may be new to you. I'd love to hear about your favorites as well!
Clinique Cleanser & Exfoliating Scrub in One
I'm a big fan of Clinique products, they virtually never disappoint. This facial wash is perfect if you like to gently clean and exfoliate each morning before applying a moisturizer. It's not overly harsh like some scrubs and doesn't leave my already dry skin feeling super dried out, just clean and fresh. It's available here: Clinique Cleanser & Exfoliating Scrub in One
Clinique Pep-Start Hydroblur Moisturizer
If there's one item I'm sharing today that has me the most excited, it's this one below. I saw a YouTuber raving about this product a while back and decided to give it a try since it's by Clinique. Clinique is one of the few cosmetic companies that almost always exceeds my expectations and they definitely did with this product. Here's how they describe it:
This oil-free moisturizer instantly blurs imperfections while providing all-day hydration. Skin looks naturally perfected with a matte finish. Wear it alone, or under foundation. It's so lightweight you can use it for touch-ups throughout the day. We call it your new favorite filter…the ideal way to give your skin the moisture it needs, and the forgiving 'retouch' that blurs the look of pores and fine dry lines.
This Pep-start hydroblur moisturizer has replaced my old favorite moisturizer that I've been using for many years. It moisturizes and though I don't know really understand how it does it, it definitely helps minimize the appearance of pores and fine lines.
I've never really had a problem with large pores, but I've noticed over the years as we age, our pores seem to become a bit more noticeable, which I really don't like. This fixes that. Don't ask me how it works, I just know that it does, at least on my skin. I love this moisturizer!
It's available here: Clinique Pep-Start Hydroblur Moisturizer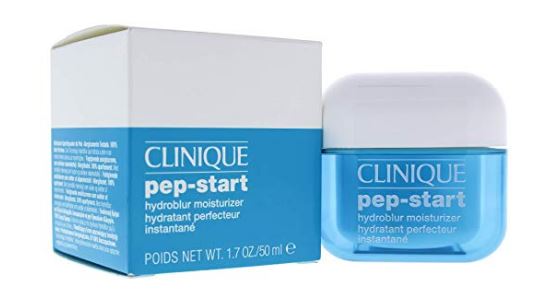 This evening as I was working on this post, I discovered this little sampler kit. I purchased one so I'd have it for travel but it's also a great way to try both these products without buying them in a larger container size. You'll find this little sampler set here: Clinique Sampler Set.
Foundation
I don't wear foundation, gave it up many, many years ago (probably in my 30-40s) because I just didn't like how it looked. It did nothing for my appearance and only emphasized fine lines. If you have a great foundation recommendation for older women, one that won't sink into lines and highlight them, please leave it in the comments. I probably won't wear it since I prefer how I look without it, but I know others would greatly appreciate some good recommendations.
You may laugh when you see this next recommendation because it's a good old drug-store favorite, but don't laugh just yet. That old drug store favorite just got a new twist, or at least I just discovered its new twist. lol
Many years ago I used to wear Maybelline's Great Lash mascara. Over the years I've upgraded, alternating between Clinique Mascara, They're Real Mascara and one my daughter-in-law loves and recommended called Mally Beauty Mascara.
Recently I was in the drugstore and decided to try my old favorite, Maybelline Great Lash. I was in for quite the surprise when I got home and opened it up: the applicator was completely different from what I remembered. I'm sure they make it with their typical applicator, but this is the applicator I found in their "Lots of Lashes" mascara and it's awesome!
Not only does it not clump up when you apply the mascara, but it actually separates out all your lashes so beautifully! I couldn't believe how easy and effortless it was to apply. In the past, I've often had to remove all my mascara and start over due to it clumping up and looking awful. That especially happens as mascara gets older.
I've used the Lots of Lashes several times now and each time it has gone on beautifully the first time. I also like that it's inexpensive enough that I can change it out as often as needed since it's not good for your eyes to wear old mascara.
You'll find it available here in three shades: Mascara.
Lipstick is one of those items that I've had a hard time finding one that works. The main issue I have is most lipsticks want to creep into the little fine lines that you get around the mouth as you grow older and I don't have the desire or patience to use a lip liner. When I've purchased lipsticks in the past that claimed to not creep, they had a super flat, matte, dry finish that I did not like and really dried out my lips. Why couldn't someone make a lipstick that's moisturizing and doesn't creep?!
Recently, I decided to try a luxury brand of lipstick that claimed to not feather (which I took to mean it wouldn't creep into the lines) but was also not a matte finish. So far, I've been very happy with the results. I ordered this lipstick in a very subtle color the first time, a color called Tease Pink Nude. Since it has done so well, I think I'm going to go for a bolder color next time.
Tip: When I first apply this lipstick, it looks a bit too shiny and thick, but within a minute or two it settles down and I love it. And there's no feathering or creeping into the lines! Love that!
You'll find this lipstick available here: Dior Addict Lacquer Lipstick and here is where it's also available in some "glittery" shades: Dior Addict Lacquer Lipstick
At the end of the day, this is my favorite for removing all my makeup. It's super gentle, yet effective. It leaves my feeling skin soft and moisturized, not dry. I really do love it. You'll find it available here: Clinique Take the Day Off
Another drug store favorite that I've been using for years and still use almost daily is Maybelline's Expert Eyes. It's excellent for removing any traces of mascara or eye makeup left after washing my face at night. It's gentle and you don't feel you need to rub/pull on that delicate undereye area when using it. It just works!
They also make an "oil" version that's great for removing waterproof makeup. You'll find both the regular Expert Eyes that I use and the oil version for waterproof makeup here: Maybelline Expert Eyes.
Just before I go to sleep, I love to use this silky smooth lip balm on my lips to keep them from drying out during the night. It goes on satiny smooth. I purchased it in a tiny travel size initially and it was a great way to try it out. You'll find it in the travel size here: Sugar Advanced Therapy.
Now that I know I love it, I've been thinking about trying it out in the pretty pink shade that you'll find here: Pink Sugar Advanced Therapy.
Thanks so much to the BNOTP reader who recommended these vitamins after I caught Influenza A while traveling through Germany two Christmases ago. I've been taking these vitamins faithfully now for about a year and I have definitely noticed an improvement in my energy level. They aren't super cheap but I definitely feel they are worth the price. I buy them here: Organic Whole Food Vitamins
I also take one of these each day and they really help my nails. I've noticed my hair grows a lot faster when I'm taking them and my eyelashes seem fuller. So I try to keep them on hand. I think it says to take two a day but I just take one. You'll find them available here: BioSil for Hair, Skin & Nails
I hope you find this post helpful. Please share your favorites below in the comments. I find personal recommendations to be the very best way to find those products that really work!
Metamorphosis Monday
Metamorphosis Monday is a party that's all about Before and Afters. If you are participating in Met Monday, please link up using the "permalink" to your MM post and not your general blog address. To get your permalink, click on your post name, then just copy and paste the address that shows up in the address bar at the top of your blog, into the "url" box for InLinkz when prompted.
In order to link up, you'll need to include a link in your MM post back to the party so the other participants will have an opportunity to receive visits from your wonderful blog readers.
Feel free to link up Before and After posts that are home, gardening, decorating, crafting, painting, sewing, cooking, fashion, travel or DIY related. Please do not link up to the party if you're only doing so to promote/sell a product.
To those linking up, if you notice a shop or online store linking up to sell products (yes, unfortunately, that happens) please let me know so I can remove their link and block them from participating in future parties. No one wants to visit a link expecting a Before and After, only to find a spam link to an online business/store.
Pssst: If you have any trouble linking up today, please let me know so I can report it to InLinkz since they are now using a new linking system for blog parties. Thanks!
This party has ended, click button below for the links to all who participated.
*If a post is sponsored or a product was provided at no charge, it will be stated in post. Some links may be affiliate links and as an Amazon Associate, I may earn from qualifying purchases. *