Welcome to the 489 Metamorphosis Monday!
I made it! This was the view from my side of the plane as we were flying into Maui. You can see the shadow of the plane which I thought was kinda cool.
This evening I was reading more about Maui online. I find it fascinating how this island was formed! Wikipedia states:
Maui's diverse landscapes are the result of a unique combination of geology, topography, and climate. Each volcanic cone in the chain of the Hawaiian Islands is built of dark, iron-rich/quartz-poor rocks, which poured out of thousands of vents as highly fluid lava over a period of millions of years. Several of the volcanoes were close enough to each other that lava flows on their flanks overlapped one another, merging into a single island. Maui is such a "volcanic doublet," formed from two shield volcanoes that overlapped one another to form an isthmus between them.
Amazing! I can't wait to learn more about Maui and the other Hawaiian Islands during my stay this week!
Everything is nice and green, they've been getting a lot of rain here lately per the driver who picked me up at the airport. I was so tired from staying up to 3 AM the night before packing for this spur-of-the-moment trip (followed by two long flights–Georgia to California, California to Hawaii) I went straight to bed as soon as I grabbed a bite to eat in one of the restaurants here at the resort.
The food was amazing! I was starving so I ordered a "classic" burger, fries and a slice of their carrot cake. OMGosh was it amazing, all of it! The cake slice was so large, four people could have enjoyed it. I have plans to look for a maxi dress while here. If I keep eating like this, I will NEED a maxi dress! lol
I love how the right wing of the plane really looks like a bird's wing from this angle. 🙂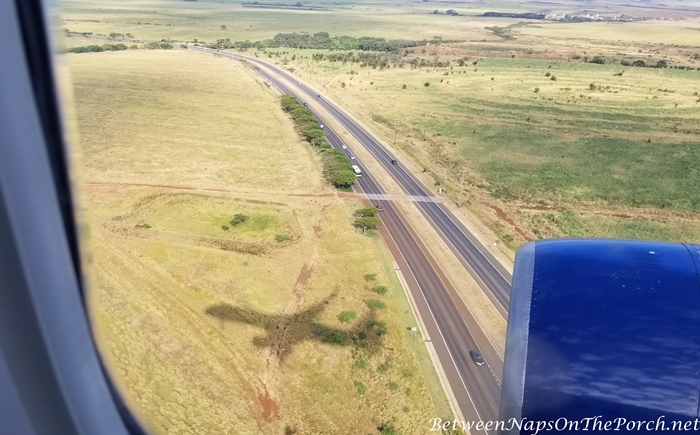 One last "shadow" picture flying into Maui. Gorgeous day, beautiful weather! I can see why Hawaii is thought of as a paradise. I looked at this week's forecast and the temperature hardly varies, never getting too cold or too hot. My skin is loving the humidity, just like at home. I just feel better when I'm bathed in moist air…hard to describe.
Whenever I plan a trip, I always order one of the EyeWitness Travel Guides for the place I'm going. I didn't have time to do that since this trip was so last minute, so I ordered a couple of books on Saturday evening and I'm having them delivered here where I'm staying.
I let the front desk know when I checked in. The books should arrive tomorrow. I've never done this before, so we'll see if Amazon truly gets them here. lol These were the two guides I ordered: Hawaii and Maui.
I'm looking forward to sharing the island with you this week, as soon as I get a bit more sleep. I awoke very early this morning since my body is still on Georgia time. It's 3:15 AM here, as I type this.
It was getting dark when I arrived at the resort yesterday evening. I snapped a quick photo of my view from the long balcony that stretches across the living room and bedroom. You can see the ocean straight ahead. I tried to take a photo with my regular camera but when I zoomed in, the lens would not focus. Have no idea what's causing that, hoping it's a setting on the lens, otherwise it will greatly limit the photos I'll be able to take while here. I'll try to figure that out later today.
There are several large waterfalls directly below my room. I'm looking forward to sleeping to the sound of those this week. Can't wait to share this lovely place with you! I wish you were here with me!
Looking forward to all the great Before and Afters for this week's Metamorphosis Monday!
I post almost daily on Instagram. Follow Between Naps on the Porch on Instagram here: Between Naps On The Porch. If you enjoyed this post, subscribe for free email updates when a new post is up here: Subscribe for post updates.
Metamorphosis Monday
Metamorphosis Monday is a party that's all about Before and Afters. If you are participating in Met Monday, please link up using the "permalink" to your MM post and not your general blog address. To get your permalink, click on your post name, then just copy and paste the address that shows up in the address bar at the top of your blog, into the "url" box for InLinkz.
In order to link up, you'll need to include a link in your MM post back to the party so the other participants will have an opportunity to receive visits from your wonderful blog readers.
Please observe these few rules:
Please link up Before and After posts that are home, gardening, decorating, crafting, painting, sewing, cooking, fashion or DIY related.
Be sure to include a link back to the party in your post, so your readers will be able to find and visit the other bloggers who are participating.
Do not link up to the party if you're only doing so to promote or sell a product.
To those who are linking up: If you notice a shop or online store linking up to sell products (yes, unfortunately, that does happen) please let me know so I can remove their link and block them from participating in future parties. No one wants to click a link expecting a Before and After, only to find a spam link to an online business/store.
*If a post is sponsored or a product was provided at no charge, it will be stated in post. Some links may be affiliate links and as an Amazon Associate, I may earn from qualifying purchases. *