Welcome to the 412th Tablescape Thursday!
Thanks to everyone who left a comment on the decorating trends post. I really enjoyed reading those! I purposely sat on my hands and didn't comment/reply because I wanted to hear your thoughts and opinions.
One thing I did want to mention, from reading the comments on that post, it sounded like a few folks thought the compiled list I included in the post was my list and my opinions. It wasn't. In fact, some of the decorating styles/ideas in the list are things I like and have in my own home. So, please don't shoot the messenger! 😉 If you missed that previous post, you'll find it HERE.
Tablescape Thursday
This week's tablescape was created as inspiration for fall entertaining and dining. I debated on whether I should share this table now or wait another month or so, but I decided to go ahead and share it now so if you like the dishware as much as I do, you'll still be able to find it.
This table was inspired by some salad plates I bought recently. Since I have a lot of dishware, I have to really, really love a pattern to buy it these days.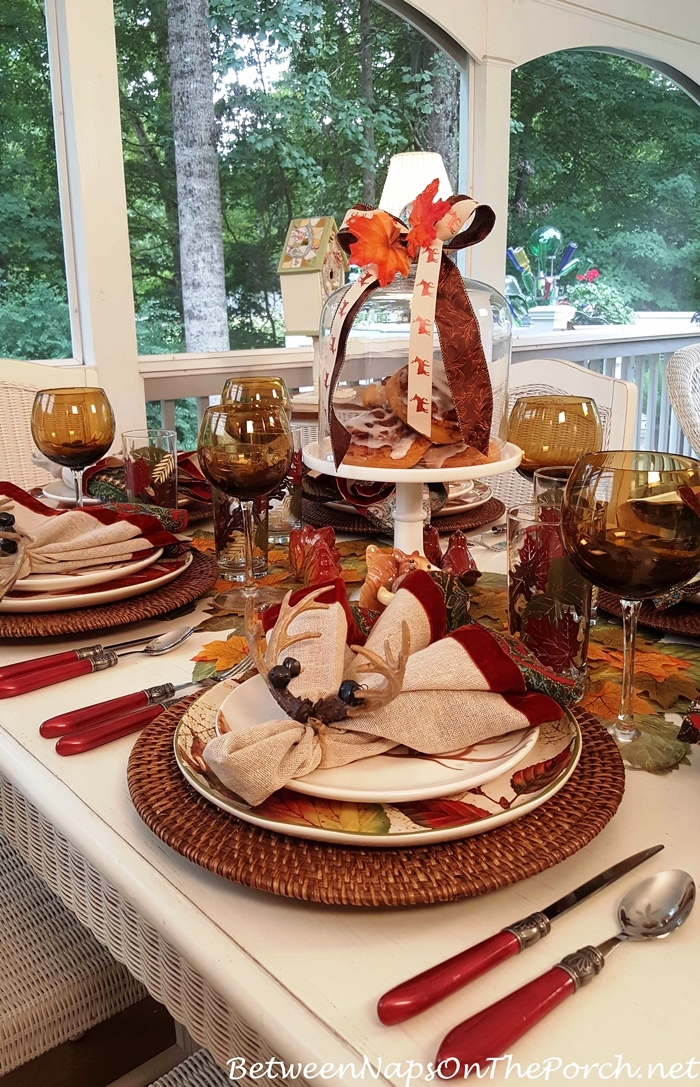 In this picture below, you can see just a hint of the plates that stole my heart and wouldn't let go.
For napkin rings I used the antler ornaments I found for $1.99 in Walmart years ago. They are a big hint to how the salad plates look. 🙂
The antlers are actually Christmas ornaments and are connected with jute yarn. They came as a set and I just wrapped them around the napkins and overlapped them to hold the napkin. You've seen me do this in previous tables if you've been reading BNOTP for very long.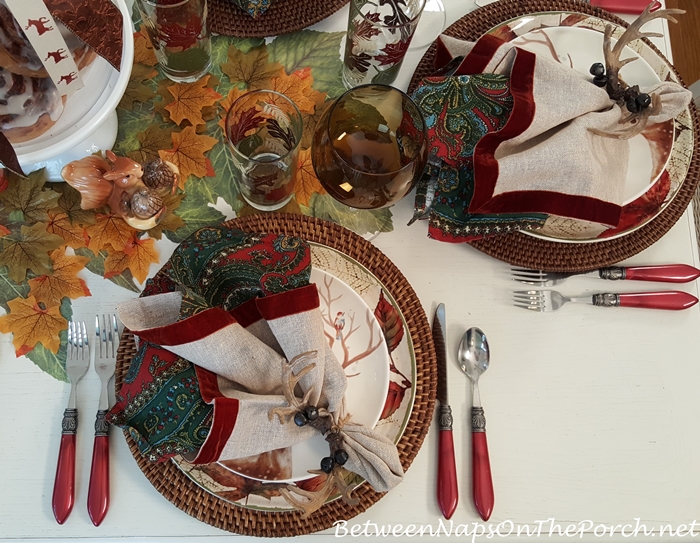 I've also separated the antlers and used them as place card holders in previous table settings as shown below. Shop the ornament isle at Christmastime for unique, inexpensive ornaments that can be converted into one-of-a-kind table accessories.
I decided to go with red flatware for this fall table setting. (Flatware is available here: Red Flatware for Fall.)
I love these rattan chargers and find myself using them a lot during the fall season. They are available here: Rattan Chargers
The red, velvet-edged napkins are from Pier 1 several years ago and the paisley napkins are from either Marshall's or HomeGoods, can't remember which now.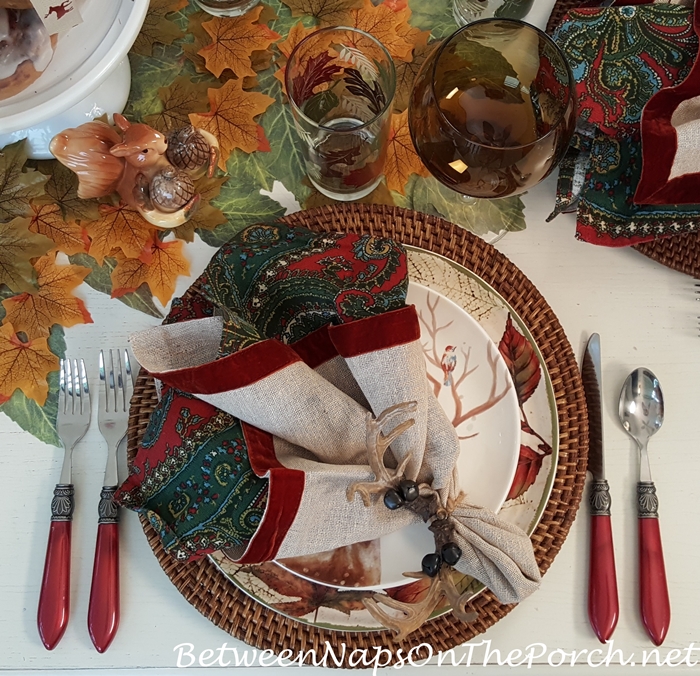 So here they are, the salad plates that stole my dish-loving heart. I love deer and love birds. The whimsy of this pattern combining the two made me laugh. I just couldn't stop looking at them! I really love how they look with the autumn leaf dinner plates I already had.
These adorable deer salad plates are available here: Deer with Birds
I've had these beautiful leaf designed plates for several years now. They must be a great seller because they are back again this year for autumn. You'll find them here: Autumn Leaf Plates
The leaf glasses are from Dollar Tree several years ago. The wine goblets were another bargain find in A Classy Flea several years back.
For the centerpiece, I baked up a batch of those yummy Trader Joe's cinnamon rolls I shared in a post a few weeks ago. These things are so good and so addictive. You've been warned!
The ribbons I already had, collected in sales over the years from places like Michaels and Wal-Mart. I used two ribbons here…
…but here's how the server lid looked with just one ribbon. I was curious how it would look and tried it both ways just for fun. Which way do you like best: one ribbon or two?
I wish I'd had two cans of the cinnamon rolls to bake. Wouldn't they look amazing piled up really high under the dome lid on this server? I'm going to have to try that sometime, just to see how it looks–you know for tablescaping research purposes only. 😉
As I was pulling out my fall leaf dinner plates, I came across several sets of salt/pepper shakers that I've collected over the years. I decided to place them all around the base of the server.
This cheeky little guy is holding one acorn of salt and another one filled with pepper.
I've had him so long, hard to remember where I found him. I think it was in the gift shop of a Cracker Barrel.
These sweet salt and pepper birdies fit in with today's woodland theme. They look as if they could have flown right off the salad plates.
There's one more set of salt/pepper shakers on the table. They look like leaves, do you see them? No shortage of salt and pepper on this table!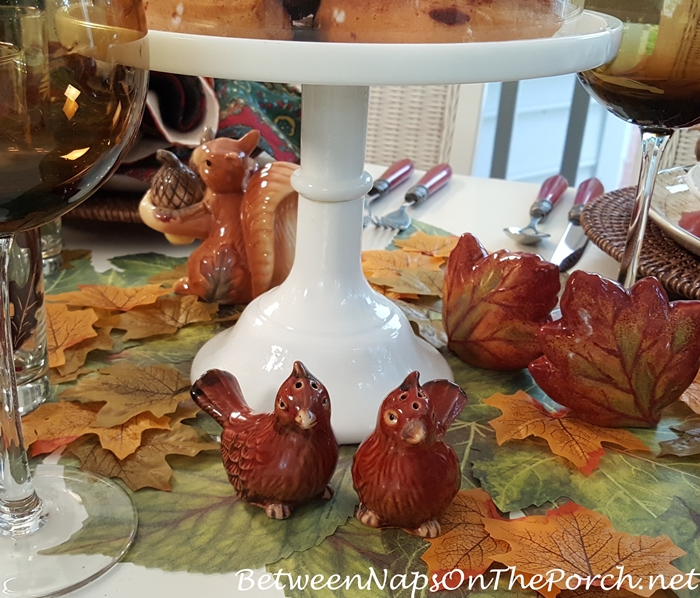 A birds-eye view…
Hope you enjoyed this autumn inspired table. Now back to summer in all its awesomeness!
Looking forward to all the beautiful tables posted for this week's Tablescape Thursday!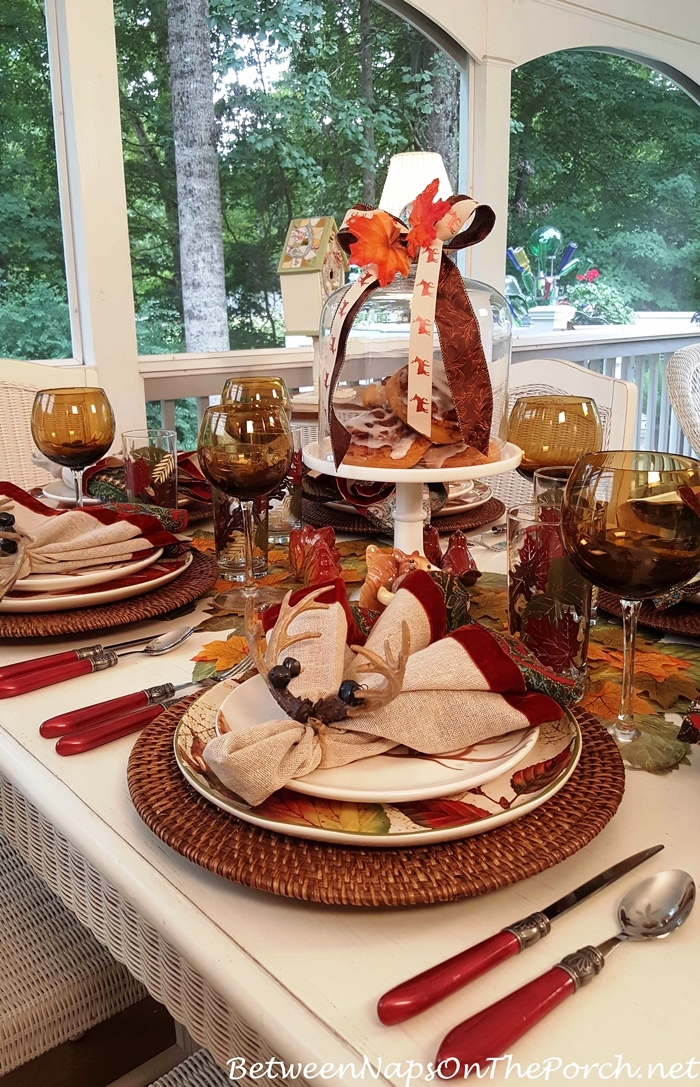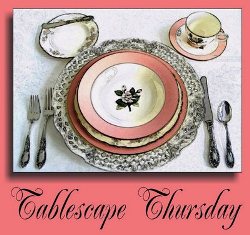 If you are participating in Tablescape Thursday, please be sure to add your permalink below, and not your general blog address.To get your permalink, click on your post name, then copy and paste the address showing in the address bar, into the "url" box when you link up. You'll need to include a link in your post back to the party to link up and participate.
That's so visitors to your blog will be able to find the party and the other Tablescape Thursday participants. Requiring a link back also prevents businesses and scammers from linking up to sell their products. (Yep, that really happens, unfortunately.)
Please, don't add your post name/blog name ALL IN CAPS…it tends to create big spaces between the rows of links.
Please do not link up table settings that were just recently shared in the last few weeks for Tablescape Thursday.

*If a post is sponsored or a product was provided at no charge, it will be stated in post. Some links may be affiliate links and as an Amazon Associate, I may earn from qualifying purchases. *