Welcome to the 407th Metamorphosis Monday!
I have the most beautiful, fun and enchanting thing to share with you today. It's not exactly a metamorphosis but in a way it is because after I "play" with it, I feel so relaxed. If you're not already in the mood for Christmas, it will definitely put you in the mood!
This weekend, my friend, Sheila, shared the cutest thing I've seen in a while! Have you ever visited Jacquie Lawson dot com? My sister and I used to send Jacquie's beautiful animated cards to friends for birthdays and holidays, but it has been a while since I visited her site.
She now has something that's just as fabulous as her cards, if not more so! She, along with her staff, have put together the most wonderful Advent Calendar you can imagine. The first one pictured in the snowglobe icon below is a Victorian Village, while this year's is a lovely Seaside Village.
The cost for each online Advent Calendar is minimal at $4 each and if you buy several for friends or family (and you're going to want to!) the price drops to just $2 or $3 each. They are delightful!
Once you purchase your calendar, you can either download it to your computer or just view it each day via your browser. I decided to go ahead and download it. When you do that, it places this precious snow globe on your desktop for easy access. The reason you see two snow globes below on my desktop, is because I loved this year's Advent calendar so much, I purchased last year's too!
So here's how they work: When you open this year's Advent Calendar, you suddenly find yourself in the cutest seaside village ever! People stroll up and down the sidewalk, boats float in and out of the harbor and magical things happen!
Notice the little silver ornaments in the scene below. Starting on the 1st day of December, that day's ornament will turn red so you can easily spot it. When you click on it, something magical always happens. I'm not exactly sure what but I know it will be wonderful because I've been playing with the other little features that are already active now.
For example, see the little blue ornament picturing a Christmas tree? Anytime you see a blue ornament, you can go ahead and click on it now because those are already active. Once you click the blue ornament with the tree design below, you'll have an opportunity to decorate several trees, or you can select to let the program decorate the tree. Then you get to choose which tree appears in your Seaside Village. I chose the one you see below.
You can scroll up and down the street and click on all the blue ornaments. Lots of fun things happen, including cute puzzles to work. There are a lot of little hidden surprises too, depending on what you click. I don't want to give too much away, so I won't say anymore, but it's a delight! 🙂
Once December arrives, you begin clicking on a silver ornament each day, only it will be red by then. I can't wait to see what's hiding behind each of the ornaments! I know it's going to be fun!
As you view your calendar, boats sail in and out of view, villagers stroll by, some walking their dogs, others just out for a fun day in the snow with their children. While all of this is taking place, beautiful Christmas music is softly playing.
If you don't want to listen to the music and prefer to listen to your own music at home, it's easy to turn it off. They've designed the calendar where everything you need is readily available.
You can't see it in this captured screen below, since my pics aren't animated like the actual calendar is, but snow is gently falling in this lovely scene. It's all so beautiful!
Last night, because I'm so IN LOVE with this calendar, I opened it again and it was nighttime in this enchanting place. Somehow the calendar knows what time it is where you live and the village follows along. So when it's dark outside at your home, it will be dark in the village, too.
Last night, the lighthouse light was turning around and around, the streetlights were lit and the tree was gorgeous. All the snowflakes appear to glow as they fall. I discovered last night that you can click a particular setting and all the ornaments disappear, allowing you to enjoy this beautiful scene without the ornaments obstructing the view.
Do you see the little sailboat that has sailed into view? At one point last night, I saw a sailboat appear that was decorated with strings of Christmas lights! I want to move to this village! I think I'm going to need some new snow clothes first, though. 🙂
The Victorian Village
I was soooo in love with this wonderful Advent Calendar, I purchased last year's Advent Calendar, too. It pictures a beautiful Victorian village.
It works the same way, you can click on any or all of the blue ornaments now, then do the activities you find behind those.
The village is so charming and delightful to view as you scroll from side to side taking it all in.
The ornaments you click on each day (starting December 1st) are gold in this Advent Calendar.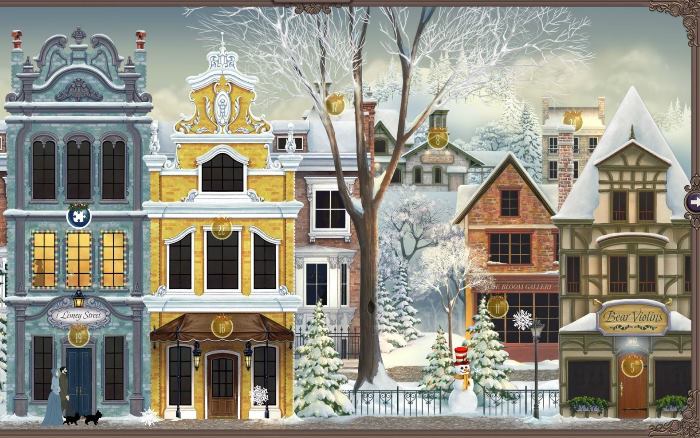 Once it's nighttime where you live, nightfall arrives in your Victorian Village, too. 🙂
This is so much prettier than what I can depict here. It fills your screen and is truly gorgeous! You'll want to jump right into the scene and stroll the street yourself!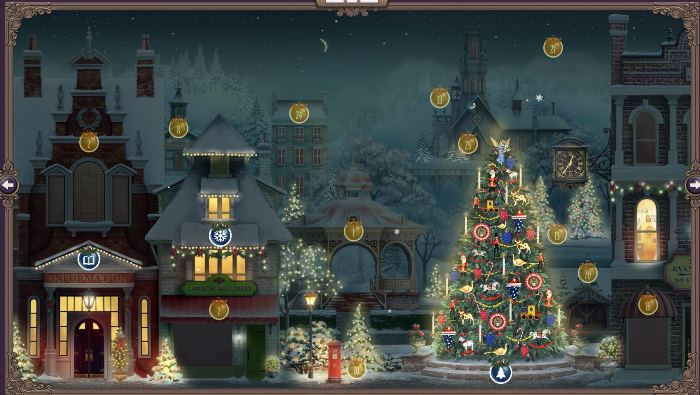 The pricing for the calendars varies from $4 down to $2, depending on how many Advent calendars you purchase. They make wonderful gifts for anyone, including children. You're giving them a joyous activity and scene for each day, starting December 1st and going through to Christmas.
And of course there are the activities behind the blue ornaments that are available to do right now. I ordered quite a few of the Seaside Advent Calendars for friends, which made the already low-cost even less.
If you would like to see a demo of the calendar and order one for yourself or a family member (this would be perfect for children/grandchildren) check out the Jacquie Lawson site here: Jacquie Lawson.
By the way, this isn't a sponsored post, just sharing this wonderful calendar because of how much joy it has brought me.
Metamorphosis Monday
Metamorphosis Monday is a party that's all about Before and Afters. If you are participating in Met Monday, please link up using the "permalink" to your MM post and not your general blog address.
To get your permalink, click on your post name, then just copy and paste the address that shows up in the address bar at the top of your blog, into the "url" box for InLinkz.
In order to link up, you'll need to include a link in your MM post back to the party so the other participants will have an opportunity to receive visits from your wonderful blog readers.
Please observe these few rules:
Only link up Before and After posts that are home, gardening, crafting, painting, sewing, cooking or DIY related.
Do not link up to the party if you're doing so to promote a website or sell a product.
Do not link up a post that was just linked up last week since readers would have already seen that post.
*If a post is sponsored or a product was provided at no charge, it will be stated in post. Some links may be affiliate links and as an Amazon Associate, I may earn from qualifying purchases. *