I've been hold-up in the basement for the last few days, working on a project that reminds me of the time I decided to teach myself to knit. It went something like this:
Gee, I think I'd like to learn to knit. Ummm, what should I knit first? I know…gloves!
Yeah, you can imagine how that turned out! Later on, an experienced knitter told me that a glove is one of the hardest things you can ever knit. Duhhh. Leave it to me to choose that for a first project. That was one sad-looking glove.
Well, my current project may be the glove of woodworking. It's kicking my butté! I've learned so much though that I'll share if/when I ever get it finished, just in case you want to make one, too. Consider me your crash-test dummy. Umm, maybe I should reword that. 😉
Just before I began pulling my hair out working on this latest woodworking project, I decided to upgrade my fancy workbench in the basement. Do you remember the workbench I used to build my potting table? (See the Potting Table Bulding Tutorial here: Build a Potting Table)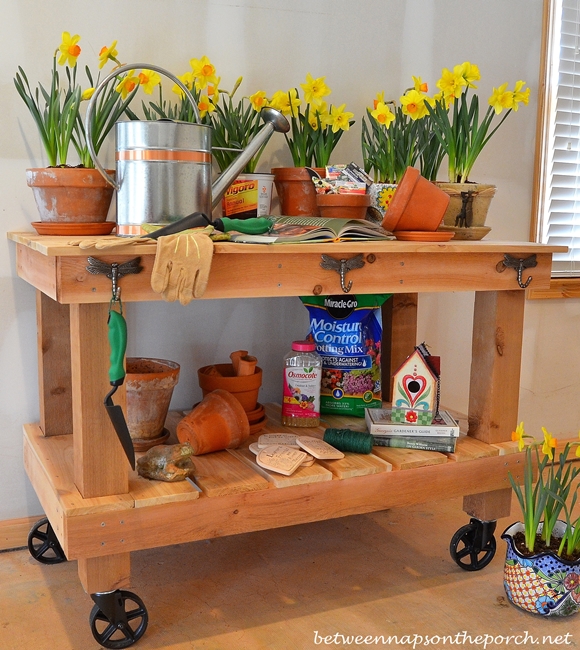 There it is…over there in the corner. Do you see it? As you can see, it's a little low to the ground and very hard to keep clean 😉 but it got me through the potting table project.
I've been thinking about building a workbench but I found a solution that was quick and probably even cheaper than building it myself.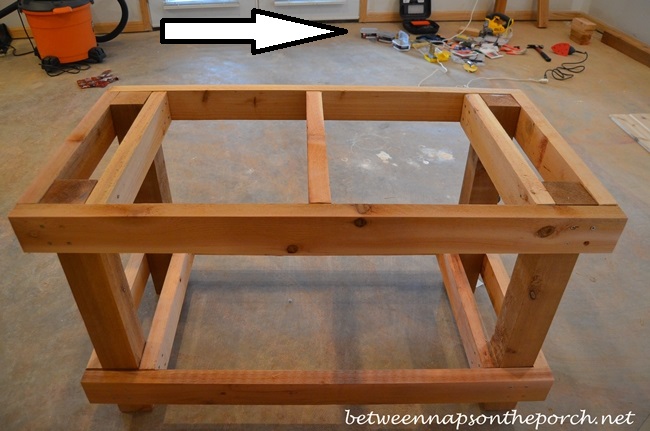 Ta-da! I found this workbench in Home Depot recently for $69.97. After my military discount, it was $62.97 + tax. The cool thing about it, there was no real assembly required. Seriously!
If you follow BNOTP on Instagram, you already know about this bench. I shared this pic on Instagram the day I bought it. I love Instagram, such an easy way to share good stuff right on the spot.
As you can see, the box says you can set it up in three minutes. And guess what? You can! Of course, I had to get it out of my SUV and down to the basement first. I dragged the box out of my SUV, into the kitchen and down the basement stairs on a blanket, my favorite device for moving heavy objects. (Remember THIS post.)
Once in the basement, it was a cinch to set up. You lay it over on its top, open up the legs, fold them out, stand it up, insert the long shelf and you're done. It's really sturdy, too. I told the guy in the store I'd be hammering and building on it and it couldn't be wobbly. He said if I had any issues, to screw the back of it into some studs in the wall. So far, that hasn't been necessary. I especially liked that it had a back lip since it comes in handy for bracing stuff that you're trying to nail/screw.
They weren't super careful when building it, though. I think this is glue running down the front. I can probably sand that off. Update: It sanded right off…all gone! Maybe I'll even get ambitious and paint it. I'd leave the top natural, as is…it's some kind of super durable, man-made surface. But I could paint the rest of it. What color should I paint it?
My work table is several feet higher these days, although I'm still finding it a challenge to keep it clean. Is there any place sawdust won't go?!
Remember when I replaced this lamp on the porch? (Porch decorated for the 4th of July can be seen in this post: 4th of July Porch)
Here's the lamp I added to the porch.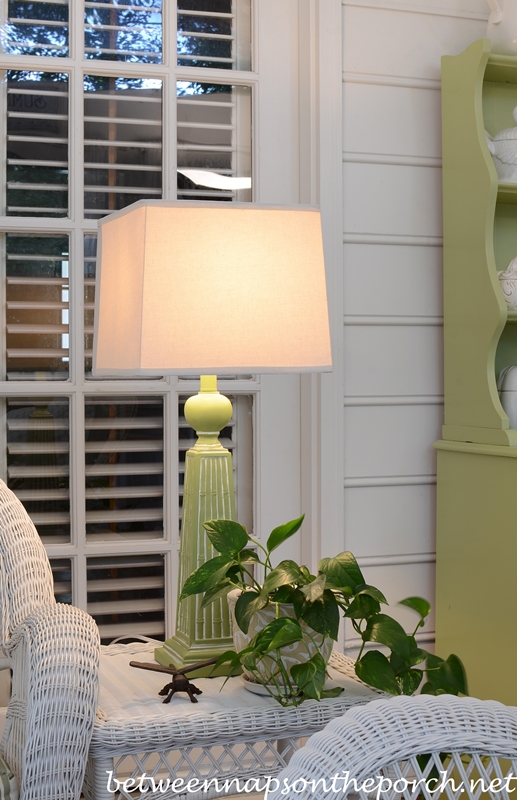 The lighting in the finished side of the basement is fine for every day use, but it's not so great for building stuff. So the lamp has found a new home in the basement…more on that in a sec.
Since my home was built before folks were really big into finishing basements, the ceilings are just over 7 feet tall in some areas. When I had the basement re-finished (previous homeowner finished it in before and it was not good) I had them tray up the areas they could. So there's a tray ceiling on one side with recessed lighting…
…and a wider tray ceiling on the other side with more recessed lighting.
It's kind of dim in the area where I set up my workbench, so for now I have the lamp from the porch here. I like the extra light but the shade is too big and sticks out too far. I find myself bumping into it as I work. Also, the shade is fabric and I noticed today it's covered in sanding dust. I need to look for something more functional if I'm going to keep working down here on a regular basis.
I forgot to take a picture but I bought this awesome little headlamp work-light on Amazon and it works great! I wear it when I'm using my circular saw or jig saw and I can see the line I'm following a lot better. You'll find it here: DEWALT DWHT70440 Jobsite Touch Headlamp
(Note: that's an affiliate link.)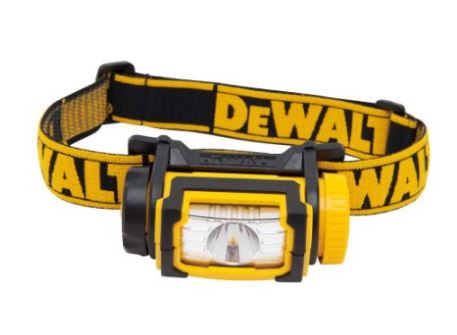 Over the last few months I've collected some basic tools. I made the decision to go with the DeWalt brand because I liked the reviews I was reading online. Plus, I like their black and yellow color scheme. Is that just wrong to be influenced by color when buying tools? 😉
Over the last few months I've purchased a circular saw, a brad nailer, a drill and a jigsaw. I used the drill, circular saw and jigsaw on my last project, the potting table. The project I've been working on recently requires a brad nailer, so it's the latest addition to my tool arsenal.
I've been buying cordless tools because I love the freedom I have when I'm not tethered to a wall. Also, knowing me, I'd probably end up sawing a cord in half.
I've been consistently buying 20v tools that use a lithium-ion battery because they last a long time and when you aren't using them, they keep their charge while on the shelf. Unfortunately, DeWalt doesn't make a 20v cordless brad nailer or a brad nailer that uses a lithium-ion battery. They make a 20v lithium-ion frame nailer but not a brad nailer. Boo-Hiss!
So I was stuck buying their 18v brad nailer and of course it takes the old style battery that doesn't last as long and does lose its charge while on the shelf. Just watch, they'll come out with the 20v, lithium-ion brad nailer next week…Murphy's Law you know. That means I'm also stuck needing two different chargers. If they can make a framing nailer that takes a Li-Ion battery, you know they could make a brad nailer, too. DeWalt, are you listening to me?!
I just ordered these, they should arrive either today or tomorrow, then I can quit sticking cotton in my ears. I can't wait to get them because you can listen to the radio or hook them to your phone and listen to downloaded books. I think they may work with iPods too but double-check that if you consider ordering them. I download all my Audible purchases to my phone so I'll be listening to my books and protecting my hearing at the same time. Love that!
Update: My "Work Tunes Hearing Protector" headphones arrived and they do work with ipods. They also work great for listening to downloaded books, but the reception for the radio is horrible in my basement. It may just be the location of my home since I also get crummy cell phone reception here, too. Or, it could be because I'm down in a basement when I'm wearing them. They work great for music and books though, which is why I wanted them. They also block out the noise from saw, sanders, etc… really well.
You can find them on Amazon where I ordered them here: 3M TEKK WorkTunes Hearing Protector, MP3 Compatible with AM/FM Tuner
(Note: That's an affiliate link.)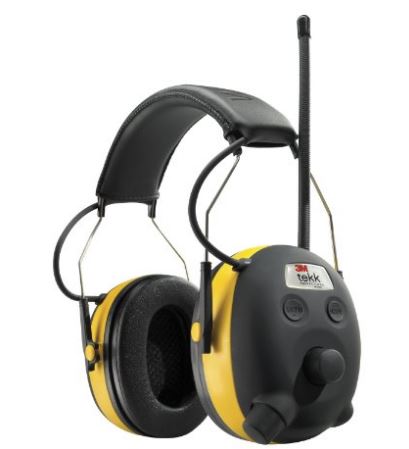 I have a really high-tech container for holding pencils, scissors and other goodies.
As I've been working downstairs in the basement, I've been pilfering stuff from all over the house: Scissors, trash can, calculators, pencils, measuring tape, etc… Then when I go upstairs and need those things, it's a pain. I think I've lost a few pounds (good side effect) from running up and down two flights of stairs to retrieve things back out of the basement.
I finally bought a second measuring tape, some utility/shop scissors, an inexpensive trash can and this little gadget. It's a home project calculator and it helps you convert inches to feet or yards or whatever. The cost wasn't that much more than a regular calculator so I decided to give it a whirl. I like that it closes up since sawdust is everywhere…did I mention that already?! 😉
I tell ya, this buying stuff for a home workshop could become addictive. It's kind of fun fixing it up down here. It may even inspire me to go ahead and paint the trim and walls in the finished side of the basement. I think I'll leave the concrete floor as is, though. The next person who lives here may want carpet or who knows what down here. This basement also has an unfinished side with two large windows that would make a great workroom. With the addition of some sheet rock and lighting, it could be a great workshop. Umm, the wheels are a-turning.
Okay, it's back to the basement I go, determined to finish this project today so I can share it soon!
Let me know what color I should paint the bench. Oh, and while we're at it, whats a good color for basement walls? Any suggestions?
*If a post is sponsored or a product was provided at no charge, it will be stated in post. Some links may be affiliate links and as an Amazon Associate, I may earn from qualifying purchases. *