Welcome to the 335th Metamorphosis Monday!
I'm so excited because I have such a treat for you today! Recently, Linda and her hubby added a three season porch to the back of their home. Linda said, "Recently, my hubby enclosed our outdoor area. Formally, this space was a raised concrete patio that had a pergola over it."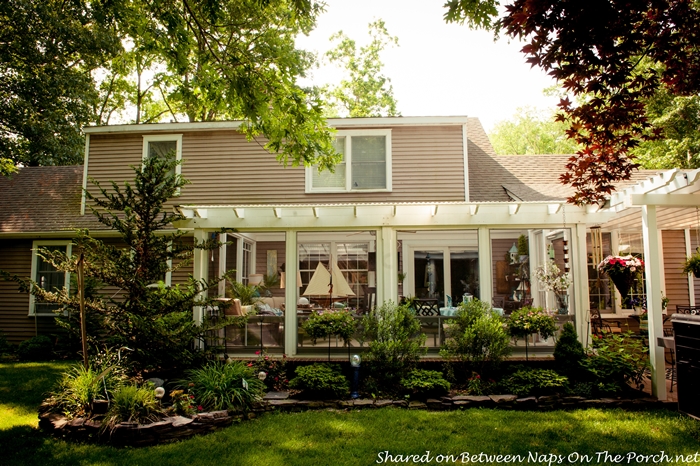 "He always hesitated to enclose it because he didn't want a roof overhead since that would prohibit natural sunlight from filling the family room that is adjacent to the space."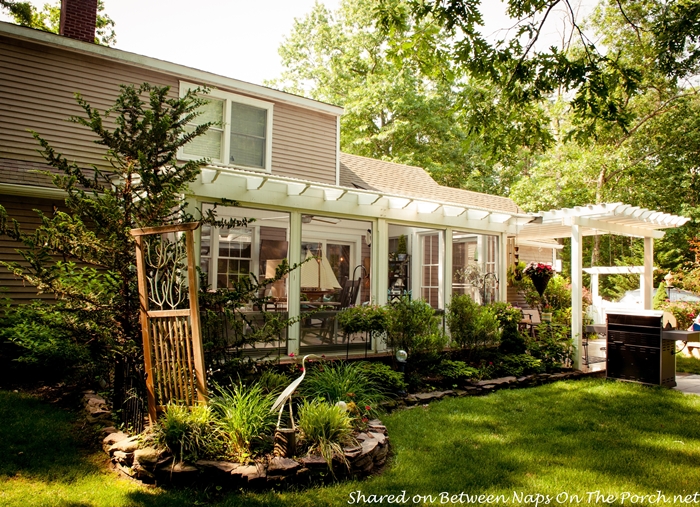 "So, I did some research with a little help from Pinterest, and found a porch that had a roof made from clear acrylic panels. Viola! He loved the idea…and he found the Eze-breeze vinyl window/screens to make it a 3 season room. We love it and use it so much more since we don't get eaten alive from mosquitoes while sitting out there in the early evenings!"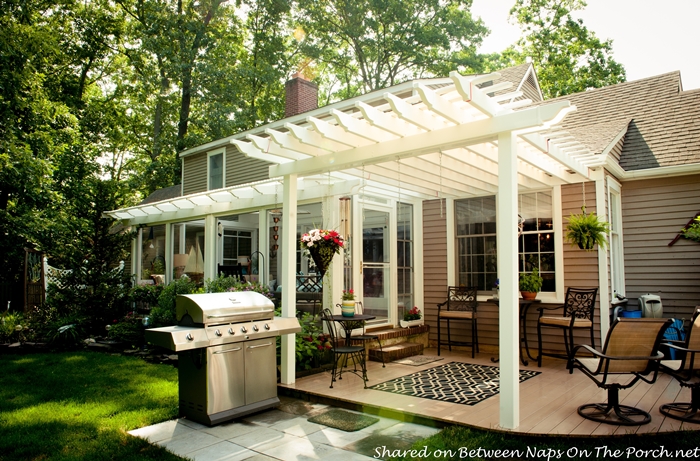 Linda has invited us inside for a tour, and you are going to love it! Wait until you see the view of her backyard. When I saw it through the porch windows, I couldn't believe it was real. Okay, I'm giving too much away, let's go inside before I spill all the beans!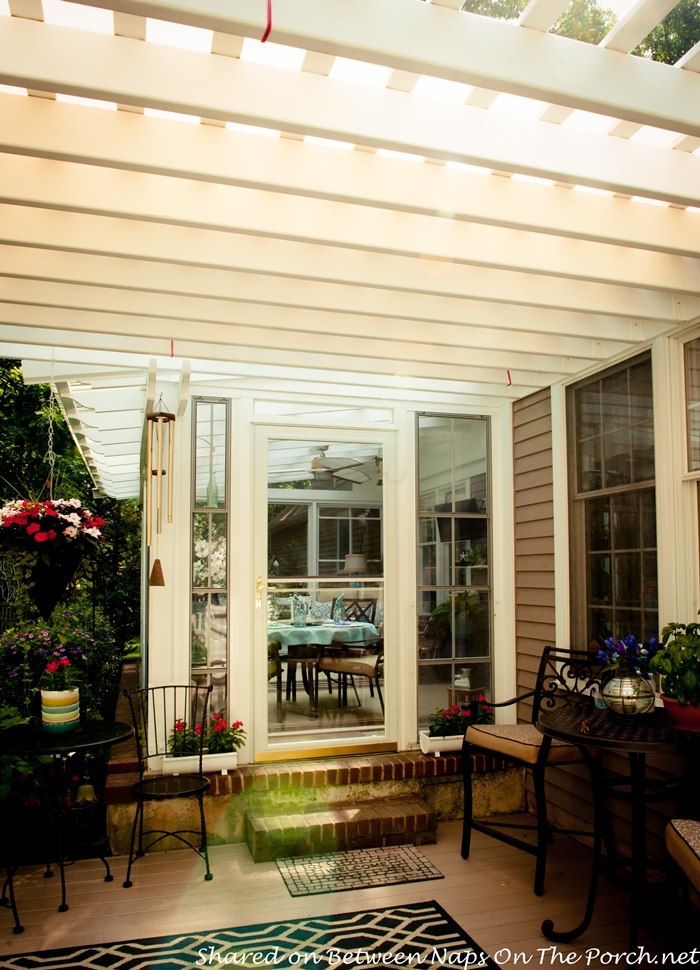 Such a gorgeous porch! I love the big windows that can magically disappear and I love the soft color scheme Linda chose for the fabrics and trim. Notice the windows straight ahead–now you see them…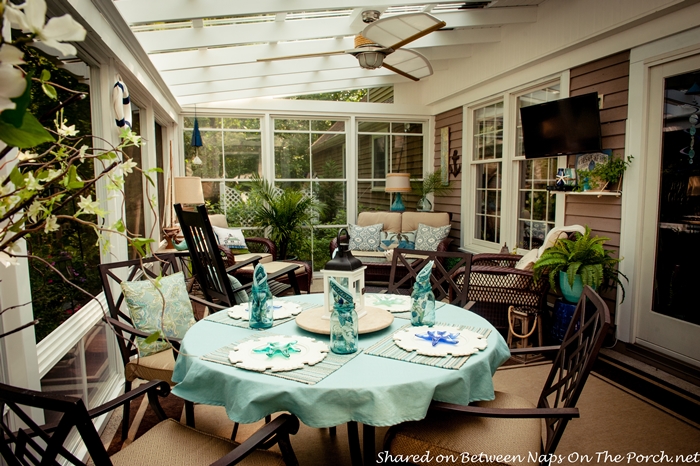 …now you don't! It's magic! 🙂 Nothing left but screens to keep out the annoying mosquitoes! Linda went with the finest grade screens available to get the clearest view possible.
Don't you love her ceiling fan! I'll share more about it in just a sec. You can see the clear roof in the picture above and below. When I first saw pictures of Linda's porch, the first thing I thought of was a conservatory with its big beautiful windows and see-through ceiling.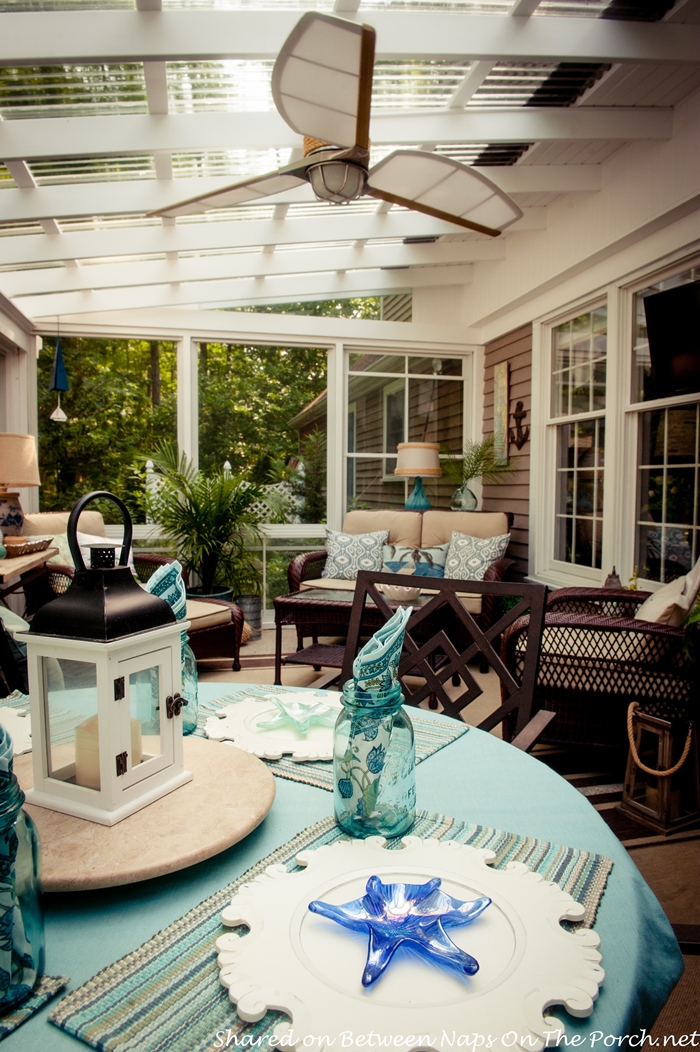 Let's go check out the seating area on the other side.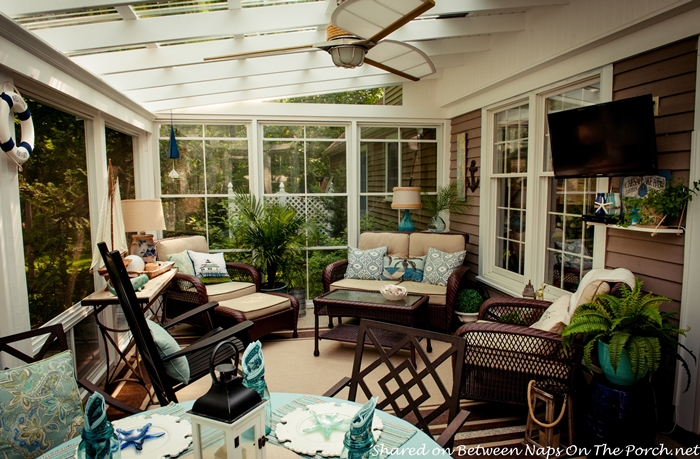 I asked Linda about her beautiful furniture here on the porch and she said, "In regards to the furniture…all of it was purchased prior to us enclosing the room. The dining set was from Wal-Mart, their Better Homes and Gardens line–probably 10 years ago. I've only replaced the cushions once. It's powered coated aluminum and has never rusted considering in its early life it sat outside in humid, rainy weather." The wicker settee and chairs were from Sears. They are outdoor wicker and weather resistant.
Before Linda turned her patio into a porch, the furniture was outside and exposed to the elements. Linda said, "All the furniture had to be put away in storage at the end of each summer and carried back out around Memorial Day (after the pollen subsided). Also, I had to always be on alert for rain so that all the cushions were put away after each use!"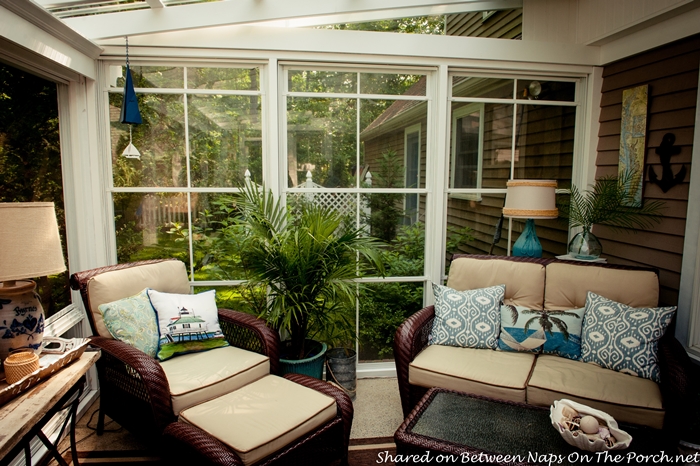 Linda said, "The iron, chippy table (with the model ship on it) was purchased a year ago from (believe it or not) The Christmas Tree Shop! The table lamp is a piece of Rowe pottery from Wisconsin. I have a close friend who 26 years ago, owned a gift shop. She ordered it for me and it sat in our family room for many years until I started slowly re-decorating from country to a more traditional style.
The black rocker is from Lowes and a new purchase this spring where I rock my new grandson, (7 months old, Kellen). It's a calming place to sit because outside behind it is a small pond and waterfall. I guess you can say I decorate on a budget!"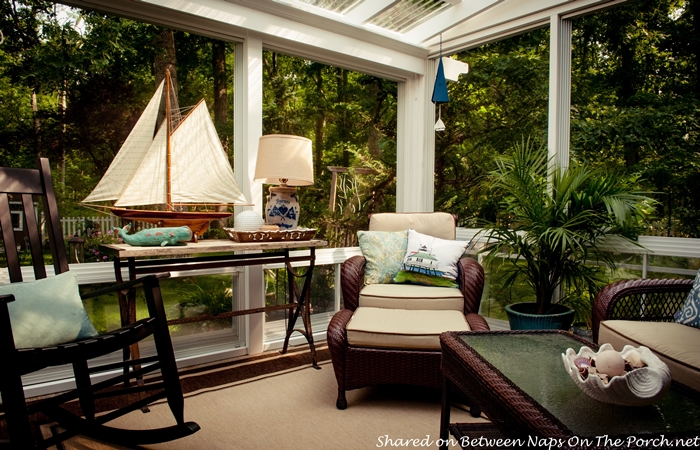 Remember the backyard view I promised, isn't this absolutely beautiful! When I first saw it, I couldn't believe it was real. It's so beautiful, it looks like one of those pretend "sets" you see sometimes in the background on TV. The white picket fence and the dovecote just make it over-the-top perfect! This is pretty much my dream backyard!
Forcing myself back to reality, 🙂 I asked Linda for a bit more information about her wonderful porch. Linda said, "Our family room is adjacent to the porch. My hubby never wanted a typical type porch on the raised concrete patio for fear of it darkening the family room. However, about 12 years ago, he built a pergola over it purely for aesthetic purposes and to quiet me!
Then, my world changed as I discovered Pinterest! I showed him a pic from Pinterest where a clear roof was substituted for a regular one on a sunroom. That picture directed us to Home Depot where they sold poly-carbonate corrugated roofing panels."
You can see the clear roof of Linda's three-season porch in the photo below.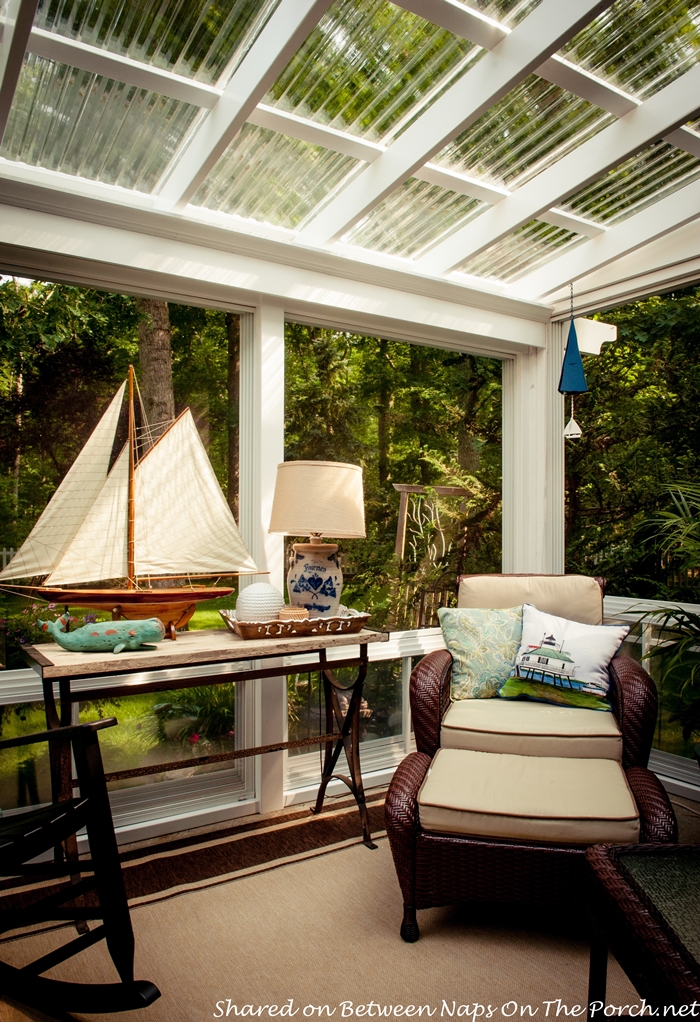 Linda continued, "In the meantime, a friend had replaced the screens on an existing porch with a new product my husband was intrigued with…Eze-breeze vinyl windows with screen panels. The windows aren't real windows …they are crystal clear vinyl and have held up fine with three dogs the pass 2 years. Each panel has 4 window sashes that slide one behind the other when you put them down in order to expose the screened panel."
In the picture below you can see how they stack behind each other when lowered. So Linda can turn her porch into a screened-in porch in just seconds!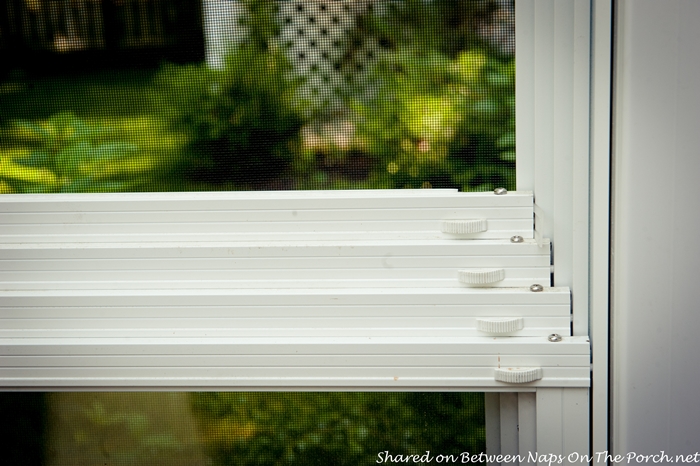 I love Linda's porch fan and asked her for the name of the manufacturer.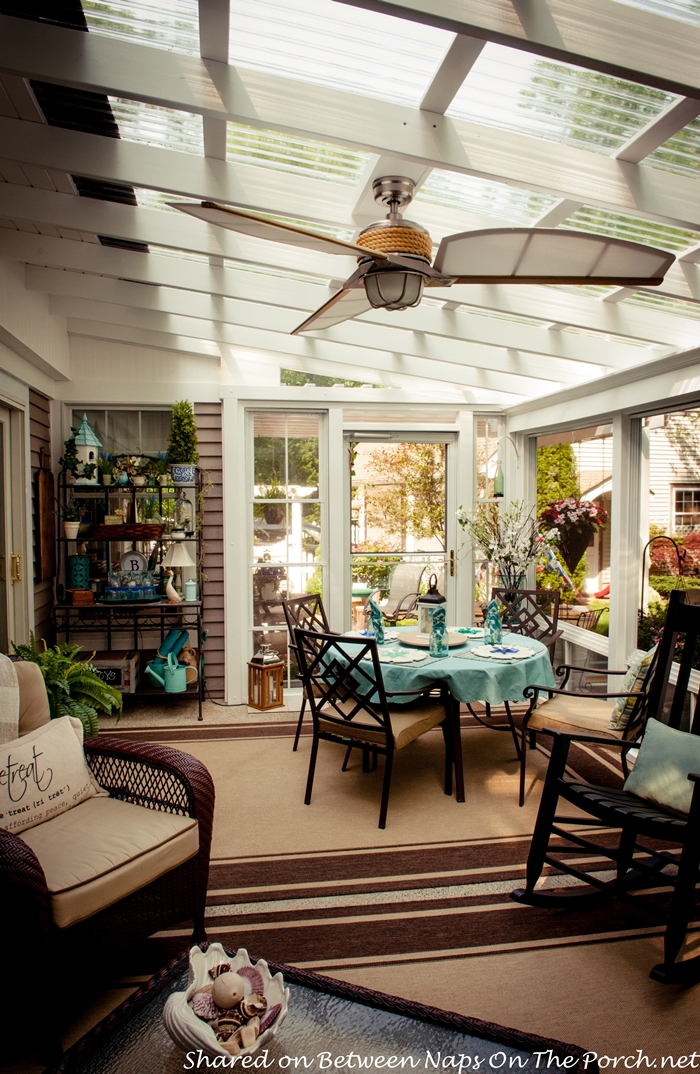 The fan is by Bayview and it's called, Escape. Don't you love that name; it's the perfect name for a porch fan! The Bayview Escape is still available here: Bayview Escape Indoor/Outdoor Ceiling Fan
I love, love, love all the natural light coming in through the windows and the ceiling!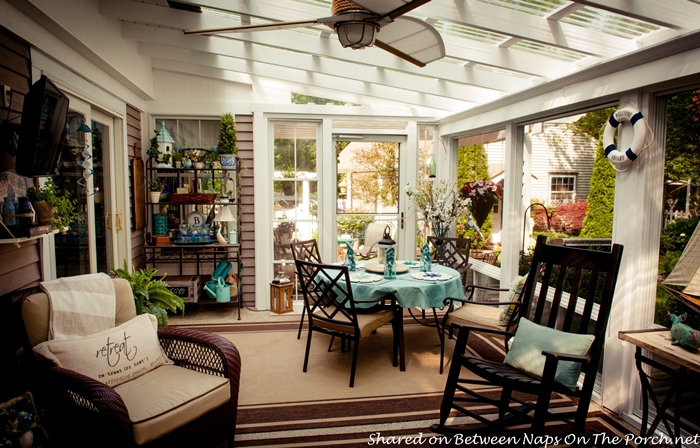 Linda said, "Now, we can enjoy our early morning coffee out there and late afternoon and early summer evenings without the mosquito factor. In addition, the fall and early spring months are enjoyable too. And, the best part is all the furniture can stay put. I even change the decor for the seasons and have another Christmas tree out there in the winter."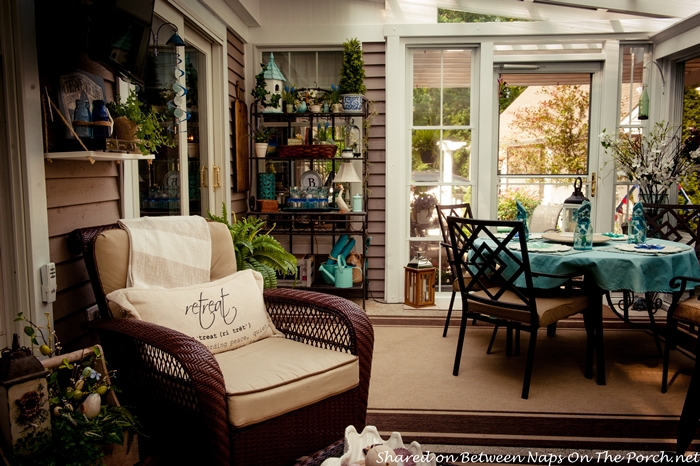 One last view from the outside of this beautiful three-season porch.
And one last view of the looks-too-beautiful-to-be-real backyard that I will forever be seeing in my dreams at night. 🙂
Before I leave you, I have to share one last picture Linda sent just as I was finishing up this post. Linda has a wonderful front porch as well and it's all decorated for Independence Day!
Linda's husband, along with her dad, built their home thirty years ago. Working nights and weekends, it took them 2 1/2 years to build it using plans they purchased from Country Living Magazine. The only things that were subbed out was the foundation and block work for their full basement and the insulation and drywall. So amazing and I can just imagine all the memories that have been made in this wonderful home over the past thirty years!
Thanks so much to Linda and her hubby for sharing her fabulous three-season screened porch! And thanks to Allison Anne Studio who took the beautiful photos shared in this post.
Pssst: I post almost daily to Instagram. Follow Between Naps on the Porch on Instagram here: Between Naps On The Porch.
Looking forward to all the fabulous Before and After posted for this Met Monday!
Metamorphosis Monday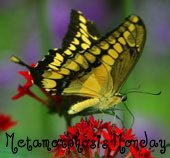 If you are participating in Metamorphosis Monday, please link up using the "permalink" to your MM post and not your general blog address. To get your permalink, click on your post name, then just copy and paste the address that shows up in the address bar at the top of your blog, into the "url" box for InLinkz.
In order to link up, you'll need to include a link in your MM post back to the party so the other participants will have an opportunity to receive visits from your wonderful blog readers.
Please observe these few rules:
Only link up Before and After posts that are home, gardening, crafting, painting, sewing, cooking, DIY related.
Do not link up if you're doing so to promote a website or product.
Do not link up a post that was just linked last week since a lot of readers will have already seen that post.
*If a post is sponsored or a product was provided at no charge, it will be stated in post. Some links may be affiliate links and as an Amazon Associate, I may earn from qualifying purchases. *