Welcome to the 444th Metamorphosis Monday!
As I've been blogging about adding storage cabinets for some of my dishware down one wall of my garage, I've received a lot of questions about this project. I thought this Met Monday would be a good time to answer those all in one post. If I miss one, feel free to ask it in the comments and I'll add that question to this post.
As you may recall, these are the two cabinets I'm using. Originally I planned to place six down one wall of the garage: 4 of the type (without a drawer) on the left and two of the type (with a drawer) on the right.
Ultimately I decided to go with just 5 cabinets since the little laser thing on the garage door opener that prevents people/objects from being squished by the door would partially block the door/drawer of one cabinet from opening very far. I also decided to go with more of the "drawer cabinets" since the drawers will hold even more weight than shelves.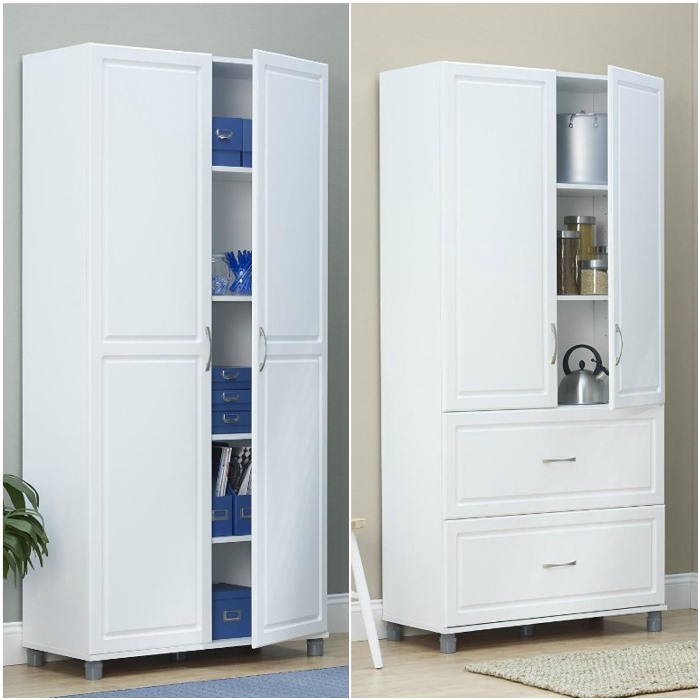 After four cabinets were delivered via UPS and FedEx badly damaged, I came up with a different method for getting them to my home. I ordered them via Wal-mart online and had them delivered to the nearest Wal-Mart (a Wal-Mart Neighborhood Market) where I opened each box to verify they were okay prior to taking them home.
I'm happy to report this method has worked for two of the remaining three cabinets I've ordered. The other cabinet hasn't come in yet but it should arrive in a couple of days.
By the way, if you buy any of these cabinets and have them delivered this way, I recommend you have them delivered to a regular Wal-Mart and not a Wal-Mart Neighborhood Market. The boxes are super heavy (145 lbs) and at the Market where I picked these up, only one person was available to help me. It wasn't easy getting these heavy boxes into my SUV with just one employee helping me. I think you would have more help if you picked them up at a regular Wal-Mart where they are probably used to helping customers load heavy boxes.
Once home, I opened each box again inside my SUV and lifted the pieces out of the box and into my garage one at the time. The process went fast without a hitch, so this method worked really well. Definitely beats having them delivered via UPS and FedEx!
Questions:
As mentioned, I'm going to be using these cabinets for storing some of my tablescaping wares. In this photo below, I have flatware, napkin rings and napkins in the cabinet on the left and charger plates and napkins in the cabinet on the right.
Temperature in the Garage
A few folks expressed concern about the temperatures in the garage getting too hot/cold and causing issues with the dishware. I placed a thermometer out there for a few days and discovered that the garage stays around 10 degrees cooler than whatever the temperature is outside.
So, if it's 94 outside, it's around 83-84 degrees in the garage. I had never thought about the temperature in the garage until folks asked because it has always been pretty comfortable out there. It's where I overwinter a lot of my outdoor plants. I think it stays fairly comfortable in the garage because there's a heated/cooled bonus room overhead, a heated/cooled kitchen on the front end/wall and a heated/cooled laundry room on the cabinet wall.
So there are only two walls that are not against a heated/cooled space, that being the north side, which is shaded by a large magnolia tree and the garage door side which gets the morning/east sun. If I didn't have all those heated/cooled spaces around the garage, it would probably get a lot hotter out there.
I won't be storing any of my vintage dishware in the garage, like this Syracuse "Orchard" pattern I used in a recent table. It will remain in the kitchen dish pantry.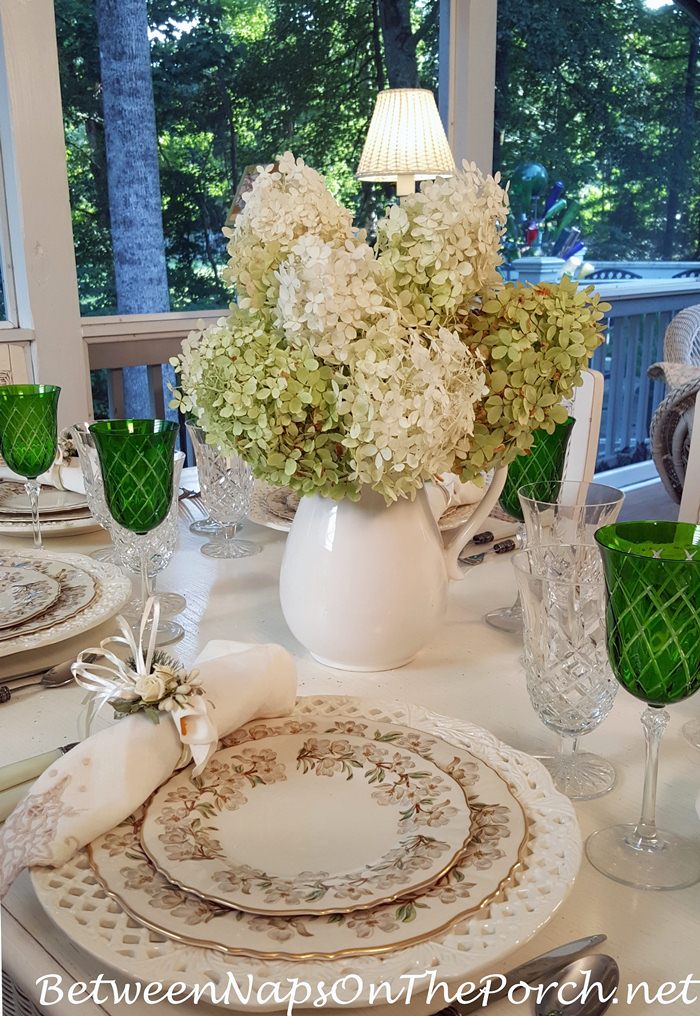 My vintage Copeland-Spode "Tower" lives here in the kitchen cabinets. I love seeing it there, so wouldn't want to store it anywhere else.
The china cabinet seen on the left here in the dining room is where I store my Lenox Winter Greetings, Spode Woodland, Lenox Holiday and some Waterford stemware.
So the garage storage will be mainly for dishware that's more worry free, typically dishware that's microwave safe, etc…
In fact, some of the dishware I brought down to store in the garage cabinets has actually been being stored in an unheated/uncooled crawl space off my bonus room. My bonus room has two dormer windows.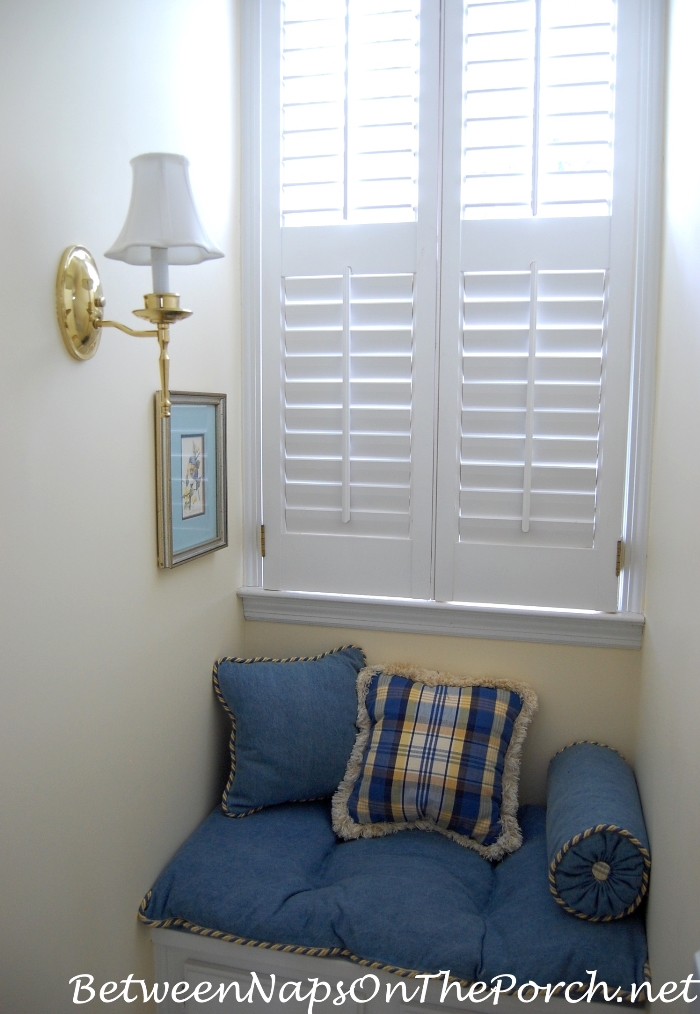 On either side of one of the windows is eave storage space. I've been keeping all my Halloween dishware inside bins in the eave storage on the right where I store my Halloween decorations. They've done fine, no crazing or issues, but sometimes I'm ready to set a Halloween tablescape before I'm ready to drag out all the decorations. So I'm glad to be moving the dishware down where it be more readily available.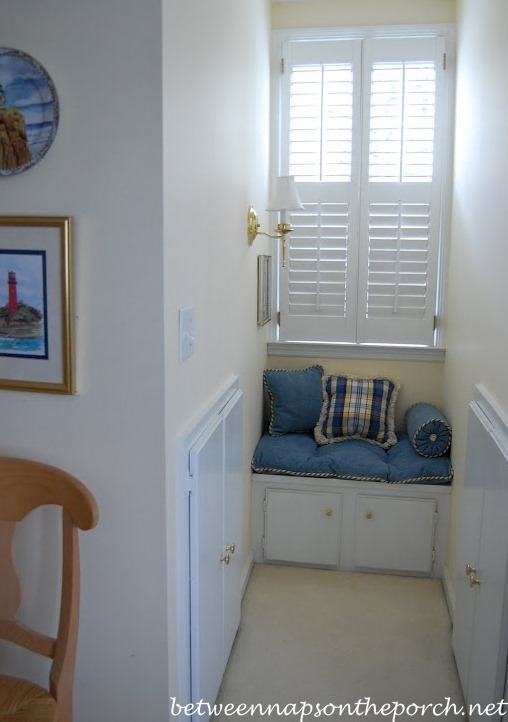 Hanging Tablecloths
Several folks suggested I hang my tablecloths instead of storing away in a closet or a drawer of the cabinets. The first time I came across tablecloths stored that way was when I got a glimpse of Bunny Williams pantry many years ago in her book, An Affair With a House. I love how that looks but I'm not sure I use tablecloths often enough to make it worth giving up closet space.
I do have one small closet in the upstairs family room (see it there in the corner?) that could possibly work. I need to clean out that closet and get rid of some stuff stored there anyway.
For right now I'll just store tablecloths in my recently-cleaned-out hall linen closet until I can find time to move them to the small closet in the bonus room.
Are The Shelves Bowing?
A few folks asked if the shelves were bowing since they appear to be in some of the photos. The instructions that come with the shelves say they will support 40 lbs, but online the instruction manual for the shelves says they will support 35 lbs.
I noticed when I stick to the 35 lb limit, they don't bow at all. The bow (when I add more weight) is very slight and doesn't really bother me since this is just garage storage. If you order these cabinets and wish to store heavier weight on each shelf, you may want to consider having some shelving cut at Home Depot or Lowes. I don't know if the pressed wood shelving they sell (that can be cut down to size) is sturdier or not, but it may be worth a try if you would like to store more weight per shelf. Update: I eventually had issues with the shelves bowing with 35 lbs of dishes on them, so I had shelves cut to the size I needed in Home Depot and that solved the issue. So if you'll be storing heavy dishes, I'd get new shelves cut in HD.
I hope this answers a few of the questions I've received about this garage dishware storage. Thanks so much for all your suggestions and input! I really appreciate them so much and have used some of them, like the suggestion to store my napkins on their edge/side.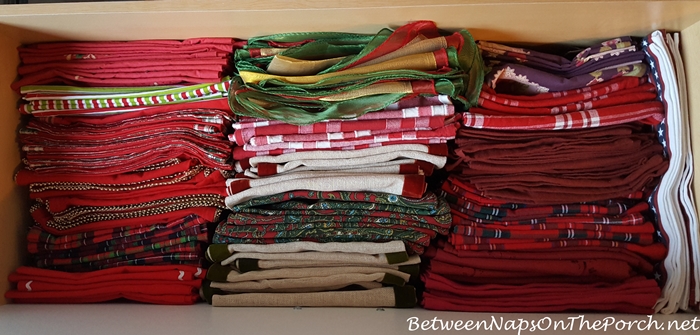 If you would like to see some of the other areas where I store my dishware, check out THIS post and my FAQ page HERE.
Pssst: I post almost daily to Instagram. Follow Between Naps on the Porch on Instagram here: Between Naps On The Porch.
Looking forward to all the great Before and Afters linked for this week's Metamorphosis Monday!
Metamorphosis Monday
Metamorphosis Monday is a party that's all about Before and Afters. If you are participating in Met Monday, please link up using the "permalink" to your MM post and not your general blog address.
To get your permalink, click on your post name, then just copy and paste the address that shows up in the address bar at the top of your blog, into the "url" box for InLinkz.
In order to link up, you'll need to include a link in your MM post back to the party so the other participants will have an opportunity to receive visits from your wonderful blog readers.
Please observe these few rules:
Please link up Before and After posts that are home, gardening, decorating, crafting, painting, sewing, cooking, fashion or DIY related.
Be sure to include a link back to the party in your post, so your readers will be able to find and visit the other bloggers who are participating.
Do not link up to the party if you're doing so to promote or sell a product.
To those who are linking up: If you notice a shop or store linking up to sell products (yes, unfortunately that does happen) please let me know so I can remove their link from the party. No one wants to click a link expecting a Before and After, only to find a spam link to an online business/store.
*If a post is sponsored or a product was provided at no charge, it will be stated in post. Some links may be affiliate links and as an Amazon Associate, I may earn from qualifying purchases. *