Thanks for all the input yesterday on the new finial I was trying out. I had seen the brass shamrock several folks mentioned, but I really had my heart set on a dragon or something a bit fanciful and fairy-tale-like. I think I'll just stick with the two finials I have already for now, but will keep an eye out in case something better comes along. Appreciate all your helpful input!
Today while out running an errand, I stopped by A Classy Flea. I love going there, but I try not to do it too often because every single time I do, I find something I want to take home! If I ever move closer to my grandchildren, A Classy Flea will be the one local store that I will miss more than any other.
Let's shop around and see what we can find today. I found several sets of dishware that were tempting, but I manage to contain myself and not buy any. It wasn't easy! This table was all set for Thanksgiving.
Unfortunately, the lighting created a glare right on Mr. Turkey's head, but he's a cute little turkey! This is Queen's "Thanksgiving" dinnerware and on the back it said, "Myott Factory Archive Illustrations, Adapted from original copper engravings." $198 for 8 place setting, 24 pieces
Another pretty pattern by Noritake: $78 for 22 pieces
This set really captured my interest…it's sooo different!
It's by Sango and the pattern is called, Cabaret.
This was the salad/dessert plate…
The dinner plate…
And the saucer for the cup and saucer. It was priced at $128 for 32 pieces. Out of curiosity I checked to see if there was any of this pattern on eBay and there was HERE. I had never seen this pattern before but I love the graphic design. It would be great for a themed dinner party.
Thought this faux antler candelabra was interesting…would be perfect for a woodsy table setting on in a cabin setting. $98
I saw quite a bit painted furniture. This piece was already sold so not sure of the price.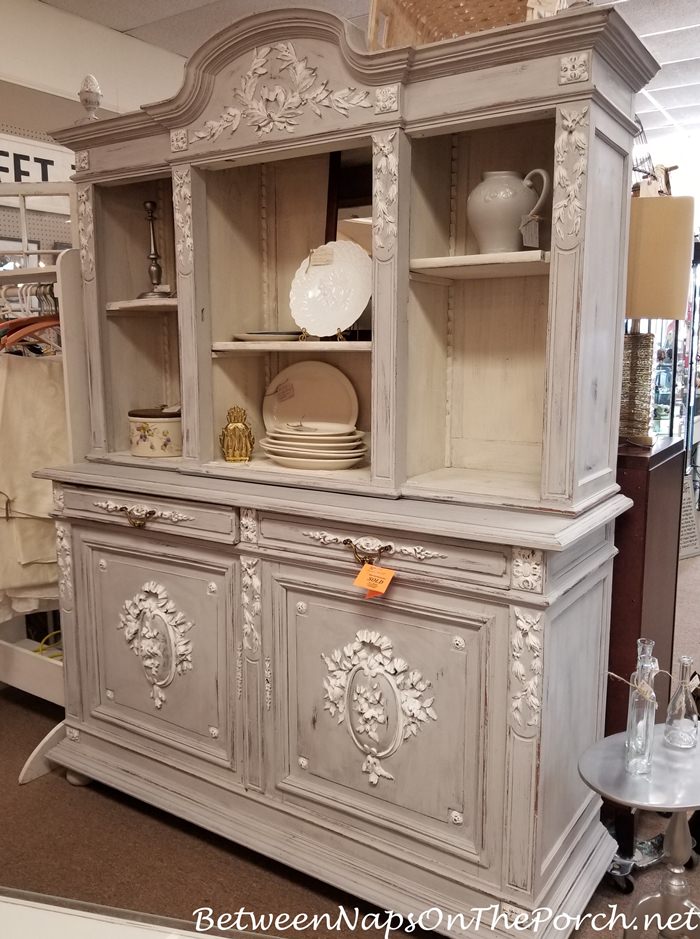 This painted sideboard was $299.
So much to see, wish I could share it all. It's so relaxing poking around through all the new and vintage treasures. I think that's what I like about antiquing the most, how relaxing it is.
This lamp was just $24. I think it would be really pretty with a new shade.
Garden Chickens: $48
This was labeled as "Rabbit Planter or Drink Holder." I guess it could be filled with ice or perhaps a tub of iced placed down inside for an outdoor party. $129
I loved this sweet watering can…thinking now I should have brought it home with me. $12
I couldn't believe the price on this beautiful antique Empire mahogany sideboard! It was only $299.
I could see this pretty ottoman in the center of dressing room/closet…great place to sit while putting on shoes or boots. $72
I wonder if these had glass at one time. They were quite large and marked $32. Not sure if that was per lantern or for both.
I have this book and it is wonderful! Definitely one of my favorites and the perfect cozy read for a fall or winter's evening. You can read my review of it HERE and you'll find it available for purchase here: Getaways.
Thanks for going antiquing with me, loved having you along!
Pssst: I post almost daily to Instagram. Follow Between Naps on the Porch on Instagram here: Between Naps On The Porch. If you enjoyed this post, subscribe for free email updates when a new post is up here: Subscribe for post updates.
*If a post is sponsored or a product was provided at no charge, it will be stated in post. Some links may be affiliate links and as an Amazon Associate, I may earn from qualifying purchases. *