Welcome to the 409th Metamorphosis Monday!
I'm having a tree dilemma this year. This is the tree that I normally set up in my living room.
And this is the tree I usually set up in my kitchen. Both trees were purchased many years ago in a Home Depot Expo during a big sale they had going on Black Friday. They have served me well for around 10 years now, but the last couple of years they have begun giving me a major headache each year.
Last year, an area around the lower section of the tree in the living room quit working. I replaced every single fuse in that entire section, not once, but twice, and it still wouldn't light. If you have a section of lights on your tree that's not working, check out THIS post where I show how to find and replace a fuse, or click image below. That normally works, but sadly, not in the case of this tree.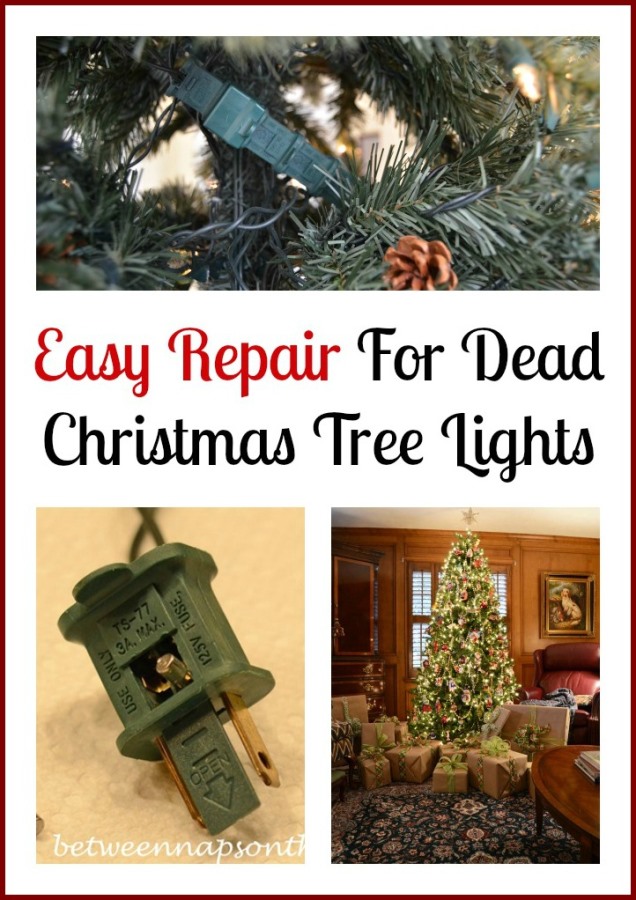 After spending around 8-10 solid hours working on the lighting problem over the span of 3-4 days, I decided it was time to donate it, so that's what I did this past summer. I'd never been completely happy with this tree, anyway, the shape of the tree had always been a little too uniform for my liking (screams fake!) and the branches/needles didn't look at all realistic. It was very much old-school tree technology. There are some much, much better trees out there these days.
It was a tough decision the year I abandoned having a real tree and decided to go artificial. I spent a pretty penny on these trees that made big claims of looking real in the advertisement and on the box, but definitely fell short.
I spent several hours yesterday searching online and reading a ton of reviews. Sadly, I didn't find a single brand where there weren't a lot of complaints about non-working lights. One site even did a direct comparison between two leading sellers of high-end Christmas trees and neither fared very well.
The majority of the complaints centered around two issues: 1. New trees arriving with non-working lights and 2. Terrible, uncaring customer service, followed by very slow shipping of replacement trees. The anger and bitterness people feel really comes through in the reviews. That's completely understandable when you consider what a special holiday Christmas is for so many. You want everything to be perfect when your family and friends (some you haven't seen in years) come for a visit. Then there are all the holiday parties and entertaining. Who has time to deal with bad lights and waiting on replacement trees.
I literally spent hours yesterday checking out all the leading brands and reading reviews and complaints at various consumer sites and at the seller's sites themselves. In all my tree shopping, I finally narrowed it down to one company and two trees.
Front Gate seems to get higher marks than anyone else for customer service, but all their 7.5 foot trees (that's the size I need for my living room) were way too wide at 66 inches.
Balsam Hill has two trees I'm considering: The BH Balsam Fir…
…and the BH Fraser Fir. I'm having a difficult time determining which I like best, they each have slightly different features. Balsam Hill's Balsam Fir has a lot more branches and lights, though their Fraser Fir is very dense, as well. I know from watching their videos, Balsam Hill designs their trees to look as much like the real thing as they possibly can, so I'm guessing a Balsam Fir may be more full in real life than a Fraser Fir. Anyone know?
It may come down to price in the end, the Balsam Fir is $200 more than the Fraser Fir. Anyone have experience with either one of these two trees? Do you have a Balsam Hill tree, and if so, how do you like it?
I may end up using my old kitchen tree in my living room this year, although I have it set up in there now and it looks too skinny for that room. The skinny factor works great in the kitchen, but not great in my living room.
I tell ya, this artificial tree-buying business is pretty intense because they aren't small investments. I don't mind paying more for a really good tree, as long as I know it will last and be trouble-free for many years.
I'll keep you posted on my decision. If you have a Balsam Hill tree, appreciate your thoughts and experience with their trees and the Balsam Fir vs the Fraser Fir.
Looking forward to all the fabulous Before and Afters posted for this week's Metamorphosis Monday!
Metamorphosis Monday
Metamorphosis Monday is a party that's all about Before and Afters. If you are participating in Met Monday, please link up using the "permalink" to your MM post and not your general blog address.
To get your permalink, click on your post name, then just copy and paste the address that shows up in the address bar at the top of your blog, into the "url" box for InLinkz.
In order to link up, you'll need to include a link in your MM post back to the party so the other participants will have an opportunity to receive visits from your wonderful blog readers.
Please observe these few rules:
Only link up Before and After posts that are home, gardening, crafting, painting, sewing, cooking or DIY related.
Do not link up to the party if you're doing so to promote a website or sell a product.
Do not link up a post that was just linked up last week since readers would have already seen that post.
*If a post is sponsored or a product was provided at no charge, it will be stated in post. Some links may be affiliate links and as an Amazon Associate, I may earn from qualifying purchases. *