Welcome to 483rd Metamorphosis Monday!
Thank you so, so much for all the kinds words left in the comments of Thursday's post! I was traveling all day on Thursday and was out of town over the weekend, so I haven't had a chance to personally reply to everyone, but I'll be working on that throughout the week.
I am so blessed by all the lovely dearhearts who stop in each day and want you to know I never take it for granted. As I've said before, YOU are the very best part of Between Naps On The Porch and I'm forever grateful for your friendship. I'm looking forward to sharing another 500 Tablescape Thursdays with you! We are just gettin' warmed up around here! 🙂
Metamorphosis Monday
I have a delicious "Before and After" for this week's Met Monday. My friend, Linda, is an excellent cook/baker and one of her specialties is Banana Bread. It's a favorite with her friends and family who always put in their orders for a batch when they expect to see her. After hearing so much about her banana bread, I asked if she would share the recipe so I could share it with you. She graciously agreed and I can't wait to make some soon.
Here's a list below of what you'll need for this recipe. I was surprised by some of the ingredients and it's increased my curiosity to try it.
For this banana bread, you'll need the following:
1-1/2 cup granulated sugar
1/2 cup Crisco or another shortening (do not use butter)
2 eggs
1 tsp vanilla (I just pour so it is probably more like 1 1/2 to 2 tsp)
3-4 bananas, very ripe, peeled and broken into pieces
1 tsp baking soda
2 cups flour
3/4 tsp salt
1-2 tsp Cardamon – I just started adding Cardamon and I love the flavor. I will add 2 tsp next time as 1 tsp just doesn't add enough flavor for me.
1/2 cup milk
1 Tbsp vinegar
1/2 cup nuts – pecans or walnuts chopped
1/2 cup chopped dates – even if you don't like dates, add them as they make a big difference in how good this bread is. It is more of a moisture thing than taste.
Pam or Crisco & flour to grease 4 mini loaf pans.
In Linda's words, here's how you'll make this delicious banana bread:
Start by creaming the sugar and Crisco together.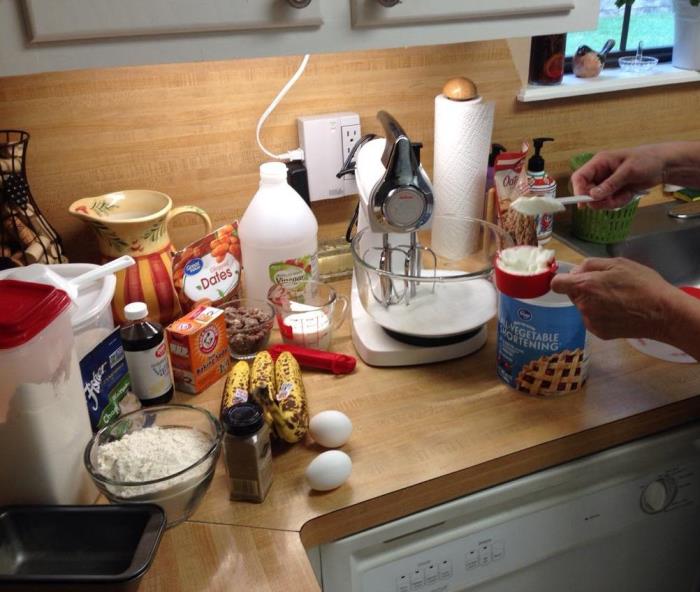 Add eggs mixing thoroughly. Next, add vanilla and mix.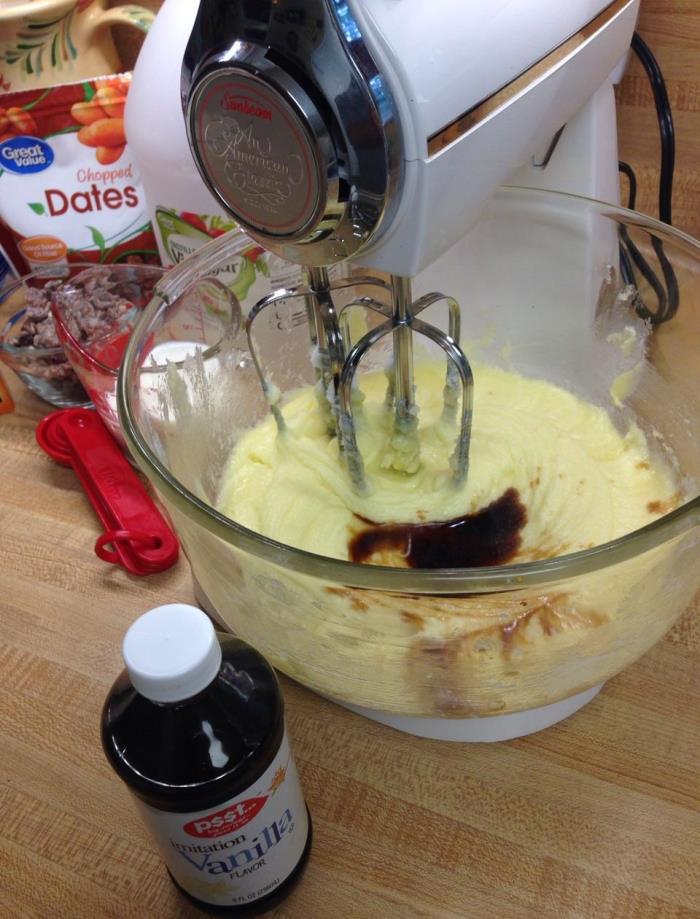 Then add bananas. Mix until incorporated, but still lumpy.
Add flour, baking soda and salt. Mix well, but gently.
Add Cardamon (optional) and mix.
Mix vinegar with milk then add to batter and mix.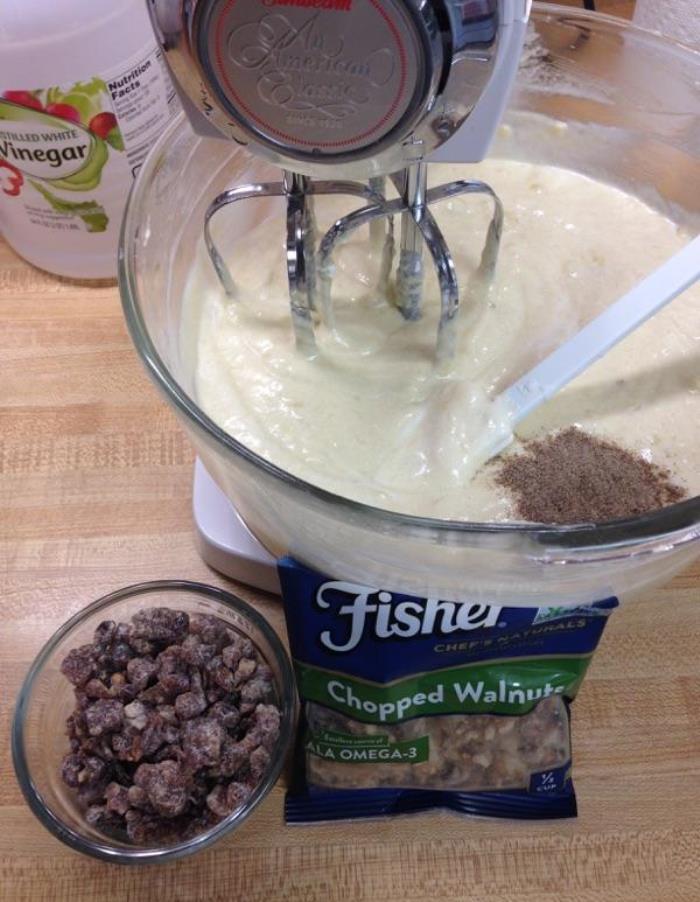 Fold in dates and nuts.
Pour into four (4) greased/floured mini loaf pans and bake 35-45 minutes in a 350-degree oven. Test for doneness at 35 minutes by using a toothpick or cake tester inserted into the center of the bread. If a lot of gooey bread appears on the pick, bake for an additional 10 minutes. If just a little bread sticks to the pick, it's done.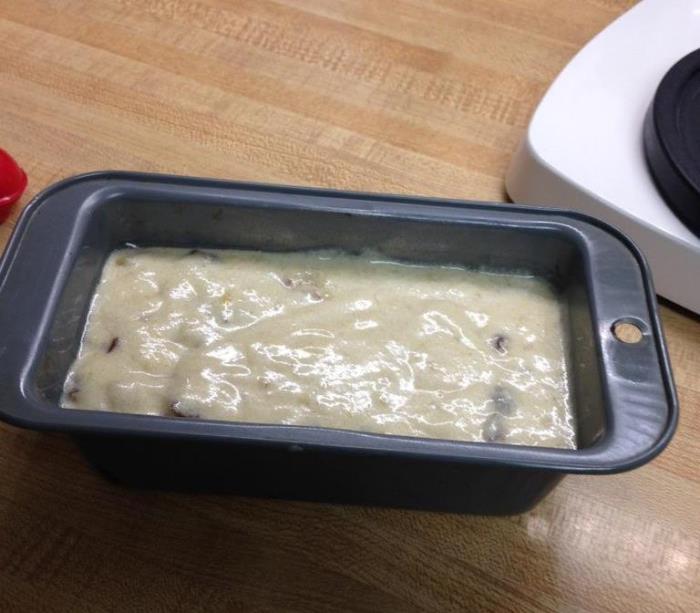 Place pans on racks to cool for 15 minutes, then remove bread from pans and finish cooling bread on racks.
Linda said, "I wrap my bread in foil and it will keep for several weeks in the refrigerator, or for a week on the counter. It is great served warm with butter or cream cheese! YUM!
This bread freezes well. I make and give away a lot of this banana bread at Christmas. Everyone loves it and it is really easy to make."
Thanks so much to Linda for sharing this wonderful recipe! I can't wait to make some very soon!
Looking forward to all the great Before and Afters posted for this Met Monday!
Pssst: I post almost daily on Instagram. Follow Between Naps on the Porch on Instagram here: Between Naps On The Porch. If you enjoyed this post, subscribe for free email updates when a new post is up here: Subscribe for post updates.
Metamorphosis Monday
Metamorphosis Monday is a party that's all about Before and Afters. If you are participating in Met Monday, please link up using the "permalink" to your MM post and not your general blog address. To get your permalink, click on your post name, then just copy and paste the address that shows up in the address bar at the top of your blog, into the "url" box for InLinkz.
In order to link up, you'll need to include a link in your MM post back to the party so the other participants will have an opportunity to receive visits from your wonderful blog readers.
Please observe these few rules:
Please link up Before and After posts that are home, gardening, decorating, crafting, painting, sewing, cooking, fashion or DIY related.
Be sure to include a link back to the party in your post, so your readers will be able to find and visit the other bloggers who are participating.
Do not link up to the party if you're only doing so to promote or sell a product.
To those who are linking up: If you notice a shop or online store linking up to sell products (yes, unfortunately, that does happen) please let me know so I can remove their link and block them from participating in future parties. No one wants to click a link expecting a Before and After, only to find a spam link to an online business/store.
*If a post is sponsored or a product was provided at no charge, it will be stated in post. Some links may be affiliate links and as an Amazon Associate, I may earn from qualifying purchases. *