I'm sure by now you've heard about the HUGE Nordstrom Anniversary Sale that's been going on. I finally got around to checking it out today since there are only a few days left.
I purchased these earrings. I'm too lazy to change my earrings each day and prefer to just wear "diamond" studs because they look great with anything from a dress to jeans.
Since I've lost more earrings over the years than I can count, I like to wear cubic zirconia earrings instead of diamond earrings. On the ears they look basically the same, and if I lose one, which I always seem to do, I won't have a heart attack.
They have these in gold and rose gold but I went with the sterling platinum. I purchased the 2 ct size (1 ct per earring) but they have them in other sizes, too. They are currently on sale for $29.90 a pair here: Cubic Zirconia Earrings.
A few other items that caught my eye were:
I love the soft color of these, they make me think of Tiffany Blue. 🙂
This beautiful scarf is calling my name. It's reduced from $58 to $37.90. I love the pretty colors! It also comes in a black/cream combination.
In my recent newsletter I shared a book I was super excited about, Susan Branch just released a new book. I already had her first two in this trilogy, A Fine Romance and The Fairy Tale Girl.
If you're not familiar with Susan's books, they are very special. She hand-writes all her books and I absolutely love her writing. It's so easy to read and so pretty! Every single page is a feast to view because she includes beautiful water-color paintings throughout her books. It's like you've found the private diary of a wonderful artist who illustrated their story as they wrote in their diary!
The last three books she's written have been filled with photos, as well as her lovely watercolor paintings. She and her sweetheart, Joe, went on a trip to England and she detailed all the wonderful places they visited in her book, A Fine Romance, which was the first book in the series.
You can see how the books are written in this photo below. On the left she's included a photo she took of the English countryside, while at the bottom of the right page, she's painted a beautiful watercolor image. No one, and I do mean no one, writes books like this. Susan Branch is a one-of-a-kind author and a true treasure!
In A Fine Romance, Susan takes us to Jane Austen's home. I loved reading about her visit! We also visit Beatrix Potter's Hill Top Farm!
Oh, oh, oh! I should tell you, I found a tour that goes to Beatrix Potter's farm! If anyone is interested in going next spring or summer, e-mail me and let me know: [email protected] I'm seriously thinking of going. The thing I love about this tour company is how their tours are all on back roads, plus they are all small group! Love that!
You can read about the trip that goes to Beatrix Potters Hill Top Farm, as well as the Bronte Parsonage, Dove Cottage and several other notable homes/cottages, here: Highlights of Britain.
They have tons of tours but the other one I'm dying to take goes to the village where Doc Martin was filmed. You can see that tour here: Corners of Cornwall.
Whew, just had to tell you about that tour, so excited to have found it! 🙂
Susan also includes lots of wonderful recipes throughout her book. I don't cook a lot but I'm going to try some of these.
The third book just arrived today and I can't wait to dig in and start reading it. It's called: Martha's Vineyard, Isle of Dreams. I love how all her books come with a pretty ribbon attached for bookmarking your place. It's so like Susan to think of including that.
All three books are available here: Susan Branch: A Fine Romance, The Fairy Tale Girl and Martha's Vineyard Isle of Dreams. I highly recommend all three! They will touch your heart because Susan shares some of the challenges she's had over the years and how she overcame them. They are inspiring!
Susan also has a wonderful blog and you'll find it here: Susan Branch.
Update:
Thanks Rosie for suggesting this book, I just ordered it! Beatrix Potter's Gardening Life is available here: Beatrix Potter's Gardening Life
Clothes for Dish Lovers and Everyone Else, Too!
So, you know how I love my Barbour coat? (Pssst: If you missed the post where I shared about the wonderful history behind this coat, you'll find it here: A Forever Coat.) Well, wait until you see what Barbour has done now!
Okay, all you dish lovers, you might want to sit down for this. 🙂 You're going to shoot me or kiss me for sharing this with you, I'm not sure which–especially if you're a Wedgwood china lover. 😉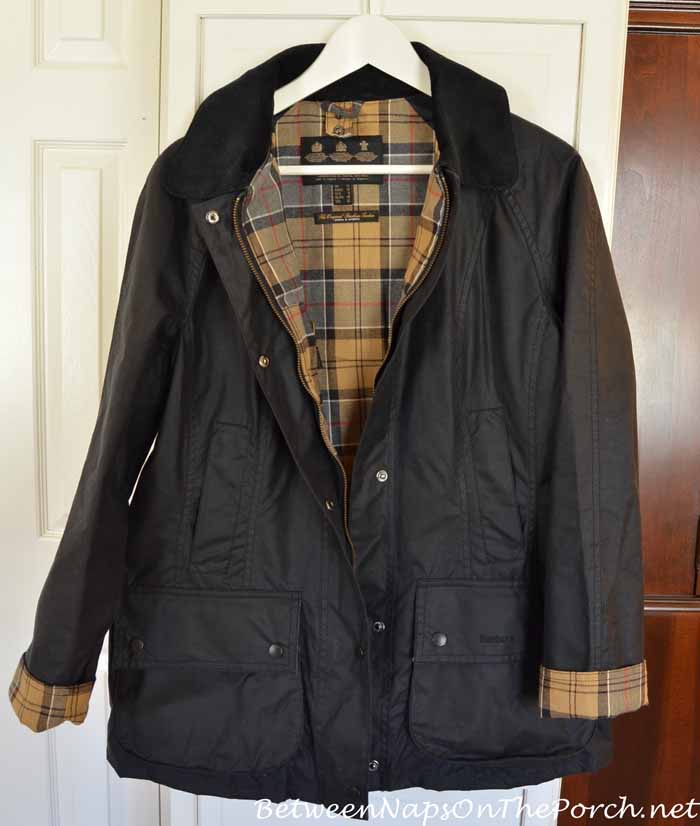 Barbour has partnered with Wedgwood and look at this coat! The lining was designed by Wedgwood and I love it!
(Coat is exclusively available here: Barbour Wedgwood Coat)
They are also making it with the Wedgwood lining in this other style below. I don't think I'm going to be able to resist this coat!
You'll find the coat shown below exclusively available here: Barbour/Wedgwood Coat
Are you not dying?! I love this collaboration! Notice the shirt she's wearing…more on that in a sec!
I really love this floral Barbour/Wedgwood shirt, too! This line is just perfect!
(Floral Wedgwood shirt is available here: Wedgwood Shirt)
What have I ordered so far? I say so far because I'm sure I'll cave and order one of the Wedgwood items.
So far, I've ordered this Saint James shirt below, the same shirt you saw under the coat above. I've always wanted a shirt by Saint James since they are renowned for their quality. They seem to be really exclusive, too. You can't find their clothing just any 'ol place because I've looked.
They are known for their nautical striped shirts and I love the color blue of this one. It's also about the best price I've seen for a Saint James shirt, plus I got 10% off with the code TNUCKNEW.
So if you do order any of the Wedgwood/Barbour line of clothing, or if you order this shirt, be sure and try that code to see if it will work and give you 10% off, also. I don't know if it will work for everyone, but it did work for me. This shirt is available here: Saint James Striped Shirt
Okay, here's the last thing I'm lusting after. I tried to buy this adorable sunhat a few months ago and it was sold out. They have it back in now and I can't decide on a color.
It comes with a cream bow as shown above, or in navy or black. This is navy below. I can't make up my mind which one I like best. Ack!
You can see this hat in all three colors here: Sunhat.
What color would you buy? The cream would go with anything, but so would the black and the navy. It would be so cute to wear in the garden and to take on trips. It's supposed to be "packable" and recover well when squished into a suitcase. Love that!
Okay, I'm off to read my new Susan Branch book and dream of Wedgwood jackets, pretty sunhats and Beatrix Potter's Hill Top Farm. 🙂
Update: I stayed up until 3:30 AM reading Susan's book, Martha's Vineyard, Isle of Dreams couldn't put it down! Explains why the book has almost all five star reviews (163 of them!) and it's only been out since April.