Historical Concepts, an Atlanta Architecture and Design firm, designs homes that have the look and feel of an older or historic home but all their homes have the modern conveniences we need and love. You may remember when I shared their wonderful book in this previous post: Coming Home by James Lowell Strickland.
I recently came across this absolutely adorable beach cottage in Florida that's one of their awesome designs. Hard to believe this home isn't an old home but it isn't. It's just designed with all that old-home charm so many of us love!
It even has a shuttered porch with real working shutters! Love this! If this were my home, I'd probably never close the shutters, even during pollen season, but I do so love how they look.
Notice the cute design cut-out in the wood rail of the porch. It's those small details that make this home feel so authentic to the period it reflects. I could take some serious porch naps on that swing!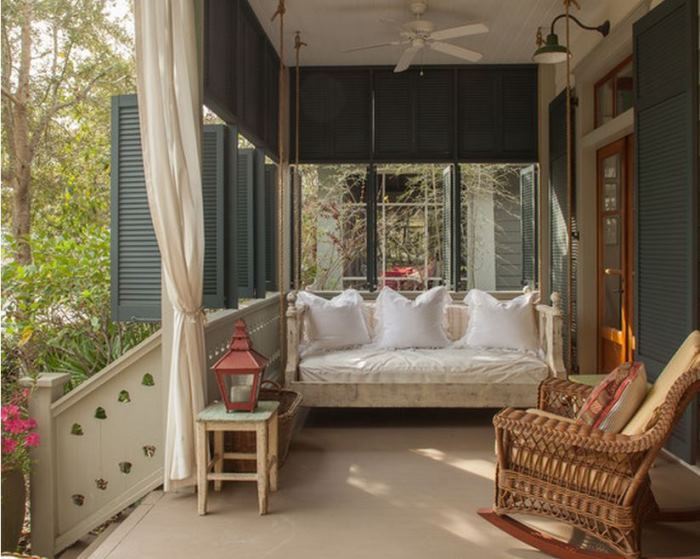 Every beach cottage needs a comfy, cozy living room. Notice they've tucked the TV back inside an antique wardrobe…such a great idea! I came so close to buying a wardrobe designed exactly like this one for my master bedroom back when I was considering having a TV in that room. I found a wardrobe in a local antique shop that was almost perfect but the spot where the TV would fit was just a bit too small. This one looks perfect!
Notice the long oars. The one above the windows almost acts as a valance for the windows.
Sets of French doors open up to the porch. Imagine throwing those doors back and letting those beach breezes float in.
You can see the French doors continue all the way across that wall, even into the kitchen. Notice all the windows this home has…they are even down the sides of the home. I love that so much about older homes and never understood why we stopped building homes with windows on all sides. Maybe it's because lots are so small these days and folks want their privacy. I think I'd give up a bit of privacy for all that glorious light…or just plant a bunch of tall shrubs.
Notice how they placed the plate rack in front of the window. I would never have thought to do that but I bet the light is beautiful streaming in across the plates and the plates actually provide a little extra privacy from the home next door.
Instead of a bar across the back of the island, they chose a nice long table. When I saw the table, it reminded me of another kitchen I've posted here at BNOTP.
Remember this kitchen from the Southern Living Idea House in Senoia Georgia? Now that I think about it, I'm pretty sure Historical Concepts designed that home, too.
Let's head upstairs and check out the bedrooms!
All of the bedrooms in this adorable beach cottage are wonderful! This one has a built-in wardrobe with shelves and drawers on either side. Think how much more storage this offers than if the wall had been left blank and a chest or something similar had been placed on this wall. I love this idea! I'd love to see inside the wardrobe to see if there's a hanging rack or if it's filled with shelves for sweaters and such.
Notice how the walls have a clapboard siding appearance…great way to get that clapboard beach-house look but also getting good insulation and sound construction that you don't always find in older homes..
Another sweet cottage bedroom. Love the lights on either side of the bed.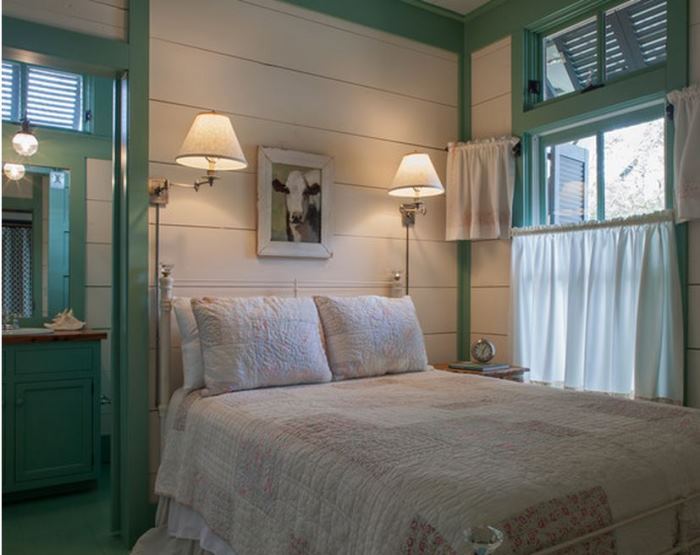 Once again it makes me think of the lamps I saw in a bedroom of the Southern Living Idea House in Senoia, Georgia.
Another delightful cottage bedroom with a painted iron bed and wall lamps in a classic polished-brass finish.
I found this photo in a Southern Living magazine and it shows another bedroom in this home. Or, perhaps one of the bedrooms got a little makeover at some point.
This home has lots of great bathrooms, including this bath with white cabinetry and wood countertops.
This may be my favorite bedroom of all in this wonderful beach cottage. It has a "window-bed" built in on either side of the room
Love, love, love the built-in storage underneath.
Each bed has a wall lantern in just the right spot for late night reading and story-time.
Hope you enjoyed touring this wonderful beach cottage designed by Historical Concepts.
You'll find additional photos not included in this post where I found these, HERE.
*If a post is sponsored or a product was provided at no charge, it will be stated in post. Some links may be affiliate links. *