Thanks so much for all the awesome recommendations in the comments on yesterday's post. After reading those I cancelled the foam pillow order because I was concerned about the thickness of it. It hadn't shipped so it was no problem cancelling it. I don't think the other pillow has shipped yet either, which is strange because normally Amazon ships quickly. I'm tempted to cancel it, too because I found a pillow yesterday afternoon that's working great, well at least it worked great for last night.
Michele mentioned in a comment yesterday that she likes the pillows she gets at Dollar General. She said they are so inexpensive, she's able to easily replace them whenever needed. Since I was desperate for something while I awaited the pillows I had ordered (see yesterday's post for details) I drove over to Dollar General. Sure enough, they had squishy flat pillows that felt right and looked the perfect height. They were priced at only $2.97. I purchased one and will definitely be going back for another one.
I knew the second I lay down last night that it was perfect. When a pillow is right, you know it the second you rest your head on it. The pillow I purchased at Dollar General is by Comfort Bay and is called: "Standard Basic Essentials Bed Pillow" in "Medium." It's hypoallergenic and can be machine washed. They had a "firm" version but that one was fatter so I knew it wouldn't work for my needs. It's actually better than my old pillow because it's squishier. So, last night I was easily able to adjust it to support my neck.
I'm still going to check out some of the other options mentioned in the comments, including the "My Pillow" that so many of you recommended, so thank you for that! If you like a low profile (meaning not too high) pillow that's very malleable, check out the pillows in your local Dollar General. I never would have thought to check there for a pillow so thanks to Michele for telling me about those!
Beach Cottage Tour
Speaking of spring, how about a wonderful beach cottage tour! This adorable ocean side, cedar cottage was built by Whitten Architects for a couple who are empty nesters but who still enjoy entertaining family and friends on a regular basis. It's located in Georgetown, Maine and replaced a ranch home that wasn't holding up well to the harsh environment of the Atlantic Ocean.
I love how it sits atop a rise affording great views for the downstairs as well as the upstairs.
Every cottage home needs a cottage garden…I'm pretty sure that's written somewhere in the cottage rules handbook. 😉
If you ever get tired of those ocean views (like that would ever happen!) there's a rocking-chair front porch to enjoy. I love how they've used rock to create the paths to the home. It's abundant in the area and fits perfectly with the home's surroundings.
After seeing so many beach homes with blue and white living rooms, I loved the emphasis of yellow in this beach cottage.
This really feels like a place you could relax and kick back with friends and family.
Instead of the standard picture or mirror over the mantel, a sailboat beautifully fills the space. I think the chaise would be my favorite spot with the fireplace close by and wonderful views of the ocean just ahead.
Notice how they were able to use the floor of the gallery area above to support the lighting for the eat-in bar below…brilliant!
My favorite room in this delightful cottage is this 3-season, screened porch.
The porch is built with antique window panels. I wonder how they work…if the windows are removable for summer. Or, perhaps the top panels slide downward to let in the ocean breezes through the top section of the windows. I love the yellow ceiling above. It contrasts beautifully against the ocean blue seen through the windows and the blue sky above. Love this room!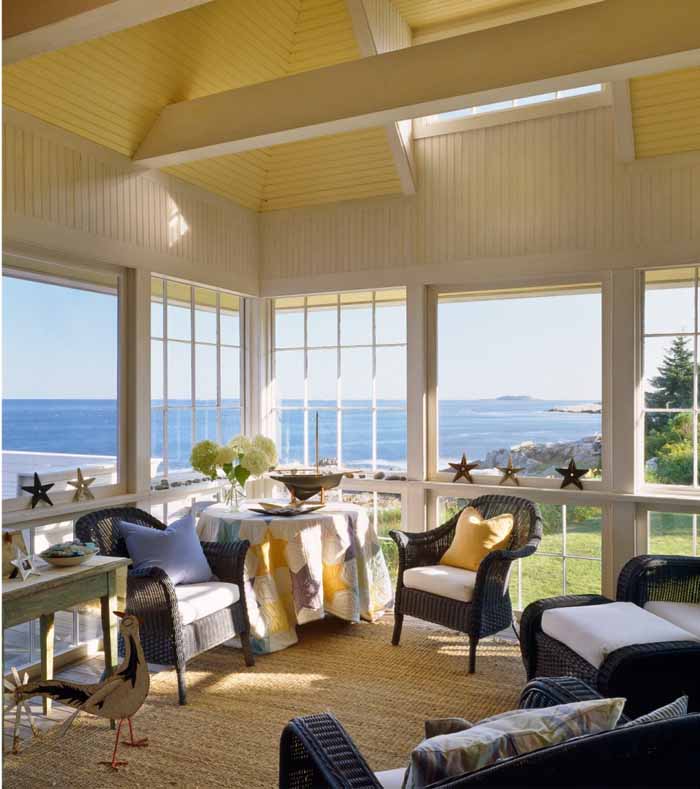 The views are amazing! Wouldn't you just live out here all day?!
The bedrooms are cottage cozy, also with wonderful ocean views.
I love the drawer storage built-in under the eves!
You see it again on this side. Such a great use of what's normally dead space.
Lots of bunk space for visiting grandchildren.
Every bedroom has an ocean view.
Can you just imagine how the waves must sound crashing against the shore!
I caught a snippet yesterday of the show, The Doctors. They were discussing how so many of us are suffering from Vitamin D deficiency and that now they have found a link between lack of Vitamin D and Type 2 diabetes. Did you hear about that? That popped into my head as I was looking at the Adirondack chairs and imagining just leaning back, eyes closed, soaking up the sun.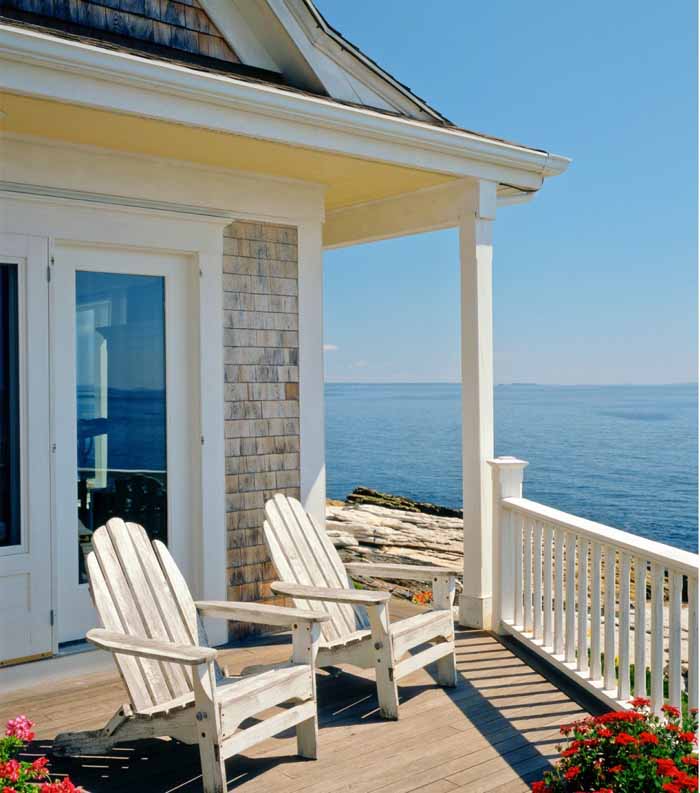 You'll find additional information and pictures of this wonderful beach cottage at Whitten Architects where these pictures were found.
Love a great beach house? Take a tour of this one…it reminds me so much of the house in the movie, Something's Gotta Give: Beach House To Rival The "Something's Gotta Give" Beach Home
*If a post is sponsored or a product was provided at no charge, it will be stated in post. Some links may be affiliate links. *