Last summer I was offered a trip to Maui, Hawaii by a friend who had booked a week there but ended up not being able to go due to another commitment. (Read more about that trip under the Travel category at the top of BNOTP here: Travel.)
During that trip, I did some shopping which included visiting a Louis Vuitton store in Whalers Village. While inside, I spotted the most beautiful antique trunk. Until that day, I had never realized LV's iconic monogram print dated all the way back to 1896! That left a huge impression on me and since then I've purchased a few LV items in the monogram canvas print. It's amazing how knowing more about the history of a brand can completely change how you view it.
Since I've fallen hard for Louis Vuitton this past year, for Christmas I gifted myself one of their agendas. I chose the larger, GM size since I plan to primarily use it here on my desk. I've never owned an actual agenda, so I'm really looking forward to using it this next year and for many years to come.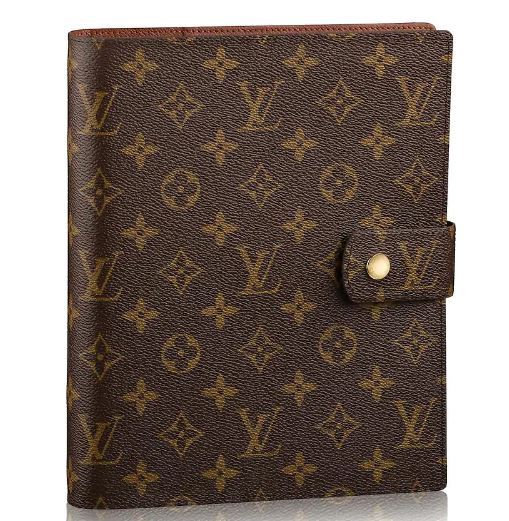 When I decided to purchase the agenda, I wasn't too keen on the calendar insert Louis Vuitton sells to go inside. I didn't like the layout of their calendar at all. I knew from having watched a gazillion YouTube videos/reviews about their agendas that there are other companies who make inserts for agendas.
Though I didn't end up going with any of the ones I saw mentioned in the reviews on YouTube, I found the most adorable calendars, dividers, and inserts one could ever wish to put inside an LV agenda, or really any agenda. The items I'm sharing in today's post will fit a Filofax Planner and Kate Spade agendas, too.
I went a little crazy–this being my first agenda. I live for organizing, it's my favorite thing in the world to do, so I couldn't wait to put this agenda together with my newly purchased components! Everything I ordered arrived yesterday and I'm super happy with how it looks. It's all just as pretty in person as it appeared online. I hope this post is helpful if you're looking for some adorable pieces with which to update your agenda.
Please note: This isn't a sponsored post, I didn't get a discount and I paid for all my items like any customer would do. I just ordered a couple more pieces tonight…love the designs!
I took these photos at night under lamplight, so the colors are actually much richer/darker in person than they appear in some of the photos. I'll link to everything plus some other items I'm eyeing at the end of the post.
If you're unable to see the links, you'll find all the items I purchased (plus many more) here: Beautiful Calendar Refills, Bookmarks, Dashboards for Any Agenda. I really love her Tiffany inspired dashboards, will definitely be adding some of those to my agenda. I love the idea of swapping out the dashboards for the seasons and holidays.
If you're a Louis Vuitton fan, you may have noticed LV collaborated with Grace Coddington recently to create some adorable cat-themed items since Grace is a big cat lover. I'm guessing this little agenda "dashboard" was inspired by that collection. I'm currently using it at the front of my agenda because it makes me grin ear-to-ear each time I see it. So cute!
These are the actual calendar pages I purchased. I chose the single-sided pages since I wanted to use Monthly Dividers throughout my agenda. There are quite a few choices for the calendar, this was just the layout I liked best. (Update: She also offers calendars with the week starting on Sunday. I much prefer that and purchased those for the following year.)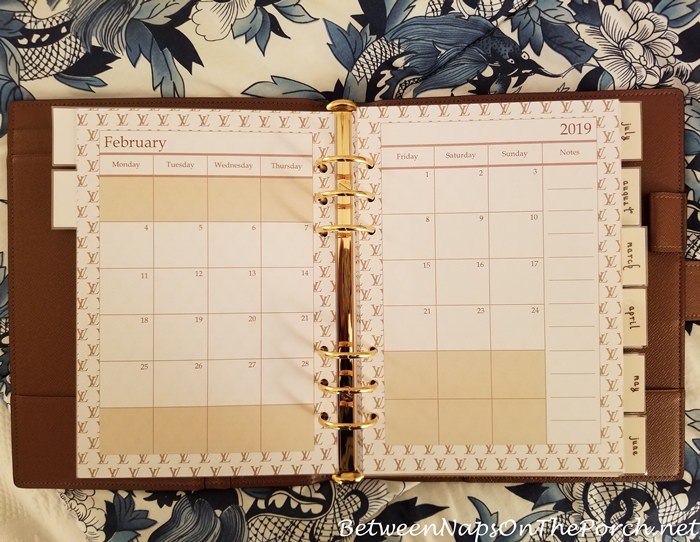 Had to buy a few of these adorable clips…so cute! I'm sure I'll find plenty of uses for them.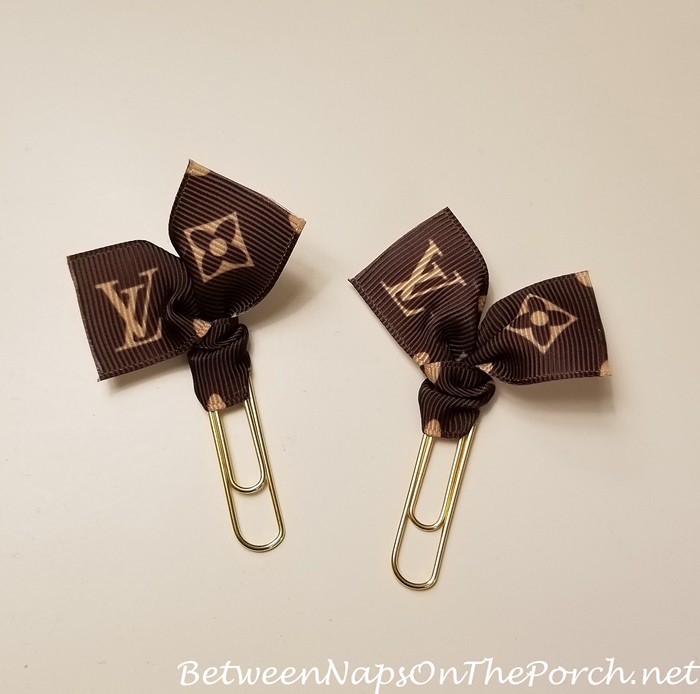 Each monthly divider page has the cutest drawings. All are different and are one of my favorite parts of my agenda. This one is for March.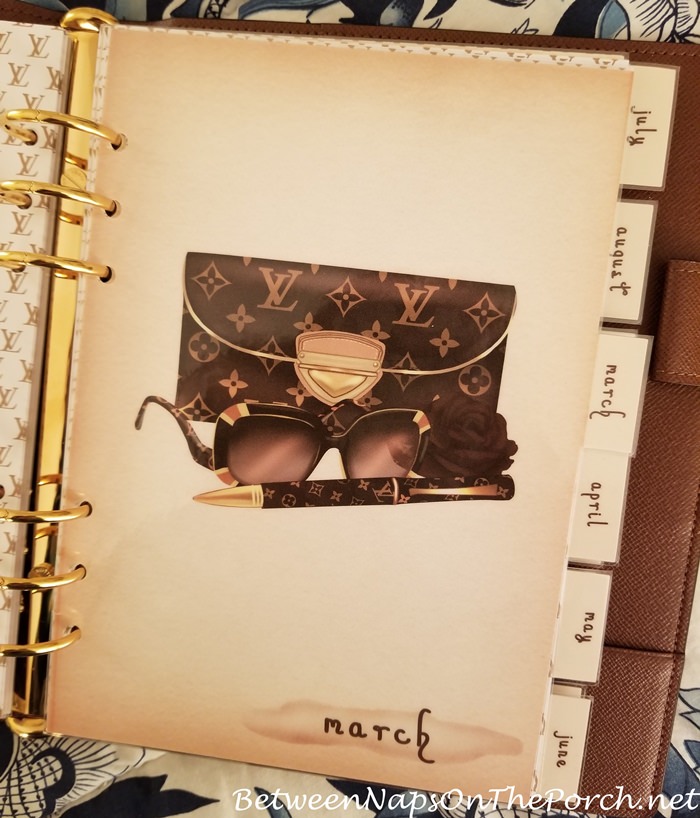 This is the divider for June.
This one is for October. I love how she designed each monthly divider to work with that month's holiday or season. All the monthly dividers came as part of a single set. I won't ever need to buy those again since they can be used over and over from year to year.
Not sure yet where I'll use this dashboard/divider in my agenda, I just loved it too much to not get it.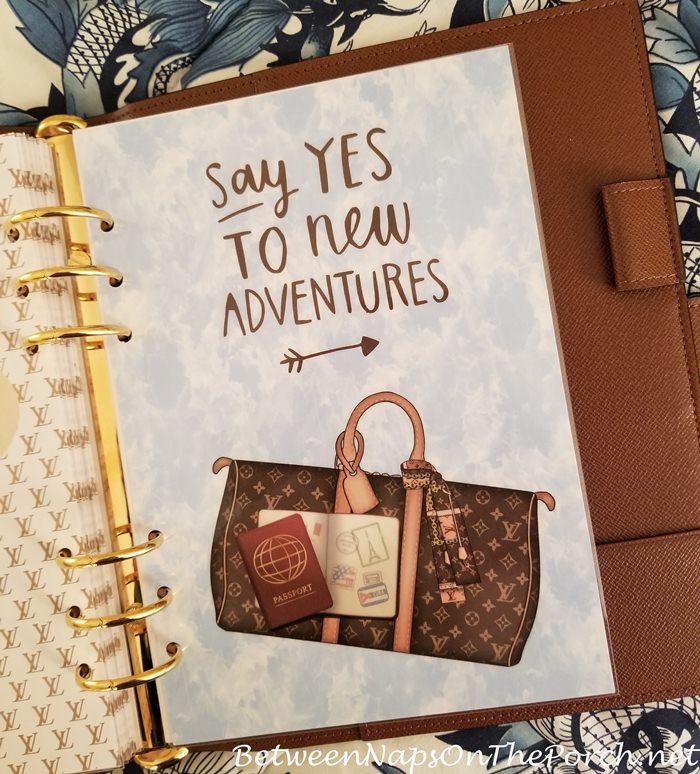 Another dashboard/divider I had to have…so cute!
I purchased one set of the "Notes" pages. I think I may buy another set because I can see how these would really come in handy. She also has some Tiffany & Co. and Hermes themed items in her shop. I purchased a Tiffany bookmark to tuck inside one of my Tiffany books.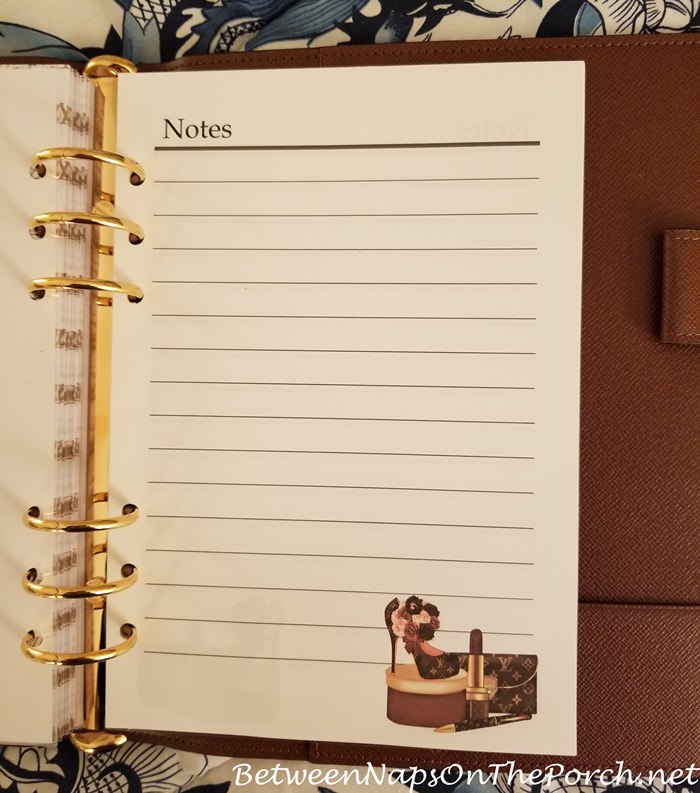 Below you'll find links to all the items I purchased, plus quite a few more that I think are adorable as can be! If you're unable to see the links, you'll find all the items I purchased (plus many more) here: Beautiful Calendar Refills, Bookmarks, Dashboards for Any Agenda.
Note: If you see something in this post but don't see it available in Mel's Etsy shop, contact her via her contact link on her shop page, and often she can create it for you. Hope you find this post helpful as you update your agenda.
*If a post is sponsored or a product was provided at no charge, it will be stated in post. Some links may be affiliate links and as an Amazon Associate, I may earn from qualifying purchases. *