Have you ever heard of a place just outside of Savannah, Georgia called the The Ford Plantation? I know someone who has purchased land there with the intentions to build on it one day but that completely sums up what I knew until today. After a bit of research I learned The Ford Plantation is a private residential and sporting community located on the Ogeechee river. The community will eventually be comprised of 400 homes when fully built out.
Atop a bluff sits an historic "Main House"  that was once the winter home for automobile magnate Henry Ford. If I can find additional photos of that home, I'll be sure to share a tour of it in the future. It sounds pretty amazing! The main house  is used for community events like wine tastings, lawn parties, Low Country oyster roasts etc..
I backed into learning about The Ford Plantation, first stumbling across the beautiful home below that's located there.  One room in particular drew me inside and the rest of the home was so pretty, I knew I had to share with you. I've included a fair number of pictures in this tour, but you'll find a link at the end of this post that will take you to the listing where you'll find additional pictures.
There's a lovely, traditional entry. The colors throughout the home are very neutral and serene.
I loved this little reading nook tucked underneath the main staircase. Don't you love how the picture is hung nice and low so you can enjoy it as you sit there and read.
I love that and did something similar in this nook in my own home. View that post here: A Little Addition To a Dormer Nook
The large family room overlooks Lake Clara…what a view! Imagine the breezes with the doors thrown open in the spring and fall!
Love the built-in bookcases on either side of the fireplace. You can never have too many bookshelves!
Is that a painting or TV? I'm thinking it's one of those sneaky TV's that turns into a beautiful painting when not in use. This could totally change my mind about not liking a TV over a mantel if that's what this is. What do you think…painting or TV?
This was the room that got me, the one that drew me in and hooked me on this house. Many, many years ago, probably 15-20 now, I was looking through a magazine (I think Traditional Home) and I came across a room that didn't have a sofa or settee. It was arranged just like this, four comfortable chairs surrounding a big coffee table. I can't remember now if the coffee table was round or square. If I come across that picture again, I'll scan it and add it to this post.
Anyway, it blew my socks off. I had never seen this done before. What?! No sofa, just chairs?! I loved it! This is so cozy and so conducive to conversation. I love the brown and white buffalo check fabric they used for this space. I would never have thought to use brown and white fabric in this room but it totally works! Just love this room!
Okay, is that another sneaky TV disguised as a painting?
We get a glimpse into the kitchen in this view.
Just off the kitchen you'll find a sunroom with beautiful views of the lake.
I'm guessing this is the master bedroom and I'm crazy about that bed! I've seen this bed in other places online, maybe on Pinterest…and each time I just love it. It's a modern take on the old-fashioned spool beds.
Gorgeous antique rug! Notice the mix of new pieces with the old/antique in this home and it all works beautifully, doesn't it?
The master opens up to a wonderful screened in porch with a fabulous view of the lake
Wow! Love this huge screened porch!
You can access it from several room inside the home. I would live out here with that view! Just imagine all the bird watching you could do!
Bet this is a fun spot for entertaining on a chilly night in springtime or in autumn. Notice the mix of garden stools for additional seating.
The waterside view of the home…I love this view of the house, even more than the front!
There's an adorable cottage on the property, too.
It has a screened porch, as well! ~~~Big Sigh~~~
So much cottage charm inside…Love!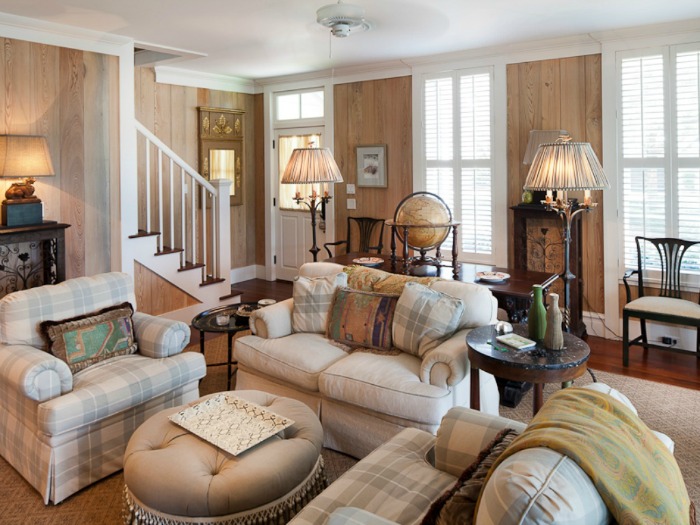 Again, the interior is done in neutral tones. I spot a bee skep in the corner.
A perfect cottage kitchen…just big enough for a sweet guest cottage.
I'm not sure if this bedroom is in the main home or in the cottage but I love its quirky ceiling and built-in storage so had to share it.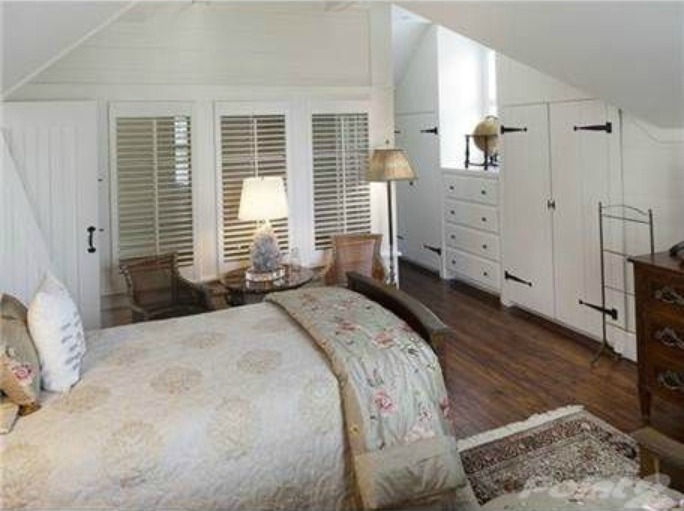 Here's that wonderful screened-in porch we saw earlier. I love the color of the flooring…has that weathered driftwood appearance.
Hope you enjoyed touring these two wonderful homes located on the same property. You'll find additional photos where I found these here: Lakeside Home and Cottage in The Ford Plantation
*If a post is sponsored or a product was provided at no charge, it will be stated in post. Some links may be affiliate links. *