Welcome to the 268th Metamorphosis Monday!
Pssst: Met Monday is going up a little early this week. Next week we'll return to our normal schedule and MM will go up on Monday morning before 10 AM.
Recently I was chatting with Laura via e-mail and she shared some pictures of her guest room makeover. I thought it was wonderful and asked if she would let me share it with you. Fortunately, she said, yes! I don't want to spoil the reveal so I'll let Laura tell you in her own words how her makeover came to be.
Guest Bedroom Makeover by Laura (in her own words)
When we moved into our house nearly five years ago, I knew I would eventually change the guest bedroom. I've never been a fan of wallpaper and every upstairs room was decorated with it. This room had the least amount, but everything was tastefully done, so it wasn't a pressing need.
(Bedroom Before Makeover)
As time passed, I tried to decorate around the previous owner's décor. The entire color scheme and window treatments were hers and I was never satisfied shoe-horning my taste into her more formal style. Also, it was missing a wow factor and a focal point as you entered the room.
Additionally, it's a small room, 11 x 11.5, with a couple of awkward areas. A large chest blocked the closet doors. The narrow space between the end of the bed and chest made navigating the room difficult.
Nevertheless, I knew when the room changed there would be elements that would stay. First was the antique bed that my husband and I bought in Germany. Next was the picture of the dovecote. My daughter and I fell in love with the original when we visited the Ashmolean Museum in Oxford England. I also wanted to display the childhood portrait of my great-grandmother, but sadly it didn't work in the new room.
When I saw Portobello Vase Laurel from Waverly's Colonial Williamsburg collection, divine inspiration struck! I needed this fabric, absolutely had to have it. A gorgeous traditional linen fabric with shades of blue and green, it made my heart skip a beat!
So great was my love for it that I was willing to ~gasp~ remove wallpaper. My advice about wallpaper? Read Susan's blog, buy what she recommends and have a good steamer ready. My steamer spit like the dinosaur that took out Newman on Jurassic Park. After a day with several scalds and waning patience, I'd removed the border. But that fabric was sooo worth it!
The bonus? I already had curtains that were a soft olive-green with coral tassel fringe that had been in my daughter's room when she was in the prerequisite little girl green and pink phase. With coral as an accent color, I found the other coordinating fabric all from House Fabric dot com.
Ready for the After? 🙂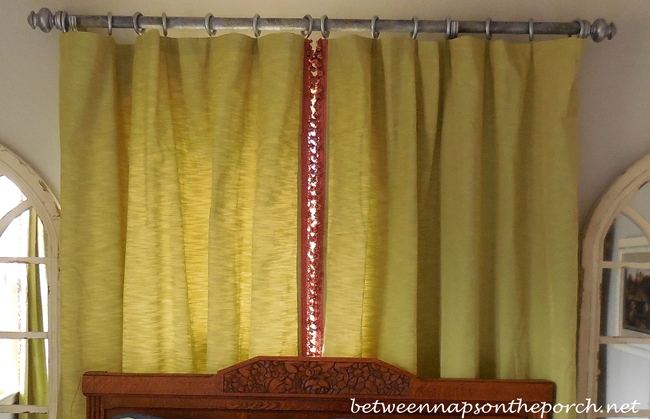 AFTER:
A visit to Kirklands gave me the mirrors and a great focal point with a wow factor.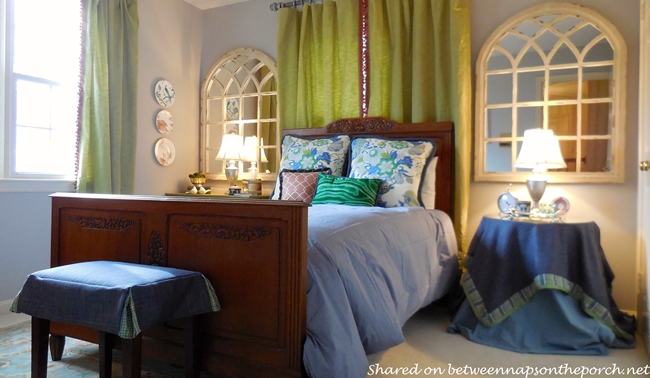 After measuring the placement of the windows in the room, I knew the bed would have to shift to the smaller window. By extending the curtain rod slightly larger than the width of the bed, it gives the room more symmetry and the appearance of being larger than what it is.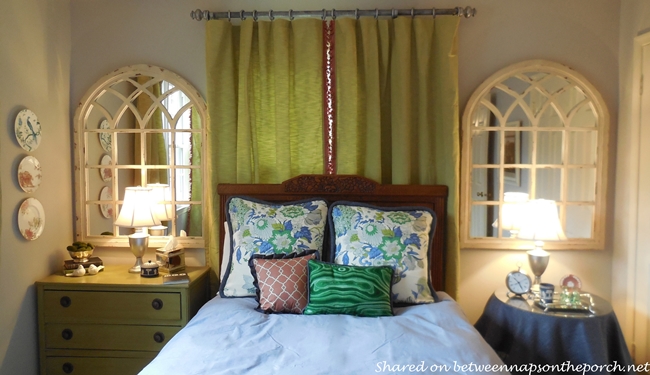 Coordinating fabric on the back of the pillow shams coordinates to trim on the table skirt.
The chest was swapped out for a green one from the sunroom.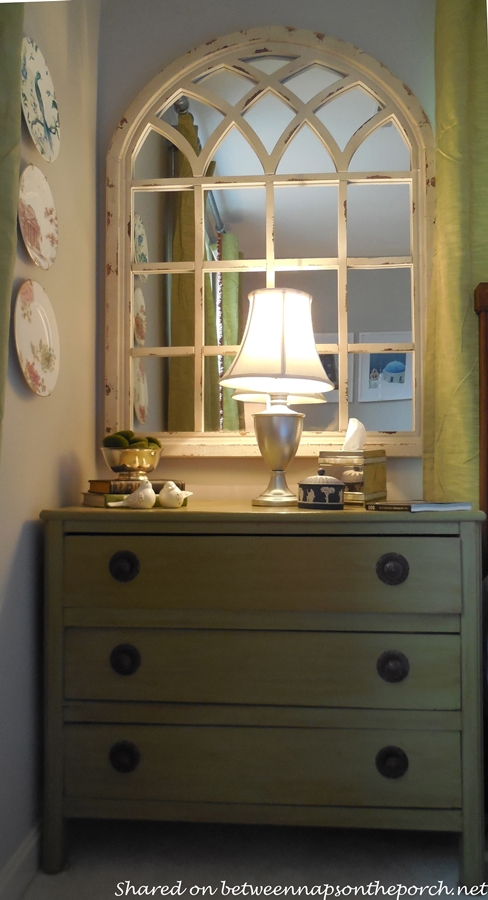 The black chair became coral with Benjamin Moore's Coral Bronze and Waverly Fabric's Chippendale Fretwork Quartz fabric.
While surfing through Etsy for pictures or artwork with blue, green, and pops of coral for the wall opposite the bed, it dawned on me that I already had pictures that would work from our trip to Santorini, Greece. So I had Shutterfly blow them up to 11×14 and found the frames from Home Goods' Valerie Bertinelli collection.
The Dovecote frame got a couple of coats of spray paint because it was too dark for the room.
The lamps (and bench at the end of the bed) were a man cave raid (the hubby is awesome). They had been antique bronze and a little dark for the space, so they were treated to silver spray paint. Tissues and a local tourist guidebook complete the makeover.
Laura, thanks so much for sharing your beautiful guest room makeover! I love the colors and fabrics you chose! The mirrors are absolutely stunning and I love that the bedside tables are not "matching" yet the mirrors tie them together beautifully. The wall color is so pretty and perfect with the fabrics…truly a beautiful makeover! I loved hearing how it all came together and how your repurposed so many pieces you already had to achieve such a beautiful space. Your guests will never want to leave!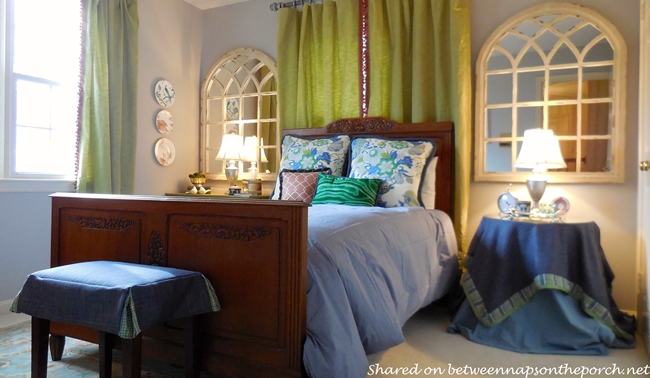 Laura provided a list of where she found the various elements she used to complete her room makeover. (See list below)
Fabric: House Fabric dot com
– Waverly Portobello Vase Laurel (euro sham fabric)
– Waverly Chippendale Fretwork Quartz (coral)
– Robert Allen, Dwell Studio Malakos Malachite (green)
– Richloom Sparrow Maritime (plaid)
Duvet cover – Pottery Barn Kids
Mirrors – Kirklands
Rug – Pottery Barn
Small End Table by Chair – Restoration Hardware Baby & Child
Plates:
– Wedgwood Jasper Conran Chinoiserie White
– Wedgwood Palladian Country Accent Plate
– Lenox Marchesa Painted Camellia Accent Plate
Greece Picture Frames – Home Goods
Paint: Benjamin Moore
– Walls – Stonington Gray
– Chair – Coral Bronze
Lamps – Target, years ago
Dovecote Print – The Ashmolean Museum (ashmolean prints dot com, William Holman Hunt, The Festival of St Swithin, The Dovecot … they spell it differently than we do.)
Looking forward to all the Before and Afters linked for this Met Monday!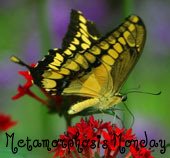 If you are participating in Metamorphosis Monday, you will need to link up the "permalink" to your MM post and not your general blog address. To get your permalink, click on your post name, then just copy and paste the address that shows up in the address bar at the top of your blog, into the "url" box for InLinkz.
In order to link up, you'll need to include a link in your MM post back to the party so the other participants will have an opportunity to receive visits from your wonderful blog readers.
Please observe these few rules:
Only link up Before and After posts that are home, gardening, crafting, painting, sewing, cooking, DIY related.
Do not link up if you're doing so to promote a website or product.
Do not link up a post that was just linked last week since a lot of readers will have already seen that post.
Do not type in ALL CAPS. It spreads the links waaaay out.


*If a post is sponsored or a product was provided at no charge, it will be stated in post. Some links may be affiliate links and as an Amazon Associate, I may earn from qualifying purchases. *