Recently I stumbled across these adorable hand-stamped spoons with clever, funny and sometimes poignant sayings. I've seen them before but these caught my eye because they looked especially well done.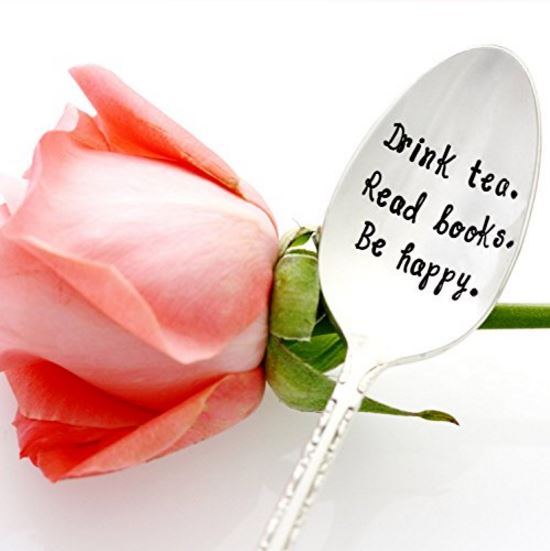 When I saw they were endorsed by Martha Stewart and were part of the "Martha Stewart American Made Market" I knew they were going to be top-notch. Martha doesn't put her name on just anything! The sayings and designs are hand-stamped/pressed into the spoon, so they are never going to come off or out.
So I decided to order one. When it arrived a few days later, I was so happy to see that it was just as pretty in person as the picture online had depicted. I purchased this one here: Drink tea. Read books. Be happy. Hand-stamped Spoon
I am so happy with my spoon, I've decided to start a little collection of these. I thought it would be fun to put them out with the coffee when I'm having a little party or gathering here at my home.
Wouldn't they be cute out here on the porch hot cocoa bar? I need to throw a hot cocoa party! 🙂 (View Hot Cocoa Bar in detail in this post: DIY Hot Cocoa Bar and Hot Cocoa Sign)
So last night I ordered two more, including this one. I love the little tree with the star! ~~~sigh~~~ You'll find it here: Baby It's Cold Outside
I think I'm going to order this one below, too.
(See it here: Drink Cocoa, Read Books, Be Happy)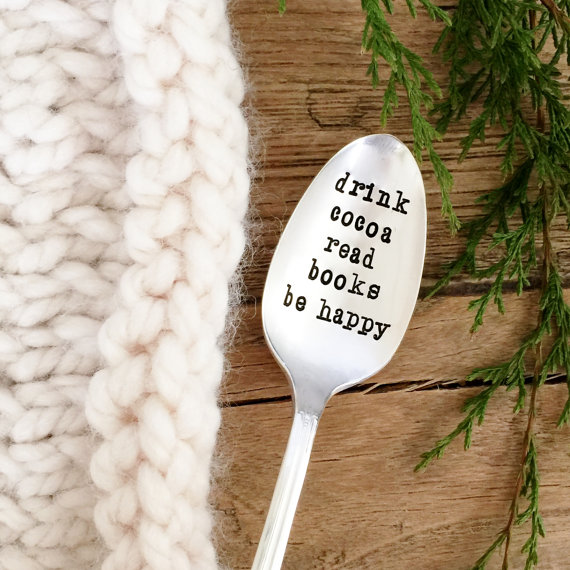 There are several "hot cocoa themed spoons, so I'll have no trouble stocking my hot cocoa bar. They have hundreds to choose from in all categories from coffee-themed to romance to holiday…you name it!
By the way, this isn't a sponsored post…just sharing these because I love them and think they would make darling Christmas gifts or stocking stuffers. I can see tucking one of these into a stocking along with a cute mug, knitted reindeer cozy (like THIS one) and a jar of hot cocoa from Williams-Sonoma. Update: I ordered two of those adorable reindeer cozies today, one for me and one for a friend. Sooo cute!
Love this as a gift idea or stocking stuffer! If you want to really go all out, you could put all of these into a book tote and include a great book. You'll find lots of cute book totes here: Book Totes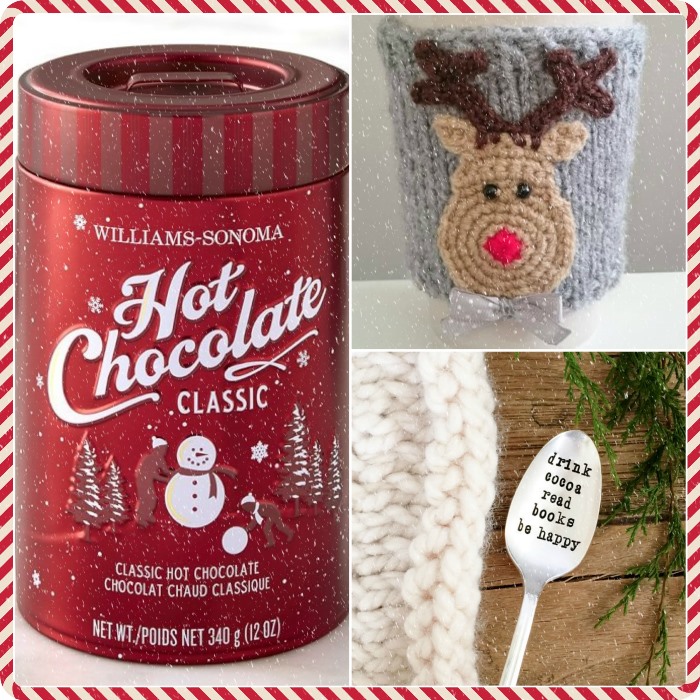 I actually ordered two spoons last night. They will personalize a spoon with whatever saying you would like, just has to fit on a spoon. (You can see the ones available for personalization HERE.)
So I ordered one with a quote from one of my favorite books, The Secret Garden by Frances Hodgson Burnett. I asked for this on my spoon: the secret garden bloomed and bloomed
I hope it will fit on a spoon. I think it will since they can fit "still having coffee together since 2005" on a spoon. I also asked if they could squeeze in a little flower if they had one. If they don't have a flower, a heart would be lovely, too. ♥
I thought about these two quotes for spoons: "the weather outside is frightful" and this one: "but the fire is so delightful." Love that song and it would go well with my sign above my hot cocoa bar. (Tutorial for making this DIY sign can be found here: DIY Hot Cocoa Sign) Another one I dreamed up is: "Warm fire. Purring cat. Good book." That pretty much sums up my idea of heaven. 🙂
This one would also be great for a hot cocoa bar. I just absolutely love these, can you tell?! 🙂 I also love supporting small businesses like this shoppe that's located in Virginia.
What quote or saying would you choose?
You can see all their "holiday" spoons here: Holiday Spoons. You'll find all the other categories listed in the menu on the left at that page.
They also have bookmarks and cutting boards…so many cute things to choose from and to personalize as you like. I noticed one customer said she's purchased several of their personalized cutting boards and that they were always a big hit as wedding gifts. I'm keeping that in mind for future shower/wedding gifts, although they would be great for Christmas, too.
If you were having a spoon personalized, what quote or saying would you choose?
Update: A few weeks ago I shared these boots that I think are new out this year.
I ordered a pair and they came today. Perfect timing because it's been raining pretty much all day. I haven't taken them off since they arrived. Obsessed! I love the plaid wool fabric they've incorporated into these! They are so comfortable, just like the Sperry rain boots I purchased last year. If you're in need of rain boots, I bought these here: Sperry Rain Boots. They are also available here: Sperry Rain Boots.
*If a post is sponsored or a product was provided at no charge, it will be stated in post. Some links may be affiliate links and as an Amazon Associate, I may earn from qualifying purchases. *