Welcome to the 225th Metamorphosis Monday!
Greetings! Hope your weekend was fabulous! Mine was relaxing, spent with good friends. Unfortunately, my son lives too far away for us to spend Mother's Day together but at least we were able to talk on the phone. I really should check into skyping, that would be better than just the phone. Do you Skype and if so, do you like it?
HGTV Magazine and a Beautiful Before and After:
This weekend I noticed one of the solar post caps I purchased recently for the deck had a crack in one of the sides. I stopped by Home Depot to exchange it and while I was there, I noticed they had the HGTV Magazine available. I've never read that particular magazine but I've been curious to check it out. I purchased the May issue and it's really good. I was impressed with all the great articles and Before and Afters they have featured. I have a feeling this will be one of those magazines I'll have to save for future reference.
One particular Before and After that really caught my eye was the transformation of this 1940 cottage below. (Images below are from the HGTV online and scanned from the HGTV Magazine article.)
Okay, check this out! Here's the "Before" of the back of this house. Wait until you see the after! Ready? It's awesome!
WOW! Is this not absolutely amazing! They gained a screened-in porch on the lower level, an open air porch on the top level and a sunny deck off to the side. So many great spaces to enjoy and entertain! I like how they left the ceiling of the top porch natural. It provides such a nice contrast with all the white. Love those double screened doors on the screened-in porch, too!
Unfortunately, the article didn't share any close-up pics of the furnishings on the screened-in porch. Wish they had! I'm wondering about the piece I see over on the far left toward the back.
We do get to see the upstairs porch, though and I love it. This is perfect for those non-mosquito days in early spring and fall. I'm guessing it's like being in a wonderful treehouse.
They mention in the article, when friends are over visiting the open porch is where they prefer to entertain.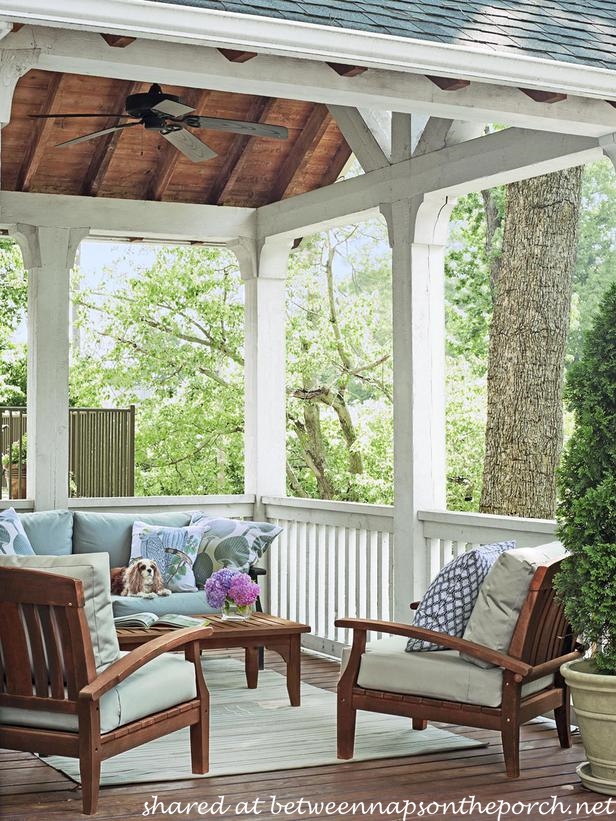 And the deck is where they prefer to dine each day when the weather allows. That makes me wonder if the main living areas like the kitchen and living room are on this upper level of the home, too. When you enter the front door of their cottage, maybe you're already on the upper level. Wish they had shared the floor plan for the inside so we could see how it all fits together. Either way, I love these outdoor spaces!
The deck is furnished with a teak table and chairs from Crate & Barrel. Notice the lanterns hanging from the spokes of the umbrella. They hold candles for evening time.
This metamorphosis truly shows, with a little imagination and creativity you can create amazing outdoor spaces where before it may have seemed impossible. This is definitely going down in the books as one of my most favorite make-overs. I'm pinning it and keeping it in mind for the day I move to my little yellow cottage/dream home. 🙂
Looking forward to the Before and Afters posted for this Met Monday!
Metamorphosis Monday: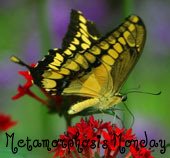 If you are participating in Metamorphosis Monday you will need to link up the "permalink" to your MM post and not your general blog address. To get your permalink, click on your post name, then just copy and paste the address that shows up in the address bar at the top of your blog, into the "url" box for InLinkz.
In order to link up, you'll need to include a link in your MM post back to the party so the other participants will have an opportunity to receive visits from your wonderful blog readers.
Please observe these few rules:
Only link up Before and After posts that are home, gardening, crafting, painting, sewing, cooking, DIY related.
Do not link up if you're doing so to promote a website or product.
Do not link up a post that was just linked last week since a lot of readers will have already seen that post.
Do not type in ALL CAPS. It spreads the links waaaay out.
Let's try something fun today! Please visit the person who linked before you and after you…that way everyone will get some visits.




Welcome! Thanks for coming to the party!
*If a post is sponsored or a product was provided at no charge, it will be stated in post. Some links may be affiliate links and as an Amazon Associate, I may earn from qualifying purchases. *