Love this time of year for shopping the sales! My favorite shops are having some great end-of-winter sales and new-season sales. I left warm 60-70 degree weather for freezing cold Ohio, so I'm craving some spring weather and spring fashions right now!
Before we dive into the beautiful spring fashions, here's a great fall-winter find I couldn't leave out. This plush puffer jacket was originally $178 and is now on sale for $49.99 in one of my favorite online boutiques. It comes in two colors, this rose pink and a really rich blue. I love both colors! If you could use a warm jacket for next year, you'll find this one on sale here: Puffer Coat in Two Colors.
I am sooo in love with these songbird jeans. I love how the embroidery goes down both sides–so pretty and perfect for anyone who loves birds or flowers. You'll find them currently on sale here: Songbird Jeans.
Ever since I traveled to Italy, I love anything with a lemon motif. This lemony shirt looks perfect for our hot Georgia summers! Love the mix of florals with the lemons, would be great to wear with jeans or white shorts/pants. It's available on sale here: Light Lemon  Floral Shirt. Update: Everything is currently on sale 25% off, even new spring items that have just arrived.
I'm definitely going to add this beautiful lemon tree topiary top to my summer wardrobe.
I love the design!
I love, love, love topiaries so can't pass it up! I don't think it's currently on sale but it's so reasonably priced, I think I'm going to go ahead and order it now. It's available on sale here: Lemon Topiary Tree.
I had to share this beautiful sweater even though it's sold out in all sizes except XS. Hopefully, they will get more in, such a gorgeous, fresh look for spring! If you want to bookmark it to check back later, you'll find it here: Yellow Sweater. It looks so nice with the lemon shirt!
I've shared this sweater several times and just discovered it comes in this beautiful lavender color. You'll find it currently on sale in quite a few colors here: Long Sweater in Pink, Lavender, Sage Green, Blue, and Rattan.
Another great sale find is this pretty paisley-like design This is a color that definitely works for me so I may have to add this one to my cart today. You'll find it on sale here: Pink and White Shirt.
I have 4 or 5 of these light, long-sleeve linen tops and they are the absolute best if you live where it gets really hot and humid during the summertime. Even though this shirt is linen which naturally wrinkles, it's by far my favorite shirt to take when I travel to hot destinations.
I couldn't have survived Egypt a few years back without it! It's so light, airy, and breathable, it's almost like wearing nothing, yet it keeps the hot sun off your skin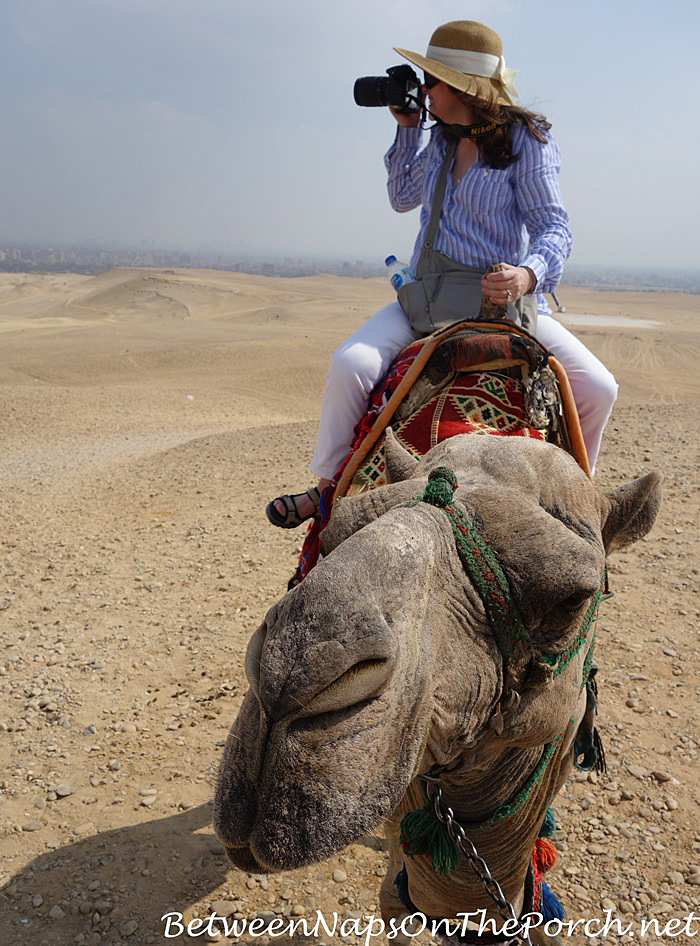 Then later when you're inside out of the direct sun, the sleeves can be rolled up and buttoned into place. So versatile! You'll find it currently available on sale here: Blue and White Striped Long Linen Top.
The sunhat I'm wearing in Egypt and pictured again below in the window of a 15the century fortress at The Citadel of Qaitbay is by far my favorite hat for travel. It packs beautifully in a suitcase and bounces right back if it gets squished. I love it so much, I've purchased it now in three different bow colors: Navy, Cream, and Pink. If you need a hardy, well-made sunhat for beach trips, gardening, or your spring/summer walks, you'll find it available in 6 colors here: My Favorite Sunhat.
I had no idea Sorel made sneakers. Love the look of these, especially the color! They are available here: Sorel Sneaker in Pink and White.
This is not a style sneaker I would typically buy but I love the open weave look. They look like they would be cooler than regular sneakers.
I especially love this color! Doesn't this say beach trip?! I think I need a pair of these for summer. You'll find this sneaker on sale in 4 different colors here: Summer Sneakers.
Do you play tennis or just love wearing tennis-style clothing. These adorable tennis outfits have me wishing I did play tennis!
How cute is this?! When did tennis clothes get so darn cute?! I think I could get away with wearing this even if I don't play tennis. Love it! The pricing was super affordable, too–much better than I expected from this high-end boutique! You can see all their sportswear here: Sports Wear, Tennis Skirts.
I've often toyed with getting a pair of Hermes Oran sandals but the $630 price always stops me. These look just like Orans and are about 1/6 the price. They are also available in white. You'll find them in both colors here: Sandals Similar to Hermes Orans.
Remember the boat shoes I ordered recently? They have both arrived and I've been living in them ever since. Love both styles and they are super comfortable! They are a great transition shoe for spring before summer hits and I start wearing sandals 90% of the time. You'll find this pair for a great price here: Sperry Boat Shoes.
This pair is currently on sale here: Plaid Sperry Boat Shoes. They are both adorable!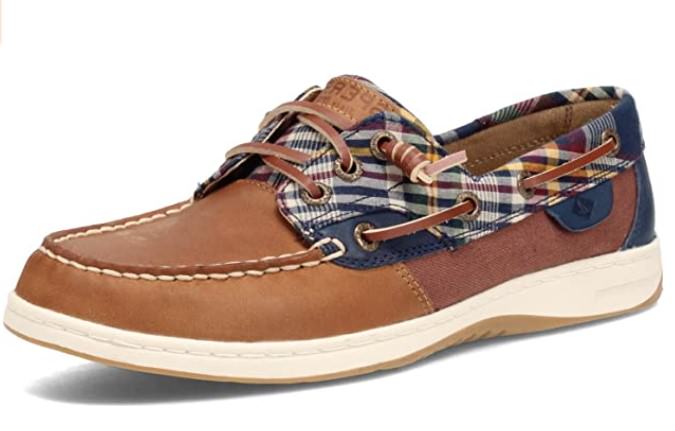 Happy Spring Shopping!
*If a post is sponsored or a product was provided at no charge, it will be stated in post. Some links may be affiliate links and as an Amazon Associate, I may earn from qualifying purchases. *