A couple of weeks ago we visited Marie's beautiful Victorian home to see how she had decorated for Halloween. The porch was festooned with lit garland and fun Halloween bunting.
It was great seeing it in the daylight…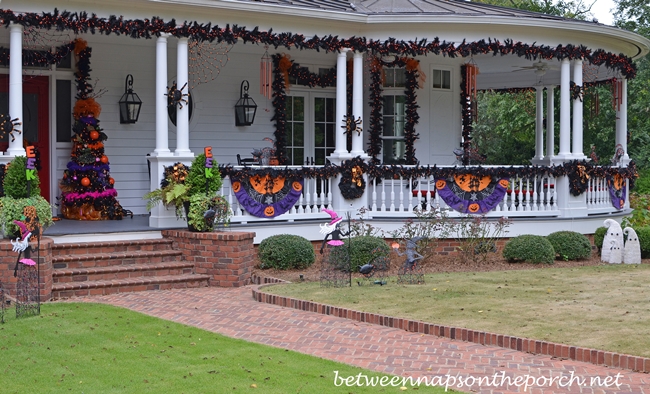 …because it gave us a chance to really see all the fun details awaiting guests and trick or treaters.
But we wondered, "What does it look like at night?" Several of you encouraged me to go back after dark.
Well, it didn't take much prodding because I had to see how all those globes hanging from the trees would look at nighttime.
So, we are 10 years old again and we're going trick-or-treating at the cool house down the street! Do you have your pumpkin ready for candy? What? You're bringing a pillowcase? Good thinking! 😉
Let's go!
It's just starting to get dark but Marie's beautiful Victorian home is already aglow.
Getting darker now and the magic is beginning!
Look! We've caught the blue hour!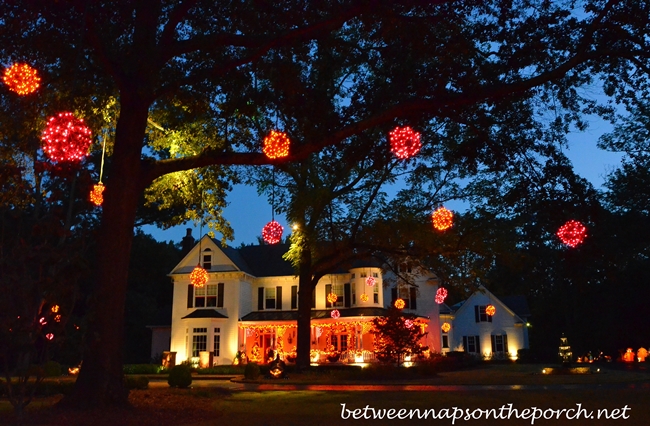 If you aren't familiar with the Blue Hour, you can read more about it in this post: The Secret of the Blue Hour. You'll find additional posts about Blue Hour photography under the category DIY/Photography/Blue Hour photography at the top of BNOTP
As we make our way down the driveway, we pass the fountain and the sound of flowing water is perfect on this spooky night. It's so pretty lit up at night and the driveway is aglow with friendly faces.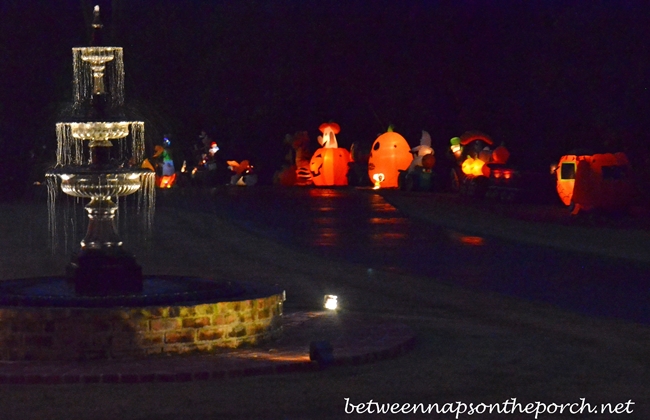 We turn back toward the house, mesmerized by all the wonderful lights.
The trees are aglow with orange and purple orbs.
Sooo pretty against that blue hour sky.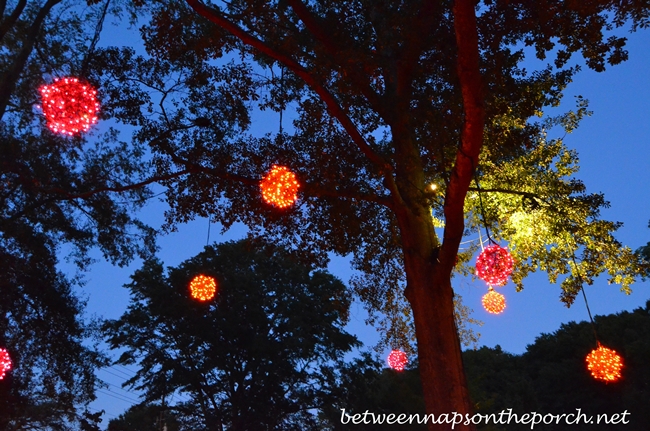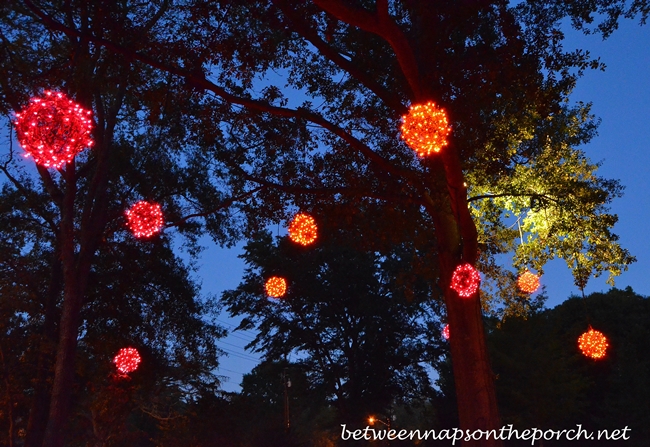 We finally pull our gaze away from the trees and turn back toward the house
Are you brave enough to pass the black cats on either side of the entrance? They turn their heads back and forth, watching us carefully, ready to pounce at any moment as we tip toe quietly by.
The house is truly magical this night.
Spiderwebs glow in the corners of the porch ceiling.
Yikes! I think I see a ghost is the turret window! You go first!
We pass more glowing orbs as we make our way closer to the porch…
…only to discover we're about 3 weeks early! Drat! No candy for us tonight!
But we'll be back because who could resist this on Halloween night!
*If a post is sponsored or a product was provided at no charge, it will be stated in post. Some links may be affiliate links and as an Amazon Associate, I may earn from qualifying purchases. *