Welcome to the 327th Metamorphosis Monday!
This has been one of the coolest springs I remember having in a long time. I'm not complaining, it's been wonderful, but the chilly nights have had me holding onto my winter bedding a little longer than I had planned.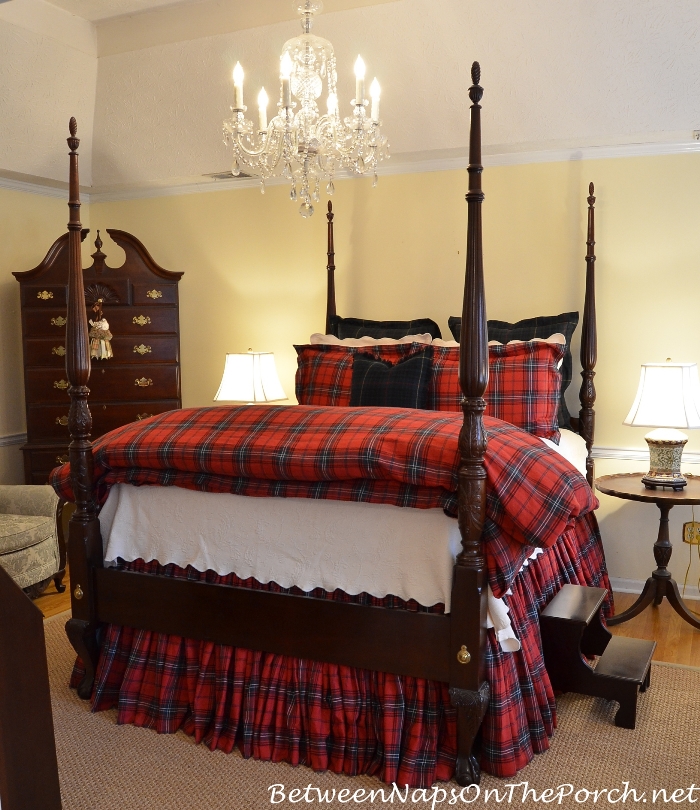 If you were reading BNOTP this past winter, you'll remember I purchased tartan bedding to use during the fall and winter months. The plan was to use the winter bedding from October through March switching to summer bedding for April through September. Because this spring has been such a cool one, I haven't been in a rush to change over to my summer bedding. This weekend seemed like a good time to go ahead and make the change.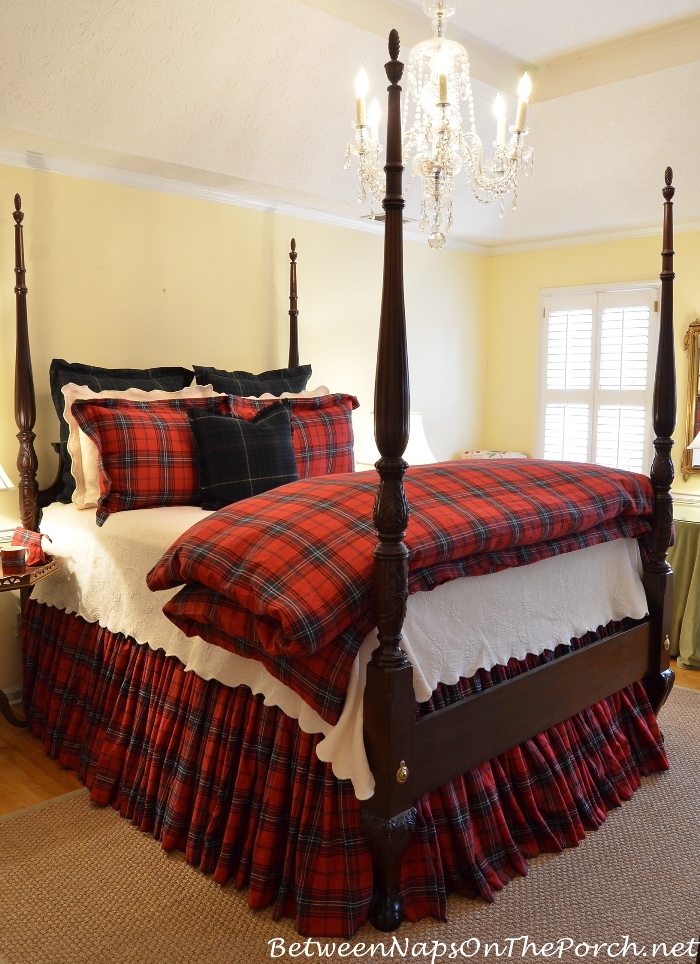 The new mattress I purchased last year weighs a ton so I wasn't sure how this would go. It was much easier than I expected. I just slide the mattress off to the side and stood it up leaning it against the table that had been beside the bed on that side.
I removed the heavy weight bar my seamstress used due to the weight of the fabric. You can read more about the construction of the bedskirt in this previous post: Tartan Bedskirt For Winter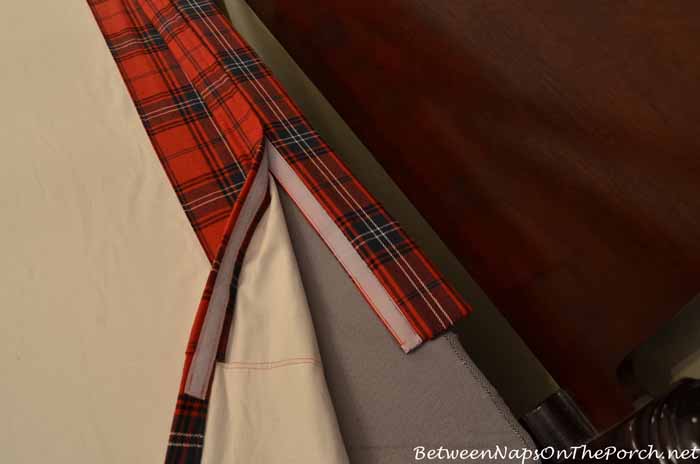 This is how my seamstress had recommended I fold the bedskirt when the time came to change it out. First I folded the sides up toward the center.
Then I folded the end up as shown.
Next I folded it in half from the left side to the right.
Then I folded the two ends inward toward each other.
Several folks have asked in the past where I store my bedding. I have a dressing room right off my bedroom and it has three closets.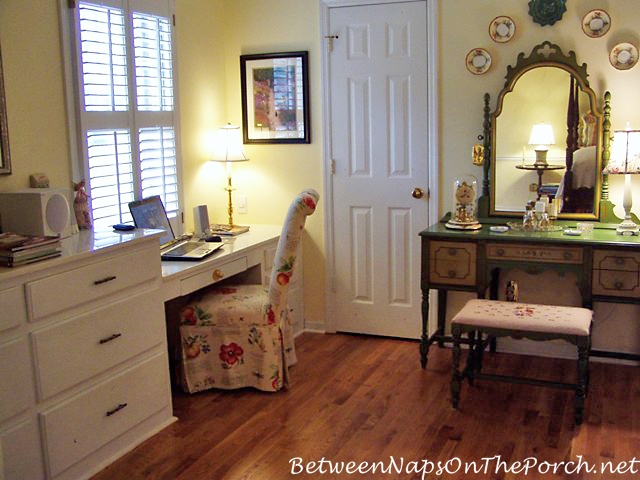 The top shelf inside each of the three closets is great for storage. It's goes up pretty high, so I can fit a fair amount on that shelf. For example, all the pillows for my summer bedding, along with my summer comforter, fit on this one shelf. The summer bedskirt is in one of the other closets. You can see the true colors of the summer bedding in this photo below because the light was coming in through the window.
After I removed the summer bedding from this shelf, I stored the pillows for the winter bedding back in this area.
The super fluffy, down comforter ended up on the top shelf of one of the other closets in the dressing area.
The tartan (winter) bedskirt was so heavy, it would have been really hard to lift it over my head to place on a top shelf. So, I placed it inside a heavy-duty "contractor" style garbage bag and placed it underneath the bed. That should keep it dust free until fall.
The summer bedskirt was put in place with the mattress back on top. I didn't do a great job of pulling up the bedskirt toward the head of the bed before taking this photo, but I adjusted that before I made up the bed again. 🙂
I was surprised my summer bedskirt wasn't more wrinkled from having been folded up all winter. It's made from a moire fabric so I guess that type fabric doesn't wrinkle too badly.
Hopefully the winter bedskirt won't be too terribly wrinkled when it's time to pull it back out in October.
Pillow Update
Remember my search for the perfect pillow? I'm still in love with this $2.50 pillow from Dollar General. I love it so much, I went back and bought another one to keep as a back up in case they quit making it and I need a replacement in the future.
If you love a low profile pillow and can't stand to have your head tilted at a sharp angle while sleeping, this pillow is perfect. They have it in a "firm" style, too but it's the "Medium" that is perfect for my needs.
Just sharing this in case you've been struggling to find a comfortable pillow that isn't too high. Thanks so much to Michele who told me about this pillow. If you're looking for a great pillow, check out all the awesome recommendations in the comments of this post: Pillow Talk: Sleeping On Your Side Can Cause Premature Facial and Chest Wrinkles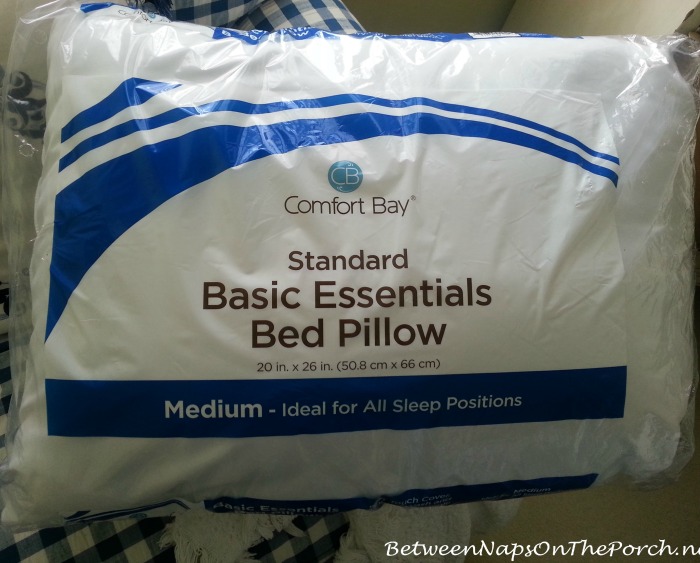 Looking forward to all the fabulous Before and Afters for this Met Monday!
Metamorphosis Monday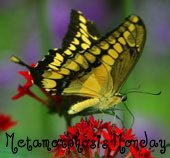 If you are participating in Metamorphosis Monday, you will need to link up the "permalink" to your MM post and not your general blog address. To get your permalink, click on your post name, then just copy and paste the address that shows up in the address bar at the top of your blog, into the "url" box for InLinkz.
In order to link up, you'll need to include a link in your MM post back to the party so the other participants will have an opportunity to receive visits from your wonderful blog readers.
Please observe these few rules:
Only link up Before and After posts that are home, gardening, crafting, painting, sewing, cooking, DIY related.
Do not link up if you're doing so to promote a website or product.
Do not link up a post that was just linked last week since a lot of readers will have already seen that post.
*If a post is sponsored or a product was provided at no charge, it will be stated in post. Some links may be affiliate links and as an Amazon Associate, I may earn from qualifying purchases. *