This is turning into a busy week. My main desktop computer was rebuilt and got a brand new hard drive. I picked it up yesterday and it's wicked fast! So happy to have that done and to have my computer back!
I'll be getting a quote this week on having part of my backyard fence rebuilt and the hall/basement staircase door is being replaced again on Friday. The deck cleaning, staining, and rail painting is scheduled to start in a couple of weeks. That was the earliest date they had available.
So, you know how I've been on a tear around here, getting a lot of small projects checked off the old to-do list. One project I completed on Friday was having a locksmith come out and take a look at my front door lock, it had become very difficult to get a key into the lock to open it when outside. It's rarely used, so I wasn't sure why it had become so ornery. (View this autumn porch here: Porch Decorated for Fall)
The locksmith said that humidity can cause a lock to get corroded and rusted inside, especially one that isn't used a lot. He told me about something that I thought you might find helpful, as well.
He said to never use graphite (like so many folks do) when a door lock becomes stubborn, adding that all it does is make a big mess. He said the best thing to use is Lithium Grease. Regular WD-40 will do the trick, but Lithium Grease is better. He used the little straw-like thing that typically comes with that type product to get the grease down inside the lock. It certainly worked well on my front door. In no time at all he had the lock working as smoothly as the day it was installed.
I ordered some Lithium Grease to keep on hand, in case I run into this issue again. You'll find it available here: Lithium Grease .
A Special Delivery
Today I got a big surprise! As I was walking through the entry on the way upstairs, I glanced out the window and saw a really big box on the front porch. A couple of weeks ago I ordered a Darjeeling Limited Safari Bag from Very Troubled Child.
When I checked tracking this morning, the bag had made its way from Hong Kong and through customs, arriving in Atlanta early this morning around 5 AM. Usually when a package is being delivered from someplace where it has to pass through the main post office in Atlanta, it doesn't normally show up at my house until the following day. So I was amazed to see it on the front porch.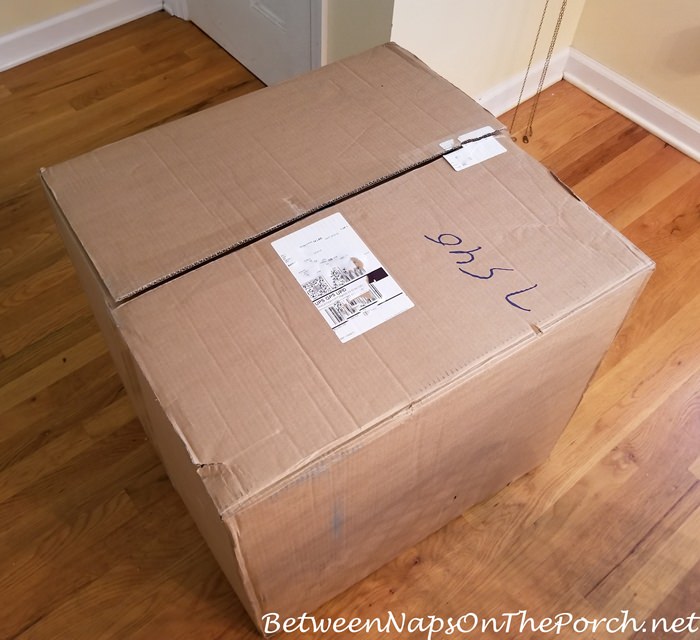 I brought it in and nervously opened it. When I ordered the bag, I had it monogrammed since that's just what you do with a Darjeeling Limited bag. lol If you've seen the movie, you know what I mean. The luggage set in the movie (made for the movie by Louis Vuitton) is all monogrammed.
Anyway, I was a little nervous opening the box, worried that the bag wouldn't live up to my expectations and all the photos I had seen online. I wondered how the monogram had turned out. Do you ever do that, feel anxious opening a much-anticipated package?
Well, I was in for a big surprise! The box did not contain a monogrammed safari bag at all! Instead, it was filled with Belleek Pottery, the pieces I had purchased/ordered the day we toured the Belleek Pottery Factory in County Fermanagh, Ireland. Belleek had said it would take six-eight weeks to arrive, and it has only been around four, so I was not expecting anything for at least a couple more weeks.
Let's open them and see what's inside!
The item I ordered and was most excited about was the castle lamp. The tour I took in Ireland was the Deluxe Castle Tour, thus named because each night we stayed in either a castle or a manor home. When I saw the castle lamp in Belleek Pottery, I knew it was the perfect souvenir for the trip.
It was dark outside when I took these pictures, but hopefully they will give you an idea of how the lamp looks on my desk.
It was bugging me that when I'm sitting at my desk, I can't see the top of the castle. So I ordered a couple of harps that are slightly taller than the one that's currently on the lamp. I'm hoping I can raise the shade just enough to see the top of the castle, but without showing the mechanics of the lamp, if you know what I mean.
Here's the back view which sadly won't be seen since it will be facing windows.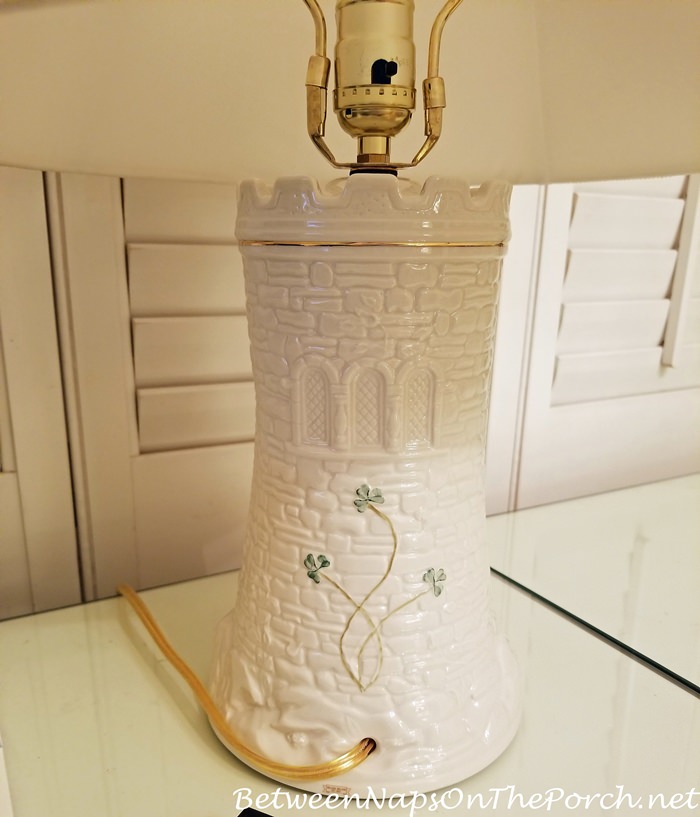 Ummm, not so sure about this little finial. I think the lamp needs something a bit more castle-like. lol I looked online for a shamrock finial and found one, but it didn't excite me. It was kinda boring. Next, I searched for a "castle" finial. No luck.
I also looked for a knight, dragon and crown finial. I found a knight finial on eBay that I loved and would be so perfect, but it was $125! Yikes! I found a dragon finial that I may order.
One of the other two items I ordered was this tall vase that I've currently filled with limelight hydrangea blossoms that had naturally dried in a pitcher. After touring the factory and seeing how a Belleek Pottery piece is still hand-made from start to finish, I so appreciate the work that goes into each piece.
This little card was tucked inside the box with each piece. It explains more about the wonderful tradition behind Belleek Porcelain.
The third item I purchased from Belleck Pottery was this sweet Kylemore Honey Pot. The porcelain feels so delicate, so thin…very unlike the vase and the lamp. I was almost afraid to handle it, so I put it away in one of my glass-front cabinets in the kitchen for safe keeping. It didn't come with a little honey stick/dipper. I'll have to find a cute one online for it.
Still awaiting the Darjeeling Limited bag, hopefully, it will come today. And I'll get nervous all over again! lol
Pssst: I post almost daily to Instagram. Follow Between Naps on the Porch on Instagram here: Between Naps On The Porch.
*If a post is sponsored or a product was provided at no charge, it will be stated in post. Some links may be affiliate links and as an Amazon Associate, I may earn from qualifying purchases. *