Welcome to the 556th Metamorphosis Monday!
A few days ago I shared a new furniture piece I had added to my bedroom for storing my handbags. In that post, I promised to share more details in a future post, including why I added it, if it was hard to assemble, changes I made to it and exactly how I was using it. Today I'm sharing all those details plus another little addition to my dressing room.
I have a small but growing handbag collection and I finally decided to pull them all together in one spot for easy access.
My inspiration came from seeing Elaine Hau's amazing handbag collection on YouTube. In the video, Elaine shares details about how she stores her handbags using Billy Oxberg cabinets from Ikea.
The Billy Oxberg is nothing more than the iconic Billy Bookcase with the addition of doors. I had the worse luck getting my hands on this bookcase! My local Ikea was out of the Billy Bookcase for about two weeks.
Ikea being out of their Billy Bookcase for two weeks is like going to McDonald's every day for two weeks, only to be told they are out of hamburgers. Seriously! Per THIS House Beautiful article, Ikea claims a Billy Bookcase is sold somewhere in the world every 5 seconds. How could they be out of Billy Bookcases for two weeks?
The folks at my local store couldn't say why they were out of them, only speculated it could be due to the hurricane that had recently passed near Savannah where they have one of their warehouses. I tried contacting Ikea via email and their Facebook page to get an estimate on when it would be back in stock. I never received a reply.
It's so frustrating when you finally decide to do something that you've been thinking about for ages, but the item you need isn't in stock. I kept watching the website and eventually it showed they were back in stock at my local store.
If you have something you collect, be it handbags or something completely different, I definitely recommend this bookcase. It was super easy to put together. The instructions (which are all in pictures–no words) recommend two people for assembling the bookcase, but one person can do it. I had no problem putting three together for my office so knew I could do it.
When I brought it home, I opened the box inside my SUV and brought up the pieces a couple at the time. The box is way too heavy to carry alone, especially upstairs. So if you're a single woman and reading this, you can do it!
The doors were much, much easier to put on than the doors were for the garage cabinets I assembled a few summers back. Or, was that just last summer? I can't remember how long ago it was, I'm terrible with time! Anyway, this cabinet is a cinch to assemble. Love that about Ikea furniture, it's well designed and user-friendly.
I placed this cabinet in the only place I had room for it: against the wall at the foot of my bed.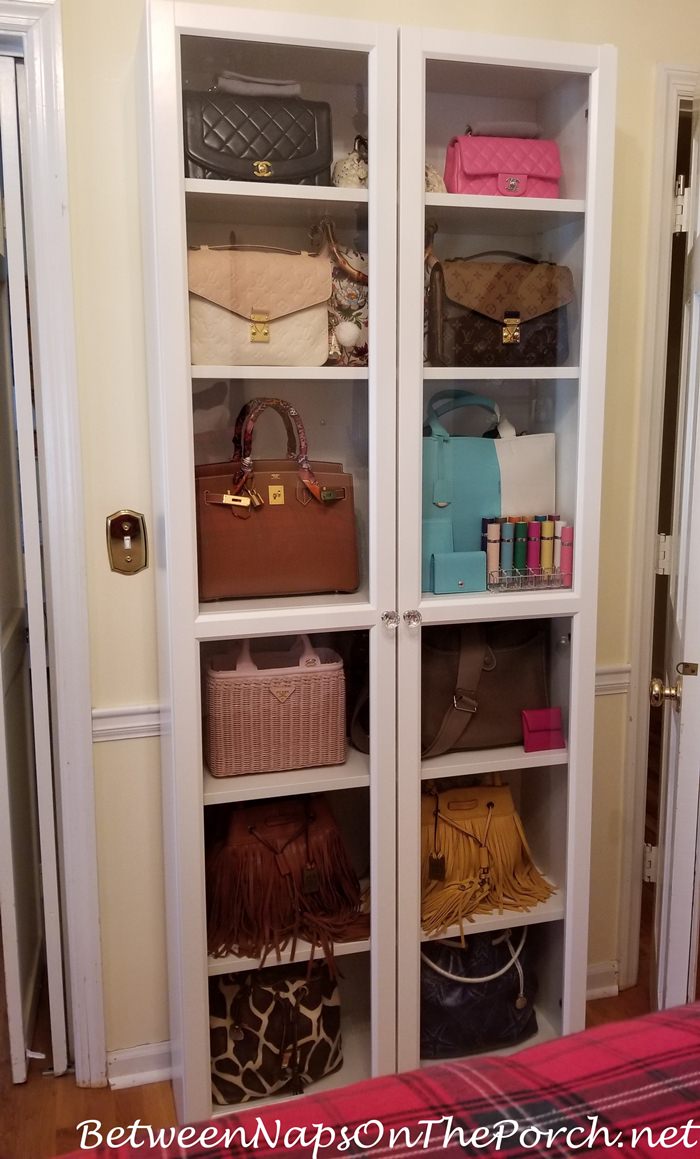 As you can see, there's still plenty of room to walk by.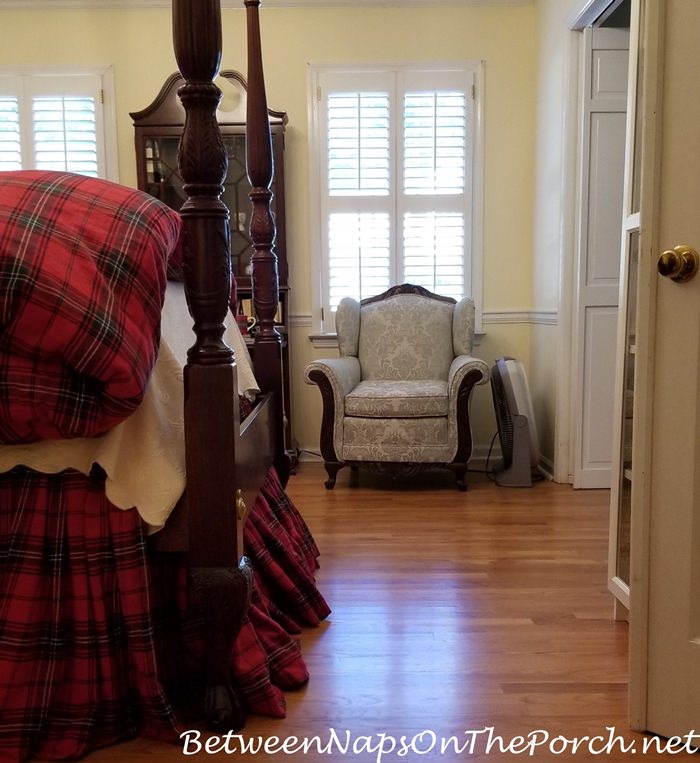 Forgot to take a picture of it, but I purchased another one of these amazing doorstops so I wouldn't have to worry about the bedroom door hitting the cabinet accidentally. You'll find this cool invention here: Doorstop. (Ignore how long it says that it takes to arrive–it arrived in just a few days.)
You can see the doorstop in place in this photo and how it prevents the door from going too far back. The doorstop is completely adjustable and I set it where when I open the doors of the cabinet, the glass cabinet door doesn't hit the doorknob of the door.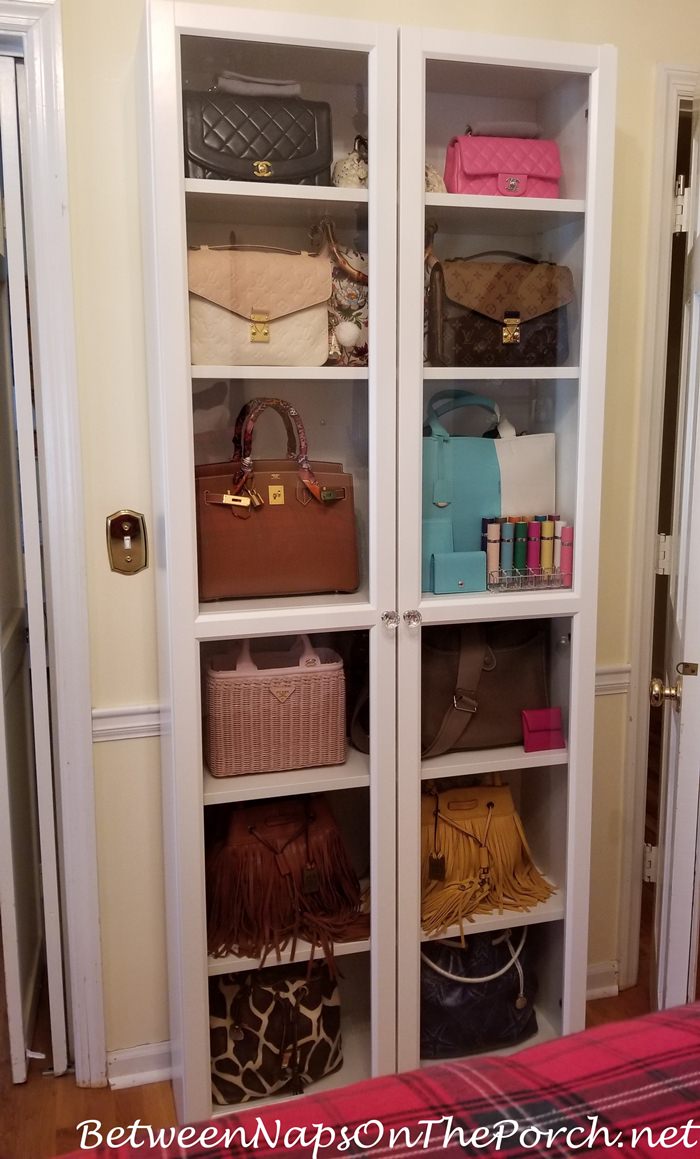 I replaced the not-so-attractive wood knobs that come with the Billy Oxberg Bookcase with these beautiful crystal knobs available here: Crystal Knobs. I love them so much, I'm thinking of buying more and changing out my closet knobs in my dressing room.
I did buy 6 additional knobs in case I ever need more of the Billy Oxberg Bookcases or in case a knob gets broken during a future move. I would hate it if they were no longer available, so figured it wouldn't hurt to have a few extras.
Here's how I have my bags stored for now. I have a few more wicker bags still stored in another closet. The main thing that pushed me to go ahead and add this cabinet to my bedroom is when I realized a few weeks ago I had never once carried my pink wicker bag all summer.
Previously, I've been storing my handbags in two different closets. The bags that were obviously "summer" bags were stored on a top shelf in one of the closets in my dressing room, while the "winter" bags were stored up really, really high on a closet off my bathroom dressing area.
It's always hard to see them when they are stored high up on a shelf and difficult to reach. Now that they are all together in one place and where I can actually see and reach them, they will all get used more often throughout the year.
I'm pretty much in a state of what all the Fashion YouTubers call "Purse Peace." Ha, ha, ha…love that phrase! Purse Peace basically means you're happy with your current handbag collection and aren't looking to expand it. There's only one handbag I'd like to add one day–Dior's Lady Dior bag. I tend to gravitate toward classic bags and that one is definitely a classic for the House of Dior.
You may remember seeing this studded version of the handbag when I took you on a tour of the Dior Exhibition I attended during my trip to England in July. (Take a tour of the Dior Exhibition in this previous post: Christian Dior Exhibition at the Victoria and Albert Museum.)
I love the studded version but will most likely go with the standard one (without the studs) if I ever do add it to my collection, and I'll probably buy it pre-loved from here: Pre-Loved and New Bags. That's the only place I feel comfortable buying pre-loved bags at the moment as detailed in this post: The Only Place I Really Feel Comfortable Shopping for Pre-Loved Handbags .
During this process, I found a unique way to store my Hermes perfume atomizer collection. If you follow my fashion posts on Instagram, you probably saw this idea when I shared it there. (Follow my fashions post on Instagram here: UnderMoonlightAndMagnolias.)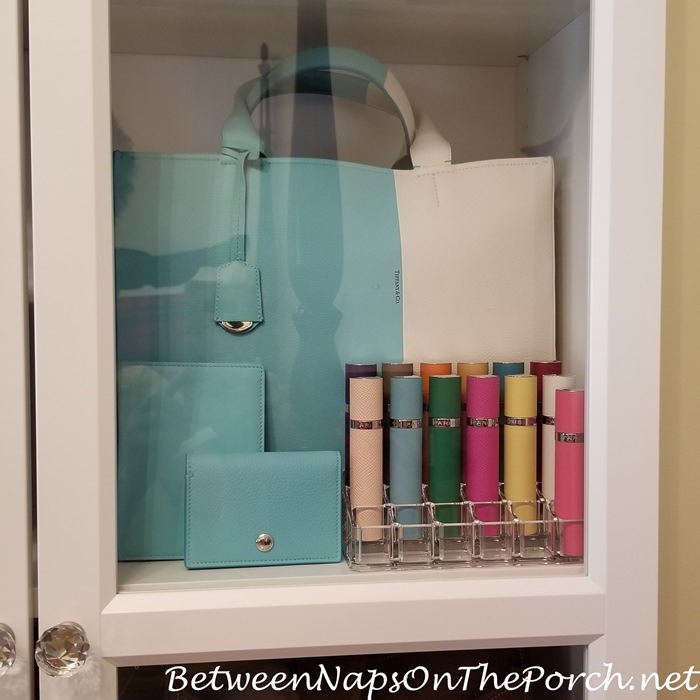 I discovered that some lipstick holders are wide enough to accommodate an atomizer. I found several online that would work, including this one: Lipstick Holder.
I ultimately went with this one from Marshalls. I like its staggered design. I now have to fight the urge to buy more perfume atomizers just to fill in the empty spots. How's that saying go—nature abhors a vacuum! Ha!
One More Update
One other recent addition to this area was adding some fashion art to the walls of my dressing room. You may have noticed the single picture hanging on the wall in this photo from a previous post. I loved how it looked but definitely felt adding a second would look much better.
So I purchased another one from the same Etsy shop where I found the first one.
Here's how they look hanging together…two of my favorite style handbags. You'll find these and many more fashion prints available here: Fashion Art.
Cozy Sheets for Wintertime
The flannel sheets I ordered arrived and I can't wait to put them on my bed. I washed them right away so they would be ready when the nights turn cold. I love this woodsy design and they are sooo soft and cozy feeling! The evenings are definitely cooling down now so it won't be long before I can snuggle down in them. (You'll find these sheets available here: Ultrasoft Flannel Sheets.)
I think they will look so cute with my fall/winter bedding! The tartan bedding is currently on sale 30% off here: Tartan Bedding.
Hope this post is helpful for anyone thinking of adding a Billy Oxberg bookcase somewhere in your home. The addition of the doors takes the Billy Bookcase to a whole new level. It feels so much nicer and higher-end with the addition of the doors, plus the doors feel heavy and silky smooth to the touch. So, I definitely recommend the Billy Oxberg Bookcase–if you can find it in stock!
Looking forward to all the great Before and Afters for this week's Metamorphosis Monday!
Pssst: Did you know Between Naps On The Porch is on Instagram? You'll find my home and garden postings on Instagram here: Between Naps On The Porch AND my fashion postings here: Under Moonlight and Magnolias.
Like to know when a new blog post is up and available to read? Subscribe for email updates, it's free and your email will never be shared.
Subscribe here: Subscribe for free post updates via email here: Subscribe.
Metamorphosis Monday
Metamorphosis Monday is a party that's all about Before and Afters. If you are participating in Met Monday, please link up using the "permalink" to your MM post and not your general blog address. To get your permalink, click on your post name, then just copy and paste the address that shows up in the address bar at the top of your blog, into the "url" box for InLinkz when prompted.
In order to link up, you'll need to include a link in your MM post back to the party so the other participants will have an opportunity to receive visits from your wonderful blog readers.
Feel free to link up Before and After posts that are home, gardening, decorating, crafting, painting, sewing, cooking, fashion, travel or DIY related. Please do not link up to the party if you're only doing so to promote/sell a product.
To those linking up, if you notice a shop or online store linking up to sell products (yes, unfortunately, that happens) please let me know so I can remove their link and block them from participating in future parties.
You are invited to the Inlinkz link party!
*If a post is sponsored or a product was provided at no charge, it will be stated in post. Some links may be affiliate links. *