Welcome to the 313th Tablescape Thursday!
Such a beautiful day to be out on the porch! I headed out to the garden to cut the last of the purple phlox. It's almost completely finished blooming for another year but I managed to find just enough for our centerpiece. It smells heavenly, I wish I could share the fragrance with you.
A couple of years ago I came across a table setting showing angel wings on the backs of chairs. I can't remember now on which site I saw them, it may have been Country Living.
I looked for it again online tonight and I'm pretty sure the picture below is it. Unfortunately, it's one of those pictures that's been featured on so many blogs and pinned so many times, none of the pins take you back to the original source anymore. Anyone remember where this photo was originally published?
Anyway, I loved the angel wings and I remember the article named the online toy store (U.S. Toy) where they had been purchased. They were very inexpensive so I ordered some with plans to create a Valentine's Day table setting one day.
It's always too cold to set a table on the porch in February and that's where I really wanted to use them, on the chairs here on the porch.
Today I decided to try them in a feminine setting, one I envisioned would work for a little girl's birthday party, or even a big girl's birthday celebration. As I put the table together, I realized this table would also work well for a bridal shower or for a Mother's Day celebration..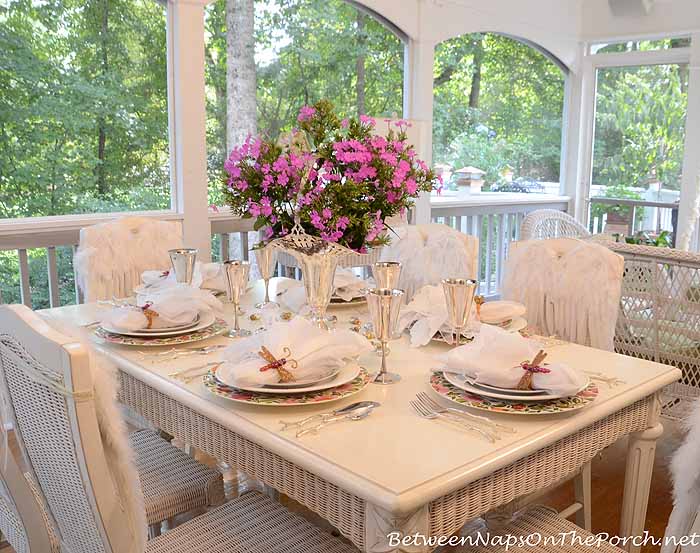 I planned to hang the angel wings on the backs of the chairs but as I was putting the table together, I realized they wouldn't be visible in most of the photos if they were hanging on the back. So for our table setting today, I placed them on the front so we could see them.
For an actual party, you could hang them on the back OR you could place them on the front as I did and then spin them around just before you sit down to dinner. Of course, your guest may want to don them and become angels for the evening. 🙂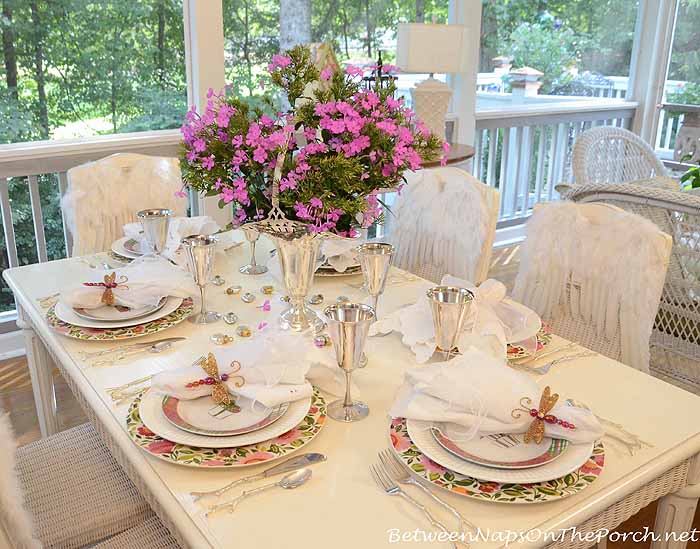 Since this table setting has a decidedly feminine feel, I wanted to use flowers for the centerpiece. As I headed out to the garden, I wasn't optimistic I'd find anything blooming this late in the season. My tall "Common Purple Phlox" from a nursery here in Georgia called Goodness Grows, had a few blooms left so I snipped all I could find brought it inside for the table.
The bees love this stuff! I had to wait for a few to leave before I could cut it for the table. You can see many of the blooms have fallen off already but the foliage is so pretty, I think it still makes a beautiful arrangement.
Sure do wish we all had scratch 'n sniff monitors. It's just impossible to describe how wonderful this phlox smells! If you don't have phlox in your garden, consider adding some. It makes a beautiful display when in bloom and it's a fairly long-blooming perennial. Phlox David is another tall phlox that looks beautiful growing in a garden.
I'm using a lot of silver tones again this week, guess I'm on a silver kick right now. So, I placed my purple phlox down inside a sweet silverplate bridal basket found at A Classy Flea many years ago.
I think the last time I used this basket was in July 2010 in the tablescape shown below. In that table setting it held a huge magnolia blossom. (Table setting can be seen here: Celebrating 100 Table Settings)
Today the basket is filled with pretty phlox.
I sprinkled mercury glass hearts around the base of the basket. The phlox helped me decorate the table by shedding a few of its blossoms.
I used silverplate goblets for our table setting to continue the silver theme. I've had these for around 35 years now. They needed a bit of polishing before they were ready for our table.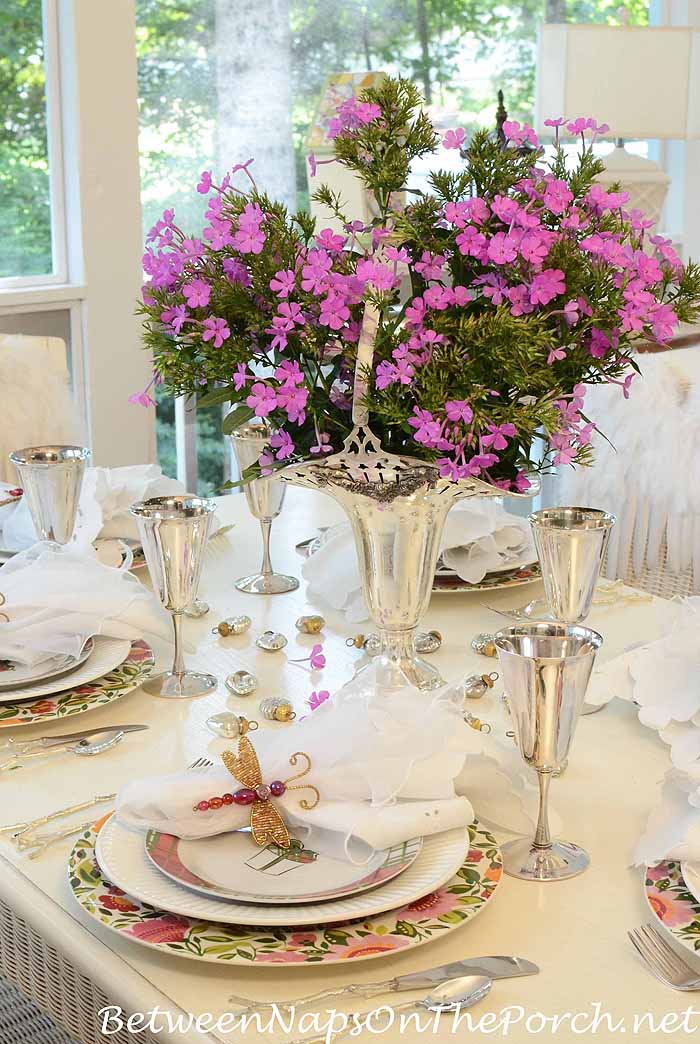 Silver twig flatware from West Elm worked well with the other silver elements in the table.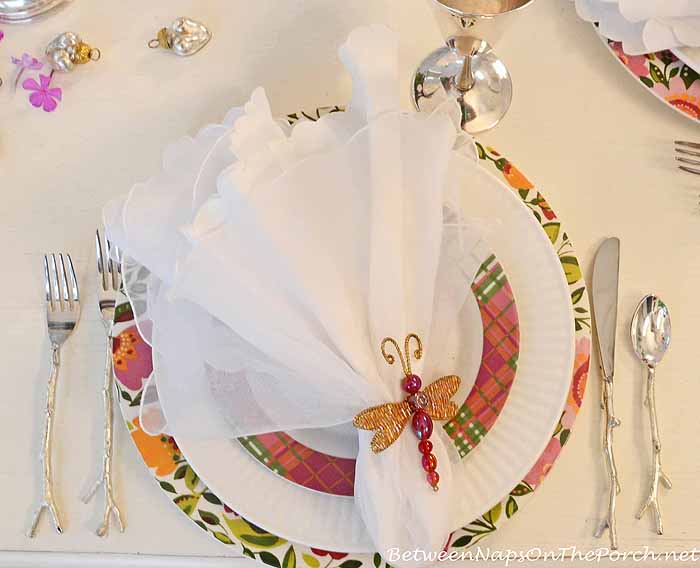 Chargers are Kim Parker, Emma's Garland, found in Marshalls 3-4 years ago. I've used them many times over the last few years, too many tables to link to here, but you'll find them all under the Spring/Summer Tablescape category here at BNOTP. (Spring-Summer Table Settings)
Beaded dragonfly napkin rings are from Pier 1 a few years ago.
Plaid salad plates with a present/gift design are perfect for a bridal shower or birthday party. They would even work for a Mother's Day celebration. You may be seeing them again around Christmas. I've never created a pink and green Christmas tablescape…could be fun! 🙂
The plaid salad plates are marked "PAI" on the back. Not sure if that's the company that made them or the pattern…probably the company.
Each plate features a different package or gift.
I love mixing patterns, whether it's furnishings in a room or elements in a tablescape. Love how the plaid salad plates look with the Kim Parker floral chargers.
Still holding onto summer here! How can I not when the phlox is still blooming! I noticed today, my sedum 'Autumn Joy' is blooming like crazy right now, too.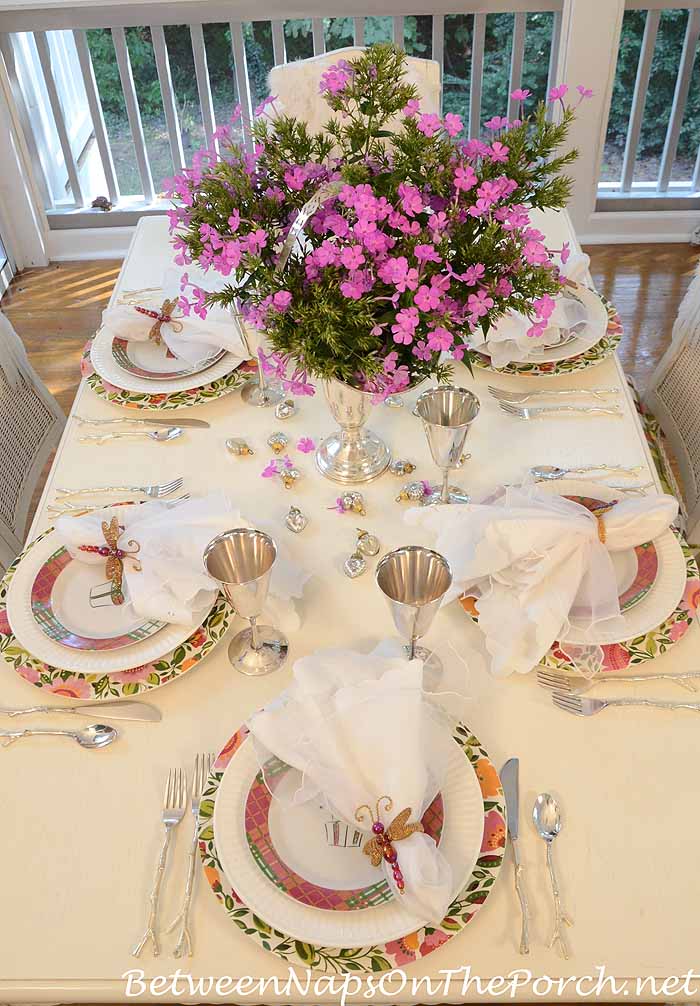 Do you have any late summer flowers blooming in your garden now?
Looking forward to all the beautiful tablescapes posted for this week's Tablescape Thursday!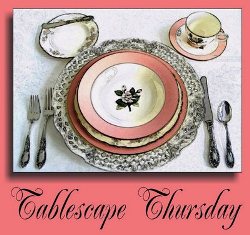 If you are participating in Tablescape Thursday, please be sure to add your permalink below, and not your general blog address. To get your permalink, click on your post name, then copy and paste the address showing in the address bar, into the "url" box when you link up.
You'll need to include a link in your post back to the party in order to link up and participate. That's so visitors to your blog will be able to find the party and the other Tablescape Thursday participants. Requiring a link back also prevents businesses from linking up to sell their products. (Yep, that really happens, unfortunately.)
If you would like to use the Tablescape Thursday logo button in your post, just copy and paste it to your computer and upload it to your post as you would any photo.
Please, don't add your post name/blog name ALL IN CAPS…it tends to create big spaces between the rows of links.


*If a post is sponsored or a product was provided at no charge, it will be stated in post. Some links may be affiliate links and as an Amazon Associate, I may earn from qualifying purchases. *