I have fallen down a Toy rabbit hole lately. I haven't bought any kid's toys since well before Christmas when I was shopping for grandsons, but in the past few weeks, I've bought several. I thought I'd share what I've been purchasing in case you will need a birthday gift for a little one sometime soon or would like to start your Christmas shopping early. Also, I have a foundation question for you at the end of this post.
If you're a serious handbag lover, you may be familiar with the cute, hand-made leather horses Hermes makes as a bag charm to hang on their handbags. They come in a gazillion color combinations and their cuteness and bright colors make them hard to resist. I mostly love that they harken back to the heritage of the company.
Thierry Hermes opened his business in 1837 making high-quality harness and bridles, eventually branching out to make beautiful leather saddles. With the invention of the car, Hermes smartly evolved and turned their beautiful leatherworks into producing quality bags for carrying horse-grooming supplies, which eventually led to making quality leather handbags.
I've been trying my best to not get sucked into buying Rodeos because they are pricey and once I start collecting something, especially something really cute and colorful, I have trouble stopping! I finally caved and purchased just one. You may have seen it when I posted it on my Instagram where I share my favorite fashions, including handbags.
Pssst: If you're into fashion, especially handbags, you'll find my fashion posts on Instagram here: UnderMoonlightAndMagnolias. (Follow my home and garden posts here: BetweenNapsOnThePorch.)
So, though I only have one of these cute little horseys, I tried to come up with a clever, creative way to store it in case I do decide to add another one or two in the years to come. Currently, the one I have is hanging from a little thumbtack inside the cabinet where I store my handbags.
One Instagrammer I follow, Audrey's Pink Closet turned an Ikea spice rack upside down and created a mini stable for storing her Hermes Rodeos. So cute! (Follow Audrey on Instagram here: AudreysPinkCloset.)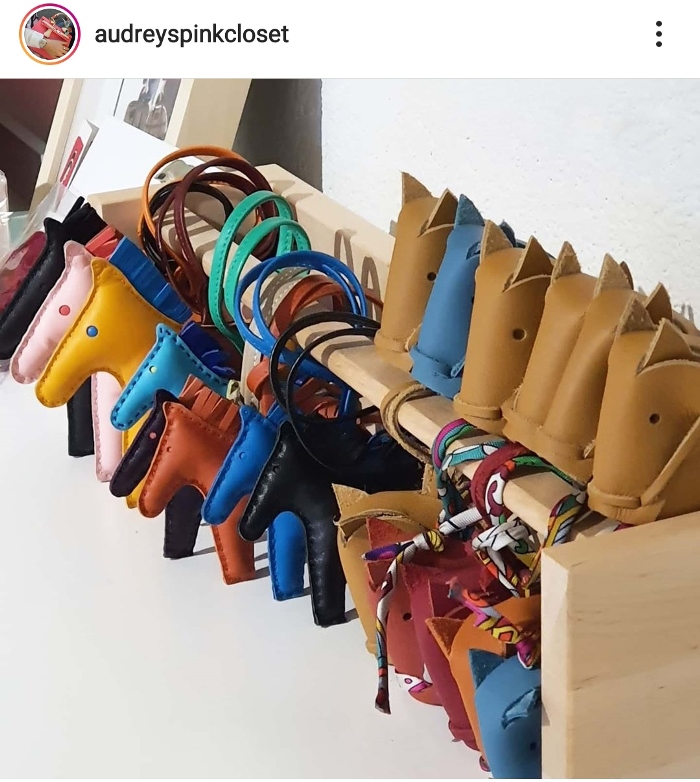 I purchased this adorable toy stable thinking it would be both a humorous and fun way to store Rodeos, especially if I succumb to collecting them and buy a few more. Unfortunately, it's about an inch too short in height for it to work and my medium size rodeo (MM size) won't quite fit inside. If someone only collects the smaller PM size Rodeos, it just might work.
If it had worked for the Rodeo storage, I would definitely have purchased another one of these cute stables for my youngest grandson who loves animals. As is, I'll just pass this one down to him and I know he will love it. The back opens easily for access to the horses.
The cardboard that's holding the horses is just part of the packaging for shipping, so that comes out.
If you have a little one who loves horses or animals, you'll find this adorable stable (complete with horses) available here: Stable and Horses Toy.
I was in Marshall's recently and stumbled across this cute jelly bean dispenser. At first, I passed it up, but it was just so cute I made a beeline back for it before leaving the store. I think I'm going to save it for when my grandkids are here in June. My daughter-in-law may shoot me when she sees it. lol We'll have to limit how many trips to the Jelly Bean dispenser are allowed per day.
If I worked in an office, I think I would keep one of these on my desk for my fellow co-workers to enjoy. Wouldn't it be cute to have out for a birthday party?! You'll find it available here: Jelly Bean Dispenser.
I purchased the jelly beans to fill it here: Jelly Beans.
Today is my oldest grandson's birthday! He turned 6 today and for his birthday I purchased him this cute robot. He loves robots and was trying to play with his dad's little robot from childhood during their visit here for Thanksgiving. He took the little robot back home, but it only about half works since it's around 30 years old.
Now he has a brand new one and from the reports I've gotten back today, he loves it! In addition to moving all around, it plays music and dances. My daughter-in-law told me my grandson has been playing with it all afternoon and even took it next door to show the neighbors. lol
This would be a great gift for both girls and boys. You'll find it available here: Robot. There's a cool video at that link showing how it works.
This was the other gift I purchased for my grandson's birthday. He's really into watches and this one is waterproof so he can wear it while taking swimming lessons and while playing in their backyard play pool this summer. You'll find this sports watch here: Sports Watch.
Speaking of play pools, this is the one my grandsons played in all last summer and it was a huge hit. (That's them playing in the photo below.) They loved this pool so much, we bought a second one before summer ended to use this summer year since a certain grown-up who will remain anonymous, decided to take a flying leap onto the slide and caused it to pop. Ha, ha, ha! And no, it wasn't me!
I just noticed today, the price is much lower than when I bought it last summer, I guess because it's still cold out. So if you want one for your kids or grandkids, get it now while it almost $20 off. You'll find it here: Play Pool.
You'll find the rainbow sprinkler I bought to go over it available here: Rainbow Sprinkler.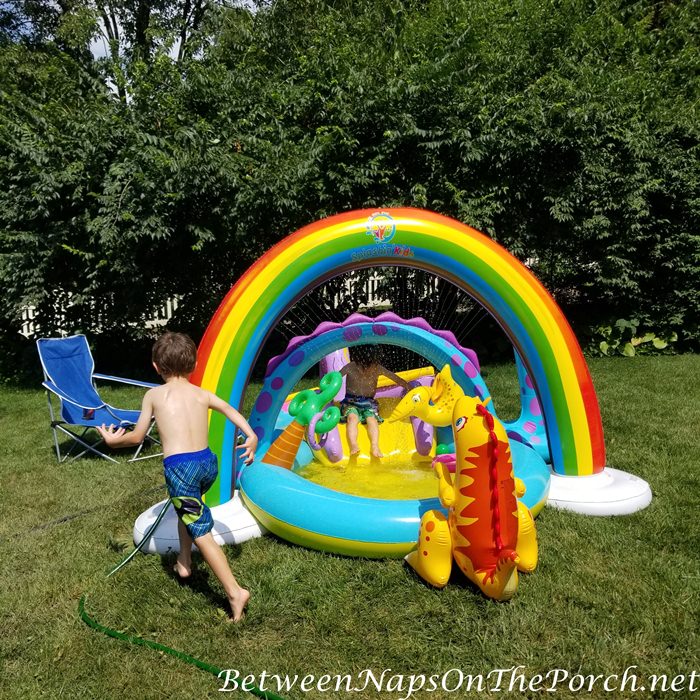 The 2-year-old daughter of a friend of mine has been sick this past week so I ordered her a little surprise. It should arrive tomorrow. Is this not the cutest little bunny? You'll find this sweet bunny here: Plush Bunny.
Not toy-related, but do you guys have any suggestions for a moisturizing foundation or tinted foundation that doesn't emphasize wrinkles/lines? I never wear foundation since it tends to emphasize every single tiny line or wrinkle, which I really hate, but I would love something that just evens out my complexion.
I saw this recommended in an article about foundations for older/more mature skin and just ordered it today. It comes in a lot of different tints/colors. I'll let you know if I like it once it arrives and I give it a try. Fortunately, it's returnable if I don't like it. You'll find it available here: Hydrating Tint.
I would love to know if there's something you use and love. Have you tried this one before?
Happy Weekend to you!
*If a post is sponsored or a product was provided at no charge, it will be stated in post. Some links may be affiliate links and as an Amazon Associate, I may earn from qualifying purchases. *