Welcome to the 267th Tablescape Thursday!
A couple of weeks ago I shared this picture from Country Living online. I thought it would be fun to make some of these broomstick place card holders. I didn't see a tutorial for them at CL but they looked pretty easy to make, and they are!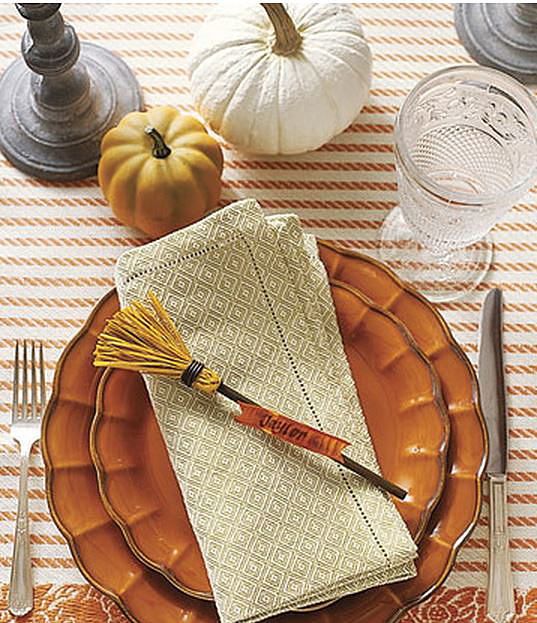 To make broomstick place card holders, you'll need raffia, yarn or jute thread in any color you prefer, Fabri-tac or a glue gun, sticks from candy apples (bought mine at Publix) or some little twigs from your yard, wood stain, scissors and paper or card stock.
Just as I sacrificed a while back and forced myself to eat all that ice cream to create the tutorial for this Ballard Designs Knock-off Beverage Tags…
…once again (just for you) I suffered through a bunch of candy apples to get the broom handles for this project.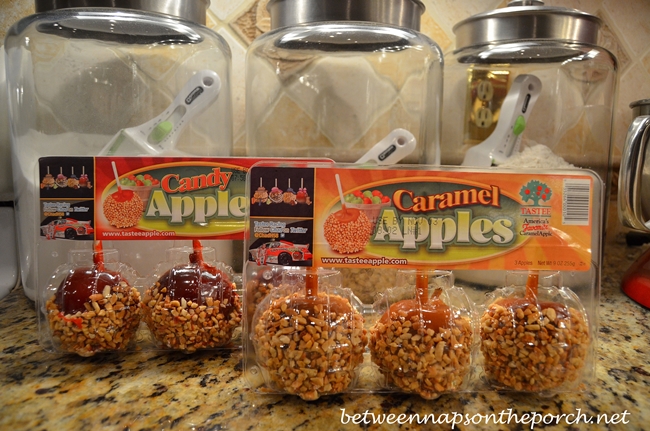 It's a brutal job but someone has to do it! 😉
The raffia I had on hand came wrapped basically like a skein of yarn, so I just took a clump from one end where it was naturally bent and cut off a section that looked about right for the bristle end of the broom.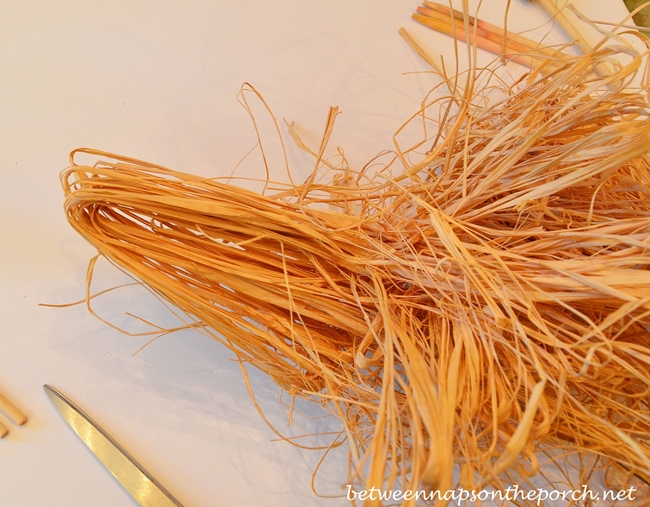 Here's how it looked, once cut.
Next, just hold all the bristles tightly together in your hand and start wrapping your yarn or jute thread around and around the top/non-cut edge, starting about 3/4 to 1 inch down, as shown below.
Once you have the yarn wrapped around and looking the way you want it to look, go ahead and tie it off. I also added a drop of the Fabri-tac glue just to make sure the string didn't come untied later.
Next, find a good spot in the top to spread the raffia apart a little and poke the pointed end of the candy apple stick down inside the raffia about an inch. If it feels like it will easily come back out, just add a drop of Fabri-tac or hot glue before inserting it.
Before I added any glue, I pulled mine back out and stained them with some dark stain I had on hand. If you're using twigs, you can skip the staining step.
After I finished making my broomstick place card holders, I was trying to decide how I wanted to display the name. I couldn't remember exactly how it was displayed on the ones I had seen at Country Living so I Googled for them and came across these broomstick place card holders at HGTV here.
I liked the way the name was displayed and really liked how they looked standing up, as if they had come to life. If you don't want to use the sticks from candy apples, you could just uses little twigs from your yard. I think that's what they did for these and that looks great, too!
To make the little name labels, I used a piece from this card stack that I've shared here before at BNOTP. I found it in Michaels last year.
You may remember when I made place cards for a dinner party last winter using a cinnamon red piece from the deck.
Here's how the broomstick place cards turned out.
I cut a narrow strip, notched it at the end and used a gold Sharpie to write the name. I added a dab of hot glue to the end of the label and wrapped it around the stick near the top.
You could even hide the yarn with a bit of ribbon, if you like.
Won't be long now before the ghosts and goblins come calling!
Happy Halloween!

Looking forward to the beautiful tables linked for this week's Tablescape Thursday!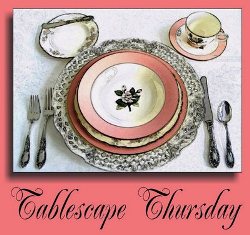 If you are participating in Tablescape Thursday, please be sure to add your permalink below, and not your general blog address. To get your permalink, click on your post name, then copy and paste the address showing in the address bar, into the "url" box when you link up.
You'll need to include a link in your post back to the party in order to link up and participate. That's so visitors to your blog will be able to find the party and the other Tablescape Thursday participants.
If you would like to use the Tablescape Thursday logo button in your post, just copy and paste it to your computer and upload it to your post as you would any photo.
Please, don't add your post name/blog name ALL IN CAPS…it tends to create big spaces between the rows of links.




Welcome! Thanks for coming to the party!
*If a post is sponsored or a product was provided at no charge, it will be stated in post. Some links may be affiliate links and as an Amazon Associate, I may earn from qualifying purchases. *