If you've been reading Between Naps on the Porch for a while, you know I love organizing "stuff." It's ridiculous how excited I can get over finding cool ways to store those things we need and use each day. It's icing on the cake when storage is actually pretty and decorative in addition to being functional.
One handsome storage solution I've been eyeing for a long time is Pottery Barn's Cubby Organizer.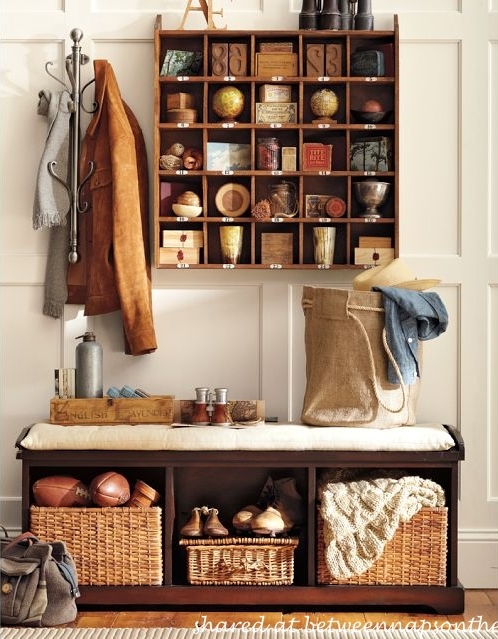 Here it's being used with their Abbott Potting table. (You'll find a tutorial for building an Abbot inspired potting table here: Potter's table) It looks super cute holding gardening twine and ribbon, doesn't it? Tucked inside a garden shed, it would be great for storing seed packets, ribbon and all kinds of floral and gardening goodies.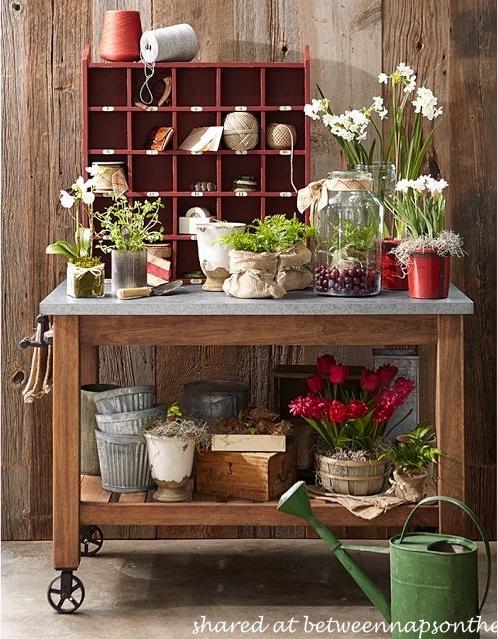 How do you like it on the mantel dressed for Halloween? What a hoot!
Love it in an office, such a versatile piece! Seeing the PB office pictures started me thinking.
Wonder how it would look in my home office?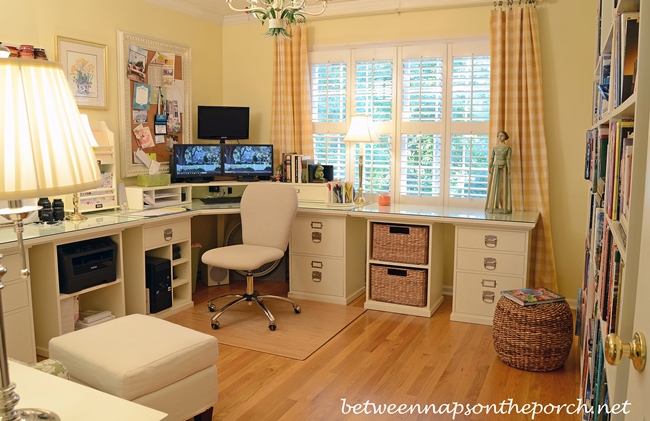 I was especially eyeing the clock wall in the office, wondering if it would work here above the chair, in place of the clock.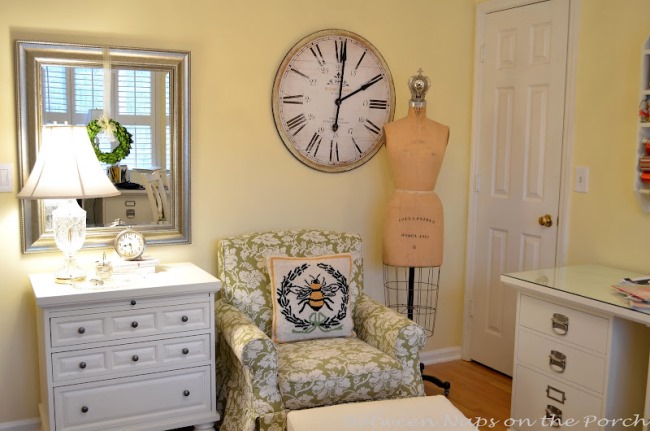 It's $149 in the PB catalog but I remembered seeing plans for a similar one online at Ana White so I decided to build one myself. Once I got deep into the building process, I started jokingly calling it the "glove of woodworking." Back when I first taught myself to knit in my 20's, the first project I chose to make was a pair of gloves. Little did I know, gloves are one of the most challenging things to knit!
Building the cubby organizer really isn't hard, but if you get off to a rocky warped start, it can quickly become a challenge. I'm thinking of building a second one now that I know all the things NOT to do. I'm sharing those with you today so you can avoid those pitfalls if you decide to build one.
How to Build a Cubby Organizer, Pottery Barn Inspired
Materials Needed:
4 – 1×6 Boards, 8′ Long (I purchased five 6-ft boards because those fit in my SUV better.)
1 – 1/4″ Plywood (You'll need around 28 1/4″ x 32″ size)
2″ Screws or nails (I used nails that work in a brad nailer.)
1 – 1/4″ Nails (I used nails that work in a brad nailer.)
Wood Glue
Wood Filler or caulk to caulk holes
Paint or Stain (depending on your finish)
Paint Brush (if painting)
Strong hooks for hanging if you wish to hang it
Tools Needed:
Compound Miter Saw (I used a circular saw since that's what I had but would definitely be easier with a miter saw)
Jig Saw (Optional)
Brad Nailer
Sander
Safety Glasses
Hearing Protection
Pencil
Square
Once you have your materials and tools, here's what you'll need to cut:
Cut List:
6 – 1×6 @ 30 1/2″ (For the shelves)
20 – 1×6 @ 4 3/4″ (To make all the cubby dividers)
2 – 1×6 @ 31 1/2″ (For the sides)
1/4″ plywood @ approximately 28 1/4″ x 32″ (This is for the back. I waited until I finished building the organizer to measure and cut the back. I was glad I did because mine needed to be about 1/4 inch smaller than the plan indicated.)
The wood I purchased was labeled "Mixed Wood, Made in Sweden." It looked like it would work well for building the organizer and it did except for one problem, more on that in a sec.
I started out by priming all five of my six foot, 1×6 boards. I actually had one more board than you see here, just couldn't fit them all on the table for priming/painting at the same time. As mentioned, I purchased 6 foot boards and 5 boards was barely enough for this project. I only had about a foot of wood left over.
That's my recently built potting table lurking under the drop cloth. I had someone lined up to come move it onto the deck for me but he didn't show up. I'm kind of glad he didn't now since it came in handy for this project.
After the boards were all primed, I painted them with a soft, creamy white color (Sherwin Williams Dover White) that I thought would work well in the office.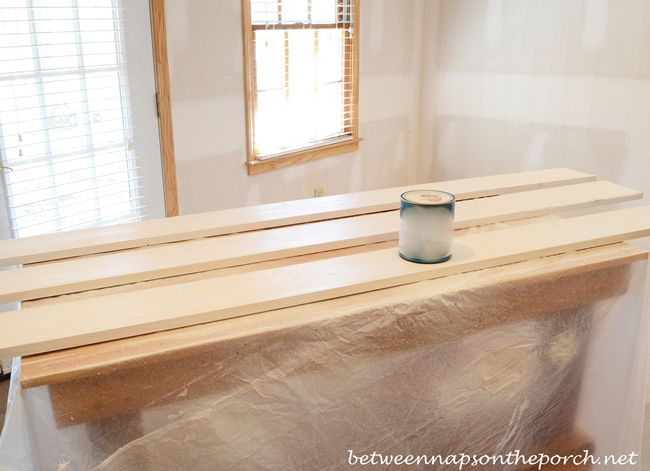 I also primed and painted one side of my plywood. Do you like my fancy roller pan? I didn't think to buy any pans at the store so I made do with a ceramic dish and it worked great with my mini-roller.
Here's everything painted, cut and ready to go. Notice anything about the shelving boards stacked behind the little dividers? Gaps abound. Can you say "warped board?!" 🙁
So here's the first thing you REALLY need to know about building this project: If you would still like to be a sane person when you're all done, don't buy any warped boards. I want to type that statement about 200 times on this page, but I'll spare you that.
You can get away with a slightly warped board on some larger projects but not on this project. If your boards are not pretty close to perfectly flat, this project will take longer and you will be super frustrated while you are building it. No matter how many boards you have to look through at the lumber yard or hardware store, it's worth it to get flat, flat, flat boards. Can't state that enough!
The other thing you really need to know is that each cubby divider board needs to be cut to the exact size needed, which is 4-3/4 inches long. That will become the height of the divider walls when you start assembly the organizer. I used my circular saw and apparently I didn't cut them exactly that size…maybe got off an 1/8 of inch with my circular saw a few times. If I build another one of these, I'm thinking of cutting all my wood with a jig saw to get a more accurate cut. Update: I've learned from some of the comments that compound miter saws are great for projects where the cuts need to be super precise. Going on my tool wish list!
After you have all your wood cut, next you'll need to mark the location of each divider on your shelf boards. At first, I started marking them on one end, measuring across, marking as I went. The measurements didn't come out right in the end though, so I erased all the marks and started over.
I decided the second time to use a yard stick. That worked great because I could mark all the divider locations at once while keeping the yard stick stationary and in place. Not sure why it worked so much better, but it did. Can you see the little pencil marks along the top of the board?
Once I had all the cubby divider locations marked out on one board, I just scootched another shelf board up to that board and marked it in the same place using that first board as my example. That worked great and was a fast way to mark all the other boards. If you look closely, you can see the little marks I made on the top board by using the already marked board below as my guide.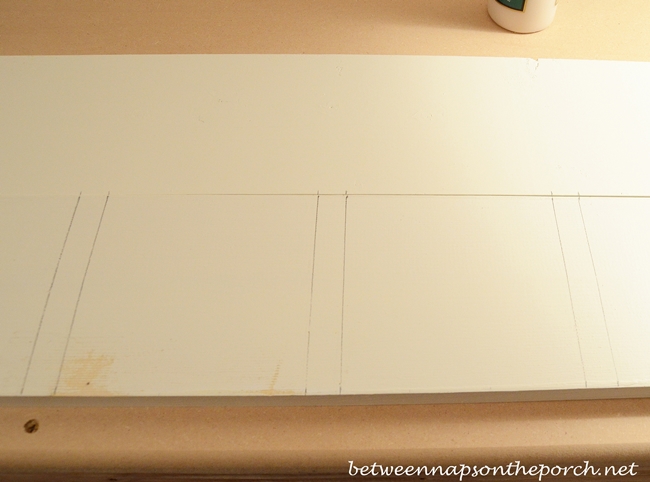 Once all your boards are marked, run a bead of glue along the area where the divider wall will be. (Ignore the board that's laying behind it. I forgot to take a pic showing where I applied the glue.)
Then turn your board up and holding the divider wall in place (since the glue hasn't had time to really dry) using 2-inch nails, nail the divider to the board from underneath using a brad nailer. This project would be kind of hard to do without a brad nailer. You may be able to glue all the divider walls in place, let them dry overnight and then try nailing the dividers the next day by hand, but a brad nailer is definitely the easier and faster route to go. Here's how my first shelf looked with the dividers nailed and glued in place.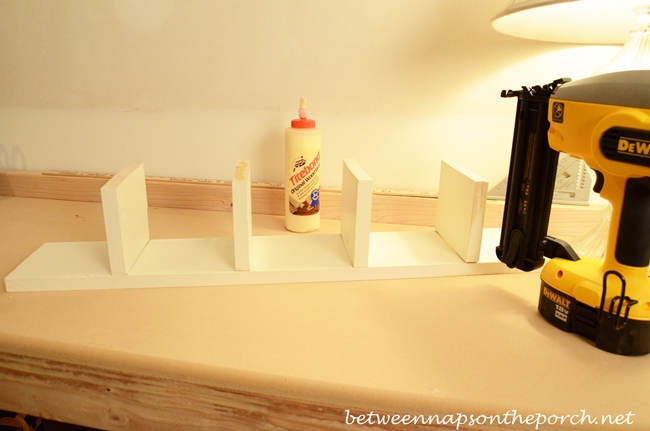 Repeat this process to make your five shelves. I just stacked them all up on my work bench and took a pic to share how they looked. I was still in blissful ignorance at this point, had no idea things were about to get "interesting."
Things Get Interesting!
The next step is to start stacking your shelves (with their attached dividers) on top of each, other one at the time, toe-nailing them into place as you go. This is where I ran into problems so of course I forgot to take pictures. Bad blogger! To make up for that, I took a picture and kind of photoshopped out part of it to make it work for explaining this next part. So if the picture below looks a little strange, that's why.
After all your shelves are built with dividers, take one shelf of dividers and place it atop another shelf of dividers as shown in the pic below. NOTE: Be sure to use glue in between. Just run a bead of glue along the top of each of the dividers on the bottom shelf, then place the next shelf on top.
As soon as I stacked the first shelf on top of the bottom one, I realized something was amiss. I had two things working against me. I had at least one very badly warped board (did I mention don't buy warped boards?!) and I realized that all my cubby dividers were not quite the same height. Rats! A couple were maybe 1/8 of an inch taller, just enough to throw everything off.
If that happens to you, here's the easy fix. Using a good sander, sand off a teensy bit of the divider wall(s) that is sticking up a little too high. Place your next shelf back on top again, if it's still not level, sand off a bit more. Take your time with the sanding, you don't want to remove too much since you can't put it back.
NOTE: Buy a good sander! The first night I ran into this problem, I had an ancient sander that was extremely loud and very hard on the hand. Plus, I didn't have any heavy grit sand paper on hand, so I sanded and sanded and it made little difference. All I got was a sore, numb hand.
I stopped and the next day I bought a REAL sander, a nice handheld one. I couldn't believe how much quieter and less jarring it was to use, should have done that a hundred years ago. I also bought some serious grit sand paper. It was much easier to even out those slightly-too-tall dividers with a good sander and some heavy-duty sand paper. A good sander is worth its weight in gold!
Once the dividers were all the same height, I attached the next shelf by gluing and toenailing it to the tops of the dividers of the shelf below using 1-1/4 inch nails. Toenailing is just a funny word for nailing at an angle. Brad nails are finishing type nails so they have virtually no head on them, plus the brad nailer sort of sinks them down into the wood. If you're painting your organizer, you can caulk over or fill the teensy hole the nail makes later. The arrows below show where the nail went into the top board to secure it to the top of the divider underneath.
Here's an upclose-shot for you. See the tiny hole where the brad nail went in? I shot it in at an angle, down into the divider underneath. You do the same thing on the back of the cubby organizer, too. I used two nails a few times on the back rows for extra support.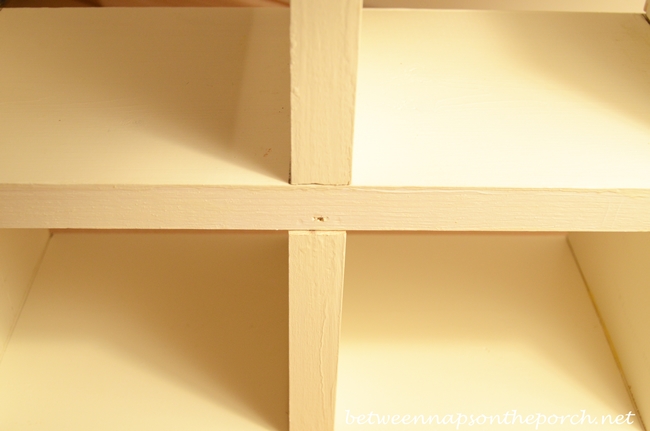 Here's how it looked when I had all the rows attached to each other. Those are the "sides" of the organizer you see leaning up against the column. I ended up building the organizer down on the floor because it was just easier to shoot the nail in at a downward angle with the organizer on the floor than having it up in the air on a table or bench.
Gently lay your organizer on its side and nail the side to the ends of the row boards using 2 inch brad nails. Forgot to take a pic of that so pretend like the back isn't on, yet. :)) You'll want to use glue here, too.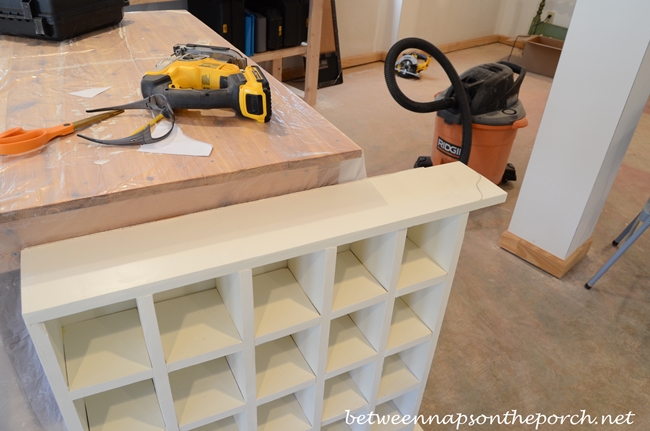 After the side was attached, I filled all the little nail holes with paintable caulk. Once the caulk was dry, I lightly sanded it with plans to touch up the paint once the cubby organizer was all finished.
I waited until I had my organizer built to cut the back. I was glad I waited because mine needed to be about 1/4 inch smaller than the plan indicated. When I placed the plywood on my table to cut it, the plywood kept flopping over. I had decided to cut the back with my jig saw since there would be little room for error and I wanted it to fit perfectly.
There was no way I could hold up the plywood and cut it at the same time, so I came up with an idea. My new work bench is about the same height as my potting table so I rolled the potting table over near the work bench and was easily able to cut out the back with no problem. I'm going to miss that potting table when it goes to live on the deck.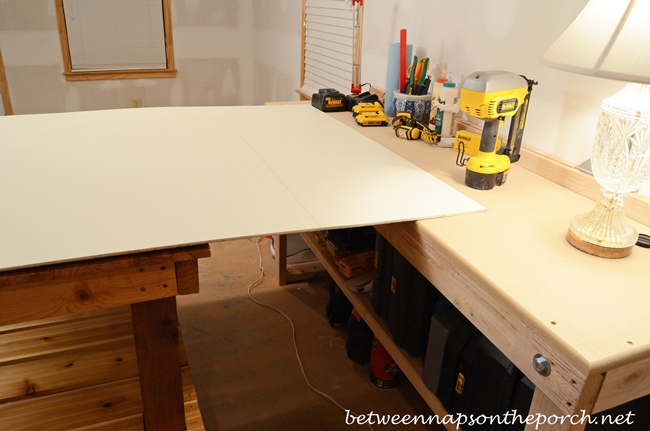 Here's the back, all ready for installation. It was easy to attach the back using a brad nailer. I nailed it all around the outer edge of the organizer using 1-1/4 inch nails. The plans recommend nailing it to the back of each individual shelf, too. I didn't do that but I'm sure it's a good idea.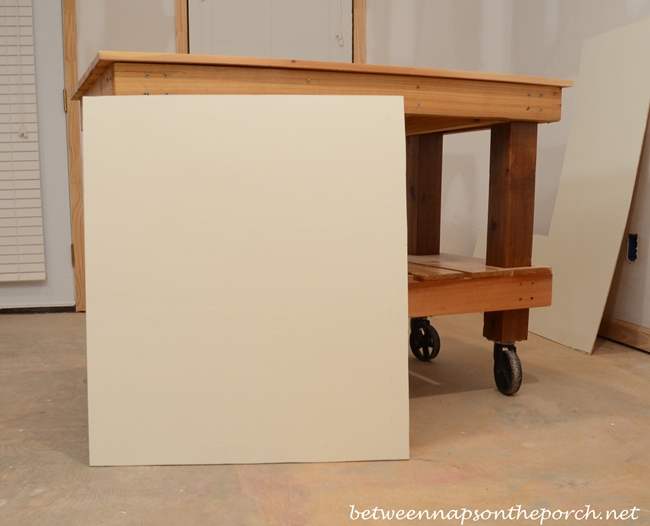 Once I had the back in place, I decided to make the tops of the sides curvy like the inspiration piece. This can also be done prior to attaching the side but I thought it would be a little easier once it was attached to the organizer.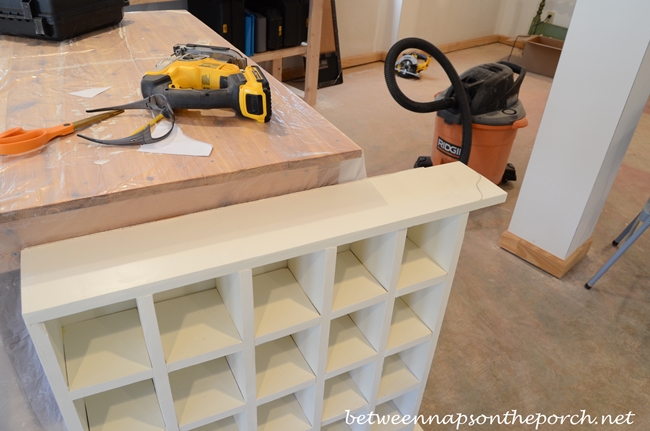 I drew out a template on a piece of paper, cut it out, placed it on the side of the organizer and traced it onto the side board.
Using my jigsaw, I cut out the shape. Afterwards, I used my new sander to smooth out the little angular spots visible below.
Tip: My sander offers different speeds for sanding. When you're doing little jobs like this, you'll want to make sure your sander is set on a low-speed, other wise you could take off more than you want. So go slow and take your time.
Ready to see how I'm using my cubby organizer? Hint: It didn't end up in the office, at least not yet.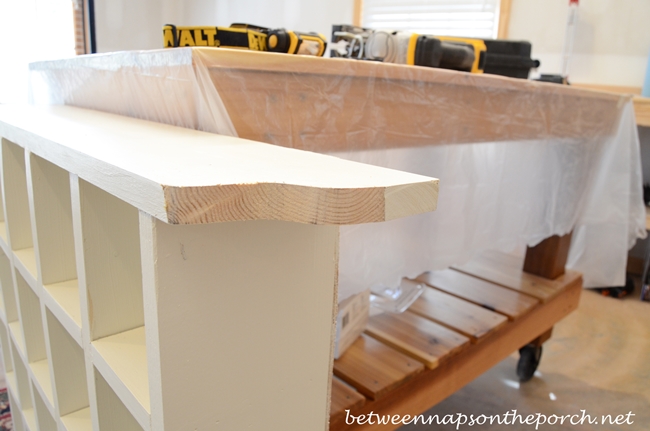 For now Mr. Cubby Organizer is hanging out in the basement. I like how he looks here so much, I don't want to take him upstairs.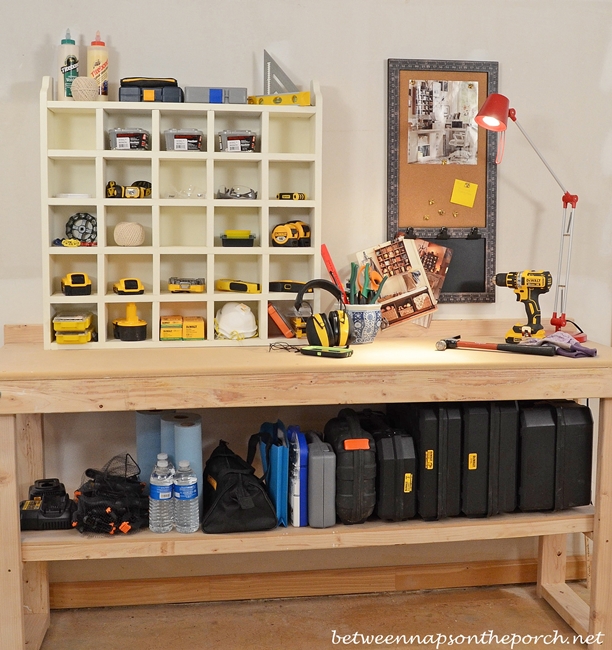 I may eventually draw in or stencil the little numbers seen on the inspiration piece. If I had known I was going to use it in the basement, I probably would have painted it a different color. It looks pretty bland against the unpainted sheetrock walls so try to envision it against a different color wall.
Here's a little close-up of some of the shelves.
This is what happens when you use warped boards. Just say NO to warped boards! 😉
Here's how the sides came out with their fancy, dancy curved tops. The left side…
The right side. Gotta love a jigsaw!
A few nights ago I remembered a task light I had purchased from Ikea for the office. I only used it in the office for a few days since I could never find a good spot for it. I pulled it out of the office closet, brought it downstairs and found it works great for a little extra light here in the basement. Looks a bit more appropriate for a workbench than the one I was using, doesn't it? 🙂
My WorkTunes Hearing Protector earphones arrived and I do like them. Just as some of the reviews online indicated, the radio reception isn't great. But they do what I really want which is to listen to books on my phone and have good hearing protection. They will also work with iPods.
I couldn't resist this bulletin board I found for $20 in the clearance isle of a local store.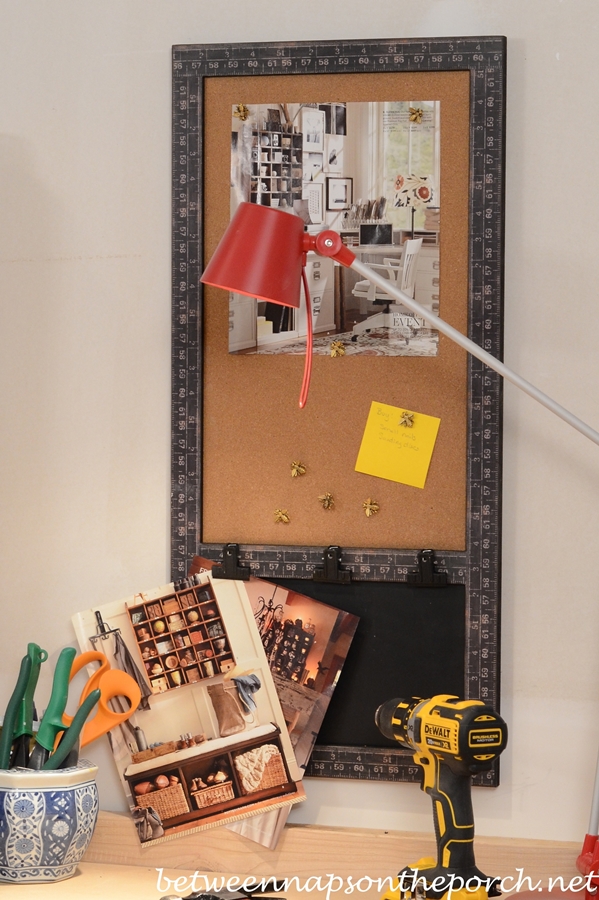 Love the yardstick/ruler frame for my mini workshop.
It has a chalkboard below for jotting down needed shop supplies and the little clips are great for pinning inspiration pictures of that next project.
In summary, this is NOT a hard project to make if you use non-warped wood AND are super careful with your divider wall cuts. If you're not careful, it becomes a glove with 25 fingers. 😉 The two things I would do differently if/when I build this piece again are:
1. Inspect the wood I buy more carefully and stay far, far away from warped boards
2. I would cut my cubby divider walls with a jigsaw or compound miter saw instead of a circular saw. I think my cuts would be way more accurate that way. My measuring was fine but it's hard to cut 20 small pieces with a circular saw and have them all the exact same height. It only takes one being slightly too tall to throw off the entire row when you're assembling this piece.
My final cost to make the cubby organizer was as follows: $24.90-Wood, $11.32-Paint and few pennies for the brad nails. I'm not sure what to price those at since I purchased a whole box and only used a couple of rows of them, if that. I already had the glue. So the cost for this piece was right around $40 estimating in a little for nails and sandpaper. That's a savings of $109 compared to the $149 price tag for the inspiration piece. Whoot, Whoot! I can see why this building stuff is so addictive!
Love a good Pottery Barn knock-off? Check out this gardening table you can build, inspired by Pottery Barn's Abbott Potting table here: Build a Pottery Barn Inspired Potting Table, Great for Parties on the Deck, Too!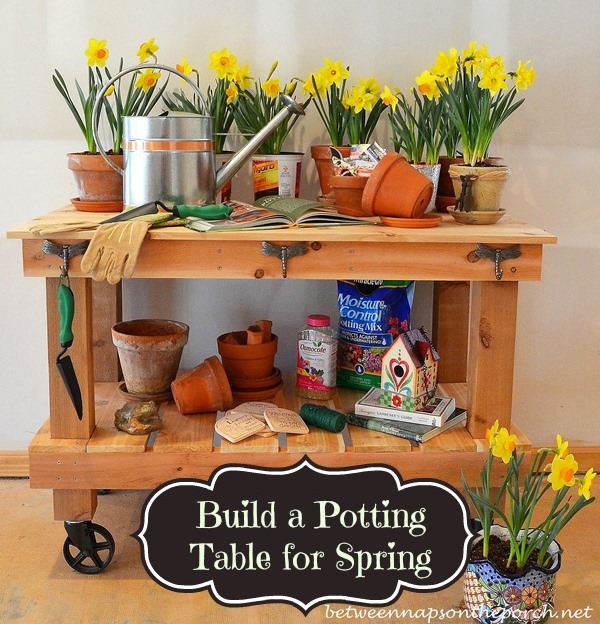 Check out these Pottery Barn, Ballard Designs, Grandinroad knock-off tutorials here: Decor Knock-Offs
Let me know if you have any questions about this project, happy to answer those.
Are you working on any projects for spring?
I was one of the bloggers selected by True Value to work on the DIY Squad. I have been compensated for my time commitment to the program as well as writing about my experience. I have also been compensated for the materials needed for my DIY project. However, my opinions are entirely my own and I have not been paid to publish positive comments.
*If a post is sponsored or a product was provided at no charge, it will be stated in post. Some links may be affiliate links and as an Amazon Associate, I may earn from qualifying purchases. *