Love! That perfectly describes how I felt when I saw this picture of the Abbott Potting Table online. Was it the orchids that lured me in, those wonderful old windows or was it that fabulous potting table? I've always wanted a potting bench or potting table.
I was doubly smitten when I realized the table could also function as a serving table for parties! Awesome! There was just one problem, it was $1,299! Yikes!
I've never built anything in my life but I decided to give it a try. I have to admit, I was a little nervous. I knew it would involve operating a circular saw which I've only done once before when I created a china closet here: Building a Dish Pantry. I came away from that project with all 10 fingers still intact but this time my plan involved using a jigsaw, too! Yeah, I may have looked like this just once or twice during the planning stage.
I spent about two weeks planning this project. If Olympic medals were given out for "Most Detailed Obsessive Planning" I'm pretty sure I would be bringing home the Gold! I wanted the finished potting table to live on the deck, just to the left of the bottle tree. The inspiration table was 36 inches tall which turned out to be the EXACT height of my deck rail. I had visions of placing tall beverage servers and drinks on top during cookouts, followed by more visions of me shoving them right off and over the deck rail. 😉
I decided to make my table an inch shorter to create a little barrier to hopefully keep that from that happening. The inspiration table was 28 inches deep and 50 inches long, those dimensions were perfect for my space.
One of the most challenging parts of all the planning was learning that wood lies. Yep, it tells big, fat whoppers! For example, did you know a 1 x 6 isn't really 1 x 6. Nope! A 1 x 6 is actually 3/4 x 5-1/2.
2 x 4's lie, too. They are really 1-1/2 x 3-1/2. Normally, math doesn't intimidate me, says the girl who made 100 on her Statistics final in college, but all this fibbing wood was giving me a major headache with my planning.
After LOTS of planning and mathematical gymnastics, I finally took the plunge and purchased the wood. I went with cedar because cedar is a natural choice for outdoor furniture since it is somewhat resistant to water, decay and bugs. Notice I said, somewhat, not full-proof. Any wood when exposed to the elements long enough is going to weather and eventually begin to deteriorate and splinter. More on that in a sec.
I actually had more 1 x 6 boards than visible in this picture. The rest were up in the garage and I forgot to bring them down before taking the photo below. I ended up with some left over because it was less expensive to buy 12-foot boards and cut them to about 8 feet (so they would fit inside my SUV) than to buy shorter boards. I think I ended up buying maybe one more board than I actually needed in the end, which isn't too bad for my first foray into woodworking.
The only thing I had cut when I purchased the wood was the four, 4 x 4 legs. I just wasn't sure I could cut something that thick (and keep it straight) with my ancient, 2o+-year-old circular saw. I knew I had made the right decision to let the store cut those when the guy cutting them told me he wasn't sure he would be able to cut them perfectly straight either, and he was using a massive table saw. Yeah, glad I let him cut those.
I built the table down in my basement, just inside those French doors you see there under the porch. (Photo is from 2008 when the screened porch and decks were being built.) I've never shown photos of the basement on the blog since there's nothing down there to really see.
The larger side of the basement (the left side) is finished-in except for paint and flooring. I'm not sure if I'll ever paint it or add flooring since I don't really use the space. I did have it completely redone when I added on the porch because though it had already been finished in by a previous owner, it wasn't a very professional job.
Okay, back to our potting table. I decided to treat myself to a cordless drill before starting this project. I've been lusting after one for ages and I just wasn't relishing the idea of dragging a cord all over the place. May I just say, I'm in love! ♥ Amazing how having the right tools can make any job so much easier! This drill is a dream!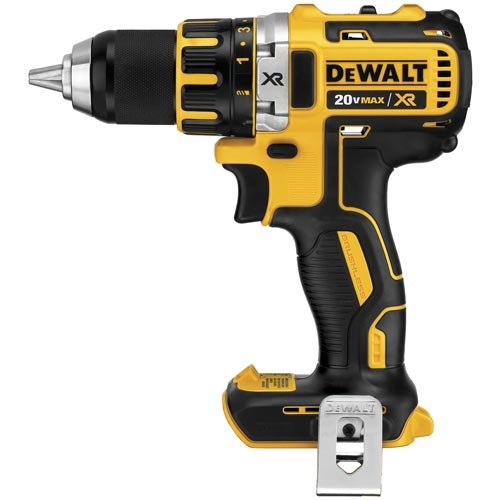 Before we get into the building part, just want to mention how important it is to wear safety glasses and hearing protection when building something and when using noisy tools like sanders, saws, etc… Also, be sure to read the manuals that come with your equipment/tools to ensure you know how to operate them correctly and to avoid being injured.
All of the cedar I purchased felt nice and smooth except the legs. I almost didn't sand them but in the end, I decided they would be less prickly to work with if I did. So glad I sanded them, what a difference it made! In the photo below, the top three legs had been sanded and the bottom was still waiting to be done. Tip: Always wear a mask when sanding. You don't want to breathe that stuff in!
I used stainless steel nails for this project because in my obsessive extensive research before starting this project, I read they were best for outdoor projects since they won't rust. They are more expensive but definitely worth it. I purchased them in three sizes and used almost all of the two longer sizes and a bunch of the smaller ones.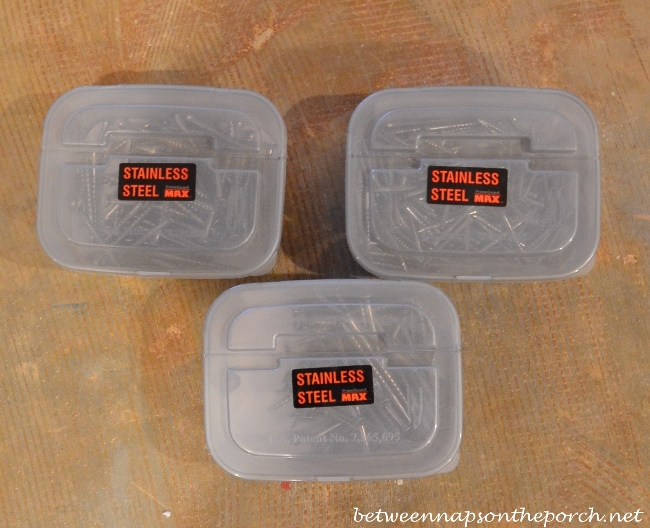 I wanted my potting/party table to be super durable so I used 4 screws at each joint. I made a little template to help keep things looking neat and tidy. I may be an amateur at this building stuff, but I still want it to be pretty. 🙂
Update: Totally forgot to mention, I pre-drilled a tiny hole for each of the screws…just made it easier to put the screws in and it kept the thinner 1 x 6 boards from splitting when those were added.
I started by building two frames around the legs as shown below. (The table is upside down in the photo.) This is very basic construction, no mitered corners or anything like that. I used 2 x 4s for this part as opposed to 1 x 4s. I'll explain why in just a sec.
Once I had the basic framework in place, I turned the table up on one end and added more support/bracing on the inside. I didn't use wood glue in addition to the screws, although I thought about it. I decided with the extra bracing/support inside and four screws at each juncture, that would be enough support to keep it good and sturdy. The little template I made came in handy throughout the whole project. I used it for marking where the screws would go and where I would need to pre-drill before adding them.
Here's how it looked after the inner support pieces were screwed in.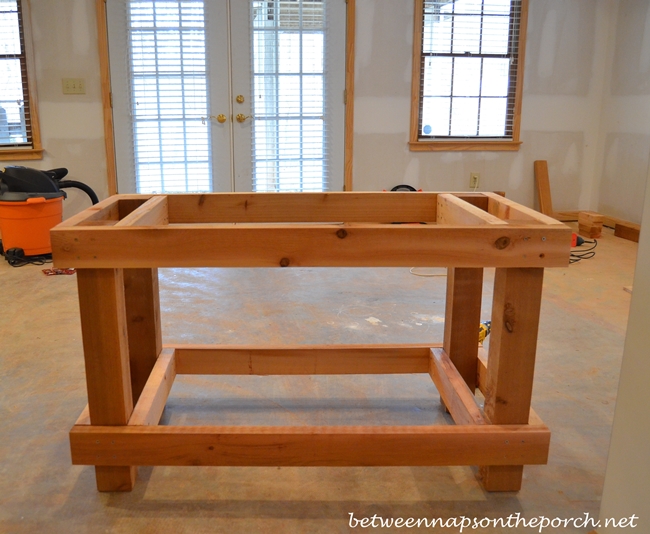 During the planning stage, I tried unsuccessfully to find 2 x 6 cedar boards for the top. I wanted the top to be a bit thicker than the bottom shelf where I'd be using 1 x 6s. I felt 2 x 6 boards would add extra strength to the top for planting in bigger pots and heavy beverage servers. Since I was stuck using 1 x 6 boards, I debated whether I should add one support under the top or two. (The support board below was just wedged in…not screwed in, yet.)
I ended up going with two just to be on the safe side. I used two screws to hold those in place on either end.
I took the shorter boards leftover from where the 12-foot boards had been cut and just laid them across the top of the table to see how the depth/width of the table looked. My plan had been to design the table where I wouldn't have to rip any of the 1 x 6s, meaning I wouldn't have to cut any of them long ways/the length of the board.
During that two-week planning stage, I had determined the table would work out to be exactly 50 inches long with a one-inch overhang all the way around if I made the base 48 inches long. I calculated if I used exactly five 1 x 6 boards across the top, (1 x 6 are actually 3/4 x 5-1/2) the table would come out to be exactly 27-1/2 inches wide. And it did! YAY! The inspiration table had been 50 inches long and 28 inches deep so 27-1/2 was perfect!
For this project, I purchased one more tool I have long thought about buying, a Jig Saw! If you want to build this table and don't have a jigsaw, don't worry. You can leave that part off and your table will still look great.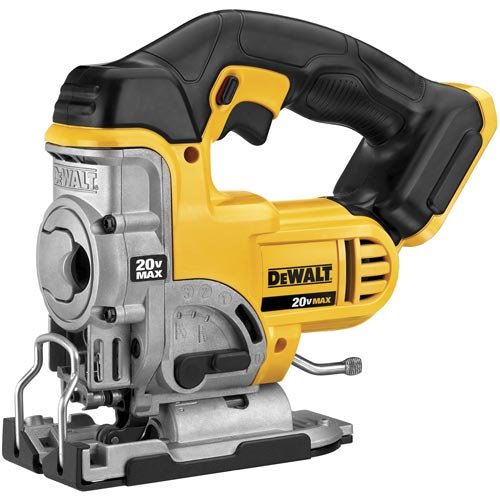 I wanted to enclose the area around the legs of the table instead of leaving that part open. Again, if you don't have a jigsaw, you can leave it open and it will look and function just fine. I measured and drew lines on one of the lower shelf boards, indicating the part I needed to cut out to fit around the legs.
I've never used a jigsaw before so I just figured it out as I went. First I cut a straight line down one side. Then I cut a slightly curved line as shown below.
Next, I cut down the other side and then went back and continued the curved cut, cutting across the back. Then I removed that little piece in the corner, being super careful to not cut too far. I used a "scroll" blade for all of the jigsaw work since they are better for cutting curves. I found the trick to using a jigsaw is to go very sloooowly. Don't rush it, just take your time.
Also, be fully aware of where your fingers are at all times. It's easy to forget and stick a finger under the board in the wrong place. I didn't do that but I was concentrating so hard on keeping my line straight, I almost forgot at one point. So pay more attention to where your fingers are than the line you're cutting. You can always buy more wood and cut another board. It's not so easy to reattach a finger. Got that? Good!
This is where that piece ended up–on the lower shelf, right at the end of the table. The other 1 x 6 boards you see across the bottom were not screwed in at this point. I had just placed them across the bottom after cutting them to see how they would look. I cut them to the exact length needed since I didn't want an overhang on the bottom shelf…just wanted it to be flush with the sides.
Now, here's why I chose to use 2 x 4s for the framing, instead of 1 x 4s. During the planning time, I had figured out that by some amazing miracle, if I used 2 x 4s instead of 1 x 4s for the framing, when I built the table and closed in the end, the width of a 1 x 6 board would end right at the edge of the 4 x 4 leg. (See arrow in the photo below.) Is that not perfect? That meant I wouldn't have to jigsaw cut two boards at each end or worse, have an ugly gap where the support underneath would be visible. Plus, the 2 x 4 framing gave me a larger surface in which to sink the screws.
For the most part, my learn-as-you-go jig sawing came out looking pretty good. I had two legs where it looked really nice.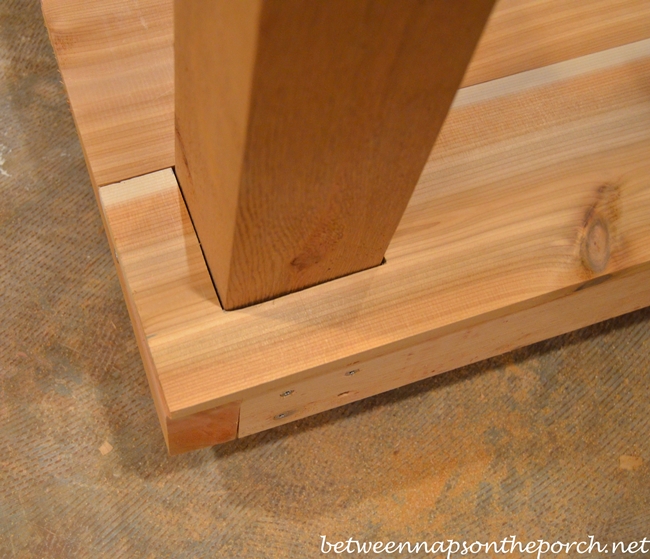 And I had two legs where it looked not-too-bad. 🙂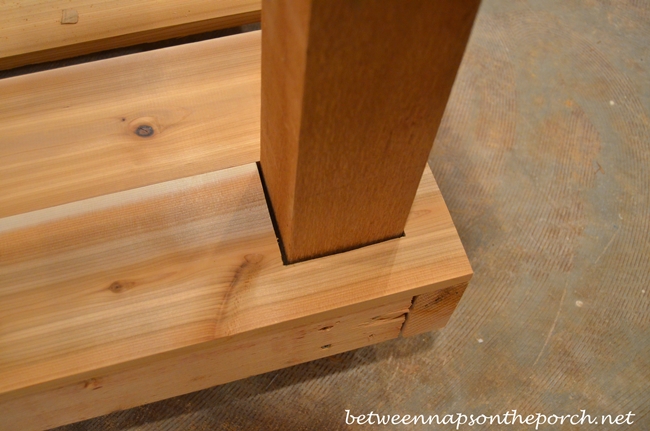 After I got the end pieces jig-sawed out and screwed in place, I evenly spaced out the rest of the 1 x 6 boards across the bottom and screwed them in place. Attaching the 1 x 6s is where the smaller of the stainless steel screws came into play.
Then I cut the boards you saw on the floor in an earlier photo to 50 inches in length and screwed them in place on top. Because I had built the base 48 inches long by 25-1/2 inches wide, I had a 1-inch overhang all the way around as planned, and the surface area ended up being 50 inches long by 27-1/2 inches wide.
Ignore the hooks along the front. They weren't screwed in at this point, I just used straight pins to pin them along the front to see how they would look. I was trying to decide if I should use three hooks or five hooks. I ended up settling on three but I may add the other two at some point.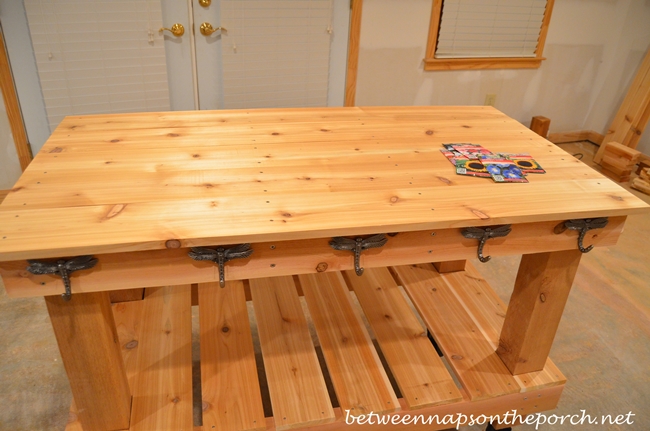 Remember the wheels on the inspiration piece?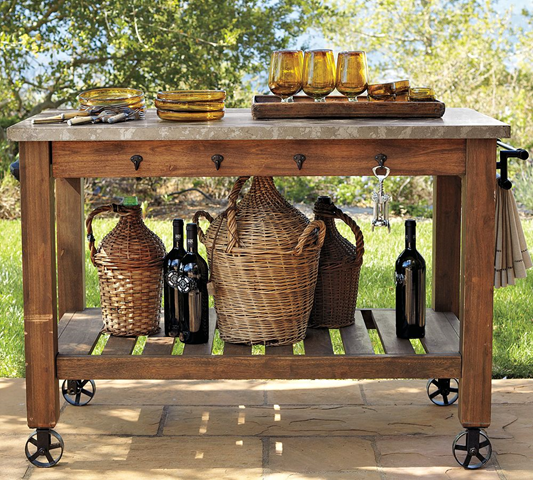 During the planning stage, I searched online everywhere for wheels resembling those in the inspiration photo. I found several sites with similar reproduction casters but they were all really expensive running around $250-$275 for 4 wheels, and that was for reproduction wheels! No way was I spending that for just four wheels.
I continued looking and finally found some heavy-duty steel, swivel casters for just $23.76 each at a site online called, The Caster Guy. They had a nice vintage feel and were big, measuring 6-3/16 in height. The wheel alone was 5 inches wide. That price seemed fair and I ordered four. Update: One more source for casters recommended by a reader is Vintage Industrial Supply. Thanks, Karen!
Side Note: I ordered the casters before building my table. Since I knew the casters were going to be 6-3/16 inches in height, and the tabletop itself would be around 3/4 inches in thickness, I had my 4 X 4 legs cut to 28 inches so the table would come out around 35 inches tall, 1 inch shorter than my deck rail when completed. Whew! The math was killing me, people!
The casters on the inspiration piece were black. (Scroll up two photos to see those.) The wheels on the casters I ordered were dark green, they didn't have them in black…I asked. The green didn't bother me but I didn't like the shiny silver showing on the stem part of the wheel. I decided to spray paint it an Oil-Rubbed Bronze color. Once I sprayed the silver part and removed the tape, the green wheel didn't look right, so I ended up spraying it, too.
They came out great! Once dry, I attached them to the bottom of each leg using some pretty pricey, heavy-duty screws. I had originally planned to bevel the very bottom edge of all four legs as they appear on the inspiration piece. Once the wheels arrived, I realized the metal plate would go right up to the edge of the leg on two sides, so I nixed the idea of beveling the edges.
So are you ready to see how it turned out?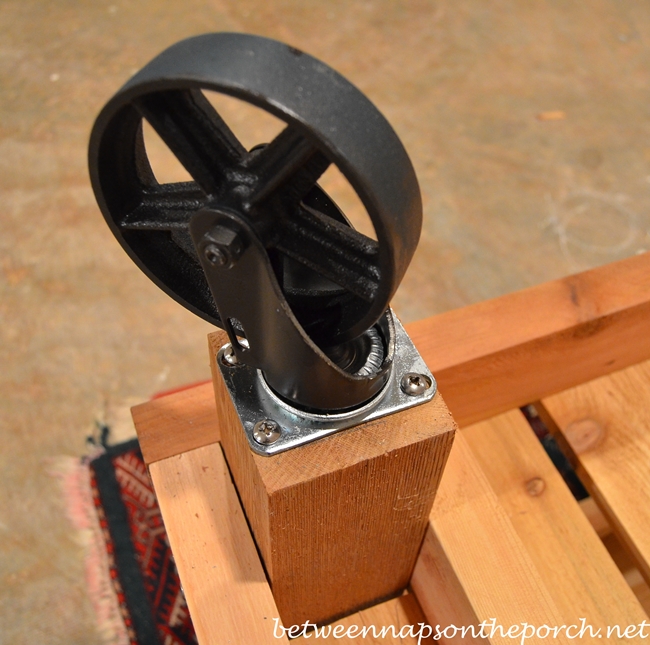 Here she is, Miss Garden Table (aka, Party Table) in all her precision-measured glory!
She's still in the basement, as you can see. I've decided to protect her from weathering too much. Though cedar weathers much more slowly than most woods, it will eventually weather. From what I've read, it will even start to splinter after a few years. I don't want to serve food or pot flowers atop splintered wood so I'm going to protect her somehow.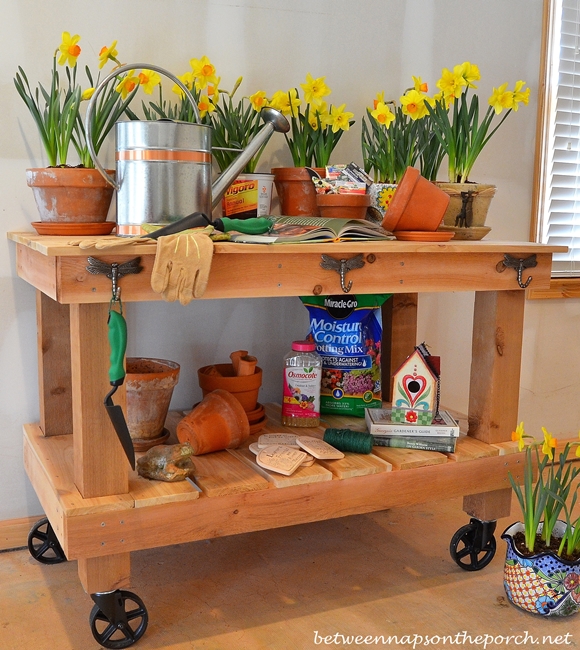 I don't really want to stain her since I love the natural color of the cedar, so I'm thinking about using a marine varnish I read about. It's supposed to last around 3+ years before you have to reapply it. One reviewer was saying, the cedar furniture he protected with marine varnish still looked brand new, even after several years.
I'll get that done in the next few weeks so she'll be all ready in time for spring planting and summer partying.
Update: Here's the product I decided to use to protect my table and it's available here with great reviews: Protect and Beautify Wood. From all I've read, this is a recommended product for protecting outdoor wood furniture like Adirondack chairs, potting tables, etc…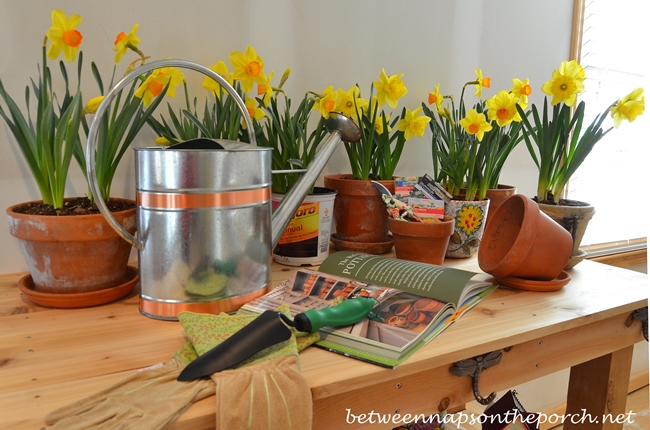 I liked the hooks on the inspiration piece, but I wanted to use something with more of a garden feel. I love these dragonfly hooks, they were exactly what I wanted for the table. They are available here: Dragonfly Hooks
I bought five but so far I've just installed three. I'm trying to decide if I really need all five. I think I may buy one more and just hold onto them in case the other three need replacing one day.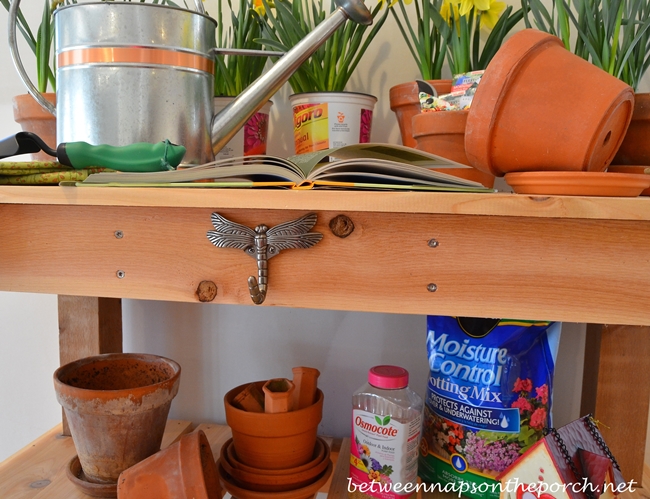 Here's a little close-up of the swivel wheels, they work great and the table rolls effortlessly on them. Totally worth the cost for those!
Can't wait to get Miss Garden Cart up on the deck for some serious planting. I accidentally spilled a little dirt on her when I was moving the plants around for the pictures. Whew, that was a close one, I almost got her dirty! 😉
My final cost was around $260. The cedar wood and screws ran around $150, the four wheels were around $95 plus shipping. The dragonfly hooks were around $15. I like that price a lot more than $1299.00 for the inspiration table. 🙂
Update: You'll find additional information about all the dimensions including a Cut List in this follow-up post: Dimensions and Cut List for Potting Bench Table
Check out how the table looks set up for a little springtime dessert fun here: Spring Dessert Buffet for An Outdoor Party
Pssst: I post almost daily to Instagram. Follow Between Naps on the Porch on Instagram here: Between Naps On The Porch.
I was one of the bloggers selected by True Value to work on the DIY Squad. I have been compensated for my time commitment to the program as well as writing about my experience. I have also been compensated for the materials needed for my DIY project. However, my opinions are entirely my own and I have not been paid to publish positive comments.
*If a post is sponsored or a product was provided at no charge, it will be stated in post. Some links may be affiliate links and as an Amazon Associate, I may earn from qualifying purchases. *