Welcome to the 657th Metamorphosis Monday!
Did you ever play the game, Musical Chairs, when you were little? Well, it's been like musical lamps around here lately. lol I may end up with one odd lamp out in the end, not sure at this point.
Last week I shared a new lamp I had purchased to use in my home office. It turned out to be much larger than I had expected so not a good fit for the office. Lesson learned–pay closer attention to size/dimensions before ordering lamps!
Despite being too big, the lamp was too pretty to return so I decided to find another spot for it here in my home. I first tried it here in the dressing room that's just off my bedroom.
I liked it in my dressing room but it ultimately ended up here beside my bed when I realized (with your help) that its size was actually better than the lamps I'm currently using there. It's funny how you can think something looks great–until you try something new! I thought my old lamps were a great size for my bed, but after seeing this larger lamp here, I liked it so much better I ended up ordering a second one which should arrive sometime this week.
I still very much love the lamps I had here and I was pretty sure they would work great in my downstairs living room that has a similar color scheme. Hold that thought for just a second–we'll be coming right back to that.
Little story: Many years ago, after seeing and learning about a special china by Herend during a historic home tour in Newnan, Georgia, I saved up and purchased six salad plates in their Rothschild Bird pattern. (See more of this table setting below here: Dining Outdoors for Summer.)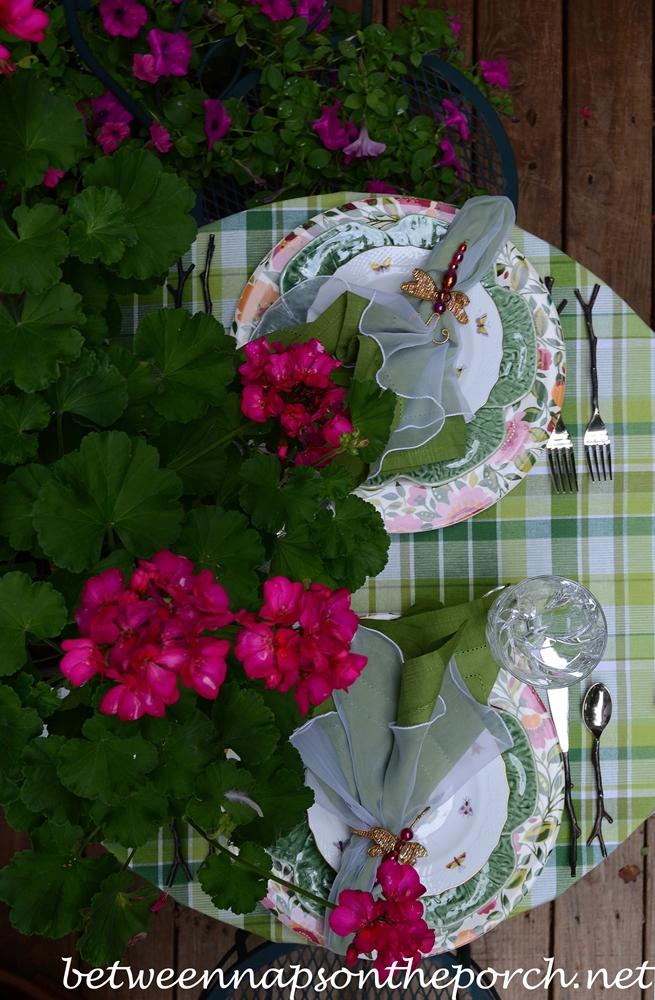 They were a splurge but I loved this birdie pattern so much, I wanted just a few salad plates in the pattern–enough to set a table for six. I really should use these more often. They are tucked away in a cabinet in my kitchen that I rarely open, so I keep forgetting I have them.
Do you see the pretty necklace hanging in the tree? That's part of the story of this lovely pattern–Baroness Rothschild, while in the garden of her home in Vienna, has somehow lost her beautiful, pearl necklace. The birds have found it and they've taken it up into the trees to admire. Love that story!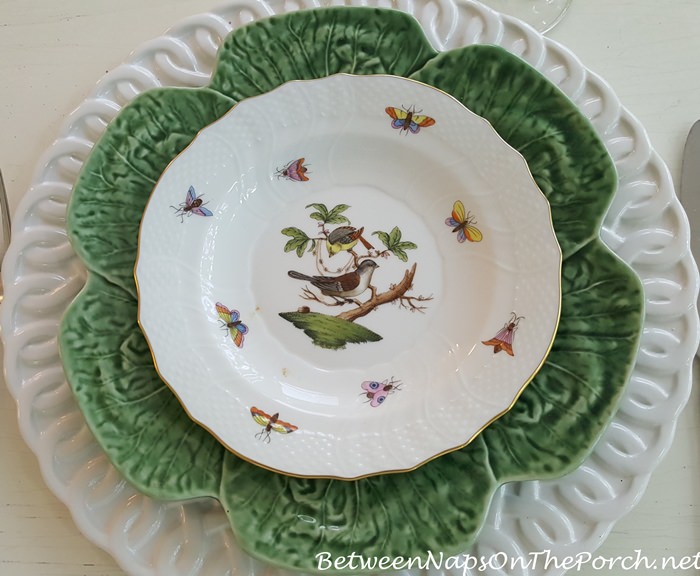 If money grew on trees, I would pick some today and order a complete set of my most favorite Rothschild Bird dinnerware, this gorgeous, green-bordered pattern. Isn't it beautiful?! I love this pattern soooo much! (See it in more detail here: Rothschild Bird.)
So, why did I share that story when we're talking about lamps today? Many years ago, I attended a lamp warehouse sale held by Speer Collectibles, a local company which sadly, has since closed. I think the owners retired. At the sale, I spotted and purchased the lamp that's visible there alongside the burgundy wingback in my living room.
This lamp has always felt a tiny bit too elegant for this room, but not enough to keep me from using it here.
Do you see what first attracted me to it the day I spotted it at the sale? If Herend made lamps (and they probably do) I could so see this being one of their designs. The green fish scale design and the bird motif remind me so much of their gorgeous, green-bordered Rothschild Bird china!
I've moved this elegant lamp to my dressing area where I think it looks right at home.
One of the bedside lamps has now found a new home here in the living room.
It has taken the place of the elegant bird lamp that was previously in this spot.
I think the red/green design of the lamp works really well in this room that's filled with jewel-toned fabrics. I really like how it looks with the sofa and burgundy leather wingback.
I will still need to find a spot for its mate (the one that was on the other side of my bed) once the other larger lamp arrives.
I'm looking forward to sharing how the larger lamps look in my bedroom once the second one arrives. Obsessed with the quality of the lamps I've ordered by this company via Amazon so far, I just ordered a new lamp for the upstairs living room/bonus room. I'm not sure if the lamp I've ordered will work in that room, it may feel too dressy, but there's a lamp in that room I've been wanting to replace for many years. Hoping the one I ordered will work there, will share that either way once it arrives.
And to think all this musical chairs lamps started with the purchase of this one lamp for my guest room! Ha! I just know that eventually, this company will probably vanish from the Amazon site. I've had that happen so many times in the past. I'll purchase something I really love, then several months later go back to purchase it again as a gift or just because I want a second one, and it will be showing "No longer Available." I hate it when that happens.
So I'm shopping for lamps now "while the getting is good." Hopefully, this company will continue to be on Amazon for a long time but who knows with the way the markets are right now. I really love their designs and the quality of their lampshades. It's so hard to find the more traditional-styled lamps these days, especially those that don't have the dreaded drum shade. My apologies if you love drum shades, they just aren't my fave. If you're in need of a new lamp for your home, you'll find the company I'm currently stalking and buying from on Amazon here: Beautiful Traditional Lamps.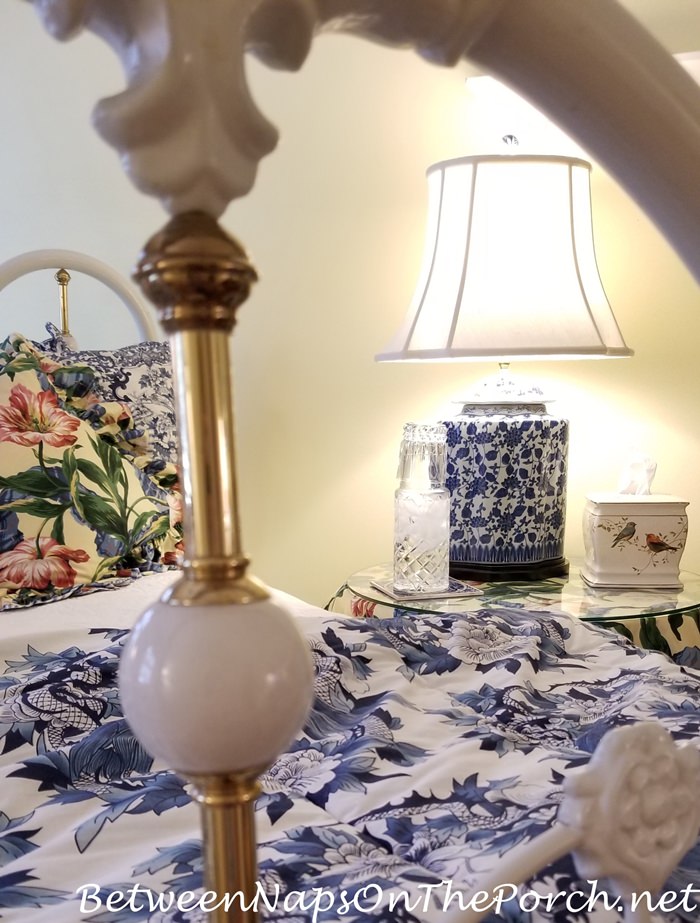 Looking forward to all the great Before and Afters linked for this week's Metamorphosis Monday!
Pssst: Did you know Between Naps On The Porch is on Instagram? You'll find me on Instagram here: Between Naps On The Porch.
Like to know when a new blog post is up and available to read? Subscribe for email updates, it's free and your email will never be shared.
Subscribe for free post updates via email here: Subscribe.
Metamorphosis Monday
Metamorphosis Monday is a party that's all about Before and Afters. Please link up your Before and After projects like DIY projects, room makeovers, craft projects even recipes. Any Before and After is great! Please do not link up Table Settings, save those for our Tablescape Thursday party on Thursday.
If you are participating in Met Monday, please link up using the "permalink" to your MM post and not your general blog address. To get your permalink, click on your post name, then just copy and paste the address that shows up in the address bar at the top of your blog, into the "url" box for InLinkz when prompted.
In order to link up, you'll need to include a link in your MM post back to the party so the other participants will have an opportunity to receive visits from your wonderful blog readers.
This party has ended, click button below for the links to all who participated.
*If a post is sponsored or a product was provided at no charge, it will be stated in post. Some links may be affiliate links and as an Amazon Associate, I may earn from qualifying purchases. *