It's always so interesting when a home used in an iconic movie goes on the market. Often, the inside looks nothing like what we remember from the movie. After being on the market for almost five years, a famous movie house just sold for $1.25 million. It was originally priced at $2.3 million but the price has come down drastically over the years.
Do you recognize it from this photo? No, huh? Yeah, me neither. If you don't recognize it from this view, maybe a view of the garage will spark a memory.
Source: Wikipedia
Ringing any bells now?  If you guessed Ferris Bueller's Day Off, you're right! This famous movie house, also known as the Ben Rose house, is located in Highland Park, Illinois. It's a modernist structure with over 4,300 square feet of space.
Who can forget that famous scene where this beautiful 1961 Ferrari 250 GTO California (less than 100 were made!) leaves the garage at rapid rate of speed…right through the glass wall!
Here's the scene when Ferris first gets his hands on the car. It's pretty funny. I love the music they play, always makes me laugh. 🙂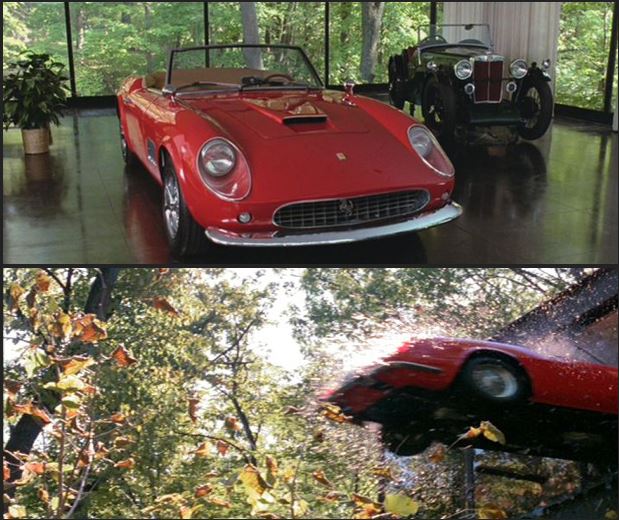 The 1986 movie, Ferris Bueller's Day Off is an iconic movie with a loyal fan following. Were you a fan of the movie, too?
I remember not fully understanding the layout of Cameron's home and where the garage was in relation to the home. It turns out, the house and the garage are in two separate buildings, both with glass walls and amazing views.
The design of the home is open and modern. It required a good many renovations before it sold. I wonder what that large thing is in the center of the room. Maybe it's a super modern-styled fireplace…what do you think that is?
The dining room…killer views everywhere!
Must be stunning in the fall when the leaves begin to change color.
Modern kitchen…
Love the wood ceiling…imagine working here!
You'll find additional photos of this home in the AJC where these photos were found.
Love touring famous movie houses? You'll find many of your faves here: Movie House Tours
Are you a movie house buff? Can you name the eight famous movie houses featured in this short Movie House Quiz HERE?
*If a post is sponsored or a product was provided at no charge, it will be stated in post. Some links may be affiliate links. *