Welcome to the 260th Metamorphosis Monday!
So, I'm kind of late in sharing this, like a whole year late. The pictures vanished into never-never land in my computer but I came across them this weekend and thought this may be helpful if you have a ceramic something-another hanging around your home in need of repair.
About a year ago I purchased a large white ceramic rooster online. Unfortunately, when Mr. Rooster arrived, he arrived with half his tail broken off. The company from whom I ordered him didn't have another one. They credited me back for Mr. Rooster but didn't want to spend the money to ship him back. They told me I could just toss him.
I hated to throw him out so I decided to try gluing him back together. I've never had much luck gluing large or heavy ceramic objects together in the past. All those fancy glues that claim to work, never worked for me so, I was super doubtful this would work at all.
His tail was actually broken in two places, one large piece was broken off and a smaller piece was broken from the top tip of his tail.
This is the large piece that was rattling around in the box when he first arrived.
I headed over to a local hardware store and purchased this stuff, Loctite Epoxy. Per their info, it's a self-mixing, epoxy syringe and is great for "bonding jagged and poor-fitting surfaces." I was definitely dealing with some jagged and poor-fitting surfaces.
It's a two-part adhesive: epoxy resin and a hardener. Apparently, they mix together in the syringe when you use it and per the package, "when mixed in equal volumes, the resin and hardener react to produce a tough, rigid, high-strength bond, which starts to set in 5 minutes and reaches handling strength in 1 hour." I like the idea of a 5 minute setting time since I couldn't sit and hold the tail in place for a long time.
I started by gluing the small piece back on to the tail. That went well so I went for the big break next.
I propped Mr. Rooster up on a breakfast chair with a pillow behind him for support. I wanted him facing down so when I attached the tail, the weight of the tail would be going downward toward the break, hopefully keeping the tail in place.
After I glued his tail on, I held it in place for several minutes, then left it to dry overnight.
I was relieved to find the tail stayed in place. The Loctite stuff really worked! Here's how the break looked afterwards…not too bad. It's been a full year and Mr. Rooster's tail has stayed on. This is the best way I've found to repair a large ceramic piece that's been broken.
These photos were taken at night so they aren't the greatest, but I think you'll get an idea of how the repair worked. This is Mr. Rooster's good side, so the break isn't noticeable from this side.
And here's his boo-boo side. I know repair experts could make the break completely invisible. I should probably try to touch it up with some paint. The epoxy said it will take paint or stain. I'm just amazed the epoxy has worked so well and it hasn't fallen off in a year's time.
Since he's normally on the big island in my pantry/laundry room with his good side facing me, I haven't worried too much about trying to camouflage the crack/line.
What do you use when you repair a large ceramic piece? Have any tips on making ceramic repairs?
Looking forward to the Before and Afters linked for this Met Monday!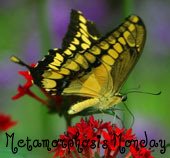 If you are participating in Metamorphosis Monday, you will need to link up the "permalink" to your MM post and not your general blog address. To get your permalink, click on your post name, then just copy and paste the address that shows up in the address bar at the top of your blog, into the "url" box for InLinkz.
In order to link up, you'll need to include a link in your MM post back to the party so the other participants will have an opportunity to receive visits from your wonderful blog readers.
Please observe these few rules:
Only link up Before and After posts that are home, gardening, crafting, painting, sewing, cooking, DIY related.
Do not link up if you're doing so to promote a website or product.
Do not link up a post that was just linked last week since a lot of readers will have already seen that post.
Do not type in ALL CAPS. It spreads the links waaaay out.


*If a post is sponsored or a product was provided at no charge, it will be stated in post. Some links may be affiliate links and as an Amazon Associate, I may earn from qualifying purchases. *