Last week when I was visiting family in Ohio, I drove around through some of the nearby neighborhoods. The majority of the streets are tree-lined with sidewalks on both sides. So charming!
I noticed new trees had been planted in a few spots, probably where a tree had died. I love that the folks who are living here today care enough about their lovely city to preserve it for future generations.
I'm still sick (running a fever today) so I'm going to keep my comments to a minimum in this post. Some of the pictures were taken from my car as I drove by, others were taken with my cell during our walk to a nearby restaurant. So the houses in this tour are not all on the same street, some are many streets away from each other.
You'll see a lot of flags flying…love that! Hope you enjoy the tour, it's all about home town America. If you listen closely, you're bound to hear kids playing Kick the Can, Freeze Tag and Red Rover. You may even smell an apple pie cooling in a nearby kitchen window. 🙂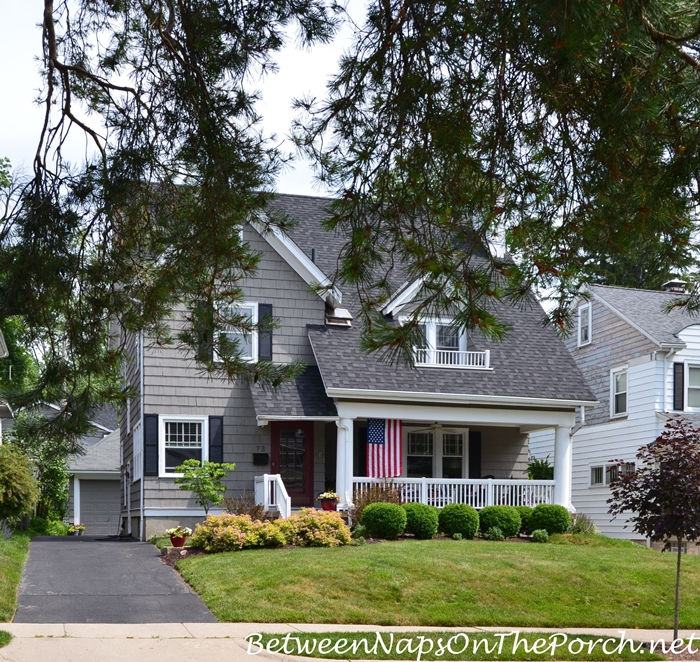 I shared this picture in a post a few days ago…
…here's a better photo showing the front of the home. Love this house, it's one of my favorites in this area.
There are a lot of Tudor style homes in this area. Some feel like "Storybook" homes.
Many of the lamp poles had signs welcoming residents home. The flower boxes were filled with real, live flowers! Wish I could get my flowers to bloom like this!
I saw a lot of Tudor homes with the rock/stone accents around the doors. The Tudor style originated in Tudor England and its key design elements are steeply pitched roofs, decorative half timbering and embellished doors. The half timbering design we see today is supposed to mimic medieval construction techniques where the timbering would have actually provided structure and support and wasn't just decorative. The inset doors offered protection from the elements and the cut stone blocks around the doorway enhanced the curb appeal of the home.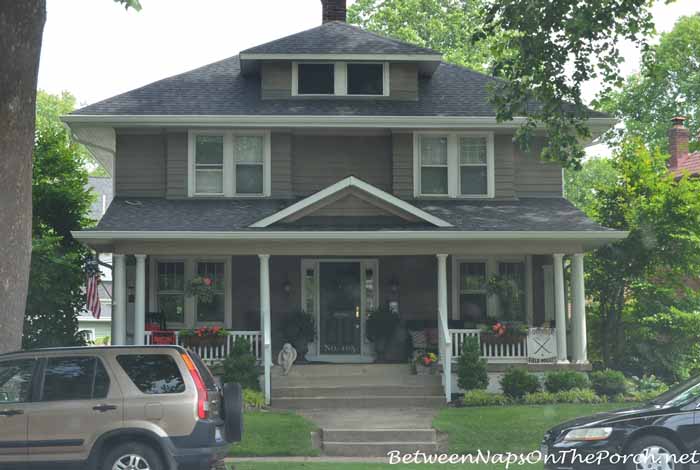 Another charming Tudor…
There were daylilies planted all along the front walkway and they were about to explode in bloom. I was just a little early to capture it.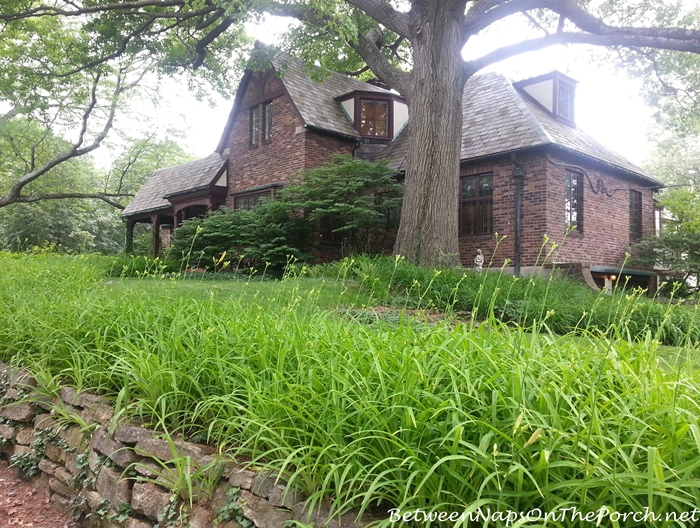 Love this house!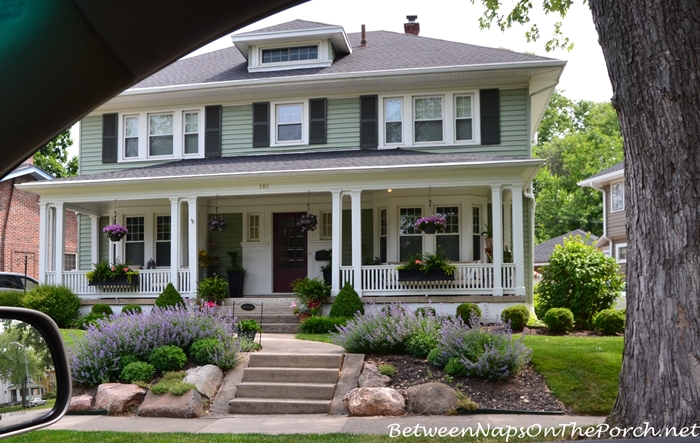 I can't decide if I like home designs that are very symmetrical like the one above or if I prefer those that are asymmetrical, like the one below. I really like both. What about you?
We passed this house on our walk to dinner and I was fascinated by the roof. It's done in the style of the old English homes that have thatched roofs. The roof tiles were literally bending over/rounding down like thatch roofs do. This was the best photo I could get because the house had a really tall hedge running across the front hiding it from view.
No cookie-cutter neighborhoods for miles around.
Some of the landscaping we saw was so pretty. It was a gorgeous day!
A grand Tudor!
Love the big old trees lining the streets.
Another lovely Tudor home…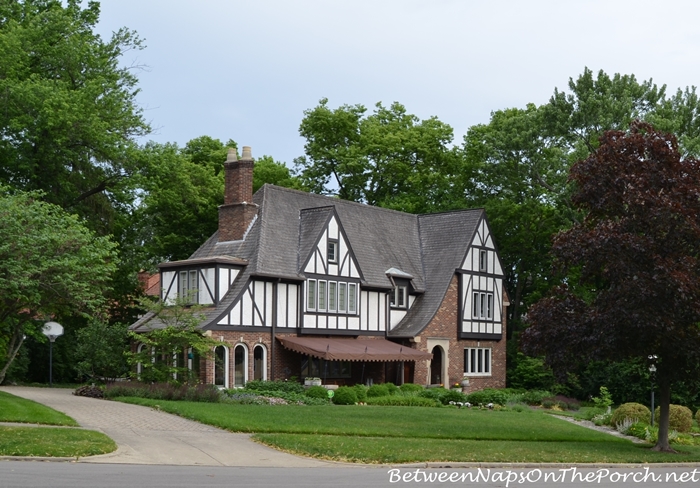 Is this not the cutest storybook home?! Love those darling shutters and the overflowing window box.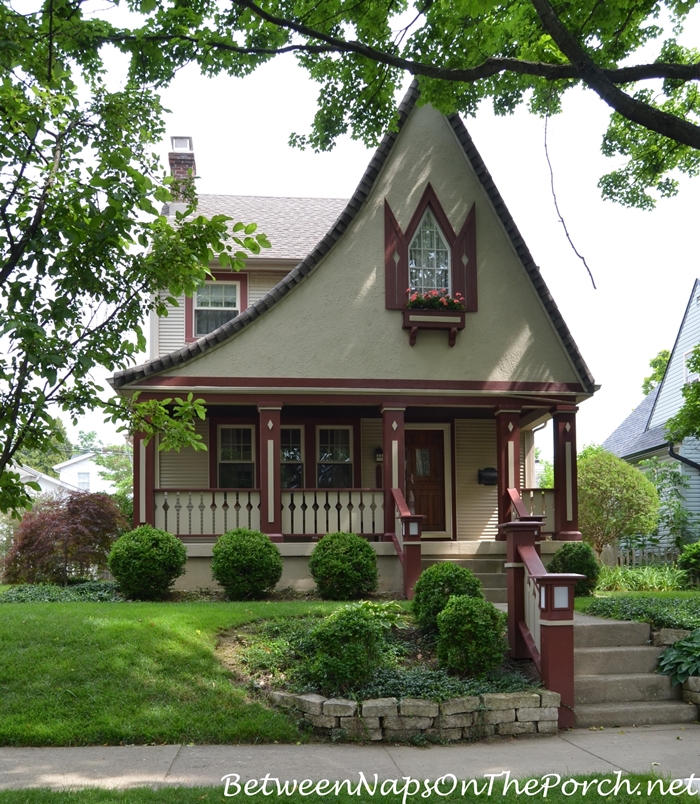 This home appears to be a Tudor style home, but instead of the usual brown, the decorative half timbering was painted green. I love the roof!
This house reminded me so much of the homes I saw in Isle of Hope, just outside Savannah.
Love the red door!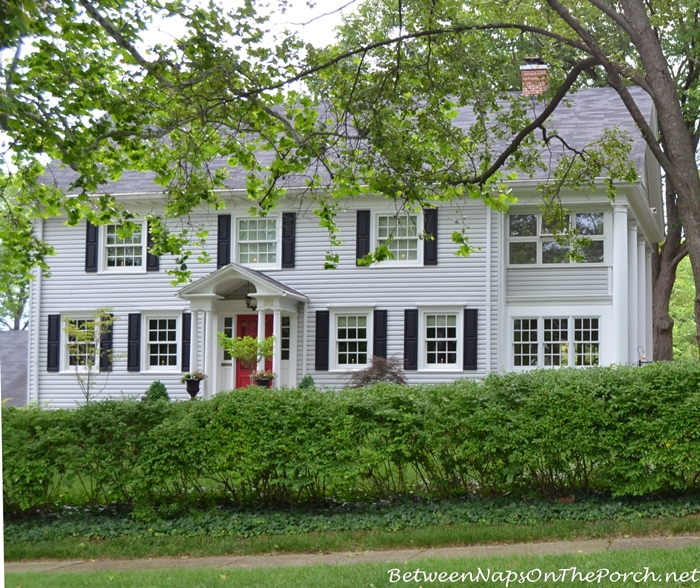 I really love the design of this home. It reminds me of the Tudor style with its steeply pitched roof and decorative stone around the door, but it doesn't have the half timbering we're so used to seeing on a Tudor home. I wonder if this is still considered a Tudor style home without the half timbering? Anyone know?
I see that they've recently planted a tree in front. I wonder if a tree was there before and this is a replacement tree.
There's is something so special about a tree-lined street.
Love beautiful old homes as much as I do?
Take a tour of the lovely homes in Isle of Hope here: Isle of Hope, Part I and here: Isle of Hope, Part II
*If a post is sponsored or a product was provided at no charge, it will be stated in post. Some links may be affiliate links and as an Amazon Associate, I may earn from qualifying purchases. *