Welcome to the 250th Metamorphosis Monday!
So, I was thinking this weekend, what can I share with you for Met Monday? I'm working on a few things around here, but nothing really Met Monday worthy. Ummmm, what to do?
I have this fat, bulging folder on my computer labeled "Post About." It's where pictures and ideas go to marinate, often forgotten but always patiently awaiting their day to shine. If you're a Blogger, I bet you have a file like that on your computer, too.
After a bit of digging, I found something perfect for this time of year since I'm seeing lots of Christmas pics being pinned these days. Hard to believe Christmas is only 43 days away! Yikes!
Two years ago for Christmas 2011, I dressed my front door with triple wreaths.
I got the idea from this picture in a Grandinroad catalog. I loved how it looked in the ad! Even though I use faux garland on the columns each year, created using THIS Pottery Barn inspired Christmas garland tutorial, I usually prefer a live wreath for the door. I lucked out that year and found three live wreaths that were just the size I needed. They were inexpensive, costing less than a single wreath in many stores.
When I created my triple-wreath Christmas door, I took some pics in case you would like to make one for your front door. Not sure why I never got around to sharing it, but better late than never. Right?
I wish I had taken a few more pics than I did but this process was so simple, I think the ones I have will suffice. I measured the area on the door where I wanted the wreaths to hang so I knew just how much space I had. My door is average height; a taller door would be even prettier with triple wreaths.
I spread my wreaths out the distance I had measured and cut loops of ribbon long enough to connect the wreaths together. I used my hot glue gun to glue the ends of the loops of ribbon together where they met on the back side. I cut the length of each ribbon a little shorter than it appeared I needed, anticipating the wreaths stretching apart a bit from their weight.
I have a wood door so I could have put a nail in the door at the height I needed. Instead, to give the illusion all the wreaths were hanging from a ribbon, I used an inexpensive metal wreath hanger and taped ribbon over it.
You can see how the ribbon looks in this picture. It ended up being partially hidden later on when I added garland around the door.
One thing I did do differently from the Grandinroad ad was instead of having the ribbon running down behind all the wreaths, making the ribbon visible in the center of each wreath, I decided to just use big loops or ribbon to hook the wreaths together. I wanted the door knocker to show through the top wreath, as well as the red color of the door.
When I first hung the ribbon-connected wreaths on the hanger at the top of the door, I had a sagging issue. Wish I had thought to take a photo of that. The best way I can describe it is the weight of the second and third wreaths was pulling down so much on the top wreath, the top wreath was looking more like a vertical oval than a round wreath. If you decide to use faux wreaths, you probably won't have this issue. But real wreaths are pretty weighty.
This is where having a wood door really came in handy. I just added another very skinny nail to the door, right there near the top of the second wreath. So the weight of the second and third wreath is really hanging from that nail and not from the top wreath. That took care of the sagging/oval issue with the top wreath. If you don't have a wood door, I'm not sure how you would deal with, unless you have a metal door and can use those magnetic wreath hangers.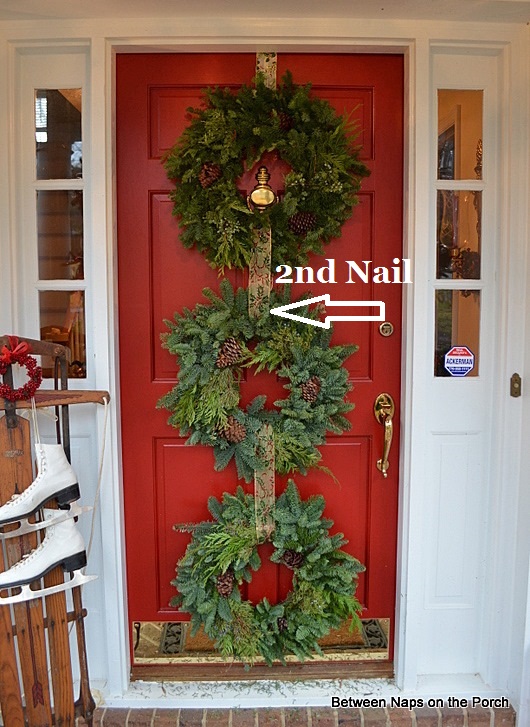 So here was the final porch. I loved this so much, I was thinking about doing it again the next year, but I ended up finding the cutest snowflake wreath in a local nursery and used it for Christmas 2012.
Not sure which way I'll go for 2013, better start planning now because it will be here soon!
Additional pictures of this porch can be seen here: Decorate with Triple Wreaths: A Grandinroad Knock-Off
Christmas Garland Tutorial available here: Christmas Garland Tutorial: Pottery Barn Inspired
Looking forward to the Before and Afters linked for this Met Monday!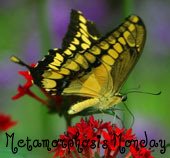 If you are participating in Metamorphosis Monday, you will need to link up the "permalink" to your MM post and not your general blog address. To get your permalink, click on your post name, then just copy and paste the address that shows up in the address bar at the top of your blog, into the "url" box for InLinkz.
In order to link up, you'll need to include a link in your MM post back to the party so the other participants will have an opportunity to receive visits from your wonderful blog readers.
Please observe these few rules:
Only link up Before and After posts that are home, gardening, crafting, painting, sewing, cooking, DIY related.
Do not link up if you're doing so to promote a website or product.
Do not link up a post that was just linked last week since a lot of readers will have already seen that post.
Do not type in ALL CAPS. It spreads the links waaaay out.




Welcome! Thanks for coming to the party!
*If a post is sponsored or a product was provided at no charge, it will be stated in post. Some links may be affiliate links and as an Amazon Associate, I may earn from qualifying purchases. *