Last weekend a group of friends and I attended a local tour of historic homes all decked out for the Christmas season. I shared some pics from that tour recently and today I'm taking you back inside to show you all the delightful details I wasn't able to capture before! Thank you to Tracey and Scott for letting me take you on a tour of their beautiful home decorated for Christmas.
A little background: This gabled ell cottage was built in 1905 in what's known as the Folk Victorian style. It sits upon land that was once a pecan grove over 100 years ago. There's still a big, wonderful pecan tree in back and I was totally coveting it. Can you imagine just walking into your backyard and collecting pecans to stock away for a year's worth of baking?! How I would love that!
I know you remember this fabulous red door from my previous post! Let's go inside for the full tour!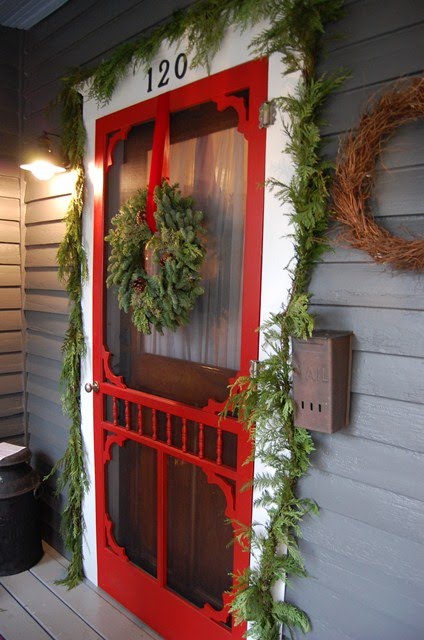 I didn't have any photos of the family room to share last week, it was just too crowded with folks to get pics in all the rooms. Let's step inside and take the tour…
All the windows were decorated with beautiful live wreaths…
Sideboards are such versatile pieces of furniture…love how Tracey is using this one in her family room. Gorgeous tree!
It's movie night…everything is ready!
The mirrors were all decorated with live greenery…they were just beautiful! I was only able to share a side view of one last week…now you can see how gorgeous they really were!
On the hearth for Santa 🙂
The beautiful Master Bedroom…another room I wasn't able to share in my earlier post.
The colors in this room are so warm and cozy. You can really see it in the beautiful draperies.
If you don't want to deal with firewood, consider lighting some beautiful candles in your fireplace for a wonderful glow. Note the great built-in shelving. One of the things I most love about the older homes are features like these. Gorgeous tree!
I shared this pic in my earlier post, but due to the crowds I wasn't able to back up to get a good shot of how pretty it looked on top.
Here's a much better view… The candlelight was really beautiful…I'm remembering this idea for future parties in my home.
I shared this photo of bookshelves filled with wonderful vintage Christmas books. This photo was a good closeup, but didn't tell you much about the room.
Here's what we missed… Now we can see how the shelving fits into this darling bedroom belonging to Tracey and Scott's daughter.
All the Christmas decorations in this room were created with toys! I love that idea! Notice the garland at the foot of the bed…
The wreaths at the windows were made with children's blocks. Cute!
And the tinker toys formed Christmat trees with stars on top!
Care for a spot of tea?
Last week, I could only share a few glimpses of the kitchen…here's where the beautiful pot rack was that so many of you loved. I just love the stockings hung from the chairs.
Look how Tracey has decorated above her cabinets…beautiful!

Beautiful table!
Tracey created this beautiful display with a wonderful frame with a background that will allow her to showcase her daughter's art each week. She can replace it easily as she brings home new drawings. The little brass plate said: "Masterpiece by" and showed their daughter's name. This would be a great idea for so many things…weekly events or appointments we need to keep up with…Christmas cards arriving each day. Love this idea!
A few more views of the kitchen…
The greenery around the windows was wonderful and the fresh scent throughout was heavenly!
We exited out onto this adorable back porch…you may remember this photo from last week. I love those red screened doors!
Great idea for a child's wagon at Christmas time…
The picnic table out back was decorated for the season.
Tracey and Scott…thanks so much for sharing your beautiful home all dressed for the holidays! If I hadn't visited any other homes on this tour, your home alone would have made it all worth while! Merry Christmas, Everyone!
*If a post is sponsored or a product was provided at no charge, it will be stated in post. Some links may be affiliate links and as an Amazon Associate, I may earn from qualifying purchases. *