While out antiquing in December two years ago, I came across a wonderful old doll house. The exterior was already decorated for Christmas with garland strung across the banister rails and wreaths on several of the windows. It stole my heart but it was priced at $250, so reluctantly, I walked away.
All during Christmas I kept thinking about the house. I knew absolutely nothing about dollhouses, having never had one before, so I decided to check prices on eBay. As I searched on eBay, I began to realize the pricing wasn't so bad after all. I found doll house kits selling for $125-150 that didn't have near as many details as the doll house I had seen. Plus, they had to be assembled and painted, and they weren't vintage.
During Christmas, I went out of town to visit a friend in Virginia. We were out touring Mount Vernon one afternoon and I kept thinking about the little house. Suddenly I knew I just had to have it! Has that ever happened to you?
I panicked! What if it had been sold while I was out of town? I called the antique store and they confirmed my worse fear, it was gone. I asked if they would make sure, hoping it had just been moved since Christmas was over. About an hour later, they called me back to say it was still available; the owner had just taken it home after Christmas. Yipee! I picked it up as soon as I got back into town. Surprisingly, the dealer gave me 10% off!
The Christmas decorations that were on the house were faded and falling completely apart. So I bought some tiny garland and ribbon and made new wreaths with bows for each of the windows. If any of you know anything about a dollhouse of this type, I'd so appreciate the information. I've never seen another one like this one so I'd love to know more about it.
I'm guessing it may have been made from a kit, but I'm not sure. I placed the dollhouse on an old trunk in my blue, white, and yellow guest bedroom. I haven't furnished it inside, just happy to enjoy it as is. Hope you enjoy this miniature Christmas home tour.
The round window in the attic was just an open hole. I found this decorative piece, cut it to fit and "installed" it.
The house came with the cute little rocker you see on the front porch. I had some scrap fabric and sewed a tiny cushion for it.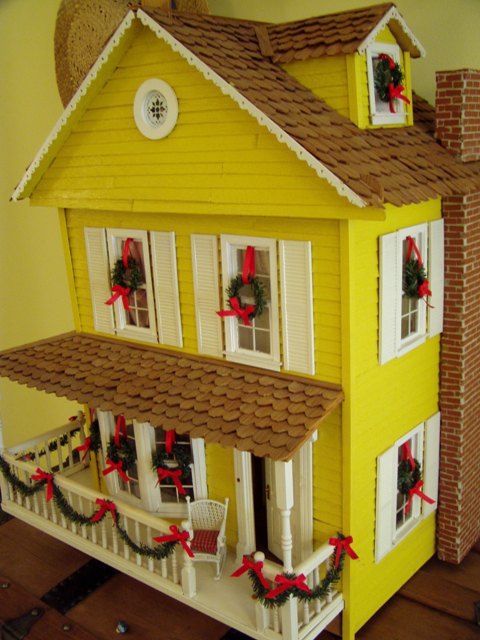 A view of the right side of the house… I just love the dormer windows on either side of the attic. They have little plantation shutters installed inside.
The chimney appears to have been built brick-by-brick…
A view of the left side with another cute dormer window and a view of the wrap around porch…
I added the little gardening boots and the kitty.
The house came with the little planter. A cardinal has flown down to check out the berries.
Another curious little bird is perched on the front porch rail.
The Golden Retriever is my sweet Jake who passed away at the end of August. He is still very badly missed.
Did you have a doll house when you were little?
I love all the detailing of the roof. I believe it is made of individual shingles.
I can't imagine how many hours it took to make this little house. I do feel a responsibility to take good care of it since I can just feel the love and attention that went into it.
Hope you enjoyed this bit of Christmas whimsy. I'd love to hear if you collect or have a special dollhouse, too.
Take a tour of the inside of the home in this post: Renovating on a Miniature Scale
*If a post is sponsored or a product was provided at no charge, it will be stated in post. Some links may be affiliate links and as an Amazon Associate, I may earn from qualifying purchases. *