Welcome to the 313th Metamorphosis Monday!
How was your weekend? Hope it was restful and fun! I been working the last few days in the upstairs family room.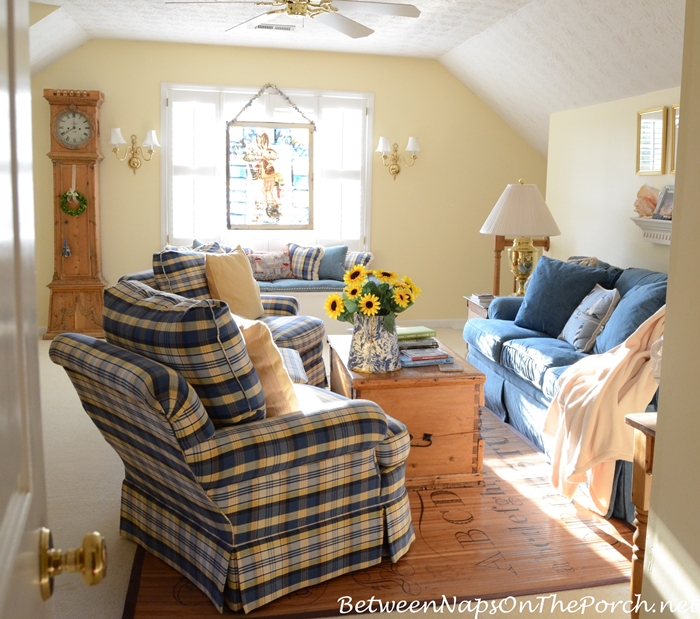 When I put away all the Christmas decorations this year, I decided it was time to get better organized. Each year when it's time to pull out the Christmas decorations, I dread it. This is why. As you can see, it's jam-packed up under the bonus room eaves where everything gets stored. I know there's lots of stuff under here that needs to be donated or tossed. I'm just always in too big of a hurry at Christmastime to get it done.
So, this is how things were looking this weekend. I'll be back in a few days to share the "After" and what I've done to get it under control. In the meantime, I have something to share that I thought might give you a giggle. When you're going through closets and sorting through old things to make decisions on what to keep and what to donate, do you ever come across somthing you can't part with though you know it's highly unlikely you'll ever use it again?
This is my "I'll probably never use it again but can't part with it" item. I macramed this "Santa Christmas Card Holder" back in 1979. It was during the time we were living in a tiny, attic apartment in Aberdeen, Maryland while my husband was going through Officer Basic Training at Aberdeen Proving Grounds. To pass the time, I bought a book on macrame and taught myself to make the various knots. Everyone, and I do mean everyone, got macrame gifts for Christmas that year. Macrame was big back then!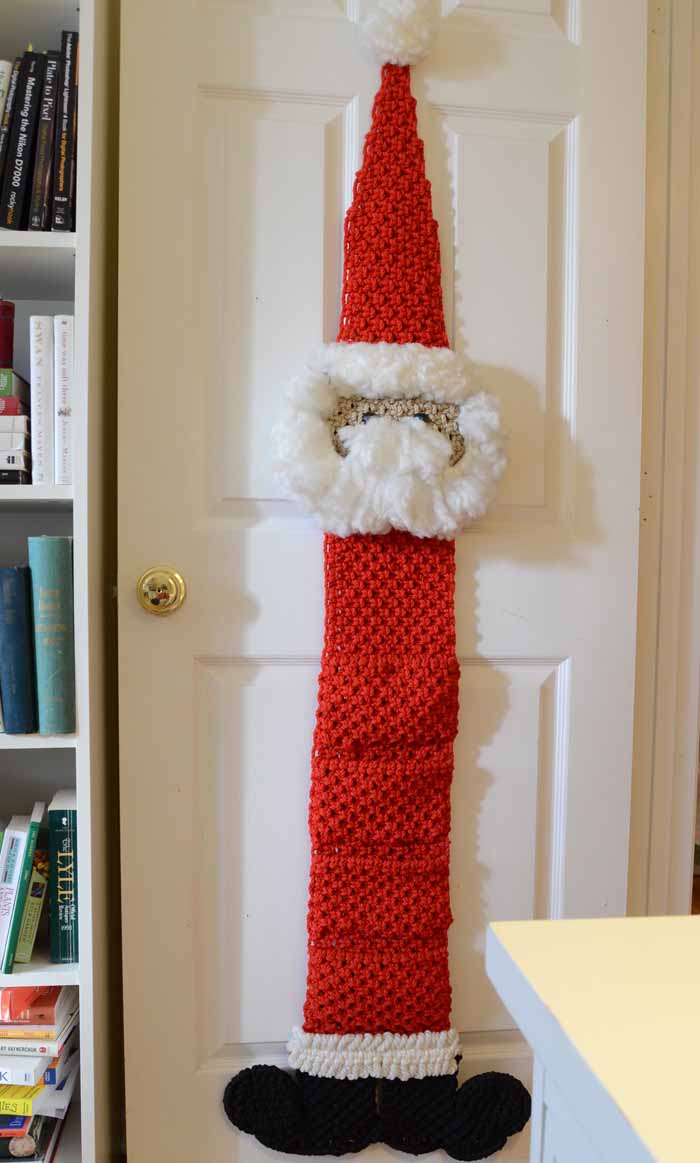 Update: I just looked back at that old post I linked above where I showed some pictures of that tiny attic apartment and I think that's Mr. Santa on the bed in the picture below…still in yarn form. Too funny! It's either him or the Santa heads I made that year. They looked just like the Santa above, but without the long body part that holds the cards.
The little dark spot at the top on the left side of his head, is a cluster of jingle bells. You can't see them very well since they are hidden down inside his wooly hair and beard. He seems to have woolied out even more over the years while he's been in storage. lol
When Christmas cards arrived, they were tucked down inside the little pockets running down the front. No one macrames anymore, do they? I have friends who knit, knitting seems to have seen a little resurgence in the last few years. But not so for macrame. I think I'll just store him back away. Maybe I'll find a spot for him somewhere next year, a retro Christmas–70's style. lol That would be fun!
Anyone else do any macrame back in the day? If so, what was the biggest project you ever made? I think Mr. Santa may have been mine…either that or a big lion's head I made for my brother. 🙂
If you're new to reading BNOTP, you can see more of the upstairs living room in this post: Creating An Upstairs Family Room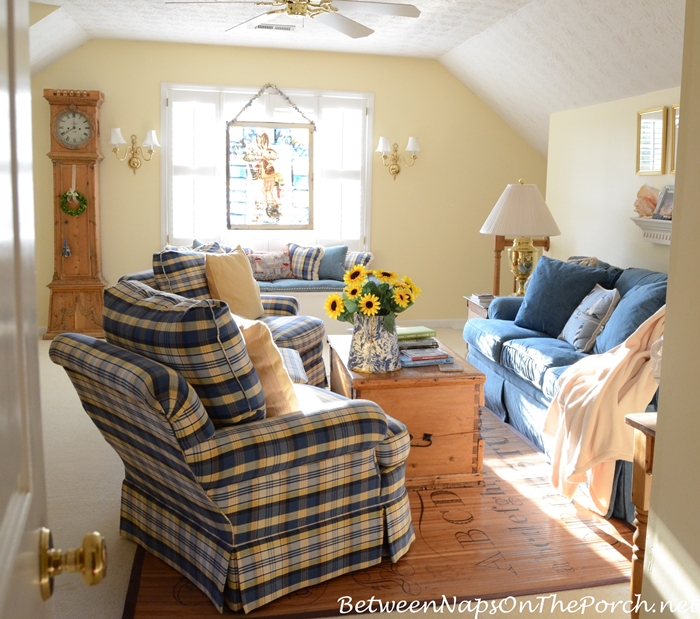 Looking forward to seeing all the wonderful Before and After for this Met Monday!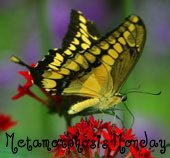 If you are participating in Metamorphosis Monday, you will need to link up the "permalink" to your MM post and not your general blog address. To get your permalink, click on your post name, then just copy and paste the address that shows up in the address bar at the top of your blog, into the "url" box for InLinkz.
In order to link up, you'll need to include a link in your MM post back to the party so the other participants will have an opportunity to receive visits from your wonderful blog readers.
Please observe these few rules:
Only link up Before and After posts that are home, gardening, crafting, painting, sewing, cooking, DIY related.
Do not link up if you're doing so to promote a website or product.
Do not link up a post that was just linked last week since a lot of readers will have already seen that post.
Please do not link up more than 2 Before and Afters each week. Thanks!

*If a post is sponsored or a product was provided at no charge, it will be stated in post. Some links may be affiliate links and as an Amazon Associate, I may earn from qualifying purchases. *