Welcome to the 63rd Tablescape Thursday!
A few months ago, I was shopping in one of my favorite antique/thrift stores, and I came across a pretty multi-tiered, silver server. It was a bit more than I really wanted to spend at $50 and it seemed a bit on the high side for the Flea…but it grabbed hold of me and refused to let me leave without it. I'd been planning on putting together a formal tablescape for TT for sometime…now I had the perfect centerpiece. As I played with this tablescape, it suddenly took an unexpected turn and took on a Christmas feel. So hope you enjoy a touch of Christmas, just a little early.
With the lights turned up and the candles, not lit…
Let's dim the lights just a bit…and light those candles…
After I'd taken quite a few pics, I decided to add some blooms from my Encore Azalea to the tiered centerpiece….this pic was taken with the azaleas.
Here's a pic of the centerpiece taken prior to adding in the azaleas blossoms.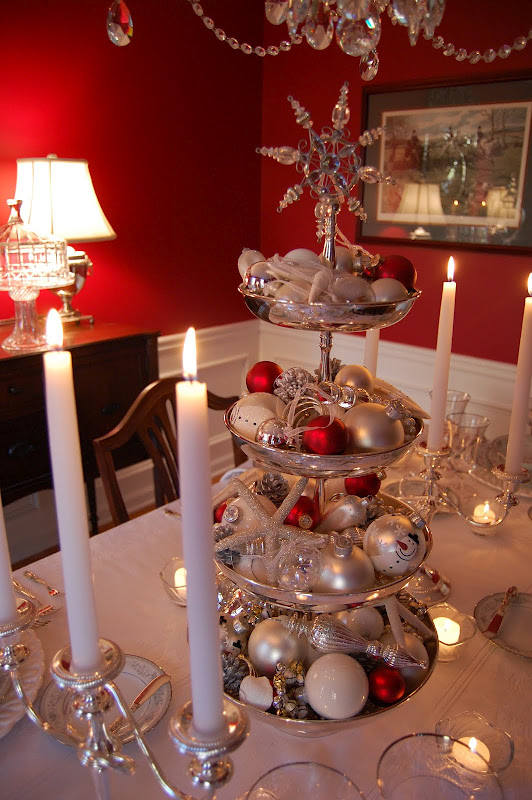 Found this little star ornament at Hobby Lobby last Christmas. Using a pretty ribbon, I attached it to the top of the server.
I gathered lots of pretties from around the house. I knew I wanted to keep all the colors white, silver or crystal clear…with just a touch of red. The little silver-painted pine cones were gifts from a sweet niece one year. She always gives wonderful gifts that she makes herself…aren't those the best kind?!
The sparkly, silver starfish you see above, and pictured here below…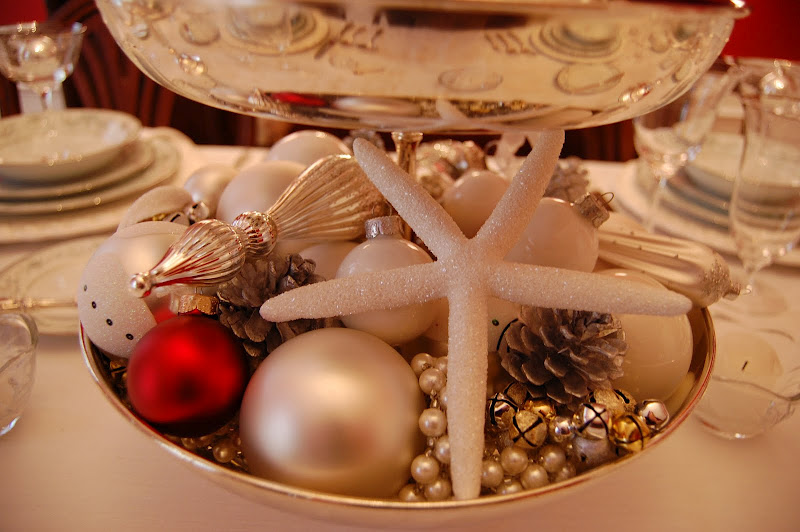 Nothing was off limits for filling my centerpiece, as long as it fit somewhat within the color scheme. I mixed in three different styles of napkin rings (pearl, jingle bells and silver) right along beside ornaments I already had or found recently at Old Time Pottery.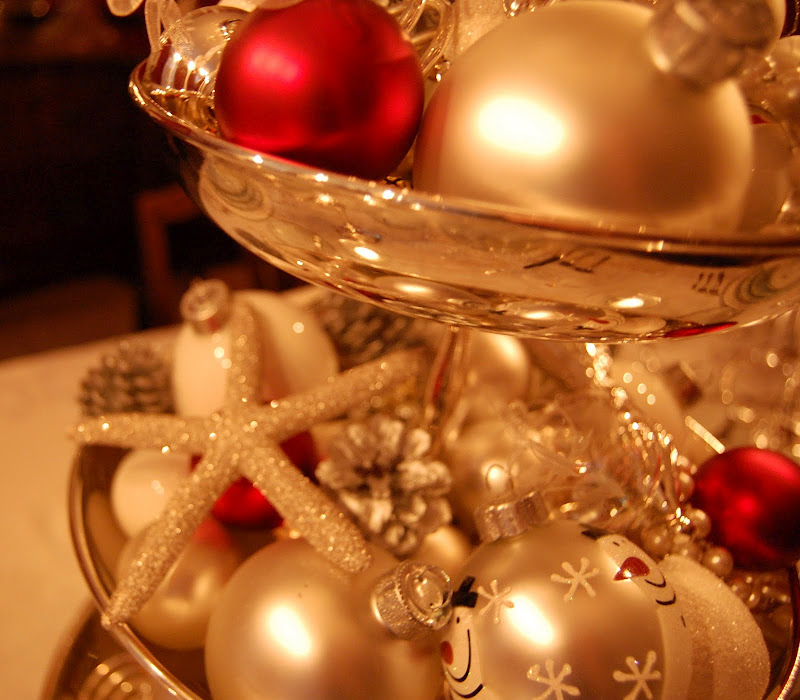 For this formal setting, I envisioned luscious, red strawberries, piled high with fresh cream. The tiniest fork to the outer left edge is a strawberry fork. (If pic appears cut off on the right, try adjusting the resolution on your computer to a higher setting.) China is Noritake, Pattern is Colburn…it was the china I selected in 1978, as a bride-to-be.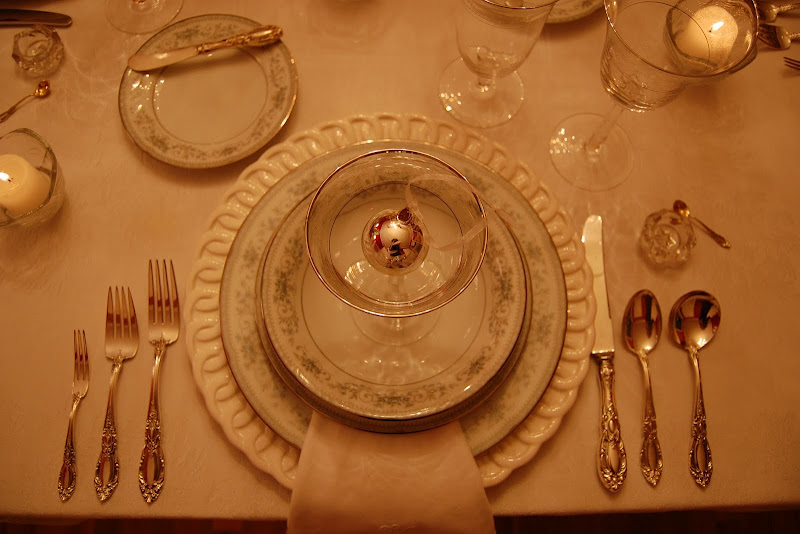 Alas, no strawberries, so a pretty ornament must do…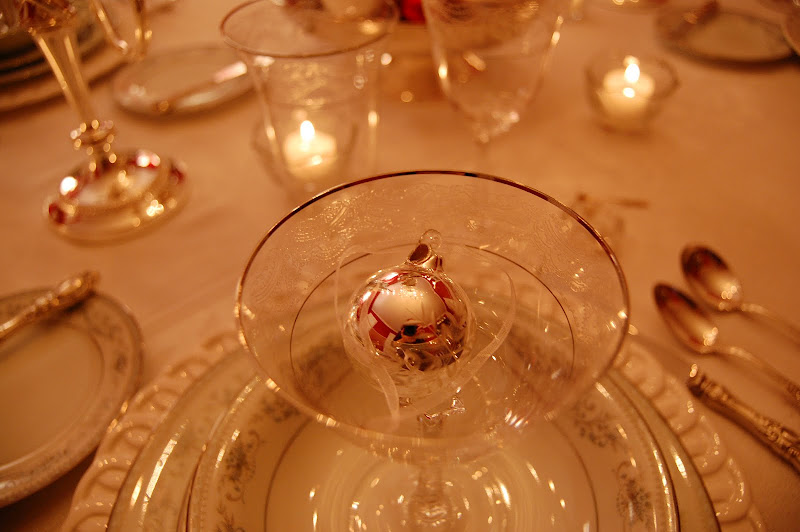 Sterling flatware is Towle, King Richard…
Crystal is Fair Lady by Lenox…
You know I love pulling out the salt cellars for the formal, and sometimes, even for informal tablesettings. I just love an excuse to use these tiny, little salt spoons.
The first time I ever used a sugar scuttle was while staying in a Bed and Breakfast on vacation. I went on a mad search for one after that day and found one fairly quickly on eBay. Since buying the first one, I've bought several more for gifts. When you find them, they are sometimes missing their little scoop. If it's missing the scoop, just use a sugar shell spoon or little tongs.
Excuse the slightly askew flatware. I scooted it over to make way for an elbow while taking some pics of the centerpiece and forgot to scoot it back.
I have a chandelier story in me…one day I'll get around to sharing it. Pssst: Shared my chandelier tale here: Beeswax Candle Covers and SatinWrapped Bulbs for Chandeliers
A few months ago, I was out antiquing and I came across this apothecary server. I immediately recognized it as a server I'd seen online at Neiman Marcus. I'd been drooling over it for over a year, but could never bring myself to pay the NM price.
It was at $189 in the antique store, and it looked brand new. But, I couldn't remember how that compared to NM's price…I thought it was less, but I wasn't sure how much less. I told the clerk that I was interested in the piece, but really needed to check and see how their price compared to a brand new one at NM.
He apparently did not want me to leave the store with out it because he got on the phone with the owner and the price came down to $89. I said, YES, immediately, because I knew that was definitely better than Neiman Marcus. I had him pour water in it and I tested it before I bought it. It worked perfectly.
I was thrilled when I got home and pulled up the NM site and found it was going for $249, and that was "on sale." Yea! Good things do come to those who wait…sometimes.
Thanks for stopping by this evening for a tablescape with a little hint of Christmas. Looking forward to seeing all your beautiful tablescapes!
Looking forward to seeing all the tablescapes posted for this Tablescape Thursday!

If you are participating in Tablescape Thursday, please be sure to add your permalink below, and not your general blog address. If you aren't sure how to obtain your permalink or have any questions about using Mr. Linky for this post, just click HERE for detailed instructions.
Please copy and paste the Tablescape Thursday logo button to your computer. Then you can upload it to your side bar and use it in your tablescape post so your visitors will know you are participating.
Please link back to the host blog, Between Naps on the Porch. This is important because it helps those who are visiting your blog, find the other wonderful tablescapes posted for this Tablescape Thursday.
Please do not add your link below, until your tablescape post is actually published to your blog.
The following blogs have lovely tablescapes awaiting your visit:
*If a post is sponsored or a product was provided at no charge, it will be stated in post. Some links may be affiliate links and as an Amazon Associate, I may earn from qualifying purchases. *