Welcome to the 100th Metamorphosis Monday!
Wow! Can you believe it's the 100th Metamorphosis Monday?! Thanks so much for coming along on this fun journey with me week after week. Can't wait to see what the next 100 Met Mondays will bring.
Metamorphosis Monday: Christmas in Switzerland
Each year Cornelia and her family head out into the beautiful forest of Switzerland along with a forester. They select and cut down the tree that is to become their family Christmas tree. This is no small feat being that Cornelia told me, "It is freezing cold in Switzerland, minus 8 degree Celsius and tons of snow!"
Then Cornelia begins the 15-16 hour process of decorating it with ornaments she's collected over many, many years. I was so amazed to discover that Cornelia illuminates her tree with REAL candles. Yes, real candles. When have you ever seen a tree lit with real candles? I never have so I couldn't wait to see Cornelia's tree.
Here's a Before pic. The tree Cornelia selected with her family is a "European Silver Fir" (Abies Alba). Cornelia had just started the decorating process but she stopped long enough to take a photo of the tree so we could see it before it was adorned with ornaments.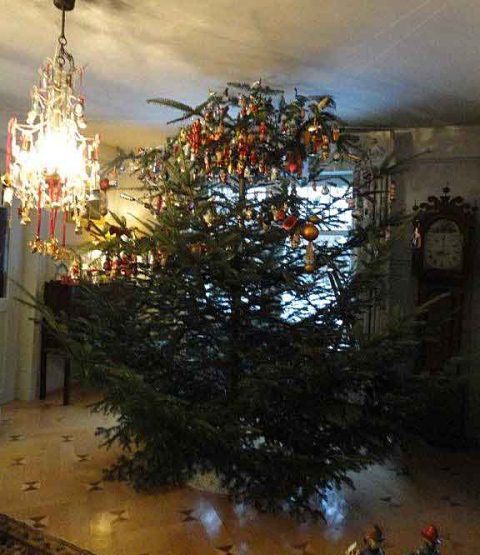 And here's the After! Are you speechless? My mouth dropped open when I saw this picture.
Cornelia's tree is 2,70 m tall and approximately 4 m wide. If I converted that correctly, it's almost 9 feet tall and around 13 feet around. Let's take a closer look at some of the amazing ornaments Cornelia has collected over the years.
All of Cornelia's ornaments are original ones from Germany. A few very special ones are from Czechia.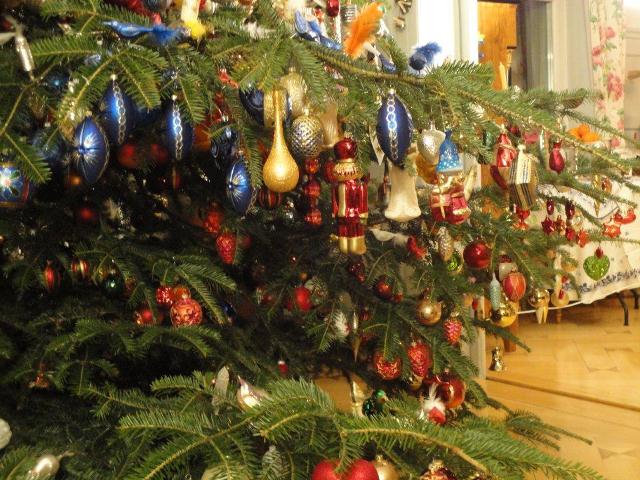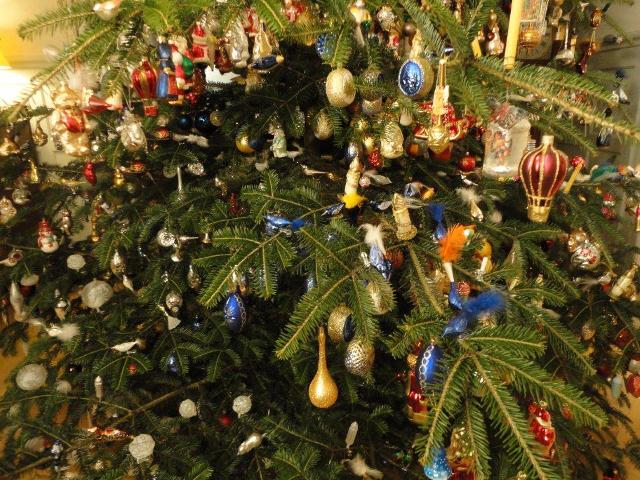 Cornelia told me, "In Switzerland most people do have real candles on the tree. I only have ten candles on the tree because it is such a huge tree and too many candles could be dangerous." The candles Cornelia uses are beeswaxand create a wonderful scent when they are lit.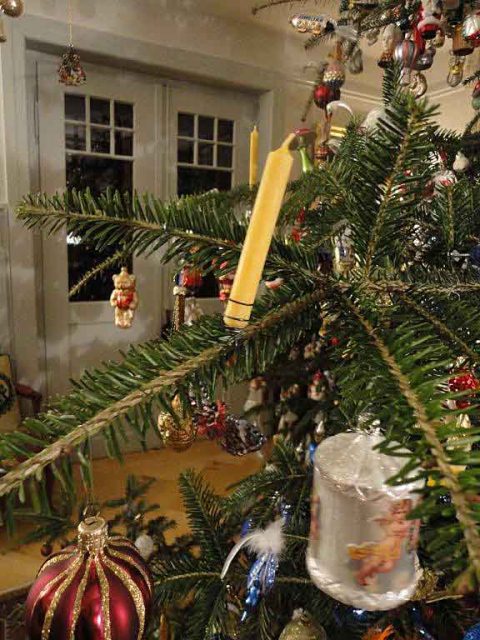 Cornelia says most folks keep the tree up until the 6th of January (Epiphany).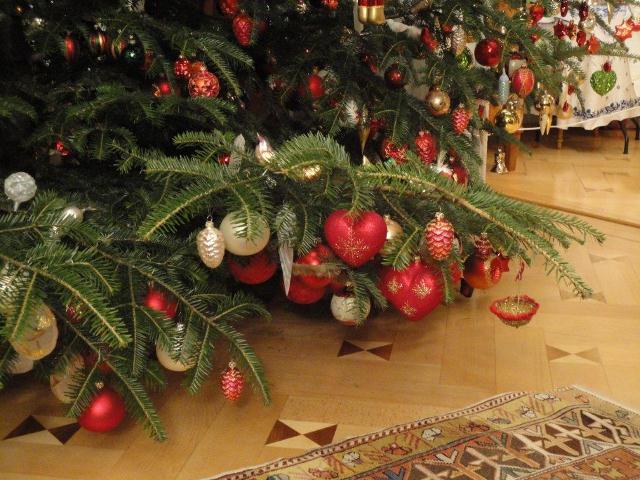 Cornelia has approximately 1,200 ornaments on this gorgeous tree!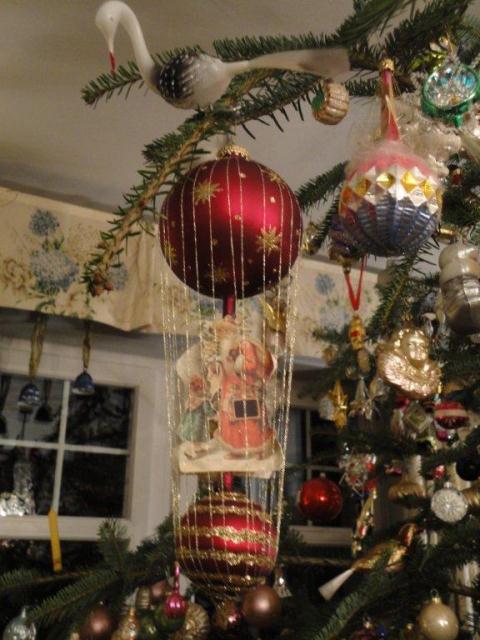 I've never seen an ornament like this…have you?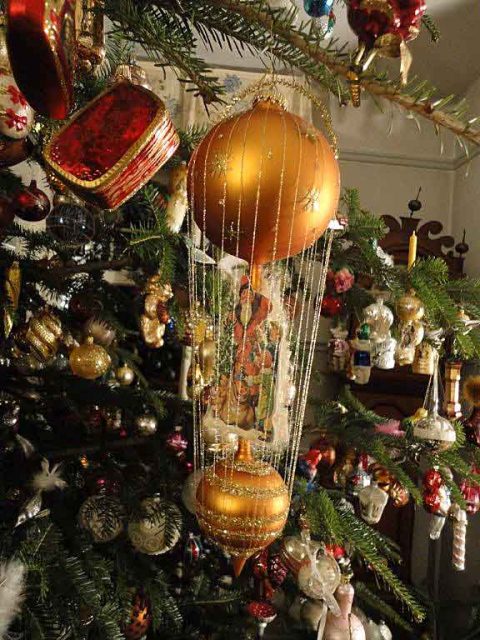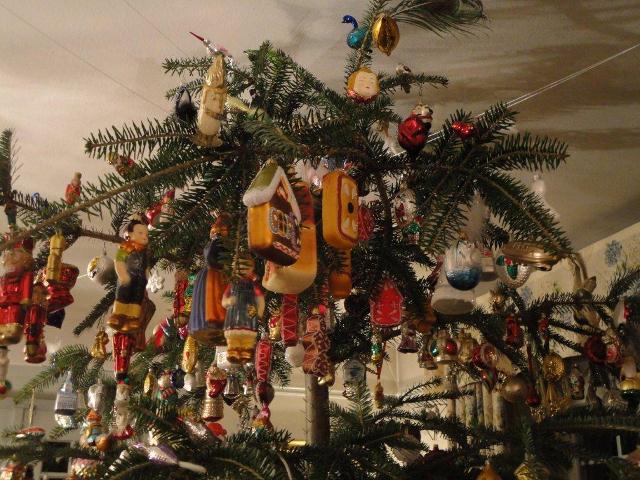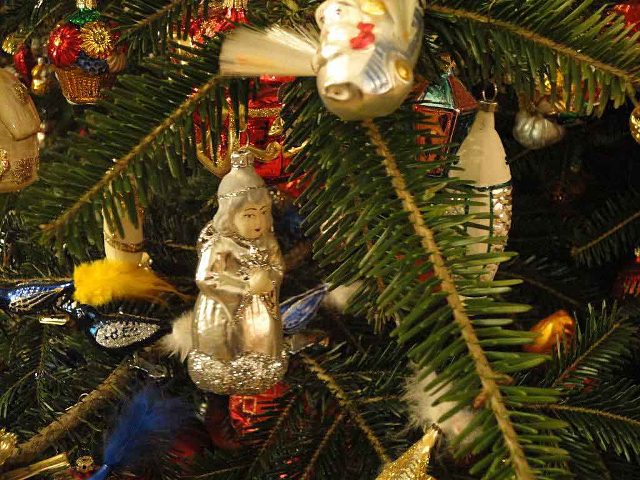 Cornelia told me they light their tree for the first time on Christmas eve. Then they light it again on Christmas Day, on Boxing Day (which is the day after Christmas) and on all the following days. How exciting it must be, waiting in anticipation for Christmas eve to see it aglow!
And real candles! Wow!

Cornelia told me, "Another difference between Switzerland and USA is that we only have one tree. The tree is usually in the main room. Smaller children are usually not allowed to see the tree before Christmas eve because they are told that the Christkind brings the tree. The doors of the family room will be closed till the moment when the children are allowed to enter this room. The window will be open and sometimes there is some silver hair on the floor or the tree (so called angels hair) as a proof that the Christkind had been there and just flown out of the window to bring presents to an other family."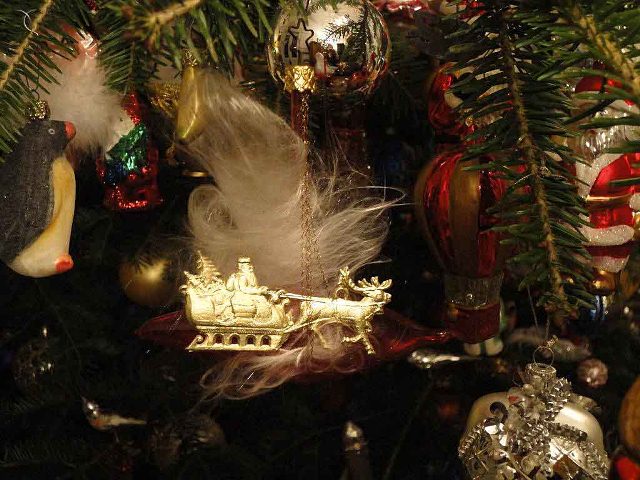 Cornelia added, "I could never tell my children that the tree is brought by the Christkind because my tree has always been too big to be decorated on the 24th in the afternoon.
But the story is nice and I know more than one child you spent the whole afternoon in front of the closed door to try to get a glimpse of the Christkind through the keyhole."
Here's Cornelia's tree from last year…illuminated with real candlelight. This must be amazing to see in person.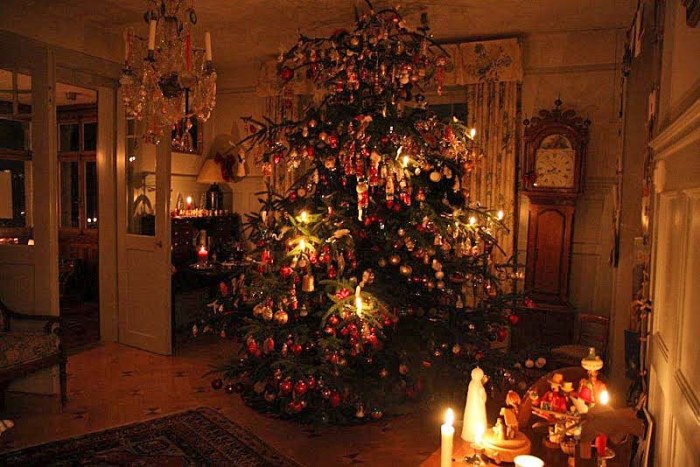 Cornelia, thanks so much for sharing your beautiful Christmas tree. It really is glorious!
Looking forward to seeing your Before and Afters!
Metamorphosis Monday:
If you are participating in Metamorphosis Monday: Please be sure to add your permalink below, and not your general blog address. To get your permalink, click on your post name, then just copy and paste the address that shows up in the address bar at the top, into the "url" box for the picture linky. You'll also need to put your e-mail address in, but don't worry, it will not be visible to anyone.
If you'd like to include the MM button in your post, just copy and paste the Met Monday button to your computer or grab the html code from underneath the MM logo under the "Join the Party" header at the top.
Please include a link in your MM post back to the host blog, Between Naps on the Porch. Why is this important? When you include a link back to BNOTP, it ensures your regular readers/visitors will find the other awesome "Before and Afters" linked for this Metamorphosis Monday. If everyone links back, this maximizes the visits for all participants.

Please DO NOT type in all caps…it spreads the links waaaay out. Thanks! 🙂
*If a post is sponsored or a product was provided at no charge, it will be stated in post. Some links may be affiliate links and as an Amazon Associate, I may earn from qualifying purchases. *