Welcome to the 256th Metamorphosis Monday!
I'm putting Met Monday up early since this next week is going to be super busy for us all. Also, this "Before and After" is something you may want to use for Christmas so figured getting it up today will give you a little more time to plan.
This past week, I posted a Christmas tablescape with a Christmas-tree theme. Tablescape can be viewed here: Christmas Table Setting with a Christmas Tree Theme
That tablescape included a cute Christmas tree napkin fold.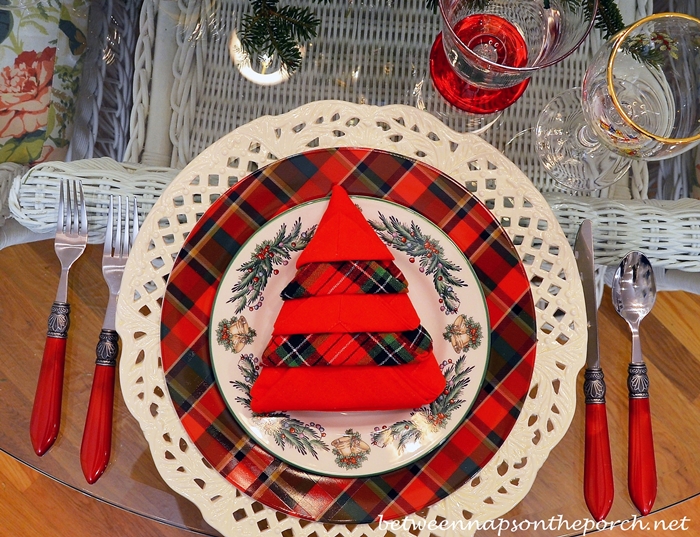 Today for Met Monday, I'm sharing how to make this Christmas-tree-shaped napkin fold in case you would like to use it for your Christmas table this year.
I actually folded six of these last week before I decided to set the table in the breakfast room where the table seats just four.
Please read this information below, it will help this fold make more sense.
A little background info. before we get started: I saw this fold on YouTube made two different ways. One way used a single, solid-colored napkin and it produced a tree with the layering down the front as shown above, but of course all the layers were one color since the napkin was one color.
The second tutorial I found on YouTube showed how to get the two-pattern look using a single napkin that was two-sided, meaning a napkin with one design (solid color or print) on one side and a different print on the other side.
The thing I didn't like about that tutorial was, though the fold did come out with alternating patterns down the front, the last two layers ended up being the same color. That was bugging me, I just didn't like the last two layers being the exact same when all the others had nicely alternated down the front.
How I Made My Christmas Tree Fold:
I didn't have any 2-sided napkins with patterns suitable for a Christmas table setting, but I really liked the two-pattern design down the front. So, I decided to try making the fold using two napkins instead of one to get the two-pattern look. This decision led to two "side-effects" that turned out to be great. They were:
1. The patterns alternated correctly all the way down the front, including the last two layers. (Yay!)
AND
2. Because I used two napkins, the Christmas tree fold ended up nice and hefty which allowed the fold to actually stand upright as shown below. If you make it this way using two napkins, you can either lay the napkin down on the plate as it appears in the pictures at the beginning of this post, or you can stand it up as shown below. I'll show how that works at the end of this tutorial.
If you have Christmas napkins that are two-sided (with two different patterns, front and back) you may want to make this fold with just one napkin. I ended up preferring the two-napkin fold because of the two reasons listed above.
Note: This tutorial shows how I made this fold using two napkins. If you wish to make the fold with just one napkin, follow the exact same steps I'm sharing below. These instructions will work for that, too.
What You'll Need:
To make this fold you'll need napkins that are square. If you're using two napkins as I did, the napkins need to be very, very close to the same size. It's best if they are the same size but if there's a slight difference in size like I had, it will still work fine. This tutorial will not work well if the napkins are very different in size.
Important: If your napkins are wrinkled, take time to iron them first. This fold will be much harder and not turn out well with wrinkled napkins. I tested folding mine with wrinkled napkins when I was learning how to make this fold and it was not fun! So, for best results and less frustration, be sure to iron your napkins before beginning.
To get the two-pattern look I wanted for my Christmas tree fold, I used a solid red napkin and a plaid napkin. Since my red napkin was just slightly larger than the plaid napkin, I placed it down first with the plaid napkin on top. I found the fold just came out better with the larger of the two napkins on the bottom.
I started with the hemmed side facing upward toward me on both napkins but I'm not sure it really matters.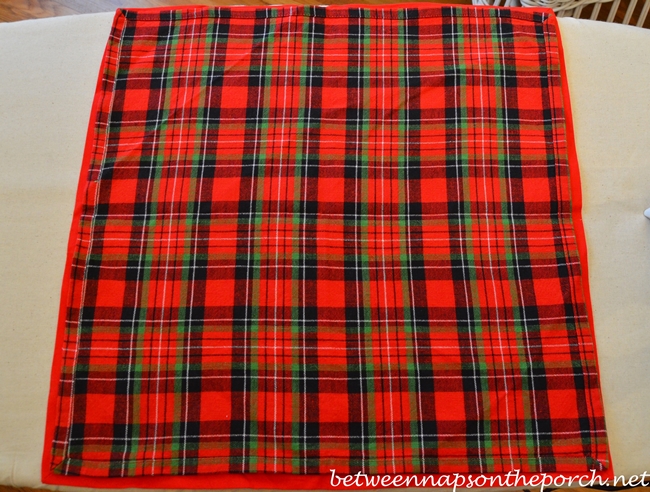 So let's get going.
Fold your napkins in half by folding the top half of your napkins downward.
Then fold them in half again, as shown.
Rotate your folded napkins around so the open ends are all facing downward toward you.
Lift up the first layer (the solid red napkin in my case) toward the top, stopping about an inch down from the top edge. Just look at the photo below for comparison.
Turn the next layer up (plaid layer in my case) stopping again about an inch below the edge of the previous layer. It may not be a full inch, so you may need to adjust as you go along. Just keep looking at my photos below to help judge where to stop with each layer.
Repeat again with the next layer, which in my case was the solid red. Each time you'll stop about an inch down from the edge of the layer above, as shown below.
Keep repeating the step with each layer.
When I got to the bottom, my last layer was actually two solid red layers, so I just turned both of those upward together. Once you have all your layers turned up as shown below…
…you'll want to turn the whole thing over, being careful to not let your layers fall out of place. Just use both hands and brace the layers you just created with one hand while using the other hand to turn the napkin over. The layers should still all be facing upward, just flipped over now so you can see the back side of the napkin.
Fold the left side over, as shown below.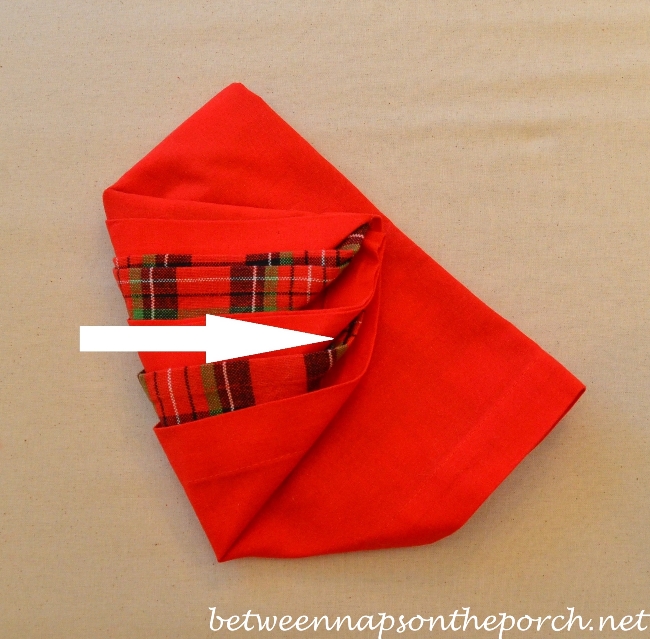 Repeat with the right side.
Turn you napkin back over again, once again being careful to keep all your layers in place.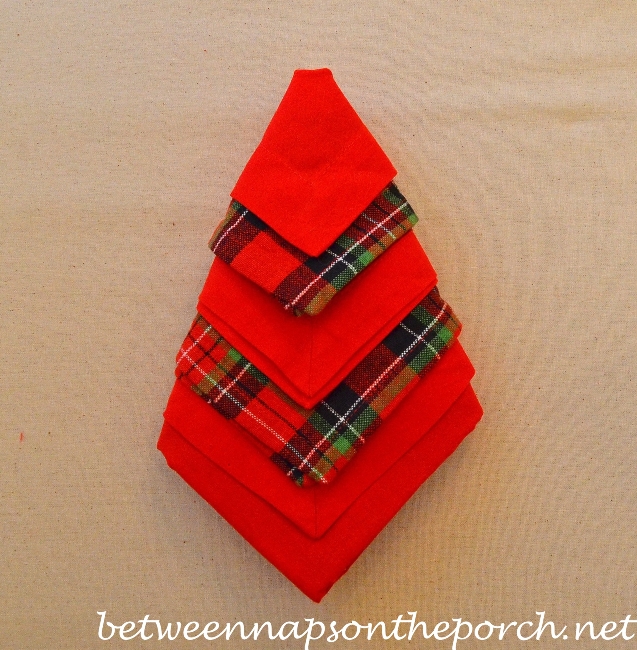 Okay, you're almost done. Starting at the top, turn the first little layer upward toward the top of the tree.
Repeat that with the next layer (in my case the plaid layer) and tuck the tip of that layer up underneath the layer above it. Just look at my pictures below to gauge about how far to tuck it under.
Continue moving down the tree, tucking the tip of each layer up under the layer that's above it. In the picture below, I had just tucked the tip of the red layer up under the plaid one just above it.
After all the layers have been turned upward, tucked under the layer above and you have reached the bottom, just tuck the remaining layer(s) up under the layer above, in my case it was the red layers that were tucked underneath the plaid.
That's it…you're all done! Your tree should look something like this.
You can display your Christmas tree napkin flat on a plate or table or display it standing. If you display it laying down, it might be fun to put a little KISS candy at the top for the star. I just googled "star candy" out of curiosity and found star-shaped chocolates in silver foil wrap, as well as several other star-shaped candies available online. Too late to order those for this year, but you may find something in the grocery or discount store that works for a star.
You can also display your Christmas tree fold standing up on the table or on a plate.
To stand it up, carefully pull back one part of the folded section on the back as shown. Just pull it back a small amount, the amount needed to prop up your tree. If you make this fold with one napkin, I'm not sure it will be sturdy enough to stand up. It stood up well using two napkins.
Hope you enjoyed this little tutorial! Have fun making your Christmas trees!
Looking forward to the Before and Afters linked for this Met Monday!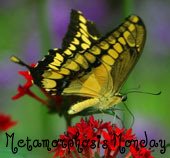 If you are participating in Metamorphosis Monday, you will need to link up the "permalink" to your MM post and not your general blog address. To get your permalink, click on your post name, then just copy and paste the address that shows up in the address bar at the top of your blog, into the "url" box for InLinkz.
In order to link up, you'll need to include a link in your MM post back to the party so the other participants will have an opportunity to receive visits from your wonderful blog readers.
Please observe these few rules:
Only link up Before and After posts that are home, gardening, crafting, painting, sewing, cooking, DIY related.
Do not link up if you're doing so to promote a website or product.
Do not link up a post that was just linked last week since a lot of readers will have already seen that post.
Do not type in ALL CAPS. It spreads the links waaaay out.




Welcome! Thanks for coming to the party!
*If a post is sponsored or a product was provided at no charge, it will be stated in post. Some links may be affiliate links and as an Amazon Associate, I may earn from qualifying purchases. *