Welcome to the 99th Metamorphosis Monday!
Hi Everyone! It's been snowing off and on all day here in Georgia. Nothing serious, though…just a few flurries. It's really pretty to watch…from inside!
I don't have a "metamorphosis" to share today in my own home, so I'm taking you into the heart of Buckhead for a little tour of some of the rooms in the Georgia Governor's Mansion all decked out for Christmas. Each year at Christmastime, the Governor's Mansion is opened up for tours.
During the year, here's the way the dining room normally looks.
But at Christmastime…it looks very different. There were six trees in this room alone! Beautiful amaryllis were spread out down the center of the table this day.
The mantel over the fireplace in the dining room was decorated with lots of fresh greenery. I see some good ole Georgia Pine…
The sideboard was decorated with magnolia and amaryllis…
Governor Perdue and his family do not normally eat in the large dining room. Instead, there's a smaller dining room for the family that's right off the kitchen. Here's how it normally looks…
And here it is decorated for Christmas…
Every room had at least one tree.
Executive Chef, Holly Chute, was in the kitchen and she came out and talked with us for a little while. It was great getting to meet her. She was super nice and friendly.
She's been the Chef at the Georgia Governor's Mansion for 29 years! In fact, she's been the Chef for 5 Governors! Here's a better photo of her from the online site for the Governor's Mansion.
I tried to get a closer shot down into the kitchen. This was the best I could do since there were ropes keeping us from getting too close.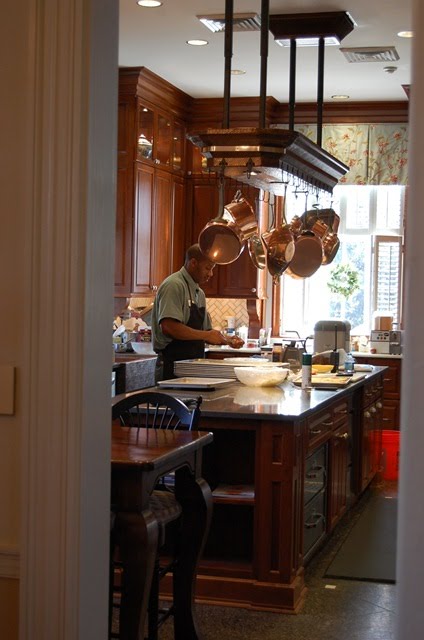 Now you may be wondering who arranged this little blogger get-together. Joyce, who used to blog at Flour Power before she went into blogger retirement, set up this heist…uhhh, I mean trip. She was the ringleader and here she is being handcuffed by the Georgia State Patrol. Joyce found out the hard way that State Troopers don't especially like being referred to as "security guards!" 😉 Right, Joyce?
AND, it seems Joyce was also caught red-handed trying to make off with the Governor's Cookie Recipes. Joyce, Joyce, Joyce…what will we ever do with you?! Just ask Sue at Rue Mouffetard about the trouble Joyce gets into…she can fill you in with lots of good stories from their past excursions. In fact, there are more pics of this "incident" posted at Sue's blog.
We were just barely able to talk the State Trooper out of hauling Joyce off to jail. I think she's officially used up all her "Get-Out-of Jail Free" cards now.
So…what have you been metamorphosing around your house? Can't wait to see your "Before and Afters!"
Metamorphosis Monday:
If you are participating in Metamorphosis Monday: Please be sure to add your permalink below, and not your general blog address. To get your permalink, click on your post name, then just copy and paste the address that shows up in the address bar at the top, into the "url" box for the picture linky. You'll also need to put your e-mail address in, but don't worry, it will not be visible to anyone.
I'd love it if you would include the MM button in your post, to make it easy for others to find you MM post. To do that, just copy and paste the Met Monday button to your computer or grab the html code from underneath the MM logo on my sidebar.
Please include a link in your MM post back to the host blog, Between Naps on the Porch. Why is this important? When you include a link back to BNOTP, it ensures your regular readers/visitors will find the other awesome "Before and Afters" linked for this Metamorphosis Monday. If everyone links back, this maximizes the visits for all participants.

Please DO NOT type in all CAPS…it spreads the links waaaay out. Thanks!


*If a post is sponsored or a product was provided at no charge, it will be stated in post. Some links may be affiliate links and as an Amazon Associate, I may earn from qualifying purchases. *