In my front yard, there lives a Southern Magnolia, Grandiflora. And grand she is! I didn't place her here. Even with my limited knowledge of gardening, I know better than to plant a Southern Magnolia 10 feet out from a house. (Remember when the yard looked like this?)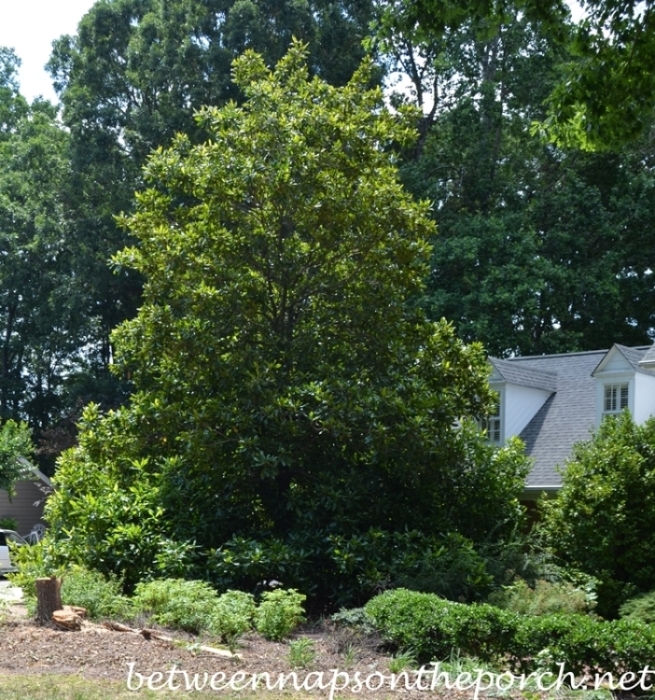 Let's take a little ride in my time machine. The year is 1989 and we are house hunting or "trying out houses" as Chip who was 6 at the time, liked to call it. We brought a video recorder with us on this second trip back to see the house. In this screen shot from an ancient VHS tape, here's how Mrs. Magnolia looked 24 years ago. Amazing what 24 years can do! She's even been through two ice storms that took her top right off, but she always comes back and grows a brand new one.
I was so excited about having a magnolia in the front yard and all the decorating opportunities those big beautiful leaves and blossoms were going to provide, I actually put a couple of tree fertilizer stakes in the ground around the base to encourage her to grow. HA! Be careful what you wish for!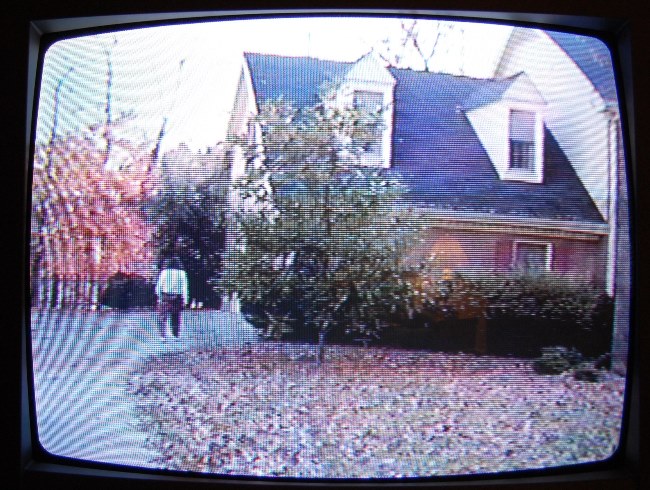 Grow she did! After a few years, Mrs. Magnolia took over the straight, concrete walkway that ran along in front of the house.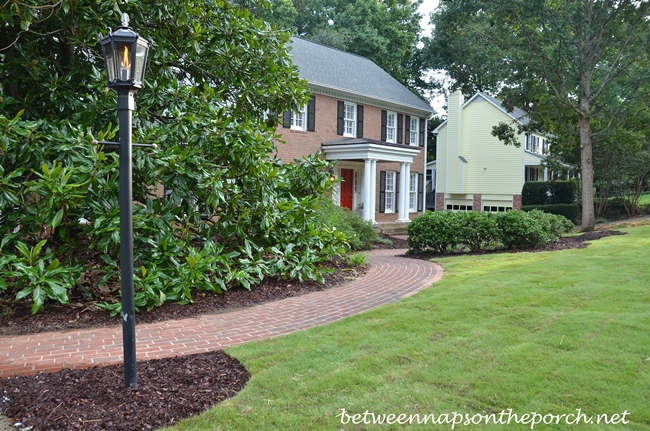 I didn't really mind because it gave me the excuse I needed to have a curving brick walkway installed on the other side.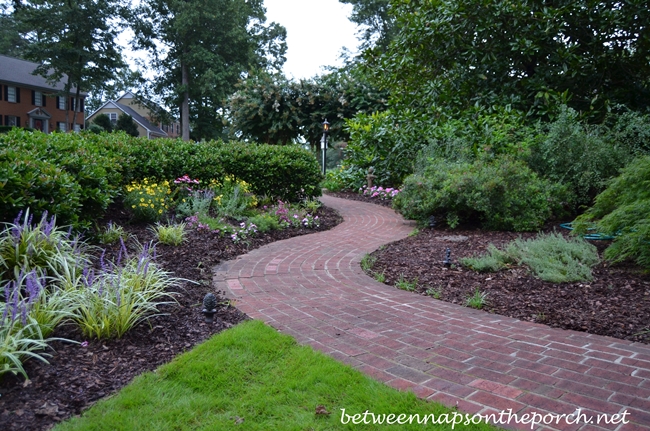 I gave Mrs. Magnolia a pretty wide berth when I mapped out the design with a garden hose, but over the years she has caught up to the walkway, again. I refuse to cut her down so I just gently and selectively prune her as needed. She's in need of an overall pruning so I'll be searching for a good arborist for that job.
Front Porch Love
I've always loved pouring through decorating magazines. One day I spied this porch in Southern Accents–I miss that magazine. The home below is part of Gainesway Farm in Lexington, Kentucky. I fell hard for this porch. I tore the article out and saved it for many, many years, dreaming and hoping one day I could add it to the front of my home.
Many years later the pediment over my front door began to have problems. It developed a hole on one end that grew quickly. It was a beautiful pediment so I resisted removing it for a long time but eventually I decided it had to go. The year was 2007 and I was in the process of adding a screened-in porch onto the back of my home. Since I was deep in porch mode, I decided this was the time to add a front porch, too. The existing stoop was too small for the porch I wanted so it was removed.
A new brick stoop was built. Hey, there are the concrete urns I just replaced. They are on either side of a bench now in another area of the yard.
My porch contractor did a great job copying the design of the Gainesway Farms Porch.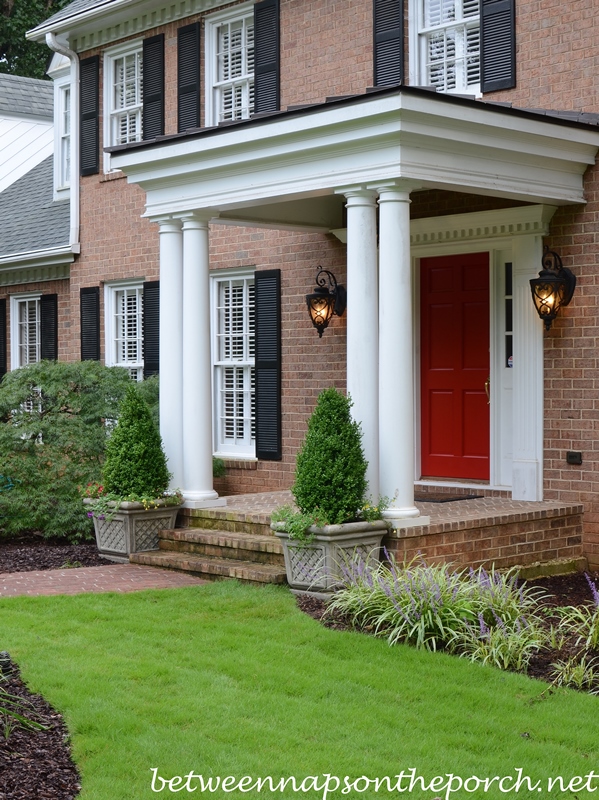 But when the porch was being built, I realized we had a big problem. The new porch no longer connected to the curved front walkway as it should. Drat! Always something, right?
I asked the brick mason who was building the porch stoop how we could fix it. I don't remember now what he suggested but I remember it greatly increased the cost of the porch. It just wasn't in the budget at the time.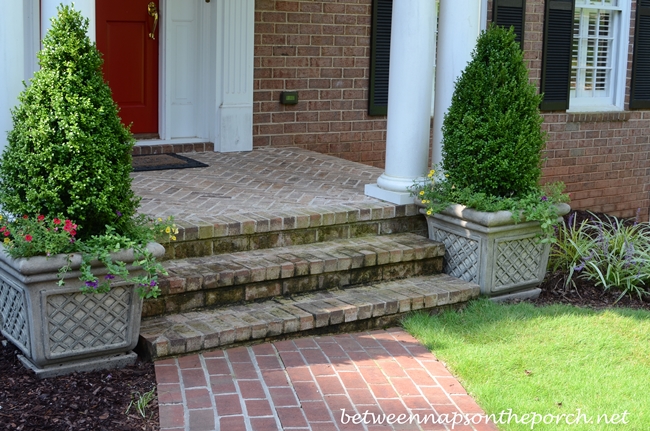 Over the years I've lived with it but I have to tell you, it's been driving me crazy! For someone who loves and craves symmetry like I do, this is like nails on a chalkboard. With all the recent yard renovations, it's time to fix this once and for all.
I have a brick/concrete company coming out Thursday to talk about options for this area and for the area underneath the deck in back. I'm thinking the last few feet of the walkway will need to be broken up and a new design that flares out will need to go back. I hope the guys coming out have some creative, beautiful design ideas because if they don't, I'll have to search elsewhere. In the meantime, I've been looking for some ideas online to show them.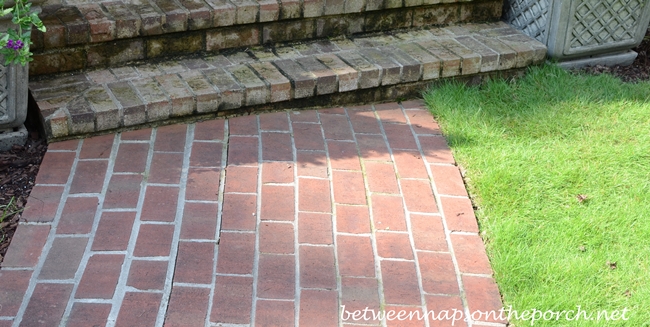 What do you think about this walkway? Notice how it flares out to connect to the patio area.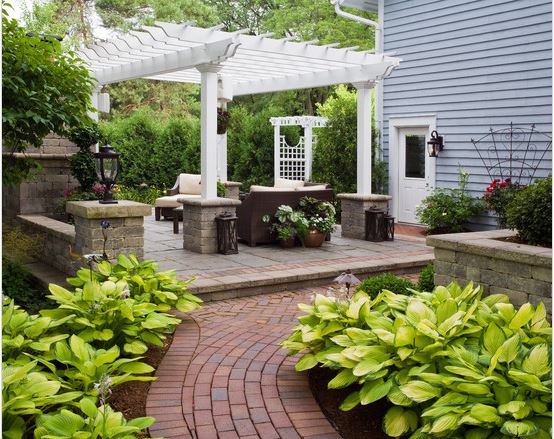 Source for photo above is London Painting Group
Another example of a brick walkway that flares out.
Source Unknown
And another….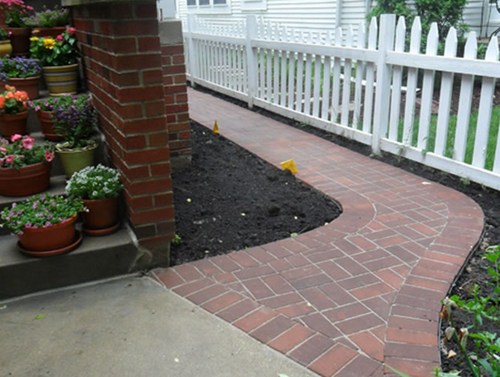 Apparently, designs can get pretty creative. If you come across any brick walkway pics you think I should consider, please share them with a link in the comments. I will definitely check them out!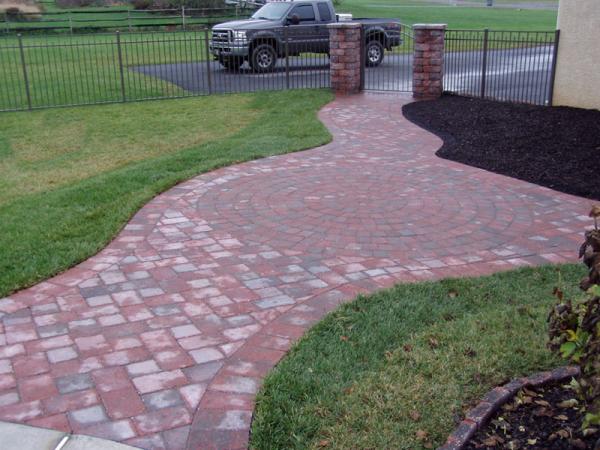 Source Unknown
While they are out here tomorrow, I think I'll ask if bricks can be added horizontally along the edges of my existing walkway like this one below. I have a feeling it will either be impossible or will cost too much, but it never hurts to ask.
In the meantime, I just purchased a pressure washer so I can clean the mossy stuff off the upright (riser) part of the steps…not to mention a few other places that need it. Are you dealing with moss or mildew on your porch with all this crazy rain?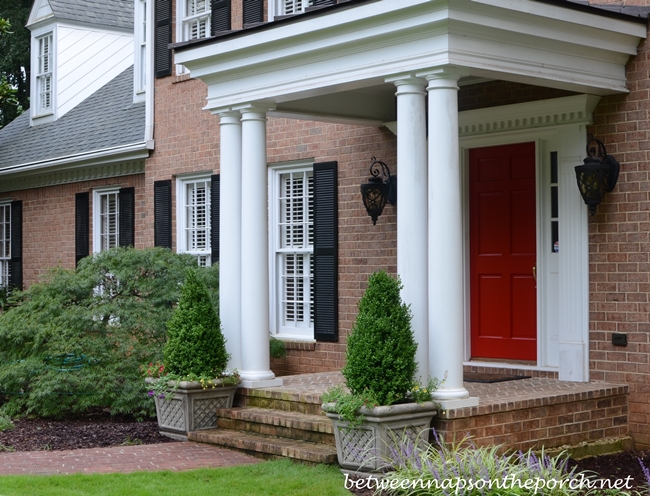 *If a post is sponsored or a product was provided at no charge, it will be stated in post. Some links may be affiliate links and as an Amazon Associate, I may earn from qualifying purchases. *