Welcome to the 316th Metamorphosis Monday!
Thanks for sharing all the wonderful stories about your Barbour jackets in the comments on Friday's post. I had so much fun reading those. If there's one thing I've learned during the process of researching and finally buying a Barbour coat is that Barbour coat owners love and are passionate about their coats. They talk about them like you would a trusted and well-loved friend.
I wore mine out for a casual dinner on Valentine's night and again today (Sunday) for a mid-afternoon Starbucks/Whole Foods run. I noticed today, it's one of the few coats I have ever actually felt comfortable in while driving. Normally coats are just too bulky and uncomfortable to wear while driving.
Okay, I have a long-awaited (at least for me) Before and After for you today.
A Long-Awaited Before And After
Back around the middle of November, not long after I purchased a tartan duvet, HERE, I shared this picture below of my winter bedding. The bedding I've been using on my master bed for many, many years is super summery. I still love it, but I've always dreamed of having two sets of bedding, one for spring/summer to use April through September and a second set of bedding for the fall/winter months, October through March.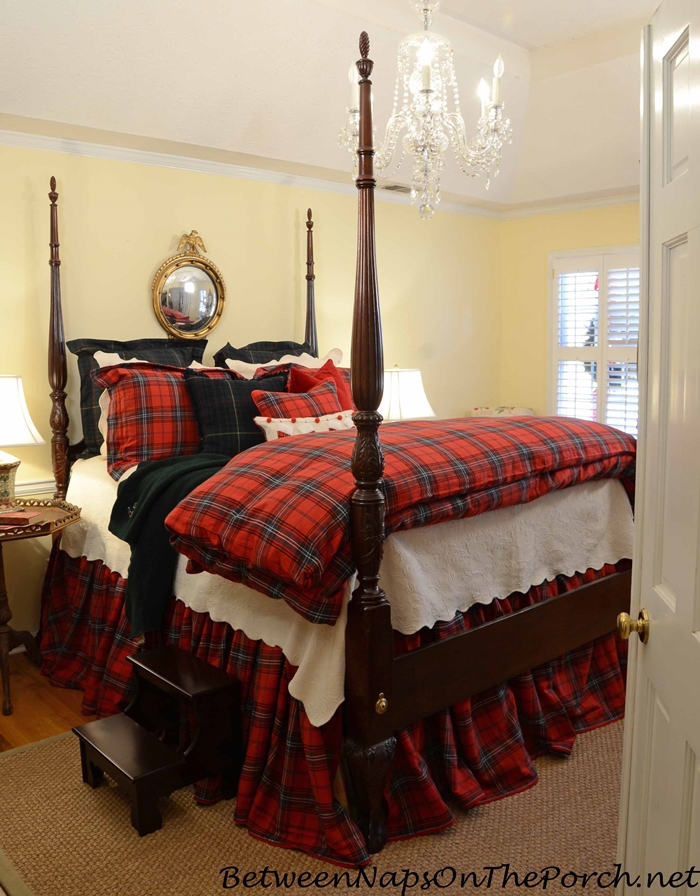 When I purchased the plaid duvet, I was hoping to find the exact same fabric so I could have a dust ruffle made. My bed has a 25-inch drop, so anytime I purchase bedding, I always need to have the bed skirt custom-made. Since I wasn't able to find the red plaid fabric anywhere, I did the next best thing and purchased six large tablecloths in the same tartan fabric.
The seamstress I chose to make the bed skirt was, unfortunately, all booked up until after Christmas. So, just for fun, I opened up a few of the tablecloths and tucked them in under the mattress to simulate how the bed would look with its bed skirt in place. The photo below (which is the same as the one above) was the photo I shared with you back in November in this post: Dressing the Bed in Tartan, Ralph Lauren Inspired.
Of course, I fessed up in that post that the bed skirt was really just, pretend. If you look closely, it's easy to see the bed skirt looks suspiciously like tablecloths because of the narrow, ribbon-like trim running along the edge. Yep, totally faking it, but hey, it worked to give us an idea how it was gonna look! 🙂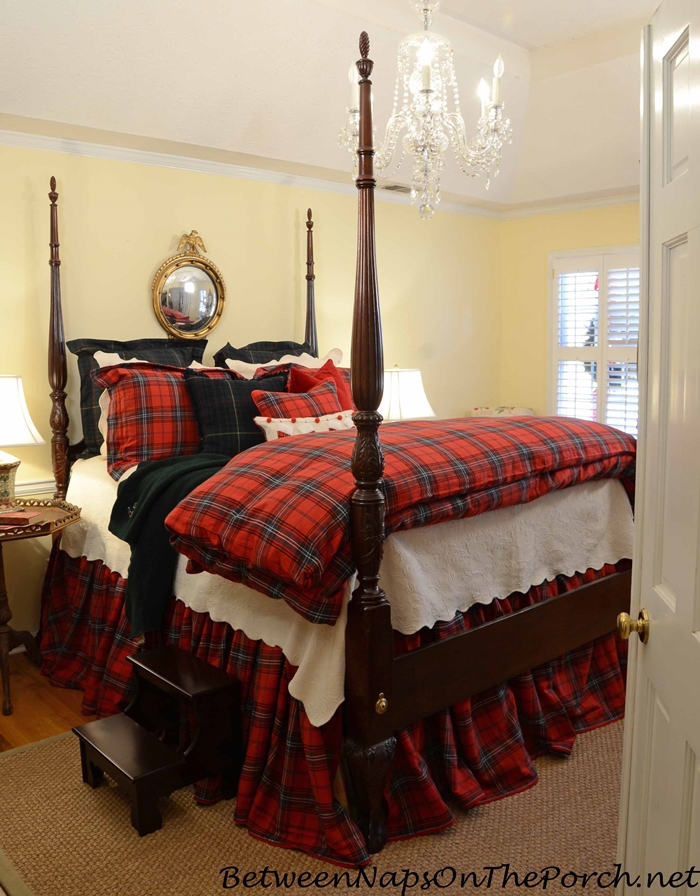 Measurements were taken in mid-January and on Sunday (yesterday) the bedskirt was at last ready. So, what do you think? Could you get cozy here with a good book on a cold winter's night? There are plenty of those happening here in Georgia this week! Brrrr!
Remember the LOVE pillow I shared in a previous post? (Love pillow is available here: Love Pillow.)
I'm using it on the bed for the month of February…an ode to Valentine's Day.
I didn't do a very good job of placing the pillows on the bed today before taking these pictures, but hopefully, you can get an idea of how it looks with the real bed skirt in place.
I still need to work on a solution for my floppy flange on the red tartan pillows. The flange is so wide, it refuses to stand up.
Since the bedskirt was just delivered on Sunday, I think I may leave the winter bedding in place through the month of April instead of swapping it out for my summer bedding on April 1st as I had planned. That will give me a little more time to enjoy it.
Update for Fall/Winter 2015: This bedding is back again this year. You'll find it here: Tartan Bedding
Have you ever used tablecloths or sheets to make something when the fabric was nowhere to be found?
Looking forward to all the wonderful Before and Afters for this Met Monday!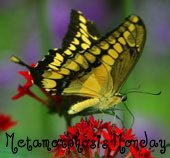 If you are participating in Metamorphosis Monday, you will need to link up the "permalink" to your MM post and not your general blog address. To get your permalink, click on your post name, then just copy and paste the address that shows up in the address bar at the top of your blog, into the "url" box for InLinkz.
In order to link up, you'll need to include a link in your MM post back to the party so the other participants will have an opportunity to receive visits from your wonderful blog readers.
Please observe these few rules:
Only link up Before and After posts that are home, gardening, crafting, painting, sewing, cooking, DIY related.
Do not link up if you're doing so to promote a website or product.
Do not link up a post that was just linked last week since a lot of readers will have already seen that post.
Please do not link up more than 2 or 3 Before and Afters each week. Thanks!
*If a post is sponsored or a product was provided at no charge, it will be stated in post. Some links may be affiliate links and as an Amazon Associate, I may earn from qualifying purchases. *