It's Crazy Town here today! So much going on but I love it. The painter has been painting–more on that in a sec, the sod guy has been here measuring and the stump removal guy is due any moment. I'm loving all this activity because it means progress! Progress, at last! I'm finally getting some things done I had hoped to get done earlier in the spring before Mr. Max got sick. Keeping busy is good for me right now.
In addition to everything that's going on today, I decided to take advantage of this stunningly-beautiful, sunny day and wash all the dishes stored inside the hutch here on the porch.
I usually pull them all out and wash them each spring so they are ready for summer dining. I didn't get to it earlier in the spring, so today was the day.
So the kitchen looks like this. Everything is washed, just waiting to be put back inside the hutch.
Do you remember Jean Claude? He's just visible at the edge of the picture.
He was our waiter when we dined in that wonderful French cafe for this tablescape Thursday: Breakfast in a French Cafe
Well, I'm not naming any names but someone…cough…Nancy…cough…Chip…cough…turned him into a reindeer when they were here at Christmastime. I didn't discover it until everyone was gone. 🙂 Each time I pass by he makes me laugh. Do you think he minds having antlers? He kind of looks like he's rolling his eyes, doesn't he? The indignity of it all!
As if cleaning out the hutch and washing a gazillion dishes wasn't enough for one day, the front door is being painted today. It needed a new coat of paint and not wanting a lot of brush strokes showing, I'm having a professional painter spray it.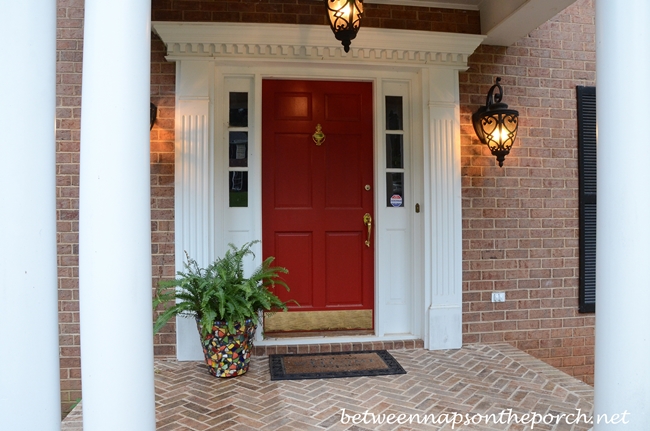 The brass plate needed to be removed for painting and I've decided to leave it off this time. I still love the look of polished brass and plan to keep the Baldwin Brass door knob, but since the door is just a standard height door and original to this 30 year old house, I think the plate shortens the look of the door. I had just watered the Kimberly Queen Fern, can you tell? I love these Kimberly Queen Ferns because they are almost shed-free! You can read a bit more about them in this past post: Kimberly Queen Fern: The Shed-Free Fern
Before the painter arrived today, I unscrewed all the screws and started to remove the plate. Apparently, it has melded with the paint. Yikes. So I stopped and left the removal to the professional.
He sanded and prepped the door for painting. Currently it's in the garage drying after its first coat. We're not sure if it will need a second coat or not.
While the door is in the garage and there's a large piece of plastic over the front door, it gave me a chance to sort of see how bright the entry would be if I ever went with a door that had a large glassed area. I think I kind of like it!
I'm thinking…maybe a door like this. I LOVE this look. Imagine it in red! See, this is how these things start!
If I did add a door with glass panes, I would keep the sidelights painted white as they are now. Wonder how much a door like this costs? I'd want a wood door with real divided light panes, not plastic. I wonder if they are as secure as a solid door? Seems like it would be pretty easy to break out the window and get inside, doesn't it? Sure do love the look, though.
Anyone have a door like this? Do you love it? Update: On closer inspection, I wonder if this door is a storm door. The handle doesn't look like the type of handle you would see on an exterior door, although they do make exterior doors in this style.
(Image below is from Surrey Painting Group here: Surrey Painting Group.)
Update: Here's an even better example of this style door. I like the look of this door even more! Think the mailman would get out of his truck and put my mail through the slot each day? Uh, that would be a NO! 😉
I had planned to share the changes in the front yard but this post is getting a bit long and I really want to put the front yard updates in a post of their own. I'll be sure to post a yard update tomorrow morning so you can see the changes, so far. Let's just say the house is a whole lot brighter inside and I'm loving that!
My sod guy was here today. He was finalizing where exactly the sod needs to go and how much will be needed. Looks like it will take 11 1/2 pallets! That's a lot of sod, folks! I'm hoping to get the sod in before the end of the month…that's the plan.
Be back tomorrow with some more "after" pics.
I hinted at what was going on here today on Facebook and asked what you guys were doing. Wow! Lots and lots of renovations/projects are in the works! You guys have been busy!
Are you working on any home renovations right now? How about any landscaping projects?
*If a post is sponsored or a product was provided at no charge, it will be stated in post. Some links may be affiliate links and as an Amazon Associate, I may earn from qualifying purchases. *