Happy Holidays to you, dear Friends! We're out on the porch today and I know it's a little chilly. Don't worry though, I have just the thing to warm us up. Step right over here and belly up to the bar–the Hot Cocoa Bar, that is. 🙂
I've been envisioning a Hot Cocoa Bar for years out here on the porch, but I could never quite gather together all the bits and pieces I needed to create it, most especially the sign I wanted to place above it.
I first saw this adorable sign on Jennifer's blog, Celebrating Everyday Life. Oh, my goodness, it was infatuation at first sight! Jennifer told me she found it in Marshalls and though I visited just about every Marshalls in town, no Hot Cocoa signs were to be found.
I ran across it again when Debbie posted her delightful hot cocoa bar on her blog, Ribbonwood Cottage. Both Jennifer and Debbie have created wonderful hot cocoa bars so be sure and check them both out!
The following year when winter rolled around again, I set back out on my Hot Cocoa sign quest just in case a miracle had happened and Marshalls had gotten it back in again.
Nope, no miracles. It was beginning to look like if I wanted a Hot Cocoa Bar with a sign above it, I was going to have to make my own. So, I finally did!
If you would like a Hot Cocoa sign for your home or porch, check back in the next day or two. I'll be posting a tutorial soon sharing all the details.
I changed the wording on mine just a little. Instead of, Come on in and warm up!, I went with a phrase from the song, Let It Snow, a favorite of mine this time of year.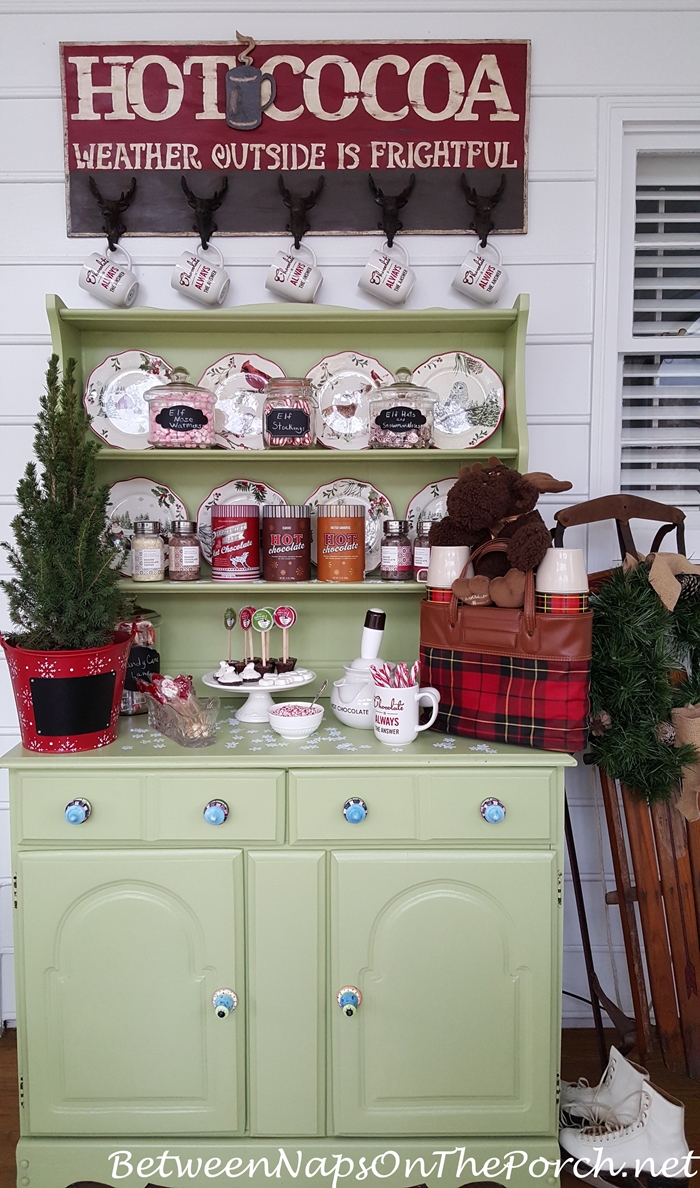 I've given my Hot Cocoa Bar a Christmas vibe since Christmas is just a few days away, but this is something you could set up anytime during the winter for your family or for entertaining.
When I was pulling all the things together that I needed for a hot cocoa station, I headed over to Dollar Tree hoping I'd find some mugs that would work well with my sign. I couldn't believe my luck when I spotted six mugs bearing the phrase: CHOCOLATE IS ALWAYS THE ANSWER. Perfect!
For your hot cocoa enjoyment, we have lots of yummy toppings. 🙂
You can add a few Elf Nose Warmers or stir your hot cocoa with Elf Stockings. Elf Hats and Snowman Noses are always quite tasty in hot cocoa, too. 😉
What's your favorite flavor of hot chocolate? We have Peppermint Bark, Salted Caramel and Classic hot chocolate and rumor has it there's a new flavor out called, Gingerbread! Yum!
Shaved chocolate toppers include Dark, White, Milk and Peppermint chocolate. Sprinkle crushed peppermint candy into your hot cocoa for a little extra peppermint flavor.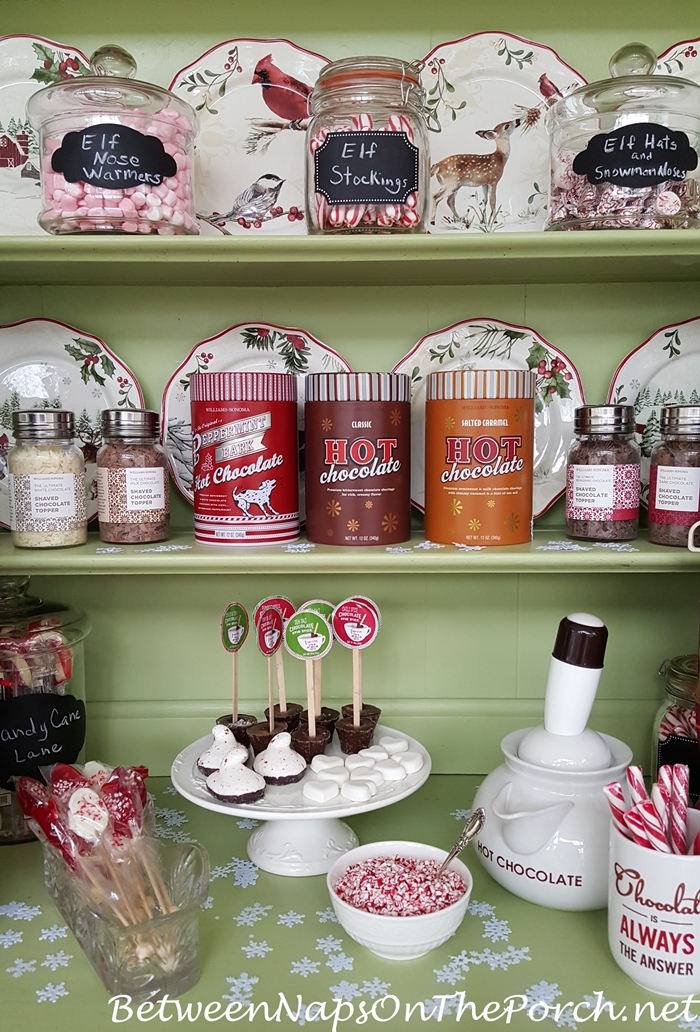 A glass flatware caddy normally used for parties worked great to hold the white peppermint chocolate and red candy stirrers.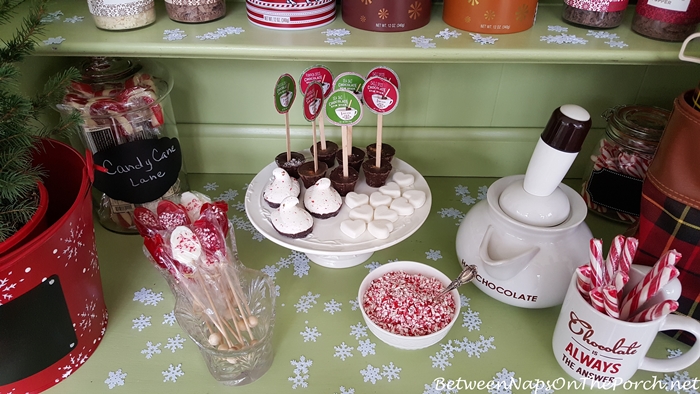 Since there's no such thing as too much chocolate, stir your hot cocoa with a Sea Salt chocolate stir stick. Other stir-stick-flavors include Chili Spice, Cookies & Cream and Pumpkin Spice.
I came across Mr. Chocolate Moose in Hobby Lobby while shopping for cup hooks for the Hot Cocoa sign. He actually smells like chocolate! I don't know how they did it but he smells just like chocolate.
One of the Hobby Lobby employees saw me cuddling/smelling Mr. Moose and said when they first arrived and they opened up the big box full of these chocolate moose(s), the smell made them want to dive right into the box. Ha!
He definitely had to come home with me since I chose moose hooks for the sign. You may recognize the plaid thermos set he's sitting on from this post last Christmas: Decorate the Porch for Christmas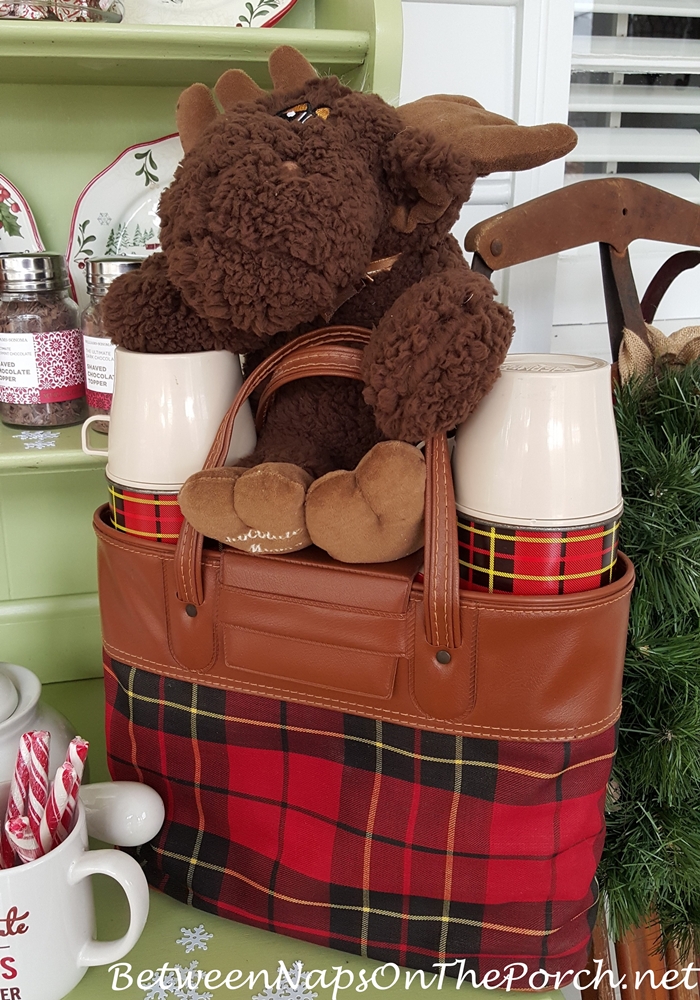 Embroidered on the bottom of his fuzzy little foot are the words, Chocolate Moose.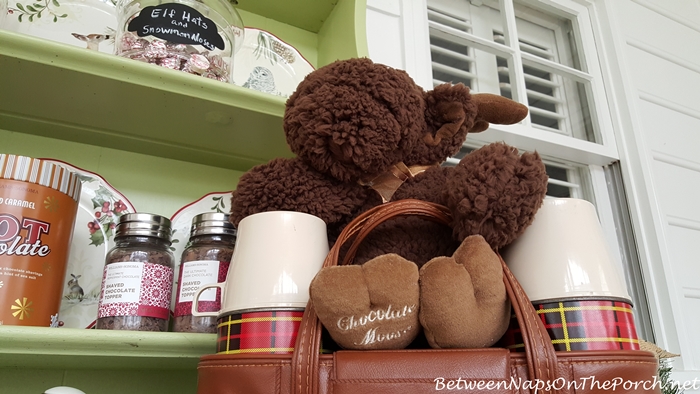 Oh, the weather outside is frightful, but the fire is so delightful. And since we've no place to go, let it now, let it snow, let it snow!
Tutorial coming soon for making this Hot Cocoa sign.
Update: Tutorial for making sign can be found here: DIY Hot Cocoa Sign for a Hot Chocolate Bar: A Tutorial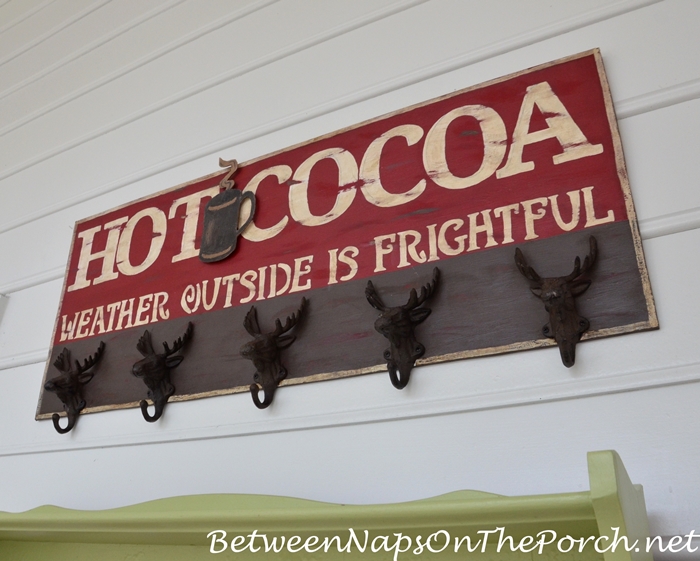 *If a post is sponsored or a product was provided at no charge, it will be stated in post. Some links may be affiliate links and as an Amazon Associate, I may earn from qualifying purchases. *