Welcome to the 238th Metamorphosis Monday!
Hope you had a wonderful weekend! I did a little more planting and if the rain will let up, I'm headed to a nursery today in search of plants for the large planters I purchased recently for the porch. I'm in a bit of a conundrum, though. Two of the nurseries I have talked to told me they will be getting large shipments in for fall, so I'm trying to decide: Do I wait to see what dwarf evergreen trees they get in or buy from the selection they have available now?
My fear is I'll go ahead and buy something now, since I'm about to bust to see the planters filled, then a month from now when they get all their stock in, I'll see something that would have been even better.
Actually, there is one more option, I can decide what dwarf trees/shrubs I want (which is kind of hard to do just looking at pictures) and have the nursery order them for me. Ummm, will let you know what I decide. Maybe I'll stumble across the perfect Dwarf Alberta Spruce or something just right for the planters. Keep your fingers crossed for me.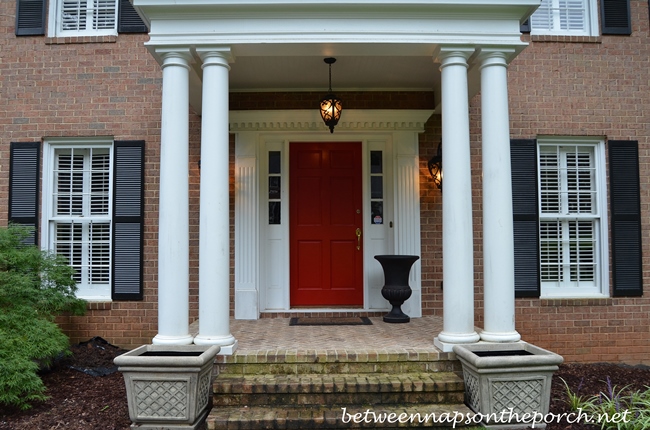 So while I look for the "perfect" plant for the big lattice pots, I've been busy creating a small sun-loving perennial garden in this area to the left of the walkway. This pic was taken when the yard was being graded and prepared for Zeon Zoysia sod. See that blank canvas just waiting for flowers there on the left?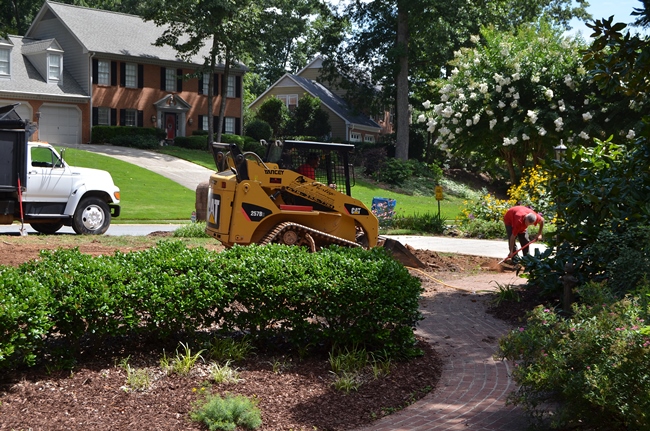 Here's how it looks today as you come up the walkway. This is a pretty view since it captures the new perennial garden on the left, the little annual garden filled with pink and lavender vinca on the right and the gas lantern glowing at the very end.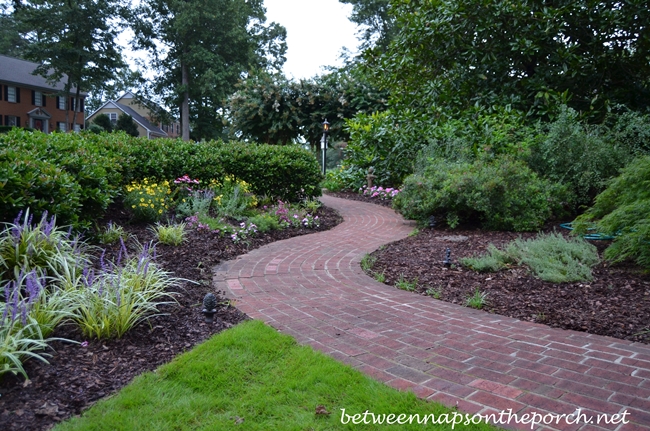 Let's check out the new garden!
The view coming from the other direction…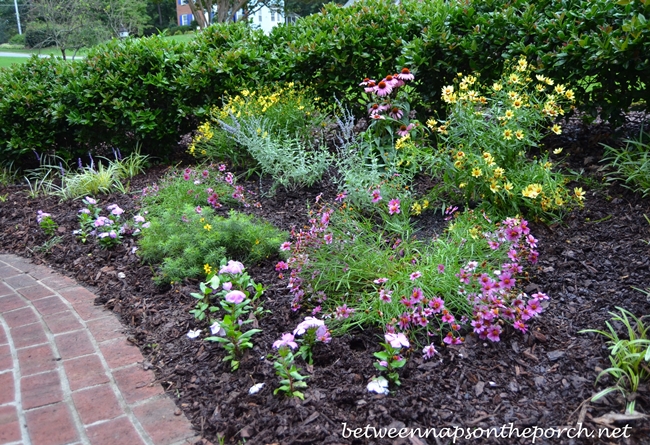 Some of the plants have been beaten down by the rain we've had all weekend. We could use some sun! This is one of the rainiest summers I've ever known in Georgia. It's not stopping me from planting, though. I just dodge the raindrops and plant in between them. 😉
Notice the little plant in the center, right near the walkway. That's Coreopsis Moonbeam and I transplanted it from my large perennial garden that grows alongside the driveway. It was gradually disappearing, being eaten up by more aggressive plants, so I moved some here in an attempt to keep it from vanishing all together. You'll see a close-up of it in a sec.
The Heaven's Gate Coreopsis (don't you love that name) on the left is really sprawled out due to the constant rain. Pic below shows the left side of the bed.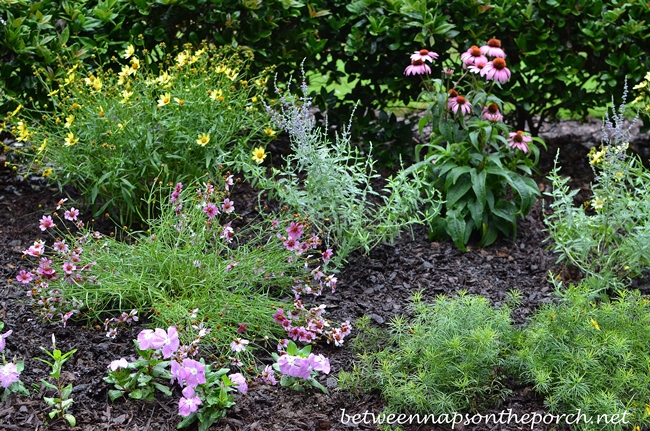 Here's a view of the right side. These are my fave colors for the garden: pinks, blues, lavenders and yellows. White would be pretty here, too. I added a few of the pink vinca left over from when I created a little annual garden located a bit further up the walkway.
This the Coreopsis Moonbeam. It's been flowering for a few weeks now, so it's almost done. It was really pretty when it was covered in sweet yellow flowers.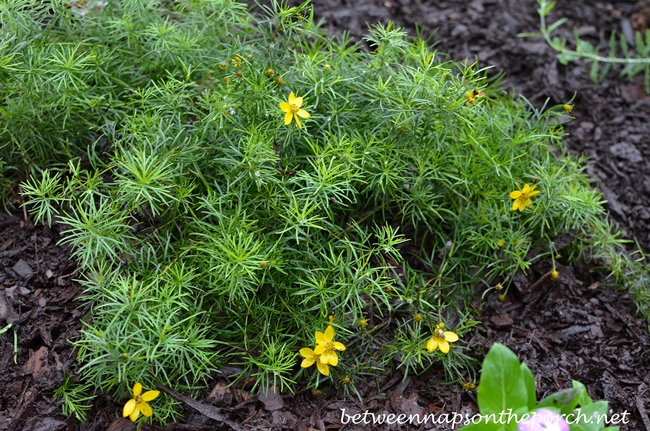 I have two Heaven's Gate Coreopsis in this small perennial garden. Hope they stand back up if/when the rain lets up. Some of the sod in my backyard is rotting/dying from all the rain!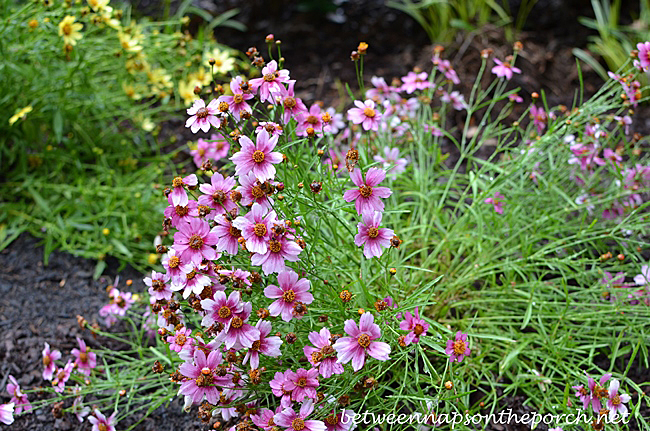 This tall yellow plant is another tickseed. I couldn't find a label on it so I'm not sure of the name. I'll check for a name next time I'm in the store and add it to this post later.
I also planted one purple coneflower in the garden…just love these!
Oh, almost forgot the Russian Sage. There are two of these in this little garden. The sweetest thing happened a few minutes after I finished putting all the plants in the ground. I went inside to get something to drink and while I was sipping on my water, I glanced out one of the sidelights near the front door and there was a sweet hummingbird drinking from the Russian Sage! Did you know hummingbirds like Russian Sage? I did not!
I ran upstairs to grab my camera, hoping to get a picture for you but by the time I got back downstairs and got the zoom attached, he had left. I have to tell you, that just made my day. The only thing better than enjoying the flowers once you've planted them, is seeing the birds and bees benefit from the garden. I LOVE that! I was smiling the rest of the night!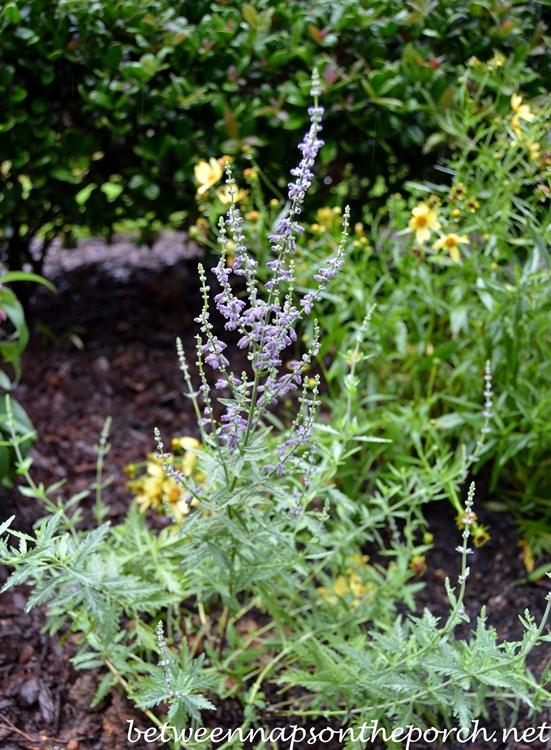 This little garden should be pretty next summer. The roots will have lots of growing time this fall and winter so hopefully the plants will be bigger come spring time. The beauty of perennials is as they grow and become nice and big, you can divide them up and start other beds or fill in other areas of your garden. Or, share them with a friend!
In another small open area just to the left of the perennial garden, I added three Penstemon Pensham, Amelia Jayne.
Planting perennials is super easy. Dig your hole about twice the width of the pot. Amend the soil with some rich top soil or some of the soil amendments you can purchase at the nursery. I used to use Nature's Helper for that but this weekend I used some top soil I already had on hand. Our red clay is just too heavy and plants will not do well if they are planted directly in it.
After amending the soil well, place your perennial into the hole where the top of the root ball is even with the ground. Fill the hole back in with your amended soil and tamp it down. Mulch around your plant to help it retain moisture, then give it a nice drink of water. When planting perennials, you can fertilize them with a starter fertilizer that's meant to help develop the roots. I rarely do that but it's not a bad idea.
Love the color and shape of the flowers on this Amelia Jayne. They are so pretty behind the variegated liriope with it's purple flowers.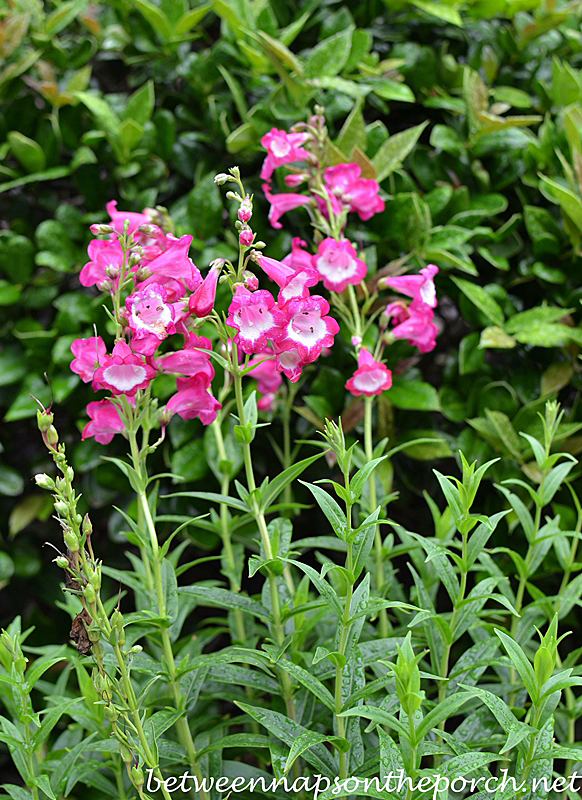 Are you drowning in rain, too? Say a little prayer for my sod, hope it makes it through all this rain!
Will you be planting any perennials this fall? Fall is the perfect time if you're in the mood to start a perennial garden!
Looking forward to all the Before and Afters for this Met Monday!
Metamorphosis Monday: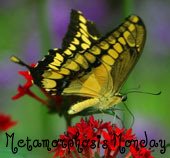 Update: Recently, I made a change to how the links will display for Metamorphosis Monday. They will display randomly each time you visit BNOTP so all participants will have a chance to have their link displayed near the top of the group of links. You'll easily be able to tell which links you've already visited since those links will change color once clicked.
If you are participating in Metamorphosis Monday you will need to link up the "permalink" to your MM post and not your general blog address. To get your permalink, click on your post name, then just copy and paste the address that shows up in the address bar at the top of your blog, into the "url" box for InLinkz.
In order to link up, you'll need to include a link in your MM post back to the party so the other participants will have an opportunity to receive visits from your wonderful blog readers.
Please observe these few rules:
Only link up Before and After posts that are home, gardening, crafting, painting, sewing, cooking, DIY related.
Do not link up if you're doing so to promote a website or product.
Do not link up a post that was just linked last week since a lot of readers will have already seen that post.
Do not type in ALL CAPS. It spreads the links waaaay out.




Welcome! Thanks for coming to the party!
*If a post is sponsored or a product was provided at no charge, it will be stated in post. Some links may be affiliate links and as an Amazon Associate, I may earn from qualifying purchases. *