Welcome to the 318th Metamorphosis Monday!
At some point every summer, I will make a Peach Bourbon Trifle to either take to a party or for one I'm hosting here on the porch. I found this delicious recipe in an old Southern Living magazine many years ago.
When I make the trifle, I always use Blanton's bourbon. You can see it in the background of this photo taken when I posted the recipe a few years back here: Peach Bourbon Trifle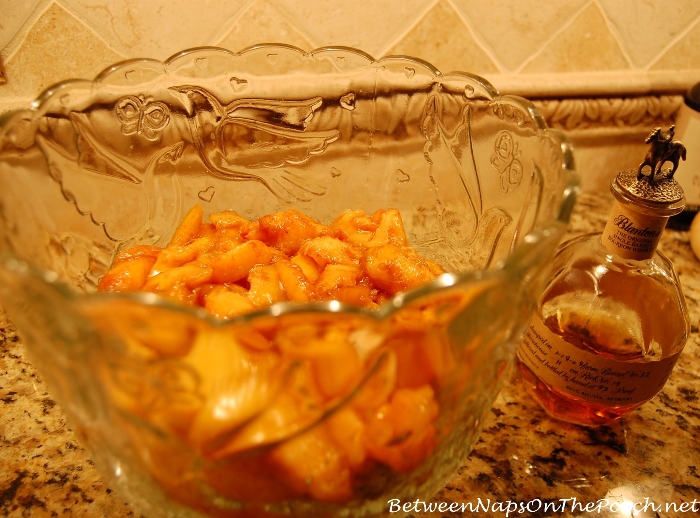 Blanton's comes in the cutest bottle. The bottle is a faceted shape and it's topped off with a cork sporting a horse and jockey in honor of the Kentucky Derby that's held in the state where Blanton's is made.
There are 8 different stopper designs showing the jockeys and horses in different strides representing the different stages of the race. Each has a little letter on it and all together they spell out the name, Blanton's. I have to confess, one of the main reasons I buy this bourbon for my trifle instead of another brand is so I can collect the cute faceted bottles and horses. It's also very good bourbon.
Apparently, there are other folks who are fans of the design of the bottle. Recently, I came across two pictures online of how folks have repurposed the Blanton's bottles and stoppers. The horse and jockey do make a cute finial for the top of a lamp, don't they? This would be a fun lamp for a wood-paneled study or library, or in a home bar area.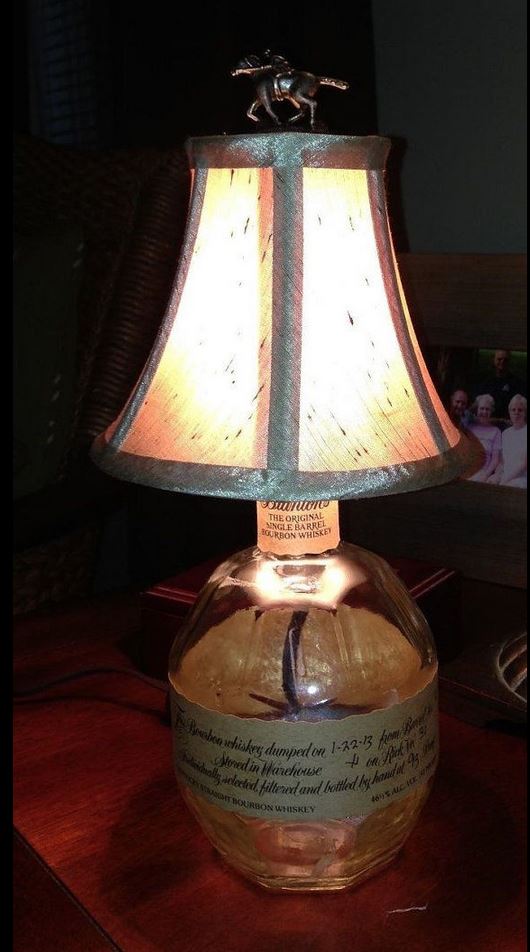 Loved this idea for using the bottles to store spices. It kind of looks like a horse race going on atop the stove. Seeing the way folks have repurposed Blanton's bottles made me think about how I've repurposed bottles and jars in the past. I've gathered several examples together for this week's Met Monday.
I've been collecting tall clear bottles for a while. I have a tablescape in mind that I'm going to do if I ever get enough. In the meantime, they came in handy for this table setting when I had just a few iris in bloom. It wasn't enough for a big bouquet so I scattered them down the length of the table displayed in clear, tall bottles. (View this table setting here: Whimsical Spring Table Setting With Floral Centerpiece)
When I was working on collecting pretty bottles for my bottle tree, I purchased these drinks from Trader Joe's. The tallest bottle in this group below…
…created a fun centerpiece for this tablescape: Easy Centerpiece for a Spring Table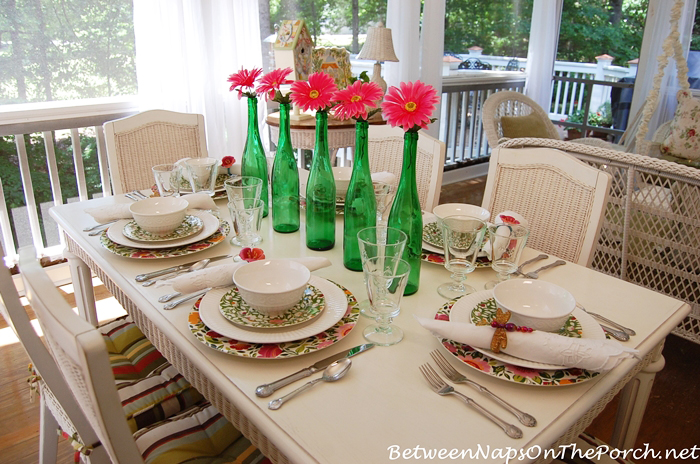 I can't wait to see green leaves on the trees again out back. Just 18 days 'til spring…it's coming!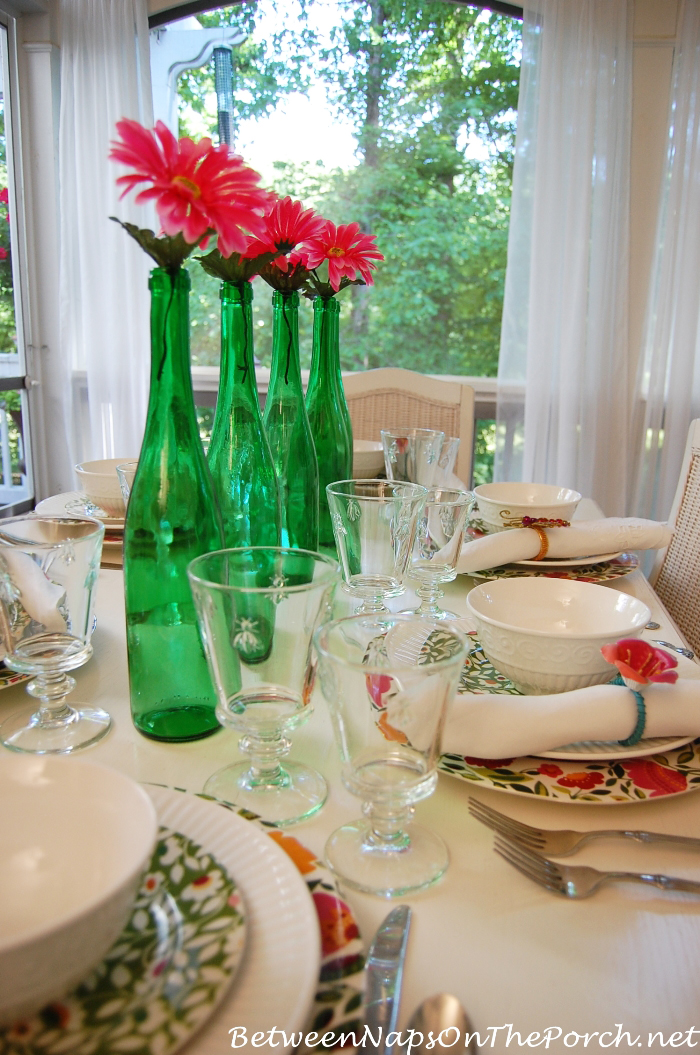 One of the early table settings I posted on the blog was this blue and white table setting. The blue "vases" in this table setting were bottles I saved after purchasing a coffee drink that came in them. They were too pretty to toss. Unfortunately, I think the drink was discontinued…it was only around a short while. (Tablescaping in Blue and White)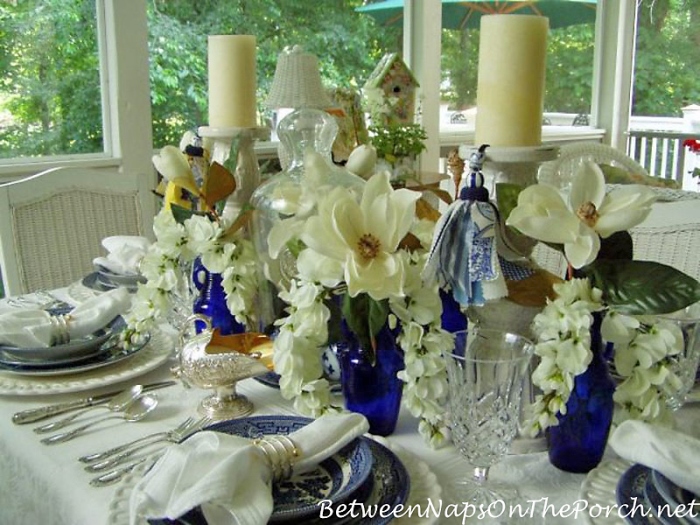 I've saved pickle jars for creating Halloween lanterns with scary bat silhouettes. Make a Frosted Candlelit Lantern For Halloween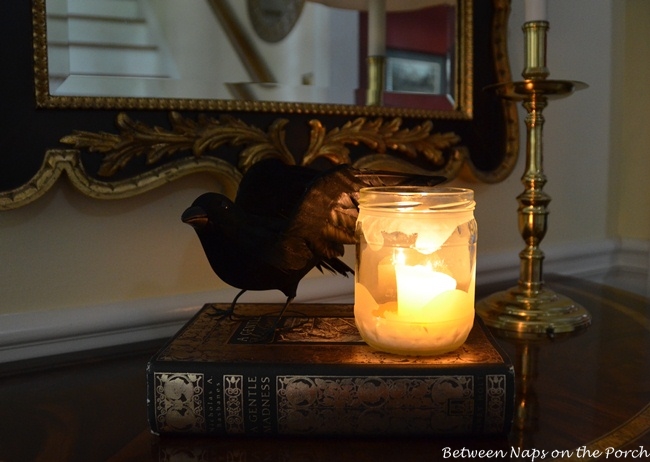 Of course, there's always the good old mason jar crafts. The big jars make great lanterns to light a path for Christmas. Make a Christmas Lantern
They also work well for summer lanterns. Make a Lantern for Summer Parties
They even work as drinking glasses for a casual, 4th of July celebration with patriotic punch. Dining on the Porch for the 4th of July
The recipe for the punch can be found here: 4th of July Patriotic Punch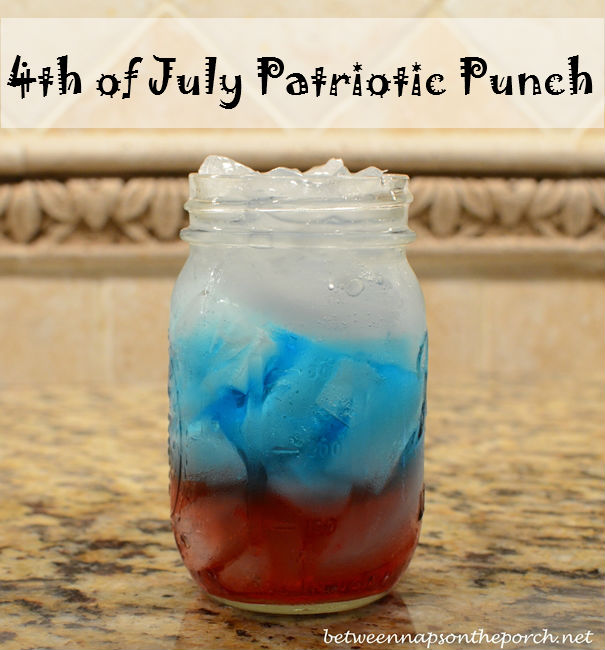 Finally, a colorful bottle tree is always a good excuse to save and repurpose old bottles. Bottle Tree Dreams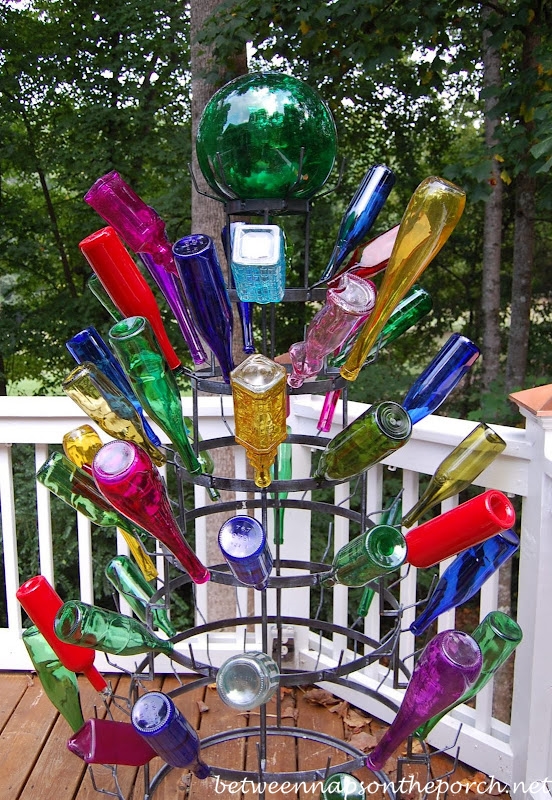 Update on 07-28-16: I recently created an elegant centerpiece using clear bottles. View this tablescape in detail here: Romantic Candelight Dinner on the Porch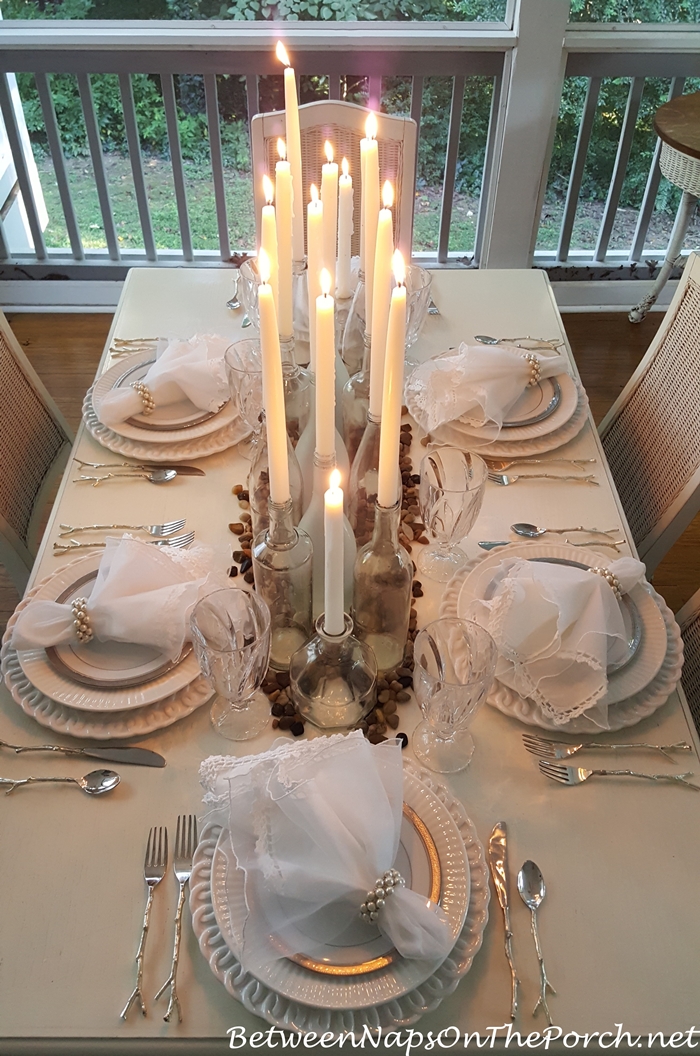 Do you repurpose old bottles to make lamps, creative table centerpieces or to hold spices? What are some ways you've repurposed them in your home?
Looking forward to all the wonderful Before and Afters for this Met Monday!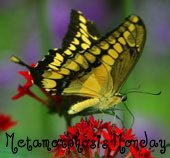 If you are participating in Metamorphosis Monday, you will need to link up the "permalink" to your MM post and not your general blog address. To get your permalink, click on your post name, then just copy and paste the address that shows up in the address bar at the top of your blog, into the "url" box for InLinkz.
In order to link up, you'll need to include a link in your MM post back to the party so the other participants will have an opportunity to receive visits from your wonderful blog readers.
Please observe these few rules:
Only link up Before and After posts that are home, gardening, crafting, painting, sewing, cooking, DIY related.
Do not link up if you're doing so to promote a website or product.
Do not link up a post that was just linked last week since a lot of readers will have already seen that post.
Please do not link up more than 2 or 3 Before and Afters each week. Thanks!
*If a post is sponsored or a product was provided at no charge, it will be stated in post. Some links may be affiliate links and as an Amazon Associate, I may earn from qualifying purchases. *