Welcome to the 403rd Metamorphosis Monday!
A while back I shared a great idea Terry and her hubby Mark had come up with for their deck that would allow more time spent out doors. Sometimes the summer heat can just be too much and forces us to abandon our decks and patios and head inside. But Terry and Mark found a way around that by setting up a screened, tent-like structure on their deck . It created a great spot to enjoy summer days out of the hot summer sun. See that previous post here: Screen In Your Deck Easily & Inexpensively.)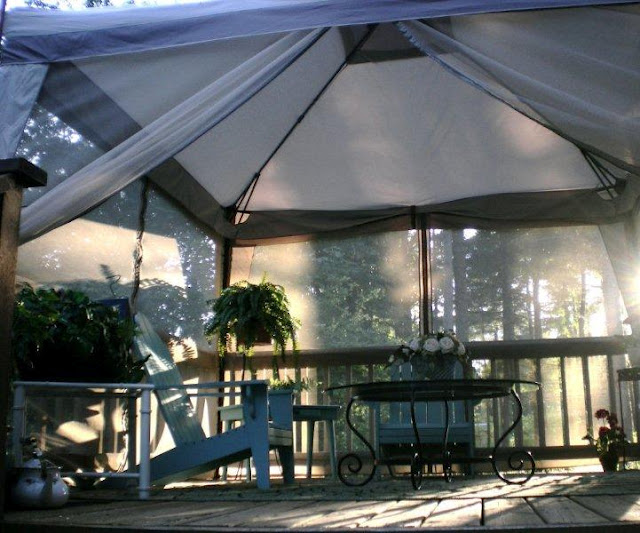 This past summer, Terry and Mark decided to make that outdoor room a permanent thing, a spot they could enjoy almost year around, no tent required. They decided to expand their deck and create a great spot for dining and relaxing.
Mark designed their new addition using a CAD program with lots of input from Terry on the design. Terry said that Mark did the majority of the work himself with some help from a friend. A crane helped with the heavy lifting.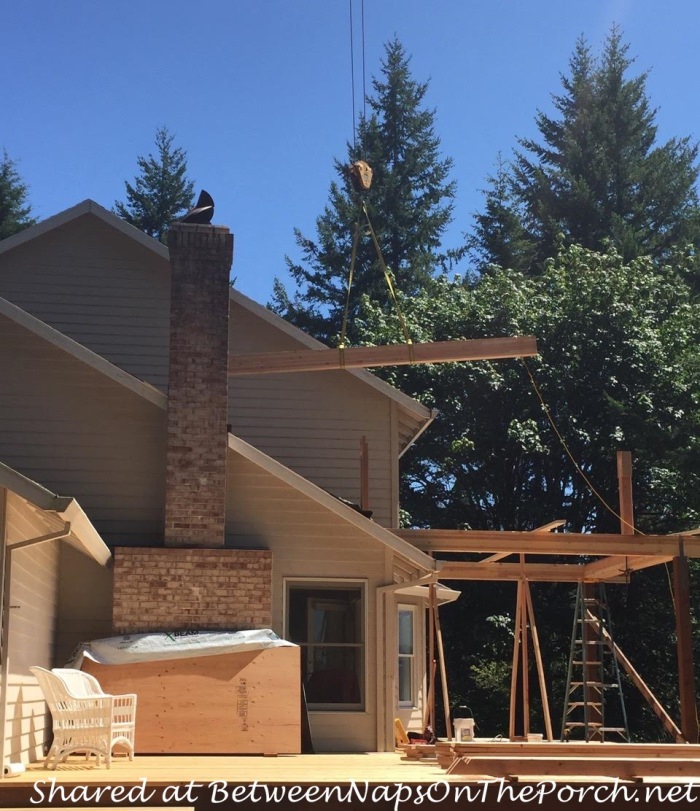 That's Mark there in the white shirt and look at that view! It's not hard to see why Terry and Mark were eager to expand their deck space for even more time spent outdoors. Let's take a look at the finished space!
There's a fabulous open deck for dining and enjoying those amazing views!
The table Terry and Mark chose is made from kiln-dried hardwood and is sealed to be moisture resistance. You can read more about it here: Outdoor Dining Table & Chairs.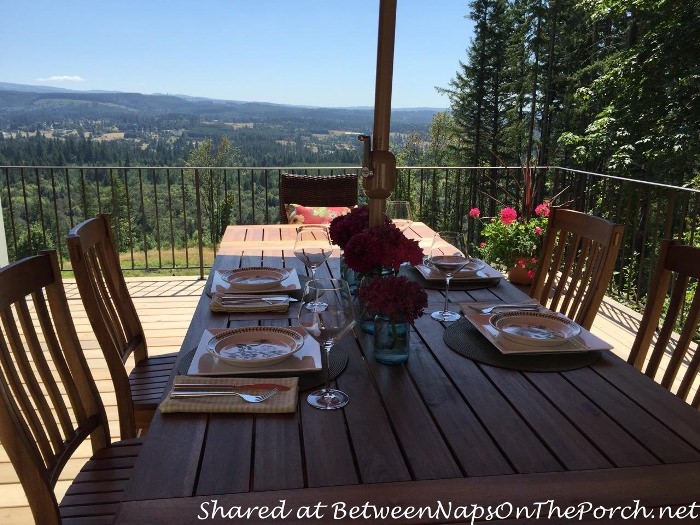 Love, love, love this dishware. I believe it's by Portmeirion, definitely one of my faves. (See more of this beautiful garden pattern here: Portmeirion Dinnerware)
Gone is the screened tent and in its place is a beautiful covered porch.
I asked Terry if mosquitoes were ever a problem. Here in the south where I live, they are a total menace starting in late spring and going all summer long. It's the price we have to pay for our relatively mild winters, I guess.
Terry said, "As for mosquitoes, we really don't have a problem with mosquitoes or any kind of bugs. It's funny, we had three waves of out-of-state guests' this summer and they all commented that we're bug free! We'd sit out there all day and into the evening bug free which we sort of take for granted I guess."
Terry said, "We had considered screening the porch in but decided not to so as not to hinder the view, also the lack of bugs. We did install a roll-down sun shade screen under the west eve because of the hot westerly setting sun for about 2 hours in summer. As it goes down behind the trees (peak summer) it can be pretty warm. I think you can see it in one of the pics rolled up under the eve.
That screen has also helped block the breeze on cooler evenings and yet is still transparent enough for the views. We have about a 50 mile view looking south-west toward the Oregon coast ranges."
Such a beautiful space! A space this comfortable is literally like adding another room onto your home. Wouldn't you just want to live out here all spring, summer and fall!
The furniture Terry and Mark chose for this covered porch is currently on sale here: Chatham Sofa.
Terry and Mark were able to reuse their previous rug and coffee table. This feels like a cozy living room, one with cool breezes and amazing views!
I noticed the tall heater and asked Terry about it since I had considered buying for one for those chilly fall evenings when I'd like to be out on the porch. I wondered if they really worked.
Terry said, "The tall mushroom heater works very well and in fact we've used it pretty consistently out there through the fall months. I can't recall what the heat range is but I do remember it is 46,000 BTU's and makes the whole 16 x 16 porch addition very cozy. We got it at Costco online at the end of the season for $169, it had great reviews so we purchased one. I liked this one because it was in the oil rubbed bronze but they also had stainless."
After hearing how much Terry and Mark are enjoying their outdoor heater, I ordered one for myself this evening here: Porch/Patio Heater. Another one that's available in three finishes is this one: Outdoor Patio Heater.
I had no idea they were so inexpensive or I probably would have purchased one sooner. I still remember the neighborhood cookie party I had one Christmas when the kitchen door to the porch stayed open the whole time because everyone wanted to be out on the porch. An outdoor heater definitely would have come in handy back then!
Thanks so much to Terry and Mark for sharing their beautiful outdoor addition and makeover! Now more than ever folks are craving more time outdoors and I love that! Time spent here would be like being on vacation every single day!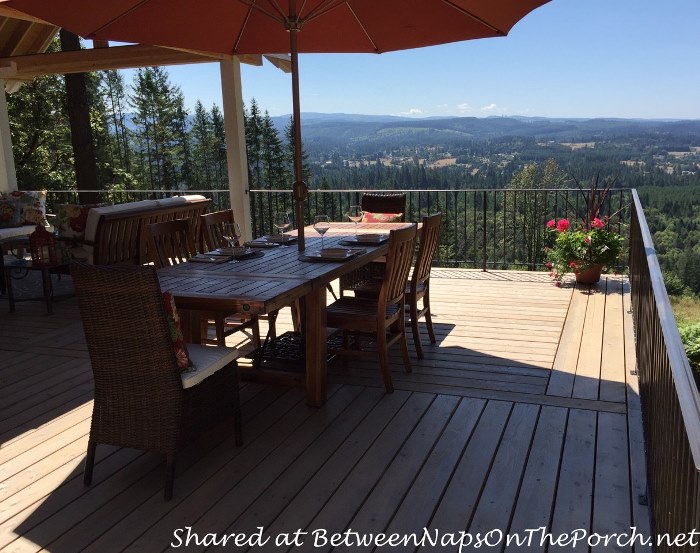 Looking forward to all the fabulous Before and Afters for this Met Monday!
Metamorphosis Monday
Metamorphosis Monday is a party that's all about Before and Afters. If you are participating in Met Monday, please link up using the "permalink" to your MM post and not your general blog address.
To get your permalink, click on your post name, then just copy and paste the address that shows up in the address bar at the top of your blog, into the "url" box for InLinkz.
In order to link up, you'll need to include a link in your MM post back to the party so the other participants will have an opportunity to receive visits from your wonderful blog readers.
Please observe these few rules:
Only link up Before and After posts that are home, gardening, crafting, painting, sewing, cooking or DIY related.
Do not link up to the party if you're doing so to promote a website or sell a product.
Do not link up a post that was just linked up last week since readers would have already seen that post.
*If a post is sponsored or a product was provided at no charge, it will be stated in post. Some links may be affiliate links and as an Amazon Associate, I may earn from qualifying purchases. *