Welcome to the 435th Metamorphosis Monday!
Hope you've had a relaxing Memorial Day weekend. Mine was busy, but fun!
This weekend I finally took time to reattach the covers over the swing chains.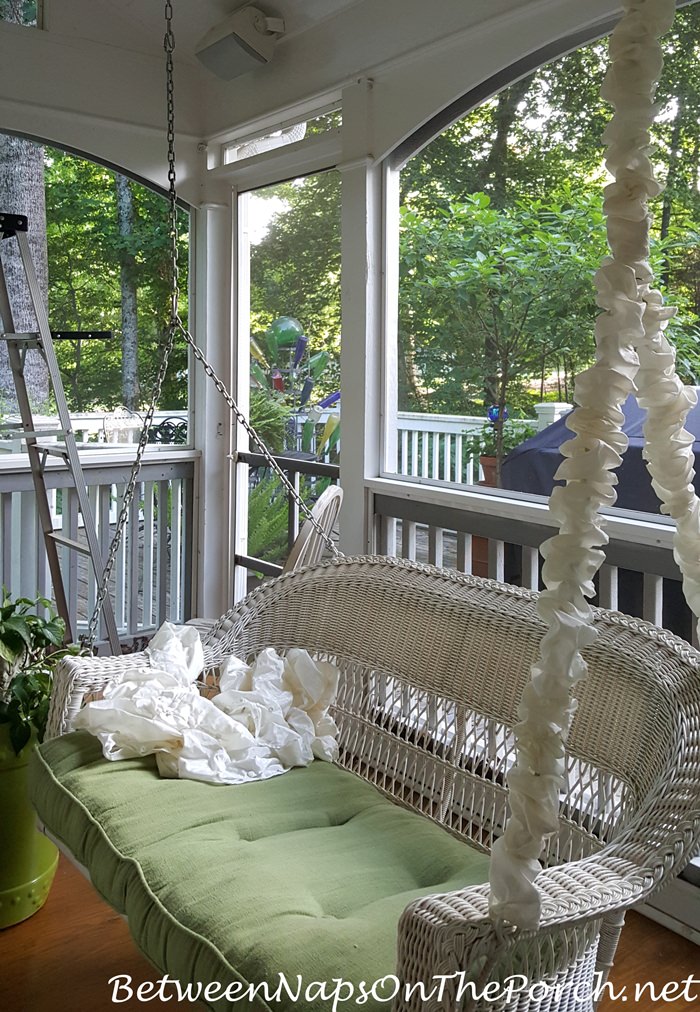 I had taken them off this spring to wash once the pollen attack was over, and had just never gotten around to putting them back on. It requires climbing a tall step ladder which always yields a different view of the porch . lol
The screened porch has seen a small transformation for the weekend. Actually, I think I'll leave it this for a while and enjoy the red, white and blue additions.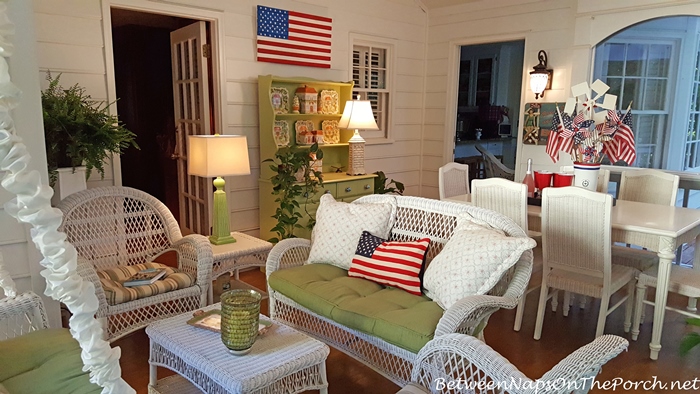 I kept the decorations for this patriotic weekend simple, adding just a few things here and there like the large "flag" star on the wall near the swing.
The star came from Garden Ridge several years ago. Garden Ridge is now called At Home, I believe.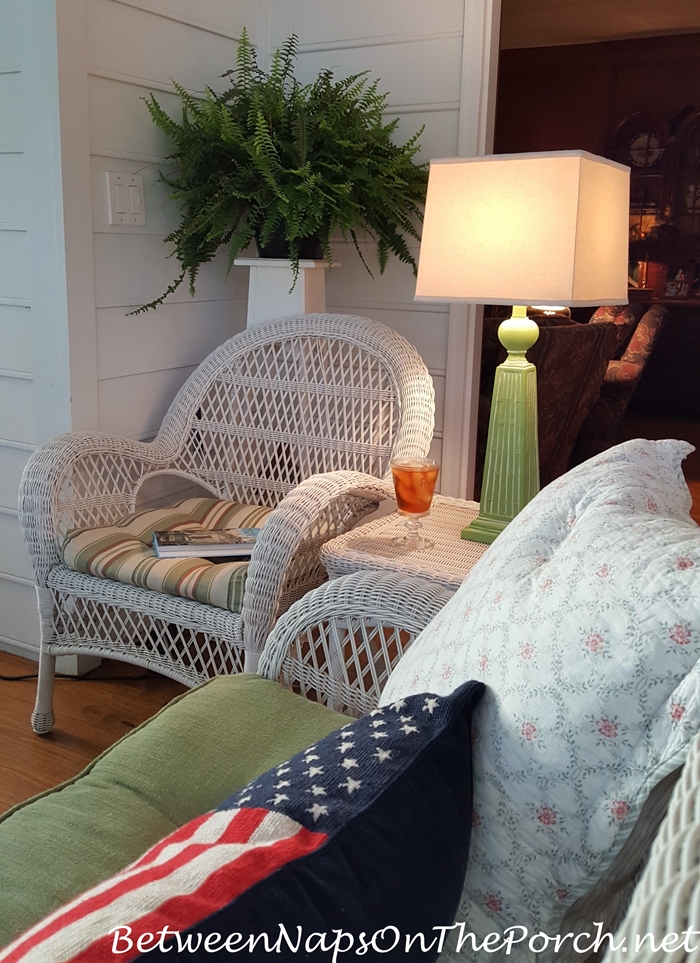 My plans for the rest of the day involve spending a lot of time in this chair reading and watching the birds. The crows are overrunning my bird feeders lately, hogging all the seed and scaring away the other birds. Anyone else having issues with that lately?
I pulled out my DIY wood flag and hung it above the porch hutch.
I never did antique or "age" it, but I noticed it's starting to antique itself. Some of the sap in the wood is beginning to naturally bleed through. I like how it looks, so I'm not going to re-paint those areas.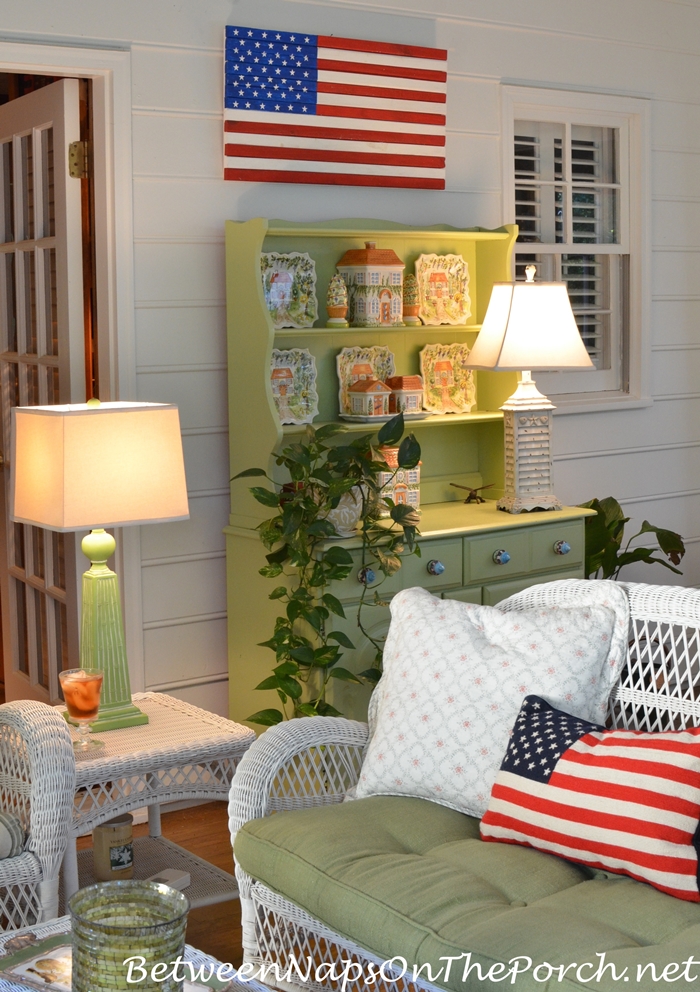 If you would like to make this flag for your upcoming 4th of July decorating, you'll find a detailed tutorial here: Make a Wood Flag for Patriotic Holidays. It's super easy to make, just takes a bit of time.
I noticed after I took this picture, the flag is not centered over the hutch. When the porch floors were re-polyed last summer, the hutch didn't get put back in quite the same spot. I need to unload a few dishes and slide it over a bit. But not today. lol
Do you see those areas on the flag that are naturally starting to darken? Wonder how the flag will look in a few years.
I don't think I've ever used this tray in a post before. I purchased it during a sale at Williams-Sonoma several years ago. Flag dinnerware is by Warren Kimble and the pattern is called, Colonial.
Remember the Peach Bellini I shared from Trader Joe's last summer? When I stopped by TJs recently to buy some for this summer, I didn't see it anywhere. I still have one bottle left from last year, hopefully it's still good.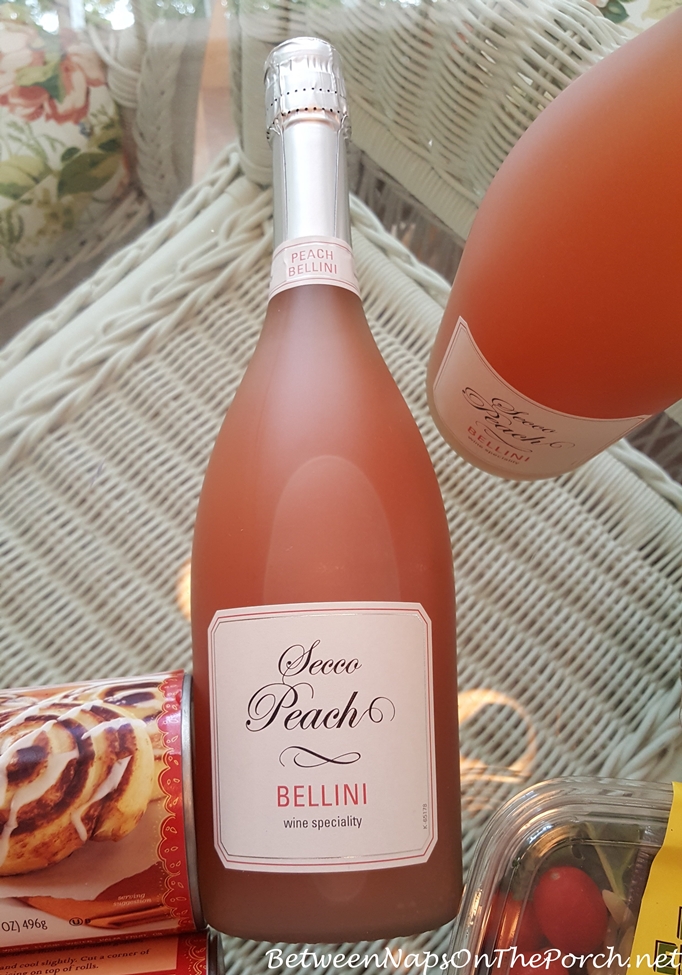 But I did find this: Grapefruit Pompelini. Ummm, I guess Trader Joe's gets in a different "wine specialty" drink each summer. I purchased two bottles and opened one a few days ago. It's good, very refreshing! I think I prefer it over the Peach Bellini. It's not as sweet as the Peach Bellini, it has just the right amount of tartness and sweetness combined. I can definitely recommend it for hot summer days. It would be great to have on hand for last minute get-togethers this summer.
I started out with blue wine glasses, these were a find in Dollar Tree one year.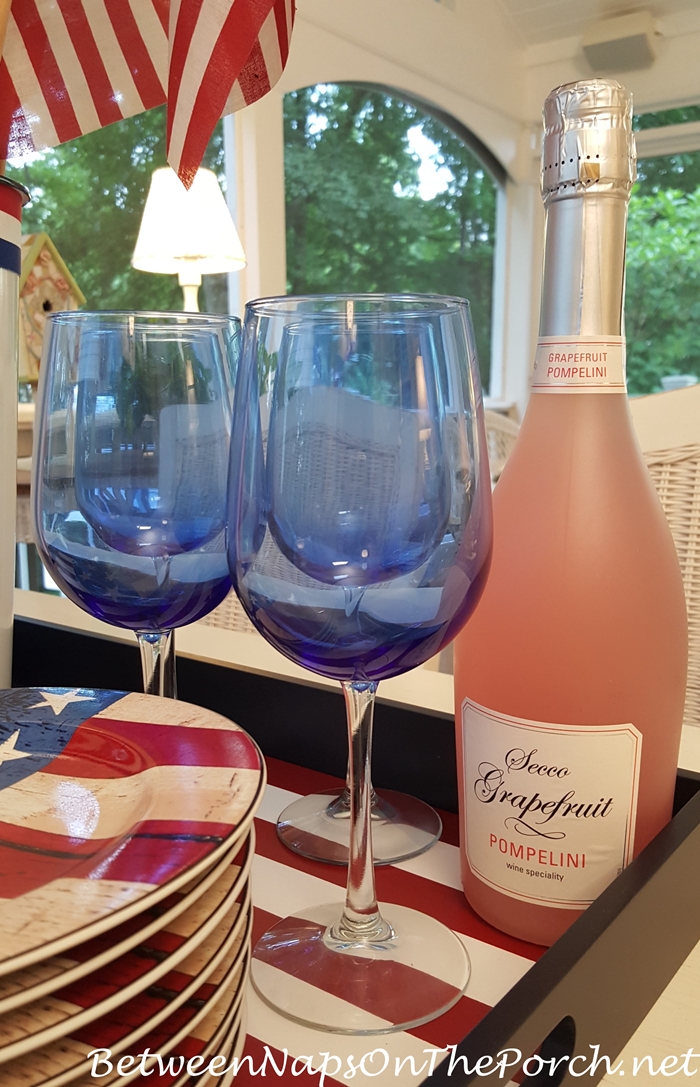 Just for fun I switched over to these funny "redneck" wine glasses. They are always a conversation starter and good for a lot of laughs. 🙂 You'll find them available here: Red-neck Wine Glasses. Flatware is also by Warren Kimble in the Colonial pattern.
Enjoy the rest of this long weekend, dear Friends!
Pssst: I post almost daily to Instagram. Follow Between Naps on the Porch on Instagram here: Between Naps On The Porch.
Metamorphosis Monday
Metamorphosis Monday is a party that's all about Before and Afters. If you are participating in Met Monday, please link up using the "permalink" to your MM post and not your general blog address.
To get your permalink, click on your post name, then just copy and paste the address that shows up in the address bar at the top of your blog, into the "url" box for InLinkz.
In order to link up, you'll need to include a link in your MM post back to the party so the other participants will have an opportunity to receive visits from your wonderful blog readers.
Please observe these few rules:
Please link up Before and After posts that are home, gardening, decorating, crafting, painting, sewing, cooking, fashion or DIY related.
Be sure to include a link back to the party in your post, so your readers will be able to find and visit the other bloggers who are participating.
Do not link up to the party if you're doing so to promote or sell a product.
To those who are linking up: If you notice a shop or store linking up to sell products (yes, unfortunately that does happen) please let me know so I can remove their link from the party. No one wants to click a link expecting a Before and After, only to find a spam link to an online business/store.
*If a post is sponsored or a product was provided at no charge, it will be stated in post. Some links may be affiliate links and as an Amazon Associate, I may earn from qualifying purchases. *