Welcome to the 360th Metamorphosis Monday!
Last summer I shared Linda's beautiful porch as it looks during the summer in this post: Patio Becomes a Three-Season Porch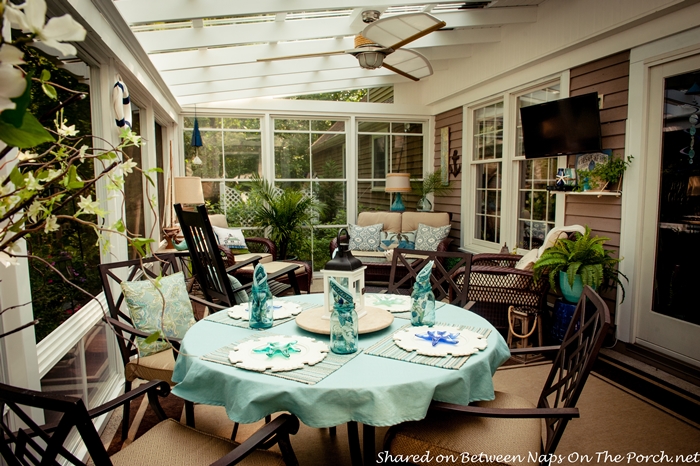 In October I shared how it looks during the fall months: Decorate a Porch for Autumn
Linda has transformed it again for the holidays and it's a winter wonderland with lots of great accent pieces pulled right from nature.
Do you recognize the lamp?
Yep, that's the same one you saw in this post on Friday: Adding a Touch of Tartan to the Kitchen When I saw Linda's fabulous porch and that great lamp, I couldn't wait to add a bit of tartan to my own home.
Linda said, "I thought of you when my daughter gave me an early Christmas present…plaid lamps! This November and December has been so mild in NJ, that's the use of my three season porch has been extended into a 3+ season! I used a lot of plaid out there and I love it!"
Don't you absolutely love Linda's whimsical pillows! The antler horns pillow cracks me up! So fun!
Notice the cute little truck bringing home the Christmas tree. Linda's grandson knew exactly how to work that decoration! Sooo cute! I see another fun pillow, too.
I love the oversized decorations Linda used on her porch tree. The tree is decorated with a variety of Santas, skis and plenty of tartan accents.
Did you notice all the fun accents pillows on Linda's Christmas porch? I recognize this one! You'll find this darling pillow designed by Lucy available for purchase here: Red Christmas Beetle
This one is also one of my favorites by Lucy: Christmas Wagoneer Love her work!
Another wonderful holiday pillow!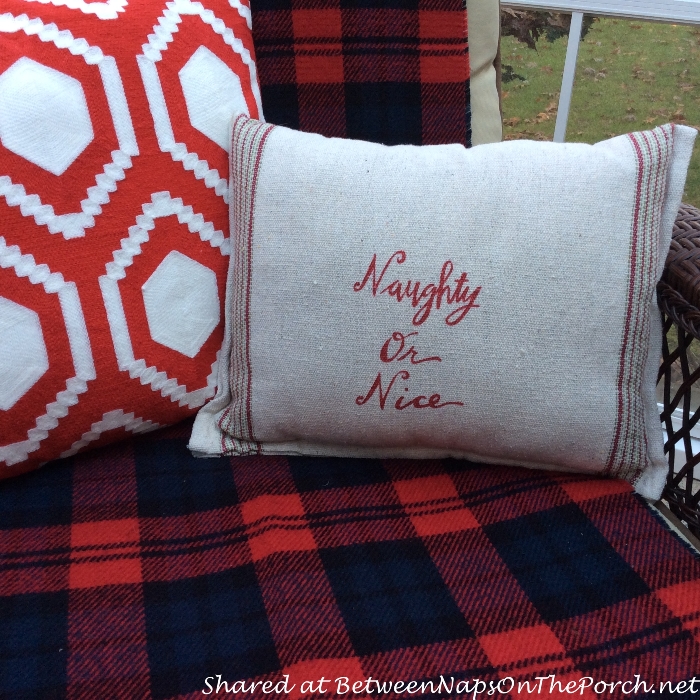 Tucked into a corner Linda has another small nature-themed covered in lots of adorable owls.
I love birds so this darling tree spoke to my heart. Hear my backyard owls hooting up a storm in this previous post: Night Sounds From the Porch
Linda has two of the tartan lamps and I really like how she raised this one by sitting it atop a little stool. If you have an area that could use a taller lamp and you don't have one, this is a great way to give a lamp some additional presence and height. Lamps also look great perched atop a stack of books or a pretty wood chest/box.
Ohhhh, one of my favorite poems by Robert Frost! This makes me want to get my copy out to display for the winter. Such a great poem with wonderful imagery!
Thanks so much to Linda for sharing her beautiful porch. I'll ask Linda to share another picture of her beautiful tree and I'll add it to this post. We need to see more of that gorgeous tree!
Looking forward to all the wonderful Before and Afters for this Metamorphosis Monday!
If you are participating in Metamorphosis Monday, please link up using the "permalink" to your MM post and not your general blog address. To get your permalink, click on your post name, then just copy and paste the address that shows up in the address bar at the top of your blog, into the "url" box for InLinkz.
In order to link up, you'll need to include a link in your MM post back to the party so the other participants will have an opportunity to receive visits from your wonderful blog readers.
Please observe these few rules:
Only link up Before and After posts that are home, gardening, crafting, painting, sewing, cooking, DIY related.
Do not link up if you're doing so to promote a website or product.
*If a post is sponsored or a product was provided at no charge, it will be stated in post. Some links may be affiliate links and as an Amazon Associate, I may earn from qualifying purchases. *