Happy Friday! I'm sooo excited this evening because tomorrow I'll be doing one of the things I most love doing this time of year: I'll be heading out with friends for a nearby Christmas home tour.
Each year when we attend this particular tour, we almost always buy their "combo" ticket which includes seeing three homes by daylight and three by candlelight. I love both types of tours but the candlelight tour which takes place after dark can be a bit on the chilly side. You have to really bundle up because you never know when there will be a short wait outside. It's worth it though, because it's truly magical seeing some of the homes lit by candlelight.
The other thing I really like about the combo tour is the relaxed pace of the tour. We always visit the three homes open for the daylight portion of the tour (and the public houses that are open) between 1 and 5 PM. Then we break for a leisurely two-hour dinner in a nearby restaurant, then head back out to see the three candlelit homes between 7 and 9PM.
As part of the fun, I love to decorate our chariot for the evening. I snapped this photo in my driveway tonight, then headed to a nearby QuickTrip to fill 'er up so she would be ready.
While this was going on, I snapped a few pics under the lights so you could get a better look at how it's decorated in case you have a car with luggage runners and want to try this sometime.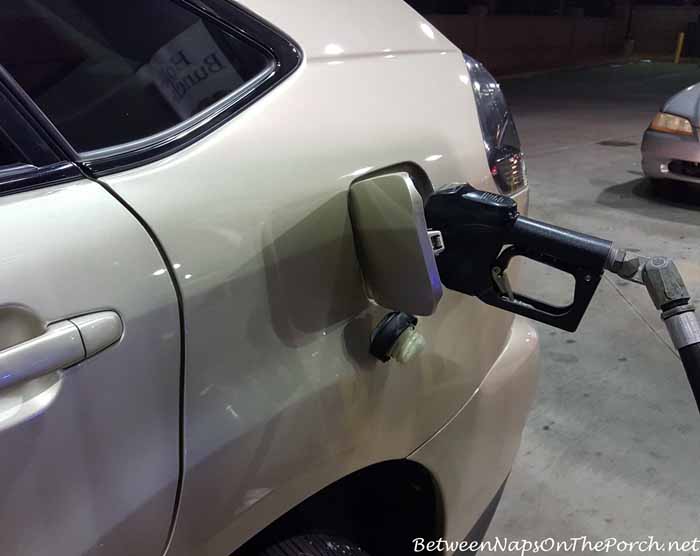 My old garland was looking pretty faded so I picked up some new garland in Michaels earlier today. The garland strand was quite long, so using some heavy-duty wire cutters, I cut it in half. If you like a really full look, you may want to use a full length of garland on either side.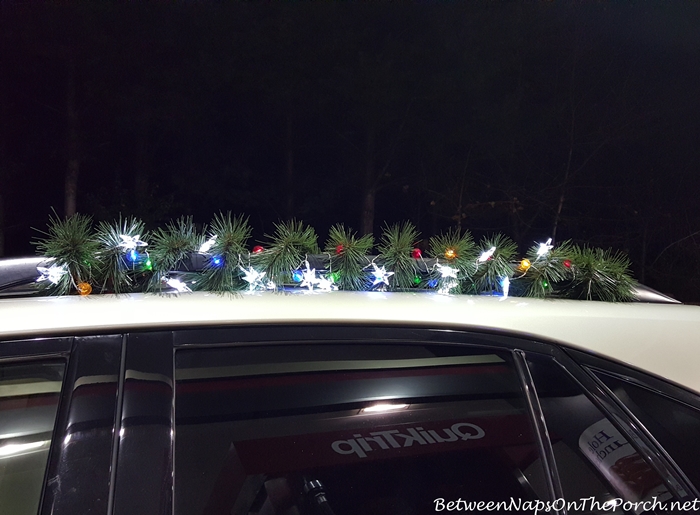 To attach the garland to the luggage runners (or whatever you call those things) I just wrapped it around and around the runners going down each side of the car. It always stays in place so it works very well just wrapping it around and around.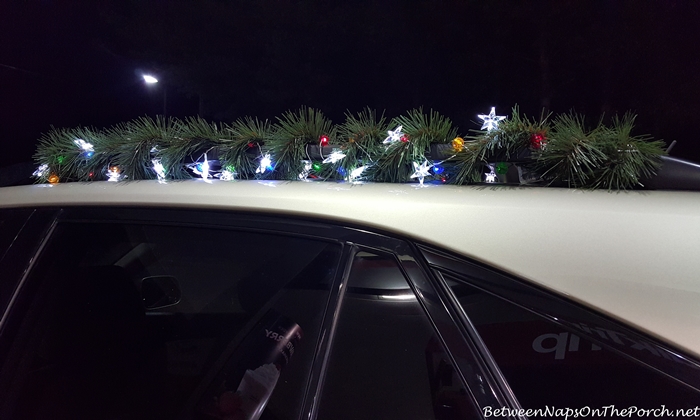 I added some colored lights that I purchased a couple of years ago in Michaels and this year I added a strand of star-shaped lights to either side, also from Michaels. All their holiday decor is on sale right now. I later found out they're having a big sale tomorrow. Apparently everything you buy (including sale items) will be 20% off. Check their website for verification on that…not sure if all Michaels are doing it or not.
To attach the lights, I found the center of the strand of lights, lay it about midway the length of the luggage runner, and then started weaving it around and around the garland moving outward toward the front and then outward toward the back. The reason I do it that way is if you start at one end and start wrapping the lights, you could find yourself running out of lights before you reach the end. So, by kind of lining of the center of the light strand with the center of the runner, then wrapping around and around the runner, going out from the center, I don't have to worry about running out of lights or having them unevenly distributed.
As I weave the strand of lights back and forth around the runner and garland, sometimes I go underneath the garland because that helps hold the lights on securely. It's super easy to do this…promise!
Once I got back home, I took a photo of where the battery packs are on the top of the roof. I always place the end that's attached to the battery box at the back end of the car/runner. Since I used two strands of lights on each side, I placed both battery packs at the same end. That way when we come out of the restaurant after dinner and it's dark out, I'll only need to open up the back door to stand up on the side/back floorboard to turn on both strands. It takes like 5 seconds to turn on each side. It would be great if I could find remote controlled, battery-operated lights, then I could turn them on anytime, even from inside the car.
You can also tape the battery box into place on the roof. So far, I've never had one come loose and fall off the car, even when not taped.
Update: Just found this old photo where one year I taped the battery box to the cross runner. So this would be a good way to secure the battery boxes if you are worried they will slide off at some point.
This never fails to elicit giggles and smiles. I'll leave them on all throughout the month of December. They'll be lit when I see my son, dil and grandson for Christmas. I wonder what my grandson will think when he sees the lights.
I remember one year, my son came home from college for Christmas and asked to use my car to go see friends. The look on his face was priceless when he saw the garland and lights. He was somewhat sheepish about driving around in the decorated "Mom" car, but he later told me his friends loved it. We are all just kids at heart, I guess. 🙂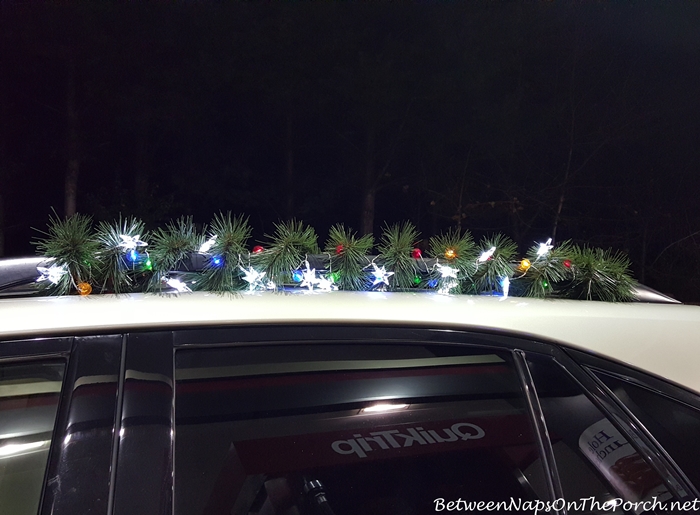 Are you going on any Christmas home tours this year? I love them so much, I may have to look for one to go on next weekend, too. Yep, I love me some decorated houses, especially this time of year!
Love a great Christmas home tour? Check out some previous Christmas home tours in these posts below:
Madison Town & Country Holiday Home Tour
Victorian Cottage Decorated for Christmas
*If a post is sponsored or a product was provided at no charge, it will be stated in post. Some links may be affiliate links and as an Amazon Associate, I may earn from qualifying purchases. *